2016 has been a big year for digital comic book apps, with Comixology making their long-awaited entrance, and more and more comic book readers realizing Hoopla may be the single best kept secret in comics libraries.
While you have stalwarts like Marvel Unlimited continuing to update their own expansive library, smaller digital comics services like PowFolio are popping up and bear a look.
Occasionally when I see new digital softwares promising that they're the one true Great and Powerful Netflix of Comics, I roll my eyes a bit, and have to question how their competitive proposition sets them apart from giants like Marvel Unlimited and Comixology charging between $7.99 and $9.99 a month.
With PowFolio, the answer is abundantly clear: Powfolio is free, fast-streaming comics.
No, really, the comics are free. All the time!
Support For Comic Book Herald:
Comic Book Herald is reader-supported. When you buy through links on our site, we may earn a qualifying affiliate commission.
Comic Book Herald's reading orders and guides are also made possible by reader support on Patreon, and generous reader donations.
Any size contribution will help keep CBH alive and full of new comics guides and content. Support CBH on Patreon for exclusive rewards, or Donate here! Thank you for reading!


For the reads in their library that caught my eye – particularly a strong golden age comics collection of Plastic Man and Captain Marvel – using PowFolio is a fast, easy, and free no-brainer.
I had a chance to speak with PowFolio's own David Campiti, who has experience as an animation producer as well as a comic book writer with credits working for DC, Marvel, Dark Horse and more prior to PowFolio.
Interview With David Campiti
What made you want to launch Powfolio? Where did the idea come from?
Part of the idea comes from the fact that a lot of younger people just don't read stuff that's on paper. They've gotten so used to looking at screens. If you go to anything from kids after school to a group of kids at a birthday party, they don't even talk to one another, they all look at their screens. So that's part of it.
Another, if you think about, for a lot of older folks, there were mom and pop stores everywhere that sold comic books. Now where I grew up, a block away from my house was a place called McNamara's Drug Store that carried everything. And if it was a rare case where they didn't have something when comics were delivered twice a week on Mondays and Wednesdays, then my family went to downtown Wheeling, West Virginia where there were five different places I could pick up comics. You could find everything: Marvel, DC, Harvey, Archie, Fawcett, Gold Key, Classics Illustrated, whatever, you could find those.
Now most places don't carry comics. Yeah, you have a few Barnes and Nobles carrying comics, but to find them you have to go to a comic shop. And there are maybe 1800 real, devoted comic shops in the United States. That makes it a very small niche market. And kids aren't gonna drive – kids can't drive – and it's not like you're gonna take your bicycle and bicycle 60 miles away where there's a comic shop. So they have to rely on their parents. And if their parents don't want to drive them, there's no way they're going to be able to pick up comics every month.
Besides, comics start at $4 now which is way beyond inflation. That combination of factors – Kids not having easy access to comics; when they do have access to comics they're too expensive; and they prefer reading on screens. That makes something like Powfolio almost a necessity. Because the audience for comics continues to be older and older readers, fewer and fewer of them, and yet the stuff that's made from comic books, all the movies, the tv shows, the video games, the merchandise, all that makes many billions of dollars.
But the comic books don't make any money themselves. They're essentially loss leaders. It's like a gallon of milk you buy in a grocery store for a $1.99. They get you in the door so you can buy other stuff in the store. Well the comics get the producers and manufacturers in the door and the publishers make money from everything that spins off those intellectual properties.
So something like Powfolio we thought was necessary to help build comics readership again. Comics at your fingertips whenever you want them – for free. What more could you ask for?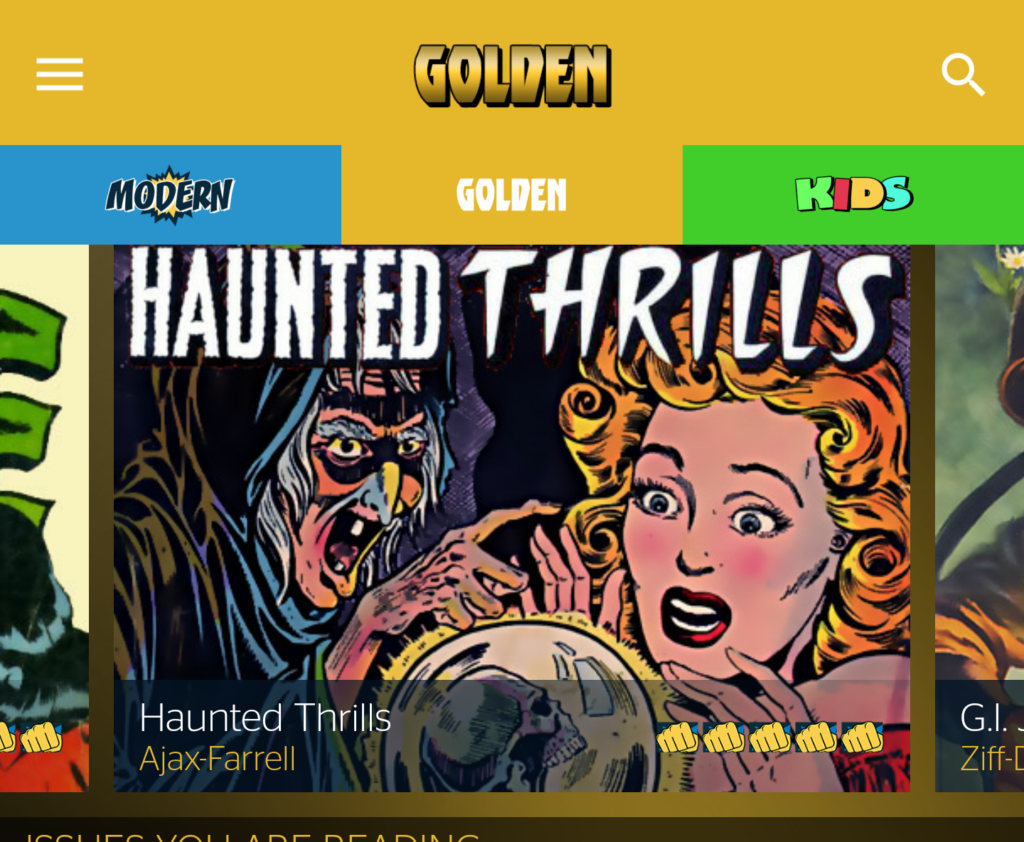 Powfolio is completely free – tell me how you decided on that approach to the app, and how you envision it working long term.
We work with Glowdot – a company called Glowdot is the mastermind behind creating this app. I thought it was the most marvelous app I've come across because for anybody who has used something like Netlfix, there's no learning curve. It opens up, you see exactly how to use it. I have open the modern comics right now as we talk – It has new content, trending titles, issues to read.
And then it breaks things down: Superhero, manga, action, comedy, fantasy, horror, science fiction, leading lady, graphic novels, anthology, supernatural, webcomics, military, the list goes on and on.
There's a wonderful section of Golden Age stuff for us older readers, or for newer readers who have heard about this stuff. You can read the original Captain Marvel, or the Spirit, or Plastic Man, or just about genre you can think of that came out during the golden age.
There's even a section of just kids age. There's just so much to read, so much at your fingertips.
This all came about because I had downloaded a number of apps, and the rest of the team has of course apps they've fooled with on their phones or other devices, and they all cost money. $1.99 or whatever it is to download the latest comic or an old comic, and it clogs up your hard drive, you know, you can build a comic collection on your hard drive but it clogs up and then you don't have room for your songs or your pictures or anything else.
And those dollars all add up. For something that you don't actually own a physical comic. You just have a file on whatever device you carry. There are a number of things wrong with that. And there are ways to fix that. And the ways to fix that seemed really obvious to us.
For hundreds of years, the format of free content has worked very well all over the world. It's called radio – turn on the radio! You can listen to songs or programs or talk shows and it's all free. It's free, you just turn the knob and there you are.
Television, I'm not talking subscribing to cable, but television itself is generally free. There are free newspapers out there, there are free magazines out there, there's a lot of free content that is supported by advertising. So why not do that for comics?
Every comic that's on Powfolio is 100% free. Yes, every several pages an ad is going to pop up. And one hopes it hopes it's the type of stuff fans are gonna be interested in because a lot of it connects to video games and things like that. But it brings you the content for free. And I think free's a pretty good price.
How do you determine what gets added to the library?
Most cases it's publishers bring to us what they want to showcase. Publishers can have deals with the other apps that are out there, where they're selling there current stuff, but many have found that, let's say ABC Comics, they're selling the current 3 months worth, but anything over, it's just kind of sitting there, people aren't really buying it. So if they're not selling it as physical reprints, if they're not able to sell the digital version, well, they can put it on Powfolio.
Every ad that runs within somebody looking at their book with this free app, they make some money. It's a good way to get product on there that they want more people to see, and that they make money from.
At this early stage of the game, we're lucky that we have many thousands of comics on here. But if a publisher has 30 different titles, and they want to feature their top 10 or 15 with us, great, if they want to feature their whole line, terrific. We're not really doing a lot to limit what's here because we're trying to invite as many professional comics publishers to the table as possible, to give readers the maximum amount of stuff that they can read.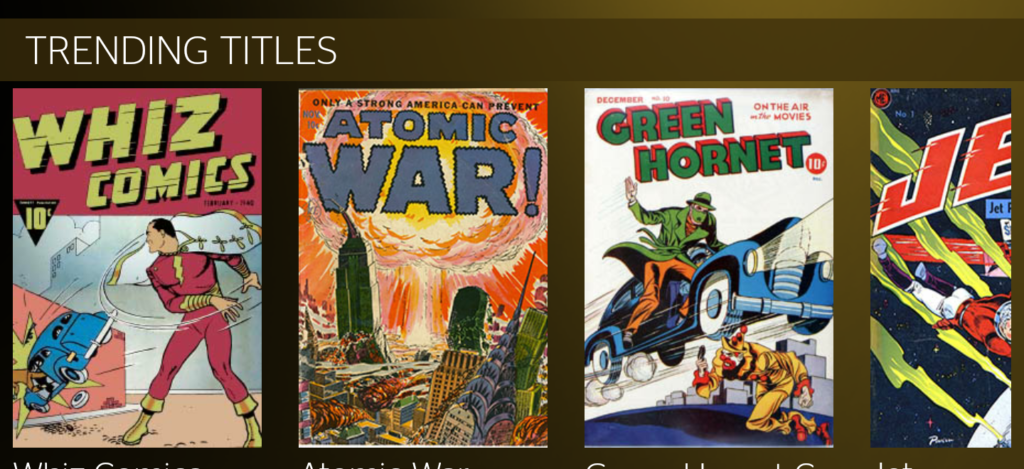 What are some in-app features that set Powfolio apart?
In Powfolio, there's different levels of chat rooms. Clicking on the word balloon icon will give you a global chatroom. Everybody on the planet that's using Powfolio at this moment, who decides to go into that chat room, you can chat with live.
Let's say I go out of the global chat room, and one of the comic books that I write is called Exposure. So I can click on Exposure and there are 14 different issues up here. And if I go into Exposure #1, it creates its own chat room, so you can start a conversation specifically about that book. You could theoretically have 20,000 chat rooms going on.
I think that's a way to get fans to connect that nobody else has tried.
There's a competitive marketplace of comic book library softwares out there, and it's growing daily. How do you monitor that, and then how do you try to position Powfolio ahead of the competition?
I know that we're paying very little attention to what the competition does because they're not doing this. They're not doing free streaming comics. Think about what that means. If you're streaming comics rather than downloading them, you're not clogging up your hard drive with all these large files. We figured out a way to have high definition images that load super fast even if you're not on wi-fi. That way people can read the stuff you want to read, it will remember where you left off, and you can come right back to it and start reading again, go back to it whenever you like, and it's not stuffed in your hard drive. Nobody else is doing that.
Everybody else is charging for their stuff. Free is a really good price, we'd rather do it that way.
What do you wish you saw less of in the digital comics space? What are the barriers to entry that kind of bug you?
On Powfolio, we're not currently inviting just anybody to put stuff up on there because we'd prefer to maintain a professional standard. So we're inviting mainstream publishers, and they can be publishers of only 1 or 2 titles, but if they're of a professional level we're happy to have them.
I can tell you that we are developing another layer to Powfolio that aren't published through these publishers, that are independent, will be invited to submit. They'll go through a review process, and if the stuff is deemed a professional quality than it too can be added to Powfolio. But that's something that we're looking to launch next year.
What are the top three comics you recommend everyone reads on Powfolio?
That's hard because we've got 10s of 1000s of comics. It would be self-serving to check my out Exposure comic.
I might be able to break it out this way:
If you're a Golden Age fan – If you want to see some of the most interesting stuff that was published before most of us were born, you might want to go in and read The Spirit, or Captain Marvel, or Plastic Man. Which was all cool stuff from the Golden Age.
For people reading modern day stuff, there's so many neat things out there, Red Giant Entertainment's property Wayward Sons is pretty cool because it blends a lot of myth and history into their story. So that has been a webcomic for quite a few years that is professional quality that is on there and you may find that is has a lot of fans.
There's a wonderful book called Knightengale which is drawn by an artist named Tina Francisco. Wonderfully drawn, just beautiful to look at comic book that is all ages fantasy elves that I think is pretty good.
There's a wonderful little book in here called Marry Me, that I'm just tickled by the concept. Imagine a Brittany Spears type pop star that is just so overwhelmed with her pop star, and she's looking out in the crowd and there's all these adoring fans, and one cute boy is holding up a sign that says marry me. And she comes off the stage and says "Ok, I will."
Anything else you want to share?
Parents can be assured we do not have any adult only content because we want it to be as wide open for people as possible. There are a few mature readers things but it's tease not sleaze stuff. And we've made sure we have a lot of kid-friendly product on here. I wanted to make sure there's a lot of stuff for my daughter to read.
Are there parental guidance settings?
As with most things, parents need to be parents. Just like Netflix, we have a Kids section.
Final Story?
I went in to my daughter's school for parents day. I went in and I'm talking about what I do, and I brought a stack of comic books to her school and I start giving them out to the class. There are kids that are picking up this stuff like "Oh, cool the X-Men, you mean there's a comic book, too?"
*Big Laughs*
These were ten or eleven year old kids who had never held a comic book in their hands. And the one place in time when everybody is aware of comic books or comic book concepts because Warner Brothers and Disney have really made comic books mainstream. Older people like me that were kind of made fun of as kids because we were comic book fans? Well everybody's a comic book fan now! They're just fans of the movie versions, or the animated versions, or the video game versions, but so many haven't held a comic book in their hands.
This is a way for all those kids to hold comics in their hands. Maybe on a screen, but at least they're reading comics.