I had the great experience of interviewing Nick Pitarra, artist of The Manhattan Projects
with Jonathan Hickman, and you can hear our full conversation on Comic Book Herald's "Creannotators," on the podcast.
But since some people prefer the ancient art of "reading," we've also transcribed the Manhattan Projects portion of the interview below, talking with Nick about his time on the great book, as well as his current work on Ax-Wielder Jon. The transcription has been slightly edited for clarity. Read and enjoy!

CBH: I'm having a blast revisiting Manhattan Projects for Comic Book Herald's Hickmania. Reading that one, it feels to me like when you look at the stuff you guys did before that, it really feels like you've leveled up on that project, like both of you, honestly. Did you feel that at the time? And looking back, what do you think it was about that book that drew out that "oh, I can take this to another level?"
Nick Pitarra: I think I've had like three leaps. I think Leviathan was a creative weirdness because I was doing all kinds of crazy, different techniques and stuff, but I do know specifically from The Red Wing to The Manhattan Projects and Manhattan Projects to Ax-Wielder, two creative jumps in those three projects.
One, The Red Wing was the first book I ever drew above eight pages. I'd done stuff before, like a little bit of Marvel, like you mentioned, but that was like eight page stories and it was not really a whole book. And then I went from that eight page story to doing a whole trade paperback, and so what happened there was that I drew it and I wasn't me. Like, on The Red Wing, it felt a little stiffer, it felt a little like the detail and the effort was there, but I think that one thing specifically is the characters; if you blacked them out, you probably couldn't tell the difference between them. And I needed a fat guy, I needed a skinny guy, I gaunt guy, but they were all the kids were about the same and they were a little more blank faced, so on The Manhattan Projects, I was like "I'm going to silhouette every one of these characters out," and a silhouette is just a shadow or a covered black ink, "and you're going to be able to tell exactly who they are." You know, even though they're all just slender old men in the 40s in suits. I wanted to make sure "this guy had a block head, this guy had a bulbous nose, this guy had square ears," and I was really playing with cartooning in a way that I knew that the readers would see it as this more fun, playful whatever.
Support For Comic Book Herald:
Comic Book Herald is reader-supported. When you buy through links on our site, we may earn a qualifying affiliate commission.
Comic Book Herald's reading orders and guides are also made possible by reader support on Patreon, and generous reader donations.
Any size contribution will help keep CBH alive and full of new comics guides and content. Support CBH on Patreon for exclusive rewards, or Donate here! Thank you for reading!
And it is strange. My work is idiosyncratic and it's a little bizarre, but it's really good for sci-fi. I think, especially for The Manhattan Projects, which is the series I'm most known for, it's what we were Eisner nominated for and anyone who knows me probably knows me from that book. And then on Ax-Wielder Jon, going to a barbarian, I could not—in getting into that market with Conan and collectors and cool He-Man toys and all that—you can't draw old men scratching their ass or guys picking their nose or being strange. It's got to look stoic, it's got to look cool. You shrink the heads and pump up the muscles and there's a sleekness. I needed to try, and I don't draw that cool, but I needed to draw cooler and you can't say that about The Manhattan Projects. The book might be cool, but the art is more strange than cool. I think now the response to Ax-Wielder Jon art is that it's very cool looking. People are like "oh, this looks awesome." And I knew that I needed that as a selling point because the market for strange, weird stuff is a lot smaller than the market for big, superhero stuff that just looks awesome and I was like "I'm gonna try to design these guys to look fantastic, like you can't believe what I'm drawing," like the Butthole Monster or the Lord Fang character. All the skin and cells and teeth and have Jon cut someone in half and just show their guts flying out. And it just felt like… Heavy Metal was such an artist magazine, and I want heavy metal to reach out to me to see if they could run Ax-Wielder Jon. You know? I want to draw it that cool.
CBH: With The Manhattan Projects, you talked about how it was a quirky book and it definitely is, but your style there is… it's that Frank Quitely influence but in character design, right? And the interesting thing about Quitely is that he has those idiosyncrasies with characters who have too many details on their face and they look kind of strange, you know the way people can, but he can also do the really cool superhero stuff, like in Superman, obviously. It's literally iconic, and you can see the influence. But in The Manhattan Projects, did you ever get any flack for caricatures? Were there any, like the Richard Feynman camp was furious or something. Was there any of that?
Pitarra: It is interesting that when you cartoon them and you give them the name—and Hickman told me this too—then it's that character. It was interesting that I ran into like, Wernher von Braun's relative or something who came and bought the book. And oh god, we gave him a robot arm and we made him this crazy Nazi, which I think he was in history. I don't think he was a crazy Nazi, but crap, every family history is like "he wasn't really like that. You know, that's just what media says," and we really hammed up the Nazi part, you know. So that was a little strange that she was like his great-great granddaughter or something. I remember this at a showing in Houston.
CBH: So, she came to you at a Con?
Pitarra: Yeah. She was like "Wernher von Braun is in this book, he's like my great-great grandad" or something strange like that, and he was like an extended relative or whatever, a second cousin or something. And I remember that and thinking "oh god, I don't know if you'll like this." But that was the only strange thing. But no one's ever said anything about that. I think people got it right away. The fans got The Manhattan Projects before I did because when me and Hickman were working on it, we did that Marvel style and I've got my own idea for what the characters are saying, so I hand it off back to John and John puts the word balloons in and sometimes I'm like "well, I didn't really draw that face to say that," or whatever.
And so, to me, there's like little broken bits in there that aren't perfect, but the fans just ate it up. They loved what we were doing and the way John understands story and was able to tighten all that up and pull it all together no matter what weird stuff I was drawing, they were getting a full plotted out thing even though we were working very organically, and when the fans—almost every time I doubted an issue, I would get a response of like "five stars!" "five out of five!" And I don't get it, man. Like the second issue specifically because in the first issue of that, we're like giving a little cameo of Einstein, he's like over his shoulder and in the next issue, we don't see any of the team again. It's all Wernher von Braun issue and we see Feynman get dropped in and I'm like "are people going to be mad that they only saw Einstein for like, a second? Do they want to see the Manhattan Project? It's called The Manhattan Projects but we don't see the team?"
But man, they loved that second issue and we started getting all kinds of buzz after that. And the reason why this is—and this is something that I've been talking to my wife about is—is that Feynman is very prissy. In the book he's looking in the mirror and checking on himself. Now, every time I drew him, I was drawing him like that, but if you only do it once early, you don't have to do it again! People will know when they read the book that he's like that because we let him talk to himself in the mirror once. But instead, for me, since I'm in the panel, like "oh yeah, and he's the effeminate one, and he's the masculine one," and I keep doing that over and over again, it comes off as very cartoony. But now with Ax-Wielder, if I need to establish him as this brutal killer, I just show—well, there's many awesome kills—but I show one great kill and then I have the frame narrator say that he's a brutal killer. You know that for the rest of the narrative.
You don't need to be talked down to, so pulling back in the writing is what I realized John was doing, but I wasn't in my illustrating and with Ax-Wielder, I'm much more aware of the whole. Like, systems have like a brain and an arm. John was the brain of The Manhattan Projects and I was the arm down in the panels. With Ax-Wielder, I'm having to grow a brain and really think about how this system works and not just draw a head rolling down, not just draw a tongue split in half and go to the next thing and next thing. It's like "no, five pages established this idea for Jon. By page fifteen, this. By thirty, rotate it on its head. This character that you said this about, it's still true, but on page forty-five we do this, and it'll catch the lull because you had this on thirty-five and now on forty-five you've got a little tent pole," I'm thinking about it as structure instead of panel-to-panel and just riding it and just going. And it's a whole different mindset. And I don't know if that makes sense, but it's what I do with the book.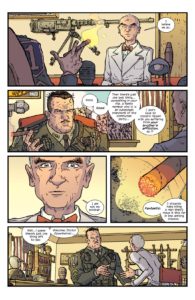 CBH: Sure, sure. That's really interesting. I think that's one of the things that you can identify in creators who really get it and have a feel for it is they don't hold your hand, and they know they don't need to hold your hand. I think it's something Morrison is an absolute expert at, I think Hickman is another great example. Like, they can give you these little bits and trust you to figure it out or meet them halfway, right? Yeah, you don't have to keep reminding us this guy's tough. We see it.
Pitarra: Yeah, yeah that's so important. You get it completely and Jonathan Hickman's favorite writer is Grant Morrison and he's all about trusting the reader and not talking down to them. And when I read a book that talks down to me, I honestly don't like it. I don't need the extra exposition. You're forcing characters to say things when in their environment, they've been around each other for all this time, they would not bring up some detail that's in passing but you clearly need to feed it to the reader again because you're insecure that you didn't establish it.
Letting the reader have a little nugget is so interesting because like in The Manhattan Projects, since you're in the reader's club, I'll get a little more specific, but there's a line that Groves has in the dialogue—and I don't really care about the dialogue sometimes; I care about illustrating perfectly—but he says when the origami monsters attack because they fax something over—and it's all in dialogue, I didn't illustrate it—fans would come up to me years later and be like "whoa when those origami monsters attacked," and I'd be like "I have no idea what you're talking about. I didn't draw that," but in their heads, it lives. You know? Their imagination is participating in the storytelling in such a way just because you gave them that little bit of dialogue, Hickman.
And that's crazy to me! Because in their head, I've drawn an origami monster attacking the Manhattan Project. That never happened, and get this: in the script, when I was illustrating it, that line wasn't in there. So by the time I'm rereading it to figure out what Hickman's put in there about it, I'm just like completely detached and I don't really remember it, but the fans hear that one line—same thing with Morrison—and they start participating in the storytelling in such a way to the point that I've drawn it to some people now. It's crazy.
CBH: Yeah, that is fascinating. Why did The Manhattan Projects stop when it did? Did you guys ever feel like you wanted to do more?
Pitarra: Yeah. I mean, there's a lot set up, little nuggets as far as not overexplaining stuff to readers, but there's a really wonderful story with Oppenheimer. There's a bunch of stuff. Man we had Trey Stone or Matt Parker, I forget what their names were. They loved the book, they were all about it, they were calling Hickman up about it, like this was early on. So we had that buzz for a while, and now there's somebody else really big interested in it right now, but Hickman never announces this stuff. He doesn't like to say anything unless it's happening. Which I get.
But what happened was that the first two—and this is how I personally feel about The Manhattan Projects, I told you exactly how I felt about Leviathan—the first two books me and Hickman plotted out tight. Like super tight. We would get together and I don't know if your listeners have read the whole thing again, but I'll say spoiler alert right now, but we knew everything that was going to happen plot-wise. We danced to get there in the panel-to-panel stuff because it was Marvel style, but we knew when this guy was coming back, and the second he was turned good, this guy was going to come back and think he was the bad one, and blah, blah, blah. We knew all that. We planned that out from day one.
Everything after issue twenty was flying by the seat of our pants. And so I love the first twenty—and I felt like we weren't clicking and Hickman was so busy, he was giving me looser stuff and I was like "we need to sit down and do some plot points here." And so he's like "well, let's relaunch it with Sun and Stars. We'll end this with everyone going their own way." And we planned to do a trade paperback for each one and Sun and Stars was Yuri Gagarin and Laika.
CBH: A trade for each character.
Pitarra: A trade for each character and then have them come back for the big Oppenheimer thing because they're all setting stuff up for Oppenheimer's big arc. So this is all planned in a book. So we knew this. But then Hickman was like "I'll give you full scripts because you are tired of the looseness of this and I'll just do full scripts," but he just never had time to do them. And then when I got married four or five years ago, he was like "I'm going to get you full scripts," and I was like "okay, because I'm getting married and I need this money because The Manhattan Projects pays incredible," like, I've made so much money off of that. I can't wait for these scripts, but he never had time to get the scripts, you know?
So I never got the full script, so we were planning on going back to full scripts and we didn't, and then I never pushed and by then it kind of tinkered out, and we do have the media stuff. He says we'll go back to it when we announce whatever could be brewing, but I can't say because then it will have more heat. We'll have a new trade and I really want to focus on what the Einsteins are up to because the Einsteins are like the "good" and "bad" one from two different universes have now met up and there's going to be really cool adventures. And I started laying out a story Marvel style, and I've got like twenty roughs for it, but I never drew it because I never got a script and Hickman didn't even give me anything for it. I was like "oh, this would be a really cool adventure if they did this one thing together," but it's just really in limbo. Me and Hickman are really close friends and we will get back to it at some point, but it's just kind of fizzled. It's the best way to say it. It just fizzled.
CBH: I appreciate you sharing all that and explaining all that. Because you see all these rumors, right? Fans assume the worst, I think, way too often, but it's like "ah, they had a falling out and they can't stand each other, so that's why there's no more," and then you're talking about it like "yeah, Jon gave me notes on my book I'm working on" and that's not true at all!
Pitarra: Yeah, yeah, no. I've seen those rumors too. I have no idea where they come from, like that is so weird because I have this very forward facing—with the Layman thing, I guess I'm breaking my rules now, but "always have a front to the public that is stoic. Don't tell them your politics, don't tell them anything" like, everything is quiet. And so, forward facing should be good, but if you don't say anything, people will start being like this, and it's crazy. Like, I don't Tweet John and look for affection from him or ask him to retweet my stuff, so it might look publicly like we're cold, but privately, we're messing with each other all the time and saying "hey man, what's up? How are you doing?" or calling me and asking me for advice or vise versa and talking about stuff. And we're perfectly good.
But what people will run with if you don't say anything is—and that's what social media does, when you think about it. You can retweet something very normal in context, but you can retweet it and the top of that retweet, you can frame as something different. And it is! Everyone is just framing everyone on social media. There's these reframing narratives, and then one narrative you read is like socially a mind virus where people are like "okay, that's what I've heard, I don't know where I heard that, but that's what I think."
But with Hickman especially, short of like, hooking up with my wife, he can do whatever he wants. He launched my career. I have a house because of the guy, because of The Manhattan Projects. He's done everything for me and he's the sweetest man ever. He's hilarious if you get to know him. He gives better advice than anyone in the industry I've ever met and he's literally done everything for me. You will never here a bad word. You know in that movie with Robin Williams…Goodwill Hunting and in the Goodwill Hunting, there's a point where one of the characters is like "you know why this piece of crap guy would hang out with them? Because they'll take a baseball bat to anyone of you guys if they tell you to," and that's how I feel about Hickman, man. If anyone comes at Hickman—Rob Liefeld, I'm looking at you Rob. Rob's always attacking Hickman online. Hickman's my guy, like he's my guy dude. He's the real deal. I've never said a bad thing about Hickman ever, so that's an interesting thing, but whatever.
CBH: Yeah, that's fascinating. That's awesome. I love hearing that. So, we've got to keep our ears to the ground on this The Manhattan Projects news, hopefully there's something in the pipeline there. I know with these things getting licensed, it's always like who knows where it will go. So, you know, fingers crossed for you that something takes off there at it actually hits the ground running. I gotta say, Einsteins in the multiverse would be so hot right now. That's everywhere. That would hit.
Pitarra: I know! It would be perfect timing and if you notice, it takes about twelve years for these properties, like The Boys or whatever, to come and it takes a while for the seed of how the comic book seeds the public's mind until it percolates and The Manhattan Projects is there. You're seeing all these shows that are kind of dealing with that. We're worried about nuclear war right now. Like it's manifesting itself or something like that. So, we'll see. We'll see if it happens.