That's the real war, isn't it? Ensuring you're on the winning side?
After decades of struggle, the Mutant race has achieved utopia, and built an empire that spans the galaxy. Together, they have transcended scarcity, disease, and death itself. But what is the true cost of this paradise? And what becomes of it when the many secrets, compromises, and hidden agendas that built it are finally brought into the light?
Brought to life by Valerio Schiti, Stefano Caselli, David Curiel, RB Silva, and Tom Muller, 2022's Inferno is so much more than a crossover. It's the ending to a saga that writer Jonathan Hickman began in the pages of House of X and Powers of X, transforming the X-Men, their world, and the Mutant metaphor behind it all. While the "Krakoan era" would encompass every title and creative team on the x-line of comics it would all be in service of Hickman's vision for the title, uniting Mutants, both good and evil, in a desperate mission to stave off extinction and build a sanctuary for the species.
"I think what happened after Grant and Frank did their thing is that you got that version of the X-Men and then there's been this nostalgic version of the X-Men…Playing the old hits kind of stuff," muses the writer. "And those two things have been fighting with each other, probably since that run. You don't want to do archaeology or nostalgia tropes. My job is to do new stuff with it, and launch us into a newer age of X-Men."
As each new corner of this sanctuary is explored, Hickman and his collaborators craft a larger picture across the line, putting the nation of Krakoa on a path that would end in its ultimate reckoning. While a number of factors influenced the event's production, including top-down editorial decisions from Marvel Comics and input from the other creatives on the line, Inferno is the definitive end of Hickman's vision for the X-Men, as countless threats spark back into being, threatening to burn down everything the Mutants have built. After years of storytelling, Inferno delivers what would become Hickman's legacy for X-Men: one last trial by fire for the Mutant race.
*SPOILERS AHEAD*
SEE WHAT WE CAN BUILD
To understand the impact of Inferno, one has to examine Hickman's arrival on X-Men, and the decades of history that shaped the title. Since the team's debut in 1963, every creator has put their own definitive spin on the "Mutant Metaphor," from Wein and Claremont's allusions to the civil rights movement, to Grant Morrison's global subculture, to Brian Michael Bendis's metaphor for survivors of a genocide. While Bendis's Decimation in particular would set the tone of the title for years, complications arose through Marvel's continued pushes to keep the title relevant. First came Schism, which split Mutant kind in a civil war between Wolverine and increasingly radicalized Cyclops. This was hastily backtracked through All-New X-Men, which replaced the embittered veteran team with their younger, time-displaced counterparts, which was also backtracked later. The title's struggles were complicated even further through a dispute between Fox and Marvel's parent company Disney for the character's film rights, which led to a short-lived attempt to fill the X-Men's place in Marvel with the Inhumans. This ultimately fell through, but the line's lack of focus persisted. While each creator left their own mark on the book, the title felt somewhat rudderless since Decimation, and was in need of a major overhaul.
Support For Comic Book Herald:
Comic Book Herald is reader-supported. When you buy through links on our site, we may earn a qualifying affiliate commission.
Comic Book Herald's reading orders and guides are also made possible by reader support on Patreon, and generous reader donations.
Any size contribution will help keep CBH alive and full of new comics guides and content. Support CBH on Patreon for exclusive rewards, or Donate here! Thank you for reading!
This would come through writer Jonathan Hickman, and an ambitious new direction he'd begin building through his miniseries House of X and Powers of X. Whereas previous runs focused solely on one faction of this species, Hickman saw the opportunity for something bigger: a united, sovereign species, finally free to create an identity wholly their own.
(Inferno #3 by Jonathan Hickman, R.B. Silva, Adriano Di Benedetto, and David Curiel)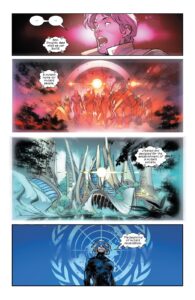 This paradigm shift was realized through the return of Moira Mactaggert, repurposed by Hickman into a Mutant with the ability to reincarnate with the knowledge of her past lives. Spurred on by the realization that Mutantkind "always loses" its war for survival, Hickman used Moira to catalyze an all-new status quo for the X-Men, having her unite Professor X, Magneto, and a handful of prominent Mutants including Sinister and Apocalypse into a governing body for Mutant kind. In short: The X-Men stopped being superheroes, and became nation-builders. This new status quo would be expanded upon through the following line-wide initiatives Dawn of X and Reign of X, which explored the further development of the nation and the many former factions that now lived in it.
"I usually get some idea of what the whole concept is–including the ending–all at once. The shape of it is just baked into the initial idea of the project," states the writer. "Once(…)this(…)project came out, bigger than we expected(…)with all those series published, very quickly the story began to take shape. It continued to evolve. I think it's thanks to the spirit of what it was…that it's a success."
Many of these stories would highlight the empowerment of the Mutant race, as Krakoa grew from isolated island nation to an intergalactic empire with ties to every corner of the Marvel Universe. The species' powers became their greatest resource, giving the nation a means to solve scarcity, disease, and even death itself. However, a closer look at Hickman's run on X-Men, as well as the bigger picture of the line as a whole, yields another ongoing theme: the steep price of keeping this utopia. Krakoa is pledged as a sanctuary for all Mutants, but beneath the promise of unity, the species' old factional struggles begin to re-emerge. This is best seen through a long-running plot thread in Hickman's X-Men: Moira and her fear of Mutants Mystique and Destiny. Touched upon in House and Powers, one of Moira's past lives saw her as a scientist obsessed with curing the Mutant gene, which led to a deadly confrontation with the pair. While Moira seemingly embraces their cause to save Mutant kind, her fear of the pair is present throughout the makeup of Krakoa, shown through a ban on resurrecting precogs and countless underhanded maneuvers to maintain her control of the council. Using the line's story, Hickman and his collaborators steadily stoked the conflict that would become Inferno, leaving Krakoa and its leaders a simple, brutal choice: realize their promises and evolve as a nation, or let the failures of its past burn it to the ground.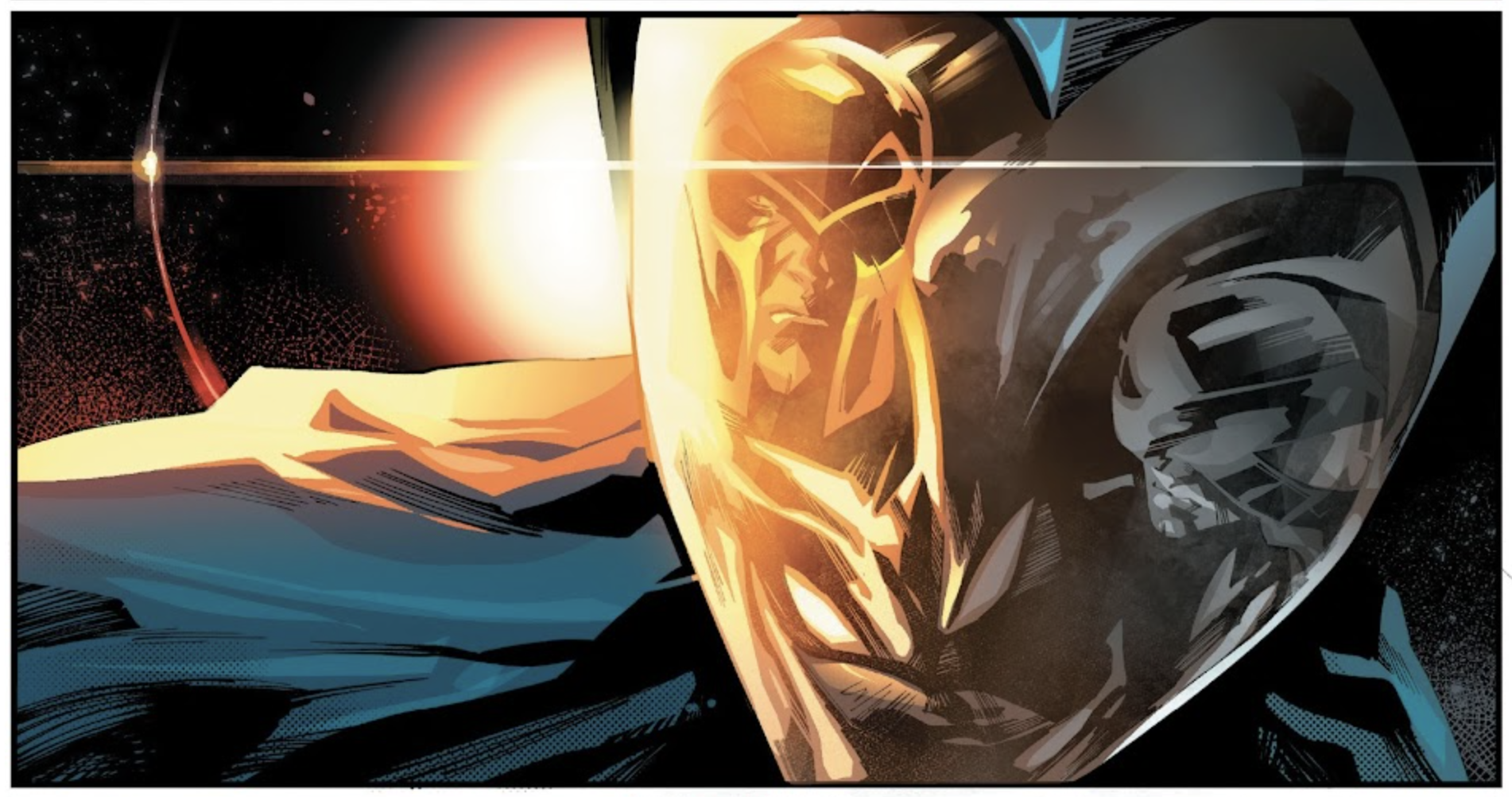 (Inferno #1 by Jonathan Hickman, Valerio Schiti, and David Curiel)
INTO THE INFERNO
Coming at the peak of the Reign of X, Inferno is the culmination of everything that's come before, specifically the Quiet Council founded at the end of House and Powers, the ominous presence of Nimrod, Mystique's quest to resurrect her wife Destiny, and the central mystery of Moira X. In sharp contrast to his previous stories, which dealt with the shared triumphs of the mutant nation, Hickman frames his story around Krakoa's most powerful individuals, following their separate plots before setting them on a violent collision course with each other. Naturally, Inferno's story begins with Moira, who after witnessing the increasing power of Orchis and Nimrod, sets a plan in motion to secure the future of Mutantkind, starting with a power grab for the council and the complete erasure of Destiny.
While these themes of "necessary evil" have been present in the line since the beginning, they've mostly been uncontested, with the moral compromises of Mutant kind set against the larger, monolithic evil of groups like Orchis and Xeno. But by shifting focus directly onto Moira and the Council's wrongdoings, Hickman is finally able to interrogate their line of thinking directly, complicated even further through another major reveal: Destiny, resurrected by Mystique in secret, begins a plan to expose the council. This tense, spy-thriller approach is given life through artists Valerio Schiti, Stefano Caselli and RB Silva, who alternate over the book's four issues to show the varied, distinct perspectives on the island. This sense of paranoia is augmented even further through the book's nonlinear presentation, as well as intel reports shown in Tom Muller's data page designs. The nation might appear unified, but Hickman and his collaborators have planted the seeds of doubt in Krakoa's leadership since the beginning, with every revelation replacing the council's image of hope with one of desperation and evil.
(Inferno #2 by Jonathan Hickman, Stefano Caselli, and David Curiel)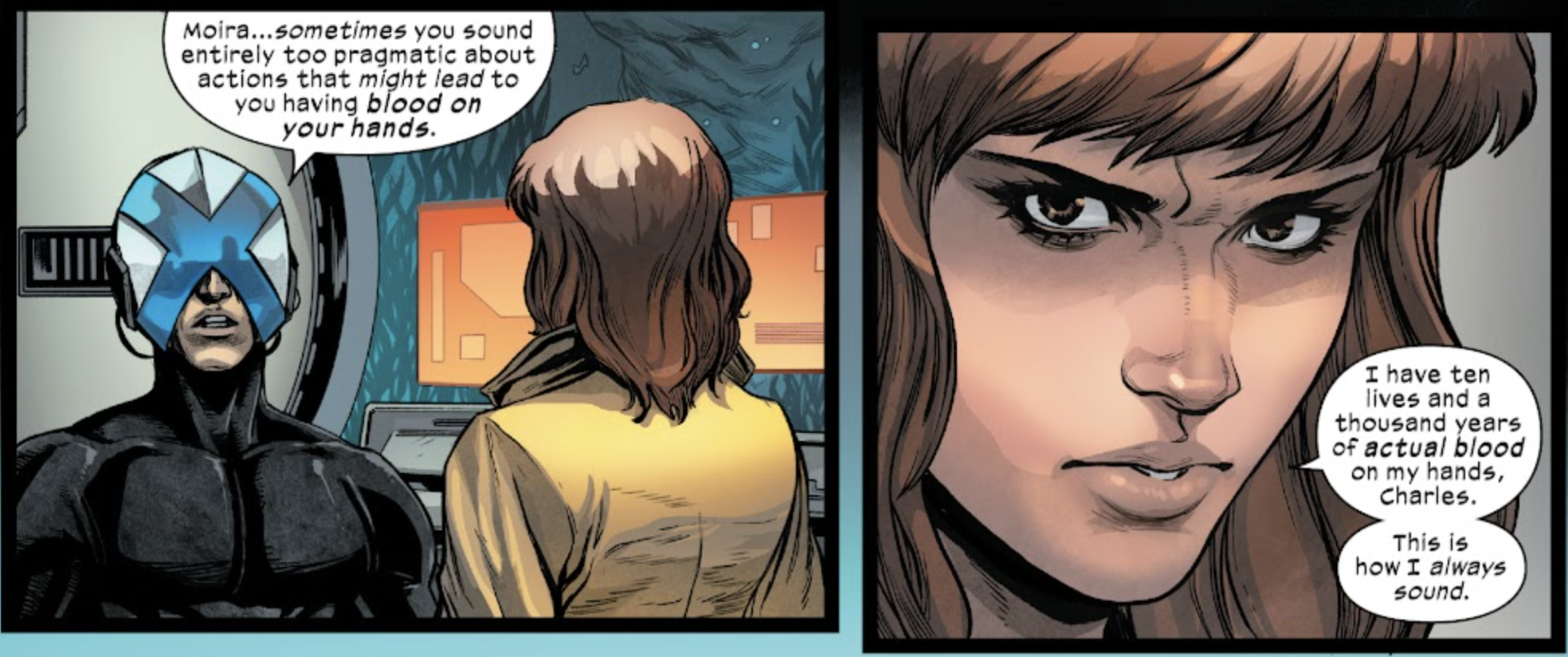 As Moira and her alliance try to wrest control, Hickman ties in even more threads across the line, steadily building them into a frightening climax. Learning the truth about Moira, Emma Frost takes steps of her own to secure Krakoa's future, leading to Moira's capture at the hands of Mystique and Destiny. This in turn forces Charles and Erik to mount a frantic rescue, only to meet face-to-face with Nimrod and Omega, who deliver a revelation of their own: like Moira's past lives, Omega traveled back from a future dominated by Mutants, intent on building a future ruled by the machines. Finally, through Moira herself, Inferno delivers one last truth that decimates the legacy of Krakoa: since the beginning, Moira's mission wasn't built on hope or faith, but doubt in the Mutant race and that they could only succeed by giving up what they are. In the end, Moira's Krakoa isn't the species' salvation, but another gilded cage.
(Inferno #4 by Jonathan Hickman, Valerio Schiti, Stefano Caselli, and David Curiel)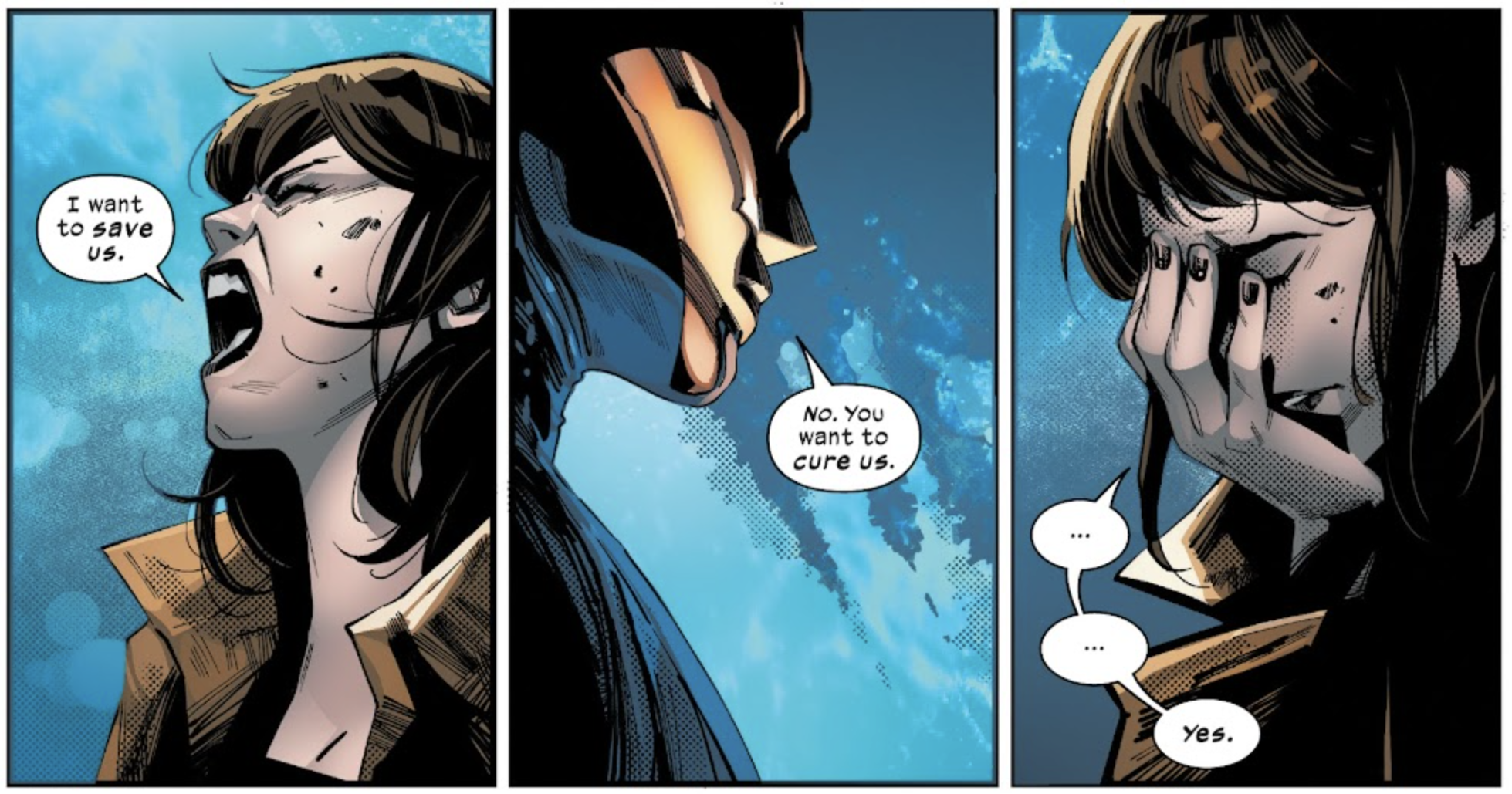 Since he began, Hickman has made one question a central pillar in his saga for the X-Men: What happens when great men commit to great works? This question drove much of the development behind the X-line, with creators exploring Krakoa's effects on the individual and the collective, but through Inferno Hickman delivers a definitive, yet complicated answer. Any nation, even one built on progress and sanctuary, is at the mercy of its leaders and its people. The flawed vision of Krakoa's leadership is what incites the events of Inferno, with Moira's doubt slowly warping the promise of the nation into a system that excludes its own and invites its self-destruction.
But even after exploring the failures of Krakoa's leadership, Inferno delivers another path to salvation through its people, who remain idealistic and faithful to the sanctuary they've helped to build. Moira's actions only continue the cycle of violence seen in House and Powers, but it's a timely intervention by Cypher that breaks that cycle, and a new leadership under Emma Frost that sees the council finally accept the burden of its accountability. In place of the euphoric victory of House and Powers, Inferno leaves the X-Men on a hopeful yet ambiguous note. The great men behind Krakoa have fallen, but the nation's great works have only just begun.
TO BE CONTINUED, FOREVER
Like his previous work on Fantastic Four and the Secret Wars crossover, Jonathan Hickman arrived on X-Men with a grand vision. While the specifics vary from source to source, the writer would share some details in an appearance at San Diego Comic Con in 2019.
"When I pitched the X-Men story I wanted to do, I pitched a very big, very broad, three-act, three-event narrative, the first of which was House of X," recounts the writer. "And while this loosely worked as a three-year plan, I told Marvel upfront that I honestly had no idea how long the first part would last because there were a lot of interesting ideas…and so, we left this rather open-ended."
These plans became the underpinning of the new status quo introduced in House and Powers, but even moving past that initial story, the plans for the line quickly began to evolve. Through the Dawn of X and Reign of X, Hickman brought on an all-new stable of creatives to revitalize the line, each bringing their own perspective on the Mutant metaphor and Krakoa's place in it. The bonds between creators only continued to grow through the isolation of the COVID-19 pandemic, but as the group's dynamic changed, so too did their plans for Krakoa. As the team moved into the line's "second-act pivot," Hickman came to the decision that the line had moved beyond his original plans, and he'd be leaving his tenure early.
"It has been a long time that I'd known he was leaving — all of us have," states Senior Editor Jordan White. "And it was always going to be his finale since I knew he was leaving. This is not the end game of his many, many years-long story, but this is where he said, 'This is the story I'm going to tell and then I'm going to step away.' He and I worked so closely with every single writer working on the line. I know he's really proud of them and the work that they're doing and that's why he's comfortable stepping away."
Hickman would stay on to oversee the line through Inferno, but a number of changes were made in the lead-up to the event. The writer's X-Men and New Mutants books were relaunched under X-office members Gerry Duggan and Vita Ayala, and the upcoming Destiny of X initiative made several revisions to Inferno's plot, possibly including the status of Krakoa. This drew criticism from readers who wanted to see the full scope of Hickman's story, but the writer reiterated the strength of the office's collaboration. To Hickman, his ideas haven't been completely abandoned, they've merely evolved.
"The big questions and resulting conflicts I was getting at aren't disappearing from the line — those things are baked in. They're inevitable in a lot of ways."
While Inferno ended up far from the titanic send-off Hickman had planned for X-Men, it's still a testament to everything the writer and his collaborators have built, using the title's decades of history to forge an ambitious new chapter, and add countless perspectives to the Mutant metaphor. The Mutant race still has its challenges ahead, but its great reckoning is finally over. For the first time in its history, the species is free to claim their destiny, whatever it may be.
Sources:
ew.com/books/inferno-jonathan-hickman-last-x-men-comic/
aiptcomics.com/2022/02/10/x-men-hickman-era-retrospective/
comicbookherald.com/always-additive-a-retrospective-of-hickmans-tenure-as-architect-of-krakoa/
california18.com/jonathan-hickman-reveals-the-roots-of-his-management-of-the-x-men/2550062022/
aiptcomics.com/2019/07/20/were-going-in-a-radically-different-direction-jonathan-hickman-talks-the-new-era-of-dawn-of-x-at-sdcc/