Over many decades, Deathstroke has come to be regarded as less of a villain and more of an antihero, due to his complicated loyalties and occasional tendency to switch sides mid-fight when his limited conscience happens to get the better of him. He remains very much a "love him or hate him" character among DC's pantheon. To be clear, I fall on the "hate him" side of this. He is the worst!
Yet it's possible for an unlikeable protagonist to make for a great story when placed in the hands of a capable creative team. Deathstroke has had his moments, from his early days in the Marv Wolfman and George Perez New Teen Titans to his more recent runs. Still, it was not until writer Christopher Priest penned his incredible fifty-plus issue arc with the character as part of DC's Rebirth relaunch that Slade Wilson's Shakespeare-meets-Dynasty-meets-The-Professional vibes came to their full fruition in Deathstroke Omnibus.
Collects: Deathstroke: Rebirth #1, Deathstroke #1-50, Deathstroke Annual #1, DC Holiday Special 2017 #1, Titans #11, Teen Titans #8, #28-30, and Titans: The Lazarus Contract Special #1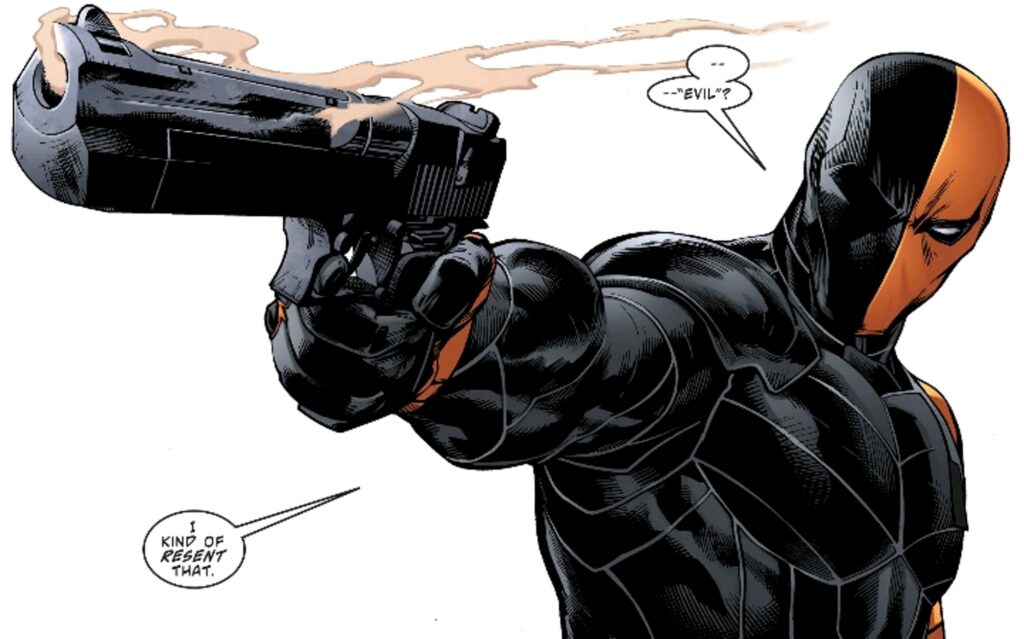 Related:
Support For Comic Book Herald:
Comic Book Herald is reader-supported. When you buy through links on our site, we may earn a qualifying affiliate commission.
Comic Book Herald's reading orders and guides are also made possible by reader support on Patreon, and generous reader donations.
Any size contribution will help keep CBH alive and full of new comics guides and content. Support CBH on Patreon for exclusive rewards, or Donate here! Thank you for reading!
Deathstroke Origins
Priest's run on Deathstroke begins with a disturbing memory where he grabs hold of his young son, Grant, who slept in the car rather than the tent, running the heater until the battery died. Grant yells at him and tells him he hopes he dies before running off into the woods, at which time Slade takes Joey and simply leaves Grant. When his son then awakens a hibernating bear, Slade shoots the bear in the head, blaming Grant for his actions and accusing him of screaming "like a girl."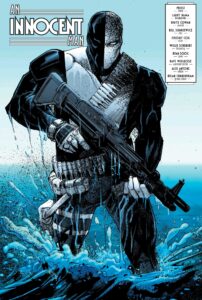 This memory is revisited several times throughout the series, and not just by Slade, though we also get a glimpse of him being forced to sleep in a shed by an alcoholic father as a young boy that puts some of his actions in context. His son Joey is also haunted by memories of Slade's inflexibility and occasional sadism as a parent. Joey suffered greatly as a result of being the son of Deathstroke, be it from the physical violence between his parents or the night when it all caught up with them and his father's enemies found Joseph and cut his throat. This cost Joey his voice, but when Joey's mother Adeline shot Slade through the eye while he fought to save his son, it created the ruthless killer known as Deathstroke.
The ongoing drama among the Wilsons in this series is worthy of any daytime soap opera, and it infuses much-needed humor, pathos, and dimension into Deathstroke's story. In an interview with Multiversity, Priest noted that, "The series is not about a bloody killer. It is about The World's Worst Dad, who happens to be an assassin in his day job." In the end, the thing that makes this book succeed as well as it does is its ability to focus on the Wilsons as a complete, if fractured, unit. Here, Slade's failures have far-reaching consequences, but of everyone he hurts, there is no question that his children suffer for it the most.
No Easy Answers
Scenes flash between the present and the distant past regularly, which, due to the lack of signifiers, can cause a little confusion in the first arc before you come to accept that flitting around in Slade's memories is just going to be the vibe. Much of this story is told through Slade's viewpoint, but we often see the same events through the eyes of others, with Slade, Adeline, and Joey all remembering the attack that cost Joey his voice slightly differently, with unique ramifications for each of them.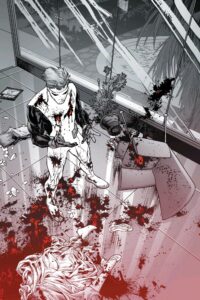 One of the surprise best issues of the series is #11, a fill-in between stories that delves into the cyclical nature of gun violence, specifically in Chicago, for the sake of the story. This issue has been written about by multiple critics, and it remains one of the highlights of the series overall due to its acknowledgement of the nuance lacking in many conversations around guns. The issue begins and ends on somber reflections from a detective who continually deals with brutal crimes noting that there are regulations against him lighting up a cigarette but comparatively few laws around guns.
Jack Ryder, otherwise known as the Creeper, digs into a murder mystery in which citizens have apparently been pooling money to hire an assassin to take out perpetrators of gun violence. The story is full of interesting character beats as Ryder questions people who have lost loved ones. In the end, the issue draws no conclusions, but offers plenty of observations on the complexity of the uniquely American obsession with guns.
Rose and Joseph Are Working Through It
One of Priest's great strengths in this series is to create context around the worst things these characters have ever done without necessarily forgiving them for their actions. It doesn't make them more likeable, but it does give them greater autonomy in the tragedies of their lives.
Joseph and Rose are two characters that greatly benefit from this approach, though, again, it doesn't exactly make them more relatable so much as it allows them the self-awareness they lacked in previous arcs. Rather than being a straightforward villain, Joseph is very much an idealistic young man who was changed to his core by the things that happen to him in life. We see flashbacks in which he excitedly embraces the life of a teen superhero, but in the present day, he is an absolute mess. Engaged to a woman named Etienne who is sleeping with his father on the side, Joseph is also revealed to be carrying on an ongoing affair with David Isherwood, a man whom he had known as an "uncle" as a child. Etienne is murdered and Isherwood is first hospitalized, then transformed into one of the most dangerous recurring villains of the series.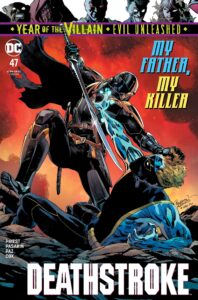 At multiple points in the series, Joseph identifies that he feels that he is exactly the same as his father and fights daily not to become him. His already morally tentative power of possession becomes more and more self-serving, and he struggles with pill addiction. Meanwhile, Rose's arc sees her trying to break free of the complicated web of lies that Slade and others have made of her past. She has several moments with Joseph and Slade that show her commitment to her family regardless of how flawed they might be, but she continues to suffer from her involvement with them. She spends a lot of the series apparently occasionally possessed by an entity named Willow. Late in the series, Jericho takes Lex Luthor nanotech and becomes addicted to it, causing a fight between him and Rose, but the two of them ultimately bond over their shared tragedies.
For a short period of time, Slade takes Tanya Spears, aka Power Girl, under his wing, but this doesn't do her any favors. She uses her technology to run tests on Slade and loans him a seeing eye dog to help him navigate temporary blindness. Though she's one of the more entertaining characters of the series, by the end of her arc, she is lost to comics limbo.
Batman Forever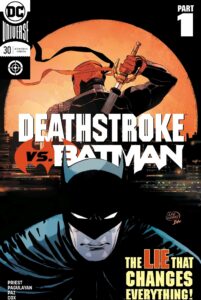 Batman's relationship to Slade is a major recurring theme in this story, and their mutual animosity takes center stage more than once. As Rebirth was reestablishing the connections between many characters, the Deathstroke and Batman dynamic became only more ruthless. Early in the series, Slade threatens Robin, and, calling his bluff, Batman callously shrugs that he'll simply get another.
The tentative peace between Bruce and Slade can't last forever, as Slade pops off threat after threat and Bruce calmly analyzes. When Bruce receives paperwork questioning his status as Damian's biological father, Slade claims to have fathered the boy. Though this is very much a red herring, it forces the two into the confrontation that was foretold in the first volume of the series.
Scenes in which Deathstroke chastises Batman for being a bad father and "ruining" Damian display a stunning lack of self-awareness on Slade's part, but continue to help build his character. This story is exactly the violent brawl over several issues one might expect it to be, but there is a surprising level of characterization and nuance at play as Robin and Jericho's narratives around their respective fathers line up in some unexpected ways.
Terra…
Terra makes her return in this story, and we see a soft retcon of her appearances in The Judas Contract. The focus is on Slade as this story changes his involvement with Terra to a single kiss rather than the long-term sexual affair portrayed in New Teen Titans. This story lightens Slade's involvement, but does nothing to redeem Terra. Though it shows the brutal trauma of her early childhood, it pushes her even further than the original story did into a realm of sexual aggression and uncontrollable rage. Slade realizes that he was wrong to use her, but by this time, the damage has been done. When his Defiance initiative implodes and he ends up in a battle against her, Isherwood, and Kong Kenan, Deathstroke tells her in no uncertain terms that he never loved her and only used her. This arc likewise does not redeem Slade. Rather, it shows a cohesive narrative around his involvement with Terra while shifting the story away from some of its most disturbing implications.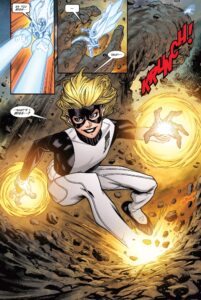 Here, Tara Markov is very much a villain-for-hire. Her tendency to say cruel things and take every conversation in a sexual direction is greatly increased, not necessarily for the betterment of her character. Yet the "Defiance" arc makes an effort to acknowledge on the page that there is no possible justification for Slade's actions with her, regardless of when or how he put a stop to their liaisons. While this take on Terra isn't particularly likeable, there are still some entertaining moments with her as she teases her Defiance teammates, and her awe-inspiring power is never in question.
Things Are Coming up Wintergreen
If there is a conscience to this book, it would have to be Slade's longtime friend Wintergreen. Isherwood programs Wintergreen's voice into Slade's suit and it gives him a constant companion through much of the series. When Wintergreen makes appearances in real time, he's always one of the best parts of the book. Slade's deadpan delivery is the perfect counterbalance to his friend's charming disposition.
Slade's moral journey through this series might not land him anywhere he hasn't been before, but it's an interesting jaunt through his bizarre ethical code. After he has an encounter with the Speed Force, Slade appears to experience an aftermath similar to those who have had a brush with death or felt a connection to a higher power. Deciding to "go good," he assembles the Defiance team, which leads to some of the most entertaining segments of the series as characters like Ravager, Jericho, Power Girl, Wallace West, and Terra attempt to coalesce into a functional superteam. When he inevitably becomes disillusioned with the quest, the team, and the people who make it up, are left in shambles.
This is not the kind of story that attempts to redeem its central protagonist despite their wrongdoings. In fact, even as he works to get his act together, there is no point throughout this fifty-issue run in which Slade is going to come across in a great light. Yet this is one of the key strengths of the story, as Priest leans into showing Slade's bloody, violent past and bad parenting, then contrasts it by showing the effect it has had on those who have been unlucky enough to find themselves in his sphere. The people around Slade, including his children, generally despise him, and it's hard to make a case for why they shouldn't.
Bloodthirsty mercenaries are a dime a dozen in the world of superhero comics, but Slade Wilson's bizarre, often self-defeating moral compass is what makes him more intriguing than the regular run-of-the-mill assassin. Still, it is his complicated family dynamics and his utter failure as a mentor and father figure that gives this series much of its charm. The rapid-fire dialogue, soap opera drama, and labyrinthine family dynamics are all a big part of what makes Christopher Priest's Deathstroke the definitive run on the character.