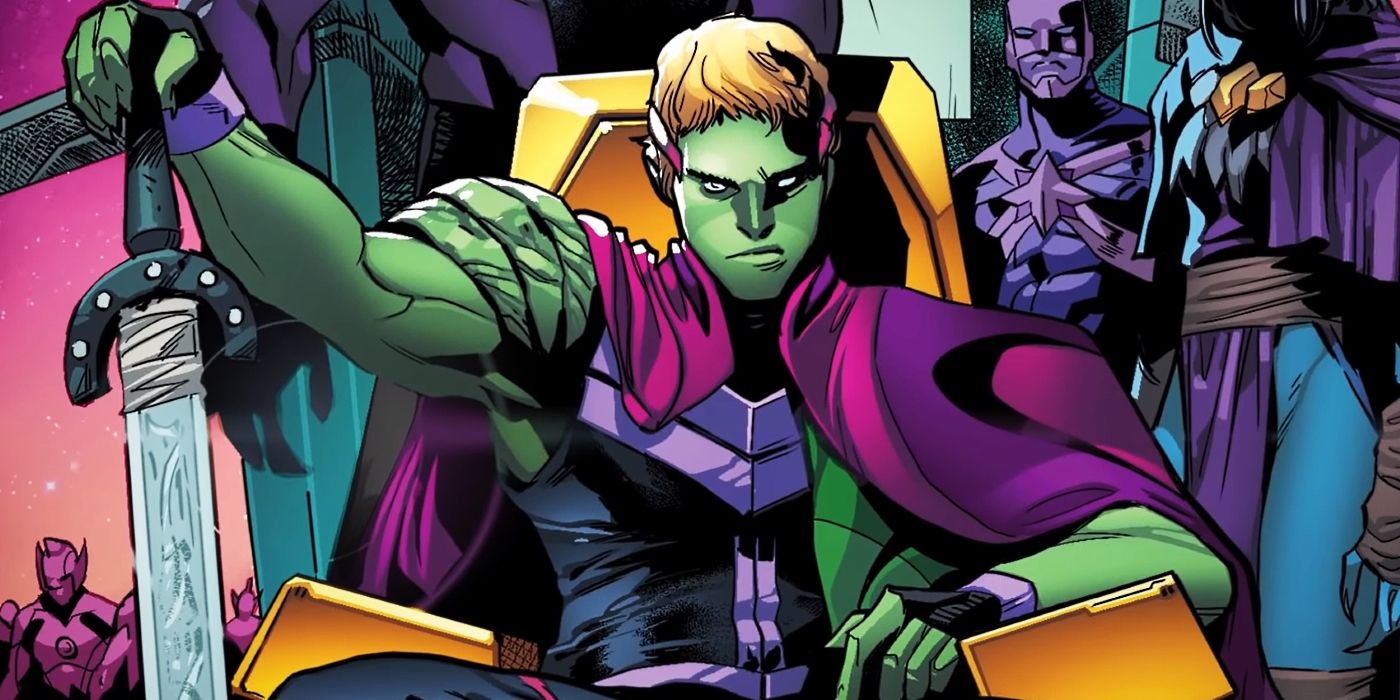 It's a rare thing, getting to see a character go from a 2000s legacy teen hero to becoming a main player in the Marvel universe. That's why it's so great to see Teddy Altman—or "Hulkling"—become the King of Space, unifier of the Kree-Skrull Alliance, and central focus of the 2020 Empyre event.
Even more noteworthy is the fact that Hulkling—one of, if not the most important character in the cosmic side of Marvel—is not only a gay man but one in a loving relationship with fellow Young Avenger Wiccan (their recent space wedding being no doubt the best part of Empyre.) Moreover, his actions as King have repercussions all across the cosmic titles of Marvel, from Al Ewing's SWORD to the royal couple's recent appearance in Guardians of the Galaxy.
The Youngest There Is
Young Avengers by Allen Heinberg and Jim Cheung: The Complete Collection
Collects: Young Avengers #1-12, Special #1
Hulkling is among the original roster of Young Avengers assembled by Iron Lad to protect the world against Kang the Conqueror. As part of the team, Hulkling faces off against Kang and Mister Hyde. In Young Avengers Special #1, we see Teddy as a teenager using his powers to impress his friends, and he and his boyfriend Billy Kaplan (aka Wiccan) decide to come out publicly as a gay couple. In the back half of the run, starting with Issue #9, Hulkling and his parentage take center place in the story as it is revealed that he is Dorrek VIII, the son of the Kree hero Mar-Vell and the Skrull Princess Anelle. Both galactic empires are after him and come into conflict on Earth, which causes the death of Teddy's adoptive mother at the hands of Kl'rt the Super-Skrull. From this point forward, although Teddy still lives as a teen hero and a regular teenager on Earth, all while the shadow of his potential destiny as the uniter of these two warring worlds looms over all his stories.
Support For Comic Book Herald:
Comic Book Herald is reader-supported. When you buy through links on our site, we may earn a qualifying affiliate commission.
Comic Book Herald's reading orders and guides are also made possible by reader support on Patreon, and generous reader donations.
Any size contribution will help keep CBH alive and full of new comics guides and content. Support CBH on Patreon for exclusive rewards, or Donate here! Thank you for reading!
Civil War: Young Avengers & Runaways
Collects: Civil War: Young Avengers & Runaways #1-4
In the main Civil War event, the Young Avengers join Captain America's anti-registration resistance. Hulkling impersonates Hank Pym in order to free imprisoned heroes from Prison 42 and help turn the tide in the final battle. In a tie-in mini-series, the team joins forces with Marvel's other teen team, the Runaways… including Xavin, a Super-Skrull in training. At first, Xavin bows down to Hulkling as his rightful ruler before getting mad at the Young Avenger for refusing to take his place as heir to the throne and unify the Skrull Empire.
Collects: Young Avengers Presents #1-6
In Young Avengers Presents #2, Teddy meets what appears to be his father, the original Captain Marvel.
Collects: Secret Invasion #1-8
The Skrulls invade Earth, and the Young Avengers fight them in Times Square. Without success, Hulkling tries to stop the alien forces by telling them who he is. He also learns that the "Captain Marvel" he talked to was actually a Skrull in disguise.
Secret Invasion: Runaways/Young Avengers
Collects: Secret Invasion: Runaways/Young Avengers #1-3
The team joins forces with the Runaways in a tie-in mini-series once again. Xavin reiterates that Teddy could have avoided all of this if he had taken his rightful place and united the Skrulls himself. The teen heroes realize they might be able to stop the Skrull invasion by broadcasting Hulkling's parentage to the entire invading fleet.
Collects: Dark Reign: Young Avengers #1-5
A new team of Young Avengers inspired by Norman Osborn's Dark Reign is introduced, and the original team has to decide what to do with the interlopers. The two groups end up somewhat teaming up against Osborn's Dark Avengers.
Collects: Siege: Young Avengers #1
The Young Avengers try to save people amidst the wreckage of Asgard's fall. Hulkling and Wiccan fight the Wrecking Crew, and the team gets a brutal look at the worst aspects of superhero-ing.
In 2010's Avengers #1, Hulkling and his teammates officially become full-fledged Avengers at Steve Rogers' request.
Avengers: The Children's Crusade
Collects: Avengers: The Children's Crusade #1-9, Avengers: The Children's Crusade – Young Avengers #1
Teddy accompanies Wiccan on his quest to find his mother, the Scarlet Witch. During the couple's journey, they come across Magneto, Quicksilver, Doctor Doom, and even a time-displaced Ant-Man; all leading to a final conflict between Avengers and X-Men over Wanda's responsibility in the mutant decimation. The series ends with Teddy proposing to Billy.
In Avengers: The Children's Crusade – Young Avengers #1, Iron Lad meets a future version of the Young Avengers and a Teddy who has taken up the mantle of his father as Captain Marvel.
The Sword in the Stars
Young Avengers by Gillen & McKelvie: The Complete Collection
Collects: Young Avengers #1-15
When Wiccan tries to bring Hulkling's adoptive mother back to life, he accidentally summons an interdimensional being called Mother. Meanwhile, Hulkling is manipulated by Loki into thinking he might have been created by Wiccan's subconscious as a perfect boyfriend. After leaving the team for a few issues and being captured by Mother, Hulkling is rescued by the Young Avengers and rejoins them, getting over his existential crisis thanks to Prodigy.
Collects: Original Sins #1-5, Original Sin Annual #1
Hulkling, Prodigy, and Wiccan's brother, Speed, try to save people from the Watcher's secrets overwhelming their minds. But the three need the help of supervillain The Hood to do so.
New Avengers: A.I.M. Vol. 1: Everything is New
Collects: New Avengers #1-6, Avengers #0
After Teddy Altman and Billy Kaplan join Sunspot's New Avengers, Teddy is captured by a group of Kree-Skrull hybrids who want him to lead both empires. He retrieves a legendary sword named Excelsior, proving that he is the uniting prince promised by the ancient prophecy. Teddy leaves but does agree to return when he's ready to become their king. The Avengers also meet a future version of themselves in which Teddy is known as King Hulk, while Billy has become the supervillain Demiurge.
New Avengers: A.I.M. Vol. 2: Standoff
Collects: New Avengers #7-11
Hulkling, Wiccan, and Squirrel Girl are kicked off the team for refusing to go to war against S.H.I.E.L.D.
New Avengers: A.I.M. Vol. 3: Civil War II
Collects: New Avengers #12-18
Hulkling and the others come back to save Sunspot's team from the Maker and his Revengers. In the final issue, Sunspot gives Teddy and Billy their own apartment in New York City, where they start living as an engaged couple.
Collects: Death's Head #1-4
Teddy and Billy have to fight alongside robotic mercenary Death's Head after Billy decides to steal a teenage version of the bot called Vee.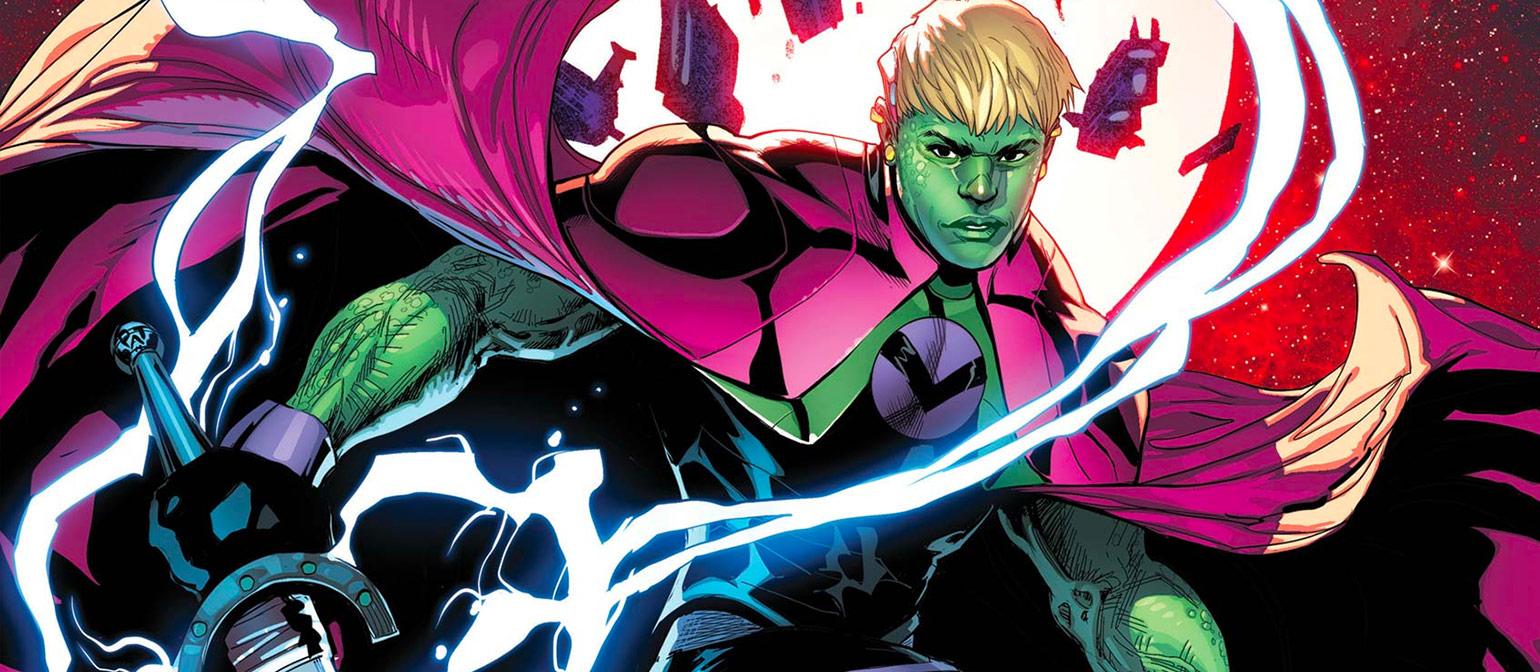 Hulkling, King of Space
Collects: Incoming #1, Road to Empyre: The Kree/Skrull War #1, Empyre Handbook #1
Teddy leaves for space to unite Kree and Skrulls and is crowned King Dorrek VIII. He assembles his armies, apparently ready to wage war on Earth.
Lord of Empyre: Emperor Hulkling
Collects: Lords of Empyre: Emperor Hulkling #1
In his very first solo issue, we see how Hulkling became Emperor of the Kree-Skrull Alliance, ending both the Kree-Skrull war and the Kree Civil War at once.
Collects: Empyre: Avengers #0, Empyre: Fantastic Four #0, Empyre #1-6, Empyre Aftermath: Avengers #1, Empyre Fallout: Fantastic Four #1
In this 2020 crossover event, Hulkling leads the Kree and Skrull armies to the Moon to fight their common enemy, the Cotati. The Fantastic Four and the Avengers get involved as the conflict becomes a war for the fate of the Earth. Ultimately, Teddy is betrayed by his own grandmother. The event also includes the wedding of Hulkling and Wiccan, a milestone that further proves how the couple has graduated from teen heroes to main players in the Marvel universe. Teddy proves his worth as king by being merciful to his enemies and instigating peace across the galaxy, making Kl'rt a diplomat instead of executing him as punishment for the death of his adoptive mother.
King in Black: Wiccan and Hulkling
Collects: King in Black: Wiccan and Hulkling #1
The new Emperor and his Court Wizard of a husband leave on their honeymoon on a Shi'ar beach right as Knull decides to invade it with his symbiote army.
Guardians of the Galaxy by Al Ewing Vol. 3
Collects: Guardians of the Galaxy #13-18
Hulkling and Wiccan team up with the Guardians of the Galaxy to protect the Kree homeworld of Hala from the Progenitors… and Doctor Doom.