With a single word, young Billy Batson can become the World's Mightiest Mortal with the power to defeat any opponent, break any chain, overcome any challenge.
Well, all except one. A lawsuit.
Captain Marvel, now known as Shazam, but we'll get into that later, is the chosen champion of the ancient being known as The Wizard Shazam. And by speaking his name, Billy is instantly transformed into a hero with the wisdom of Solomon, strength of Hercules, stamina of Atlas, power of Zeus, courage of Achilles, and speed of Mercury. And now, as the magically-imbued hero of Fawcett City, Captain Marvel has the power to defeat evil wherever it rears its ugly head.
Shazam, as both a character and larger publication, is most often a light hearted, often goofy story of a kid's ultimate wish fulfillment. Literally transforming into the grown-up hero they always wished they could have in their lives. But beyond his charms and thrills on the page, it's the publication and legal history of Captain Marvel, and the many Captain Marvels that would follow, that makes Shazam an integral piece of comic book history, which was shaped by both his presence and absence.
Shazam is a comic whose intermittent publication tells the story of a constantly changing comic book landscape and whose litigation-ensconced history maps out a publisher war waged on many fronts. To better understand this war and the heroes caught within it, we'll look at the origins of Captain Marvel, DC Comics' long-delayed rebirth of the Big Red Cheese, and the publication's multiple relaunches, which each responded to a world that evolved while Billy Batson slept.
Support For Comic Book Herald:
Comic Book Herald is reader-supported. When you buy through links on our site, we may earn a qualifying affiliate commission.
Comic Book Herald's reading orders and guides are also made possible by reader support on Patreon, and generous reader donations.
Any size contribution will help keep CBH alive and full of new comics guides and content. Support CBH on Patreon for exclusive rewards, or Donate here! Thank you for reading!
First Thunder
It's not an exaggeration to say that the debut of Jerry Siegel and Joe Shuster's Superman in 1938 changed everything. As soon as The Man of Steel debuted in Action Comics #1 under what was then known as National Comics Publications and eventually became DC Comics, dozens of superhero imitators began to pop up in rival comics. And none of these were as successful as that of Captain Marvel – a red and gold tights-wearing, square-jawed, all-powerful hero created by Bill Parker and C. C. Beck for Fawcett Comics.
Fawcett Publications was founded in 1919 by Wilford Fawcett with the publication of humor magazine "Captain Billy's Whiz-Bang." The publication continued to grow in the following decades until Wilford's death, which coincided with Fawcett's move into comics to capitalize on the sudden success of Superman.
Wilford's son and Fawcett circulation director Roscoe Kent Fawcett claimed he was responsible for the initial idea behind the character who would soon be known as Captain Marvel. "I got us into the comic book business," said Fawcett. "I said, 'Give me a Superman, only have his other identity be a 10- or 12-year-old boy rather than a man.'" That's a sentiment that would soon come back to haunt the publisher.
Parker and Beck's hero debuted in the pages of Whiz Comics #2 in December of 1939. Why number 2? Because the first ashcan issue had been printed as both Flash Comics #1 and Thrill Comics #1, with Captain Marvel originally named Captain Thunder in an effort to secure copyright on any of these names. Fawcett soon found out that they couldn't, as all three had already been taken. And that should clue you in right away that the comic book industry of the late '30s was basically the wild west and that Fawcett's overeagerness would land them in trouble.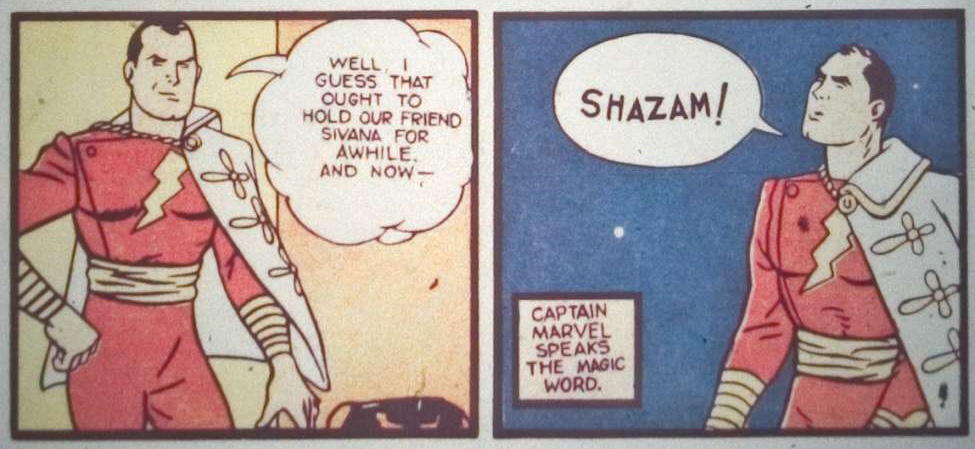 Captain Marvel was rendered in a deliberately cartoony manner by Beck, and it helped Whiz Comics stand out from the competition. Captain Marvel is built like a cloud that lifts weights, with arched eyebrows, squinty eyes, and a near-constant grin that perfectly suits the lighter, more fairy tale-like stories the creators decided were right for the title. In contrast, young Billy Batson is small and slight of frame with black button eyes underlining the character's innocent wonder. Together with the steadily growing Marvel Family, Captain Marvel fought a series of outlandish villains, including such enduring classics as Dr. Sivana, Mr. Mind, Black Adam, and The Monster Society of Evil, as well as the Axis when World War II broke out.
"Billy Batson was the real hero of all the Captain Marvel stories, from the first issue until the last," said C.C. Beck. "Without Billy Batson, Captain Marvel would have been merely another overdrawn, one-dimensional figure in a ridiculous costume. The stories were about Billy Batson, not about the cavortings of a ridiculous superhero for whom the writers had to concoct new and more impossible demonstrations of his powers for each issue."
Whiz Comics #2 sold more than 500,000 copies in its debut, marking the instant success of Captain Marvel and soon leading to the spinoff series of "Captain Marvel Adventures." Soon, the Captain's adventures were outselling Superman, with "Adventures" reaching a bi-weekly publication with a circulation of 1.3 million copies an issue. Captain Marvel even beat The Man of Tomorrow to the silver screen through his own movie serial "The Adventures of Captain Marvel" in 1941. And when co-creator and writer Bill Parker was drafted into World War II and unable to continue his work on the series, Otto Binder stepped in to continue the comics with Beck. And it was Binder who massively expanded the Captain Marvel world with Captain Marvel Jr., Mary Marvel, Uncle Marvel, the Lieutenant Marvels, and Mr. Tawky Tawny. He also created the first ever serialized comic story with the 25-part "Monster Society of Evil." Unfortunately, these early Captain Marvel stories are also now infamous for their racial caricatures, which has kept them out of print today. Years later, Binder would go on to be as prolific an inventor for the Superman mythos. Just without the stereotyping.
Billy Batson was on top of the world. But there was just one problem.
National Comics Publications would file a lawsuit against Fawcett in 1941 claiming that Captain Marvel was a ripoff of Superman and therefore guilty of copyright infringement. This wasn't the first time that National had sued another comics publisher. They had previously accused both Fox Feature Syndicate's Wonder Man and Fawcett's other hero Master Man of being Superman rip offs. And in both cases, the publishers stopped printing those characters to avoid legal repercussions. But Captain Marvel was big business and Fawcett wouldn't go down without a fight.
The litigation would go on for 7 years, with National arguing that Captain Marvel's powers and reporter alter ego were directly pulled from Superman. And while Fawcett showed that both Captain Marvel and Superman were indebted to heroes who came before both of them, testimony from freelance writers such as Manly Wade Wellman claimed they were directly instructed by Fawcett editorial to copy Superman.
Eventually, Captain Marvel was ruled to be an illegal copy, but Fawcett's lawyers discovered that several Superman newspaper strips were not properly trademarked, an accident caused by the logo not bearing the proper trademark stamp in a manner not dissimilar to the blunder made years later in George Romero's "Night of the Living Dead," and as such, National Comics had invalidated their copyright, leading to a Fawcett victory.
Fawcett couldn't celebrate for long. National appealed the decision and were allowed a retrial in 1951. But it wasn't just the circumstances of the case that had changed. For the first of many times, the comic publishing landscape had dramatically shifted around Billy Batson and the end of World War II saw a massive decline in comic book sales. Fawcett Comics decided that it was simply not worth it to continue to battle National over the rights to Captain Marvel when the potential sales could not outweigh the potential penalties. And in 1953, Fawcett paid $400,000 in damages to National and ceased the publication of all Captain Marvel comics.
The World's Mightiest Mortal had been sealed inside the Rock of Eternity and wouldn't return for another 20 years. In the meantime, the disappearance of the hero known as Captain Marvel left his title up for grabs in a soon-to-explode comic book industry.
A World Without Lightning
DC may have stopped Captain Marvel from stealing Superman's spotlight, but The World's Mightiest Mortal still echoed in the public consciousness. Among other influences, Captain Marvel Jr. was loved by Elvis Presley and may have been the reason behind his hairstyle and latter-day jumpsuits. But the sudden disappearance of The World's Mightiest Mortal left the door open for countless Captain Marvel imitators.
Beck and Otto Binder planned to create a hero known as "Captain Shazam" for Lightning Comics, but this thinly veiled Marvel revival never made it past an advertisement when the publisher folded.
British publisher L. Miller and Son had been reprinting Captain Marvel comics and with the character suddenly cut off by the lawsuit, the publisher needed a replacement fast. Enter writer Mick Anglo and the not-so-subtle homage of Marvelman. Here, the ordinary Michael Moran shouted "Kimota!" instead of Shazam to be transformed into his heroic persona. The Captain Marvel comic didn't even stop publication, it was simply renamed "Marvelman" with issue #25 in 1954, with the character being regularly published until 1963. Marvelman was eventually revived by Alan Moore in Warrior Magazine in 1982 for a dark and tortured reimagining, with the character forced to be renamed Miracleman by Marvel Comics. But more on their copyright in a minute.
The '60s saw three other Captain Marvels rise. One being M.F. Enterprises' much-reviled knockoff android Captain, who could separate all its body parts by yelling "Split!" (comics were desperately running out of new ideas even half a century ago) and another being Bill Black's attempt to simply revive the original Captain Marvel in the fanzine Paragon Golden Age Greats. Both of these were not long for publication due to copyright issues and most specifically the rise of the third iteration, Marvel Comics' own Captain Marvel.
The year 1967 saw Marvel Comics, at the insistence of publisher Martin Goodman not wanting the company's name emblazoned on a rival publisher's character, create their own Captain Marvel, who debuted as the alien Kree soldier Mar-Vell. The following year saw the debut of this new Captain Marvel's solo series and with it, Marvel's trademark on the name. While this may be seen in retrospect as a sneaky way of stealing the name, Billy Batson's adventures had been over and out of print for 15 years and for all anyone knew, Captain Marvel was gone forever. Who could oppose them? To keep the trademark, Marvel has kept a Captain Marvel consistently in print ever since.
Beyond the names, each of these Marvel name stealers have something in common: two individuals linked through their power who must swap places to fight evil. Like Billy and Captain Marvel, Michael Moran and Miracleman are transformed through a magic word. Soon after his debut, Mar-Vell was molecularly attached to his sidekick Rick Jones, with the two needing to swap places with one another by clanging the so-called Nega-Bands together. Even the android Marvel had a young human ward named Billy Baxton he needed to take care of.
The world of comic books had drastically changed in the 20 years that Captain Marvel was away. Superheroes faded in popularity, crime and romance comics had boomed, only to be wiped out by Frederick Wertham's "The Seduction of the Innocent" and the creation of the Comics Code Authority, and the rise of Marvel Comics and the start of the Silver Age had created a more nuanced, human take on heroes.
It was in this new era that DC Comics decided that it was time for the word "Shazam" to be spoken once again.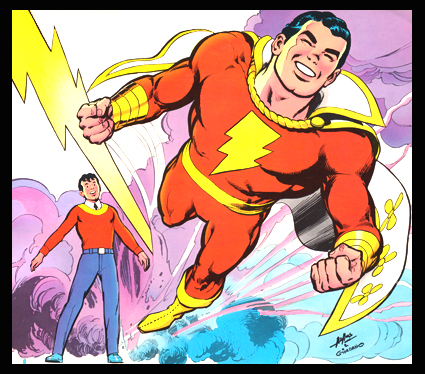 The World's Mightiest Mortal Returns
During the early '70s, Superman sales were slumping and DC editorial director Carmine Infantino needed something to bring readers back. So he and DC vice president Sol Harrison approached Fawcett, who were still barely in business at this point, to see if they could license the original Captain Marvel to be published under DC Comics. And since they couldn't create any Shazam title without DC's permission, Fawcett agreed to the terms.
In 1973, Billy Batson, Captain Marvel, The Marvel Family, and their many different supporting characters returned to life in the pages of "Shazam!," written by then-up-and-coming writer Denny O'Neil and drawn by original creator C.C. Beck. The new Shazam stories were a big departure from O'Neil's previous work on the grounded, socially conscious Green Lantern/Green Arrow
, and instead harkened back to a simpler, wide-eyed fantasy heroism. Accompanying them was Beck's bold and cartoonish art on these new stories, which were also backed up by reprints of classic Captain Marvel in the same issue.
But due to Marvel Comics' trademark, the new series needed to be titled something other than its lead character's name, leading to the new Shazam title and a wordy subtitle that proclaimed the comic as featuring "The Original Captain Marvel," which was soon removed due to the competition's cease and desist order.
The new comic opens with the reveal that The Marvel Family and The Sivanas have been in suspended animation for 20 years, making their original comics and decades-long hiatus part of canon. And when the heroes and villains finally break free, they return to Earth and resume life basically as normal. The notion was obvious, this was the Captain Marvel everyone knew and loved decades ago, untouched even though the world had moved on without him.
Along with O'Neil were several other rotating writers, including Elliot S! Maggin, who had gained prominence on Superman, with each writer focused on a more innocent folktale approach for their puberty-leaping Big Red Cheese.
While Beck's return to the character had been a major selling point of the new Shazam title, especially to a generation of readers who had only heard legends of a character who was legally struck from comic book history, Beck soon began to fight with his writing and editing partners.
"When C.C. Beck wanted to do the series, Carmine Infantino and Julie Schwartz jumped on it, because if we were going to do this book with him, we were going to have to do it fantastically," said Maggin. "That was the decision point, when he came on. And then he didn't work out. He changed scripts – he made changes in storylines that were very strange. He would give us notes on our scripts, telling us how to format our scripts better."
It all came to a head when Beck simply refused to draw Maggin's script for Shazam #10, which saw the Marvel family fight alien vegetables. As a means of appeasing the artist, editor Nelson Bridwell let Beck write and draw his own story. But when Bridwell edited the script, Beck quit and never worked for any major comics publication again until his death in 1989.
Years later, Beck would write in an "Alter Ego" editorial that DC comics, "were trying to kill Captain Marvel, bury him, and drive a stake through his lifeless body. Now, at last, they have succeeded."
Maybe Beck was being a curmudgeon who had grown to resent the comics industry. But maybe he was right. Shazam's sales figures slumped quickly after its initial big debut due to a combination of the comic's whimsical nature being out of step in a maturing comic book industry and direct market distribution to comic book shops making sales figures difficult to determine. Nevertheless, there's something charming and energizing about the captain's DC debut that's still there today.
Shazam continued on with several different artists, most notably Don Newton transitioning the character into a more modern, less cartoony look until its cancellation with issue 35 in 1978. But really, it was the Shazam! live-action television show that kept the hero alive during its run from 1974 to 1977 on CBS.
Captain Marvel's revival had come to a close and, like all things DC Comics, The Marvel Family's road to the future led straight through Crisis on Infinite Earths
.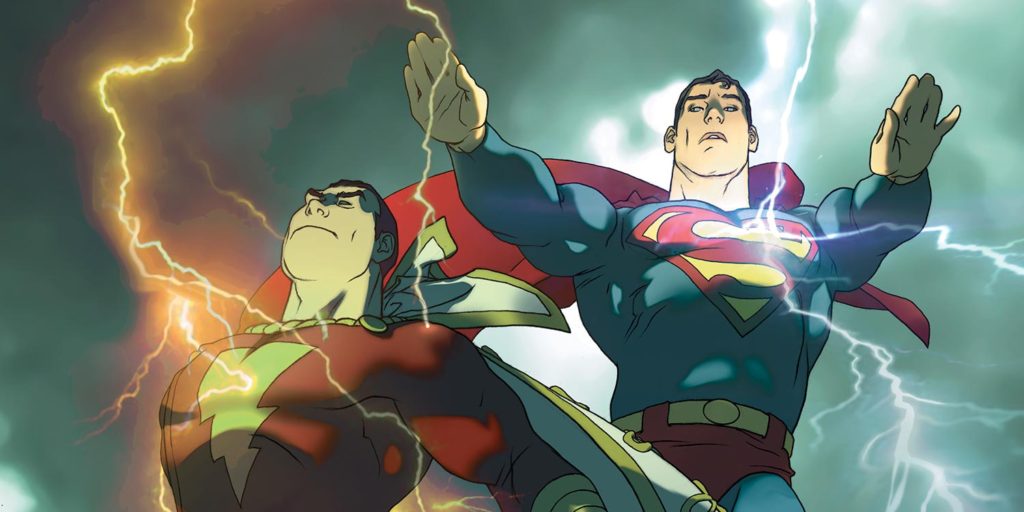 Captain Marvel in the Present
When The Marvel Family was brought back in 1973, it was during the height of DC's multiverse approach to comics and, as such, Captain Marvel and company resided on Earth-S. And besides one treasury-sized comic, the Fawcett characters mostly remained separate until the multiverse-condensing conclusion to Crisis on Infinite Earths in 1986.
Now, Captain Marvel and The Marvel Family's history were completely restarted along with the rest of the DC Universe, which quickly led to the character's inclusion in J.M. DeMatteis' comedic "Justice League International" and the four-issue miniseries "Shazam!: The New Beginning
" by writers Roy and Dann Thomas and artist Tom Mandrake in 1987. And it's here where we see the first major modern change to the character.
Instead of Billy Batson and Captain Marvel being distinct individuals that swap places with one another, the Thomases had Billy retain his personality when transformed, now with the mind of a kid in a super-powered adult body. This creates a different dynamic in the hero, with Captain Marvel now being a form of self-empowerment wish fulfilment instead of a parental figure coming to the aid of a child without a family. Thomas' plans for a Shazam ongoing series were stopped and started again and again by editorial, with the creator eventually leaving the company. However, the single personality take would be a permanent fixture.
Captain Marvel's inclusion in the main DC Universe also meant that the hero who had once been sued out of existence due to his similarities to Superman now existed in the same space as The Man of Steel. And as such, the world of Shazam after Crisis largely existed on the periphery, with DC editorial and a series of writers attempting to give Captain Marvel a lasting foothold in comics. During this time, DC had finally stopped licensing Captain Marvel and purchased him and other characters completely from Fawcett, leading to many different takes from a variety of creators.
Each of these added something to the Marvel mythos and many failed in some way.
There was Jerry Ordway's "The Power of Shazam!
" 1994 graphic novel and subsequent 48-issue ongoing series, which rendered "The New Beginning" obsolete. Here, Billy's parents are archeologists murdered by the man who will become Black Adam.
"I gave Billy all the problems Peter Parker had, back when he was in high school," said Ordway. "If Fawcett hadn't stopped publishing the book, they would have had to adapt to the times somehow. You would have had your silly period, but I think they would have rolled with it and done what Marvel was doing in the 1960s."
Captain Marvel also appeared as a brainwashed antagonist in Mark Waid and Alex Ross' 1996 "Kingdom Come
" and in Paul Dini and Ross's oversized 2000 novel "Shazam! Power of Hope."
Afterward, The Marvel Family was largely moved out of the spotlight once again, with Black Adam being heavily featured in Geoff Johns' "JSA" and in the weekly series "52," which led to Captain Marvel's longtime enemy actually becoming a more popular character than the hero for years. Meanwhile, Jeff Smith's standalone "Shazam! The Monster Society of Evil
," which I've covered previously, created an all-ages origin that also addressed ideas of disillusionment and government control after 9/11.
Judd Winick's "Superman/Shazam: First Thunder
" tells the story of Captain Marvel's first meeting with The Man of Tomorrow while The Infinite Crisis event and its Day of Vengeance tie-in saw Billy take the Wizard Shazam's place in the Rock of Eternity, leading to a heroic elevation of Captain Marvel, Jr. in "The Trials of Shazam" and villainous descent of Mary Marvel in "Final Crisis."
But all of these changes were reset to status quo with DC's companywide "New 52" reboot, which put Billy Batson back in the heroic central role with one key change. The name "Captain Marvel" was laid to rest and from now on, our hero would be called "Shazam
." The change ruffled some feathers, especially for fans who've had to keep their passion for a character alive despite him leaving comics for years at a time. But the reason by author Geoff Johns was simple. Marvel Comics' Captain Marvel had become the preeminent version of the character and the adventures of Billy Batson had long happened under the Shazam title. So why not just call the hero what many already thought he was named?
Shazam was reborn in a running backup story in "Justice League" and, apropos for the era, Billy Batson was darker, more jaded, and less heroic. Johns and artist Gary Frank clearly were trying to create an interpretation that fit in with the more cynical tone of fellow New 52 heroes, but there's something about that take that is inherently not Shazam. Thankfully, Billy's New 52 journey was about him learning to be a hero and forming a family with his fellow foster siblings, creating a new, bigger Shazamily by the end. And in typical Shazam fashion, Batson and company once again disappeared for years, eventually returning in a solo series after DC Rebirth that embraced more lighthearted heroics in a modern setting.
Today, Shazam is in a strange position. The hero finally hit the big screen in 2019 with David F. Sandberg's film, which took Johns' New 52 origin and gave it a much needed lightness and heart that was missing in the comics. And while the film was well received enough to warrant a sequel, it didn't explode at the box office, unlike Marvel's own Captain Marvel movie that was released only a month prior. And at the time of this video's publication, Shazam's solo comic was announced to be ending after 15 issues.
It seems as if, even with all the newfound mainstream exposure and success, DC Comics still doesn't know what to do with a hero who's always embodied a bygone sense of heroism and joy. Save for Grant Morrison's Multiversity one-shot "Thunderworld" and Jeff Parker's two-part "Convergence: Shazam." Both of these retain a sense of bright wonder, have clean, bright artwork, and don't bother with the origin to fully embrace the fun of Shazam.
But if this trip through Billy Batson's history has shown us anything, it's that neither time nor litigation nor long disappearances can keep the World's Mightiest Mortal down for long.
And even with so many restarts and new creative directions over the years, the core of Shazam has always remained and has spoken to generations of fans. Billy Batson is, like so many kids out there, in search of a loving family and someone that can watch out for him when no one else will. The power of Shazam isn't just the strength to fight evil, but the strength to create a new, more loving family where there wasn't one before and to become the person we always wished we had in our lives.
All we need to do is say the word, and that ancient power will be ours once again.
Sources:
https://www.businessinsider.com/lawsuit-captain-marvel-shazam-superman-comics-dc-superheroes-2019-4?r=US&IR=T#:~:text=DC%20bought%20the%20rights%20to,month%20apart%20from%20one%20another.
https://www.digitalspy.com/movies/a26700963/captain-marvel-shazam-explained-history-comics/
https://www.digitalspy.com/movies/a26700963/captain-marvel-shazam-explained-history-comics/
https://www.polygon.com/comics/2019/4/4/17888520/two-captain-marvel-shazam-dc-warner-bros-comics
https://books.google.com/books?id=k3CqDgAAQBAJ&pg=PA280&lpg=PA280&dq=shazam+oral+history&source=bl&ots=LmscNE5v5P&sig=ACfU3U3tEu0WDjKRTqLBFyO6B7PI61zk0A&hl=en&sa=X&ved=2ahUKEwjYl5z7u8HqAhVOop4KHVWKCLAQ6AEwEXoECAkQAQ#v=onepage&q=shazam&f=false
https://web.archive.org/web/20150525063905/http://www.newsarama.com/7118-an-oral-history-of-captain-marvel-secret-shazam.html
https://web.archive.org/web/20170807121531/https://www.newsarama.com/35699-an-oral-history-of-dc-s-shazam-captain-marvel-the-fawcett-years-part-1.html
https://web.archive.org/web/20170731235431/https://www.newsarama.com/35740-an-oral-history-of-dc-s-captain-marvel-shazam-the-fawcett-years-part-2.html
https://web.archive.org/web/20170802235944/https://www.newsarama.com/35763-an-oral-history-of-dc-s-captain-marvel-shazam-the-fawcett-years-part-3.html
https://web.archive.org/web/20170806055708/https://www.newsarama.com/35806-an-oral-history-of-dc-s-captain-marvel-shazam-the-lost-years-pt-1.html
https://web.archive.org/web/20170808034159/https://www.newsarama.com/35839-an-oral-history-of-dc-s-captain-marvel-shazam-the-lost-years-part-2.html
https://web.archive.org/web/20190325102812/https://www.newsarama.com/36034-an-oral-history-of-dc-s-captain-marvel-shazam-the-shazam-years-part-2.html
https://web.archive.org/web/20190325102819/https://www.newsarama.com/36082-an-oral-history-of-dc-s-captain-marvel-shazam-the-shazam-years-part-3.html
https://whosouttherecomics.wordpress.com/tag/c-c-beck/