Some things in life are worth waiting for. This is one of them. The penultimate chapter of Fraction and Aja's critically-acclaimed story of Hawkguy versus the Tracksuit Draculas of Bed-Stuy is twenty pages of pure awesome, bro.
Entitled "Rio Bravo", it takes its name from a famous John Wayne western wherein righteous yet debilitated lawmen have a stand-off in a jail against men of wealth. Add  a whole bunch of Addidas sportswear and arm the law with bows and arrows and it pretty much sums up the current issue. Tour de force, bro.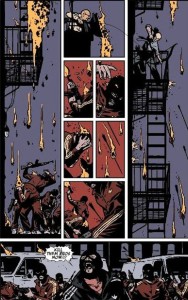 If sheer volume of panels is your thing, look no further. There is one page that David Aja displays an almost standard five-panel layout and it's the resolution on the last page. Other than that, seven, eight panels minimum. The opening page has nineteen! Each is a self-contained piece of amazingly framed art. It's not often comics have actual cinematography, but, bro, Guided View on the digital edition is the futzing (something possibly Eastern European). Bro!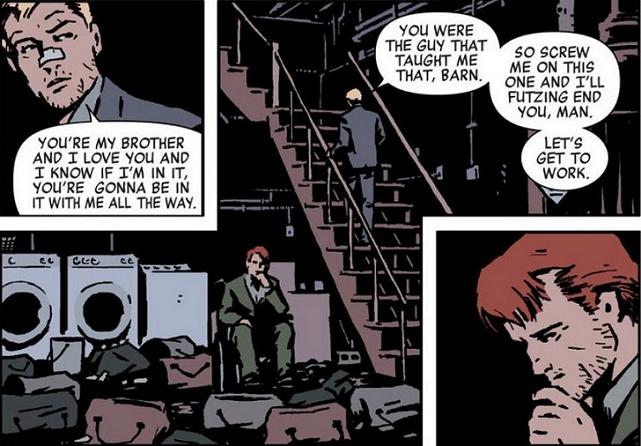 Matt Fraction's script is awkwardly funny and the dynamic he's introduced into the Barton brothers in just a few brief installments is pure magic. It actually boggles the mind that no previous writer hit on this before in the half century that Clint's been around. It probably had something to do with Barney being dead for a good long part of that until he was somehow not and became "Dark Hawkeye". It's like the Rockford Files and My Name is Earl had kids that were sometimes superheroes. (But not today, bro.)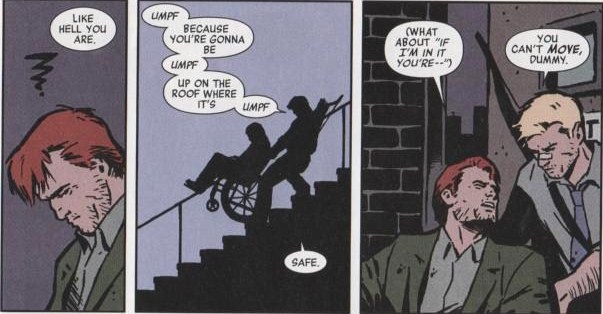 However, the offering is also has a bit of narrative confusion. Maybe it's more of an intuitive disconnect. Either way, the tenants, in their stand-off hideyhole (tastefully adorned with Frank Zappa poster and album) have somehow networked together a Spider-Man-like mass of bedsheets into some sort of grown-man blanket fortress- that is somehow suspended from the ceiling(?!) Unless it's a reference to something, it's a pretty conspicuous (and dubious- classic Barton?) place to hide. Particularly when you're being hunted by psychos with firearms, bro! It's also a might inconvenient and ultimately a sad and unfortunate way to die. Unless you're Clint Barton. Then you'll be fine. Until, not so much, bro…
Support For Comic Book Herald:
Comic Book Herald is reader-supported. When you buy through links on our site, we may earn a qualifying affiliate commission.
Comic Book Herald's reading orders and guides are also made possible by reader support on Patreon, and generous reader donations.
Any size contribution will help keep CBH alive and full of new comics guides and content. Support CBH on Patreon for exclusive rewards, or Donate here! Thank you for reading!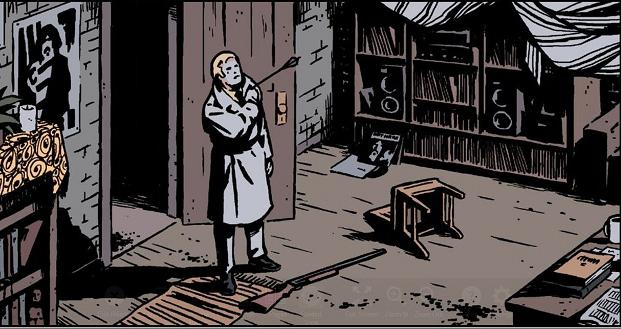 Overall, this is a unique and wonderful series and despite the prolonged gaps between installments, it is a page by page reminder of the amazing combined might of words and pictures. Yeah, it's a Big Two corporate comic starring a guy who appears on lunchboxes for his day job but there's an all-permeating arthouse quality that defies the suspect connotations to the very end. Captain America gets a mention in Clint's thoughts once but it's on a much more guttural, primal fight-or-flight level than the obvious "In trouble. Must reach for communi-card and call Avengers…" trapping. Spider-Woman even gets called away from her guest appearance due to a "work thing". So, yeah, no way Clint's calling anyway. This is personal, bro.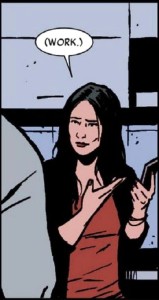 It will be a damn shame when this volume of Hawkeye wraps. However, it will be nice to have a completely self-contained short and sweet run. It started out fairly opened-ended but wound up telling one long story. Well, one longer story and a fun spin-off/ ad hoc mini-series. But still, twenty-two issues and an Annual is a good run. Hell, before this Barton's personal best was eight issues!
As a proponent for upping his rogues gallery since day one, who would've guessed his new arch-nemeses would be a bald loud-mouth with a four word English vocabulary and an Eastern European sad clown?! For any skeptic, this book is why the dude is on the Avengers! Nobody else could star in this book and tell this kind of story, bro!