I know many fans have been waiting for this show since it was first announced. I myself have been combing the internet for the last year for every piece of information, finding every plot tid-bit to promo. Now that it is finally here, how does "Gotham" stack up? To be fair, Batman has not had the most impressive track record for live-action television adaptions. Other than the Adam West "Batman TV Show" from the 1960s, there was the financial failure "Birds of Prey" (2002) which was a poor adaption of the Batman mythos. Thus "Gotham" marks the first time in over 50 years that a live-action story of the "Dark Knight" returns to the small screen. So is the pilot of "Gotham" a grand success, or did it fall flat on its face?
The honest answer is that it was neither. I mean the episode wasn't bad, but at the same time, there seemed to be a fair amount of problems. So let's break it down…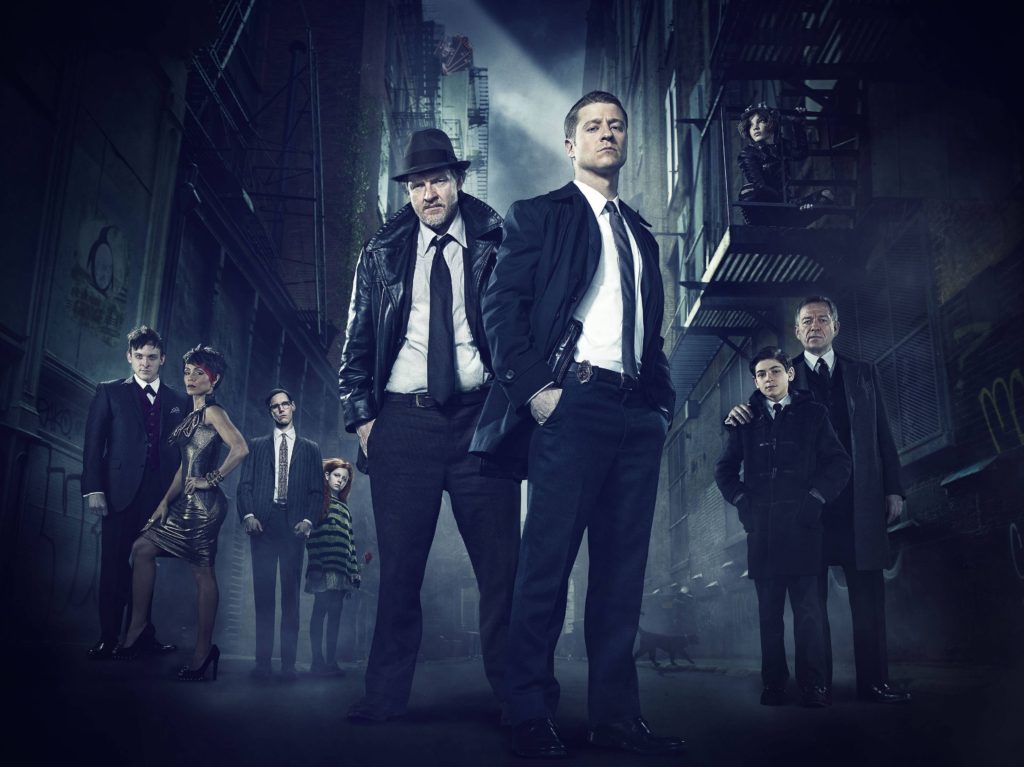 Gotham Characters
This is where the show got its points. Each and every one of these actors fit their role. Furthermore, each of the characters seemed to be plucked straight out of a comic book, despite having a modern twist. A young Cobblepot (Robin Taylor), with his smug demeanor and dapper attire. Ed Nygma (Cory Michael Smith), the awkward and annoying forensic analyst. Carmine Falcone (John Doman), the old crime boss losing his control over the city. Harvey Bullock (Donal Logue), the cynical and dirty detective. Jim Gordon (Ben McKenzie), the "White Knight", standing in a sea of corruption. Even Fish Mooney (Jada Pinkett Smith), an original character for the show, was sexy, powerful, and sadistic. Furthermore the episode was full of cameos, such as the "promising" stand-up comedian, a black clad tween thief and an abused redheaded little girl. The Batman mythos is full of colorful and well developed characters. Right off the bat, "Gotham" has delivered unique, interesting, and memorable characters.
Scripting
An actor is only as good as the script and direction he is given. The script as a whole was satisfactory, except for one sequence: the death of the Waynes and subsequent interaction between Bruce and Gordon. While I applaud the writers with starting the show with the death of Thomas and Martha Wayne, it was horribly done. This is such an iconic scene in the Batman story, one that has been repeated so many times, that having it be a solid scene is paramount. Part of me feels that they were confused in the way to do this scene. For example, Bruce Wayne's shrill screech was over the top, while a silent scene of Bruce between his dead parents would have been far more powerful. Later when Gordon arrives at the scene he tells Bruce "however dark and scary the world is right now, there will be light." The line comes off very corny, not because it is a "bad" line but rather because Bruce and Gordon have not yet established the emotional report that is needed to make the line meaningful. In fact, the whole relationship between Bruce and Gordon is very awkward. At the end of the episode Gordon finds out he caught the wrong man and literally surrenders his badge to Bruce asking for permission to try again. Once again the gesture here is over the top and does not seem like something that a police officer (even a well meaning one) would do. It is evident to me that the script needs some serious work.

Technical
I have to say that Gotham looked beautiful. The panning shots over those skyscrapers created a tableau of gothic stone and steel. Clearly a great deal of care was put into designing the city. Something that I never liked about Nolan's films was that Gotham looked like any other Metropolis (pun intended). However the "Gotham" show runners did an excellent job of creating an original city.
Support For Comic Book Herald:
Comic Book Herald is reader-supported. When you buy through links on our site, we may earn a qualifying affiliate commission.
Comic Book Herald's reading orders and guides are also made possible by reader support on Patreon, and generous reader donations.
Any size contribution will help keep CBH alive and full of new comics guides and content. Support CBH on Patreon for exclusive rewards, or Donate here! Thank you for reading!
As far as filming most of it was very well done. Wide and three quarter shots done appropriately, everything one would expect from a FOX production. Even still, there was one very odd filming choice. During the chase through an apartment complex the camera suddenly shifts from following Gordon to a shaky head shot, then immediately going back to the previous camera view. The result is that the scene is spliced with awkward shots of Gordon's face as he is running. I personally have no idea as to why the director made this choice. Maybe it was to disorient the viewer to create a heightened sense of drama? Maybe it was just an aesthetic choice? Whatever the reasoning, the shot came off very bizarre. Good cinematography traps the viewers, bad cinematography destroys the illusion.
So will "Gotham" be good? I'm afraid it is still too soon to tell. Pilots are rarely a good judge of what a series will be like as a whole. Even still, the episode did prove one thing to me: that the series has extraordinary potential. In the end,"Gotham" just needs to figure out where it stands and work from there. It has some kinks but I see it becoming a successful series. Check it out for yourselves and let me know what you think!
Best Line:
"Oi! Master Bruce, get your bloody arse down off there"-Alfred telling Bruce to get off the roof
CBH Score: 6.5/10
[schema type="review" rev_name="Gotham" pubdate="2014-09-23″ user_review="6.5″ min_review="0.0″ max_review="10.0″ ]