Previously: The introduction of Gambit in Uncanny X-Men
With so many potential X-Men, Marvel played a smart move – they split the X-Men into two teams, Blue and Gold, and Gambit was on the Blue.  Claremont penned the first three issues of the new X-Men title, which featured the Blue Team, but left due to some serious editorial conflict.  Still, he laid the foundations for what Jim Lee would go on to write.
For example, in X-Men #3 Claremont wrote a moment on Asteroid M where Gambit and Rogue interact for the first time of note: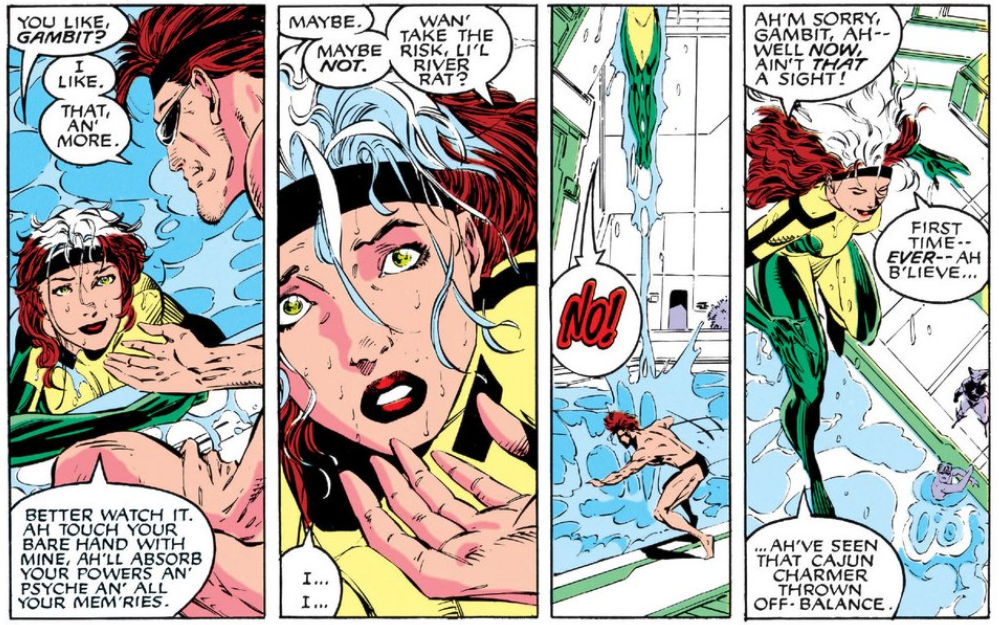 In that single scene, you know everything you'll ever need to know about the relationship between Gambit and Rogue in the '90s.  Rogue is the Southern Belle who can't touch anyone; Gambit is the man who is seriously into Rogue, and rather likes the idea of pushing his luck.
The same issue, incidentally, featured an X-Men-versus-X-Men scrap (in the traditional Claremont pattern) in which, amazingly, Gambit is able to consistently block Forge's shots – as fast as Forge pulls a trigger, Gambit is able to sweep his staff around and block.  He even manages to start deflecting the shots back.
Support For Comic Book Herald:
Comic Book Herald is reader-supported. When you buy through links on our site, we may earn a qualifying affiliate commission.
Comic Book Herald's reading orders and guides are also made possible by reader support on Patreon, and generous reader donations.
Any size contribution will help keep CBH alive and full of new comics guides and content. Support CBH on Patreon for exclusive rewards, or Donate here! Thank you for reading!
There's an intriguing image of 'things to come' that was seen in X-Men #3, and it gives us enough of an insight to know that some key elements of Claremont's plans would remain.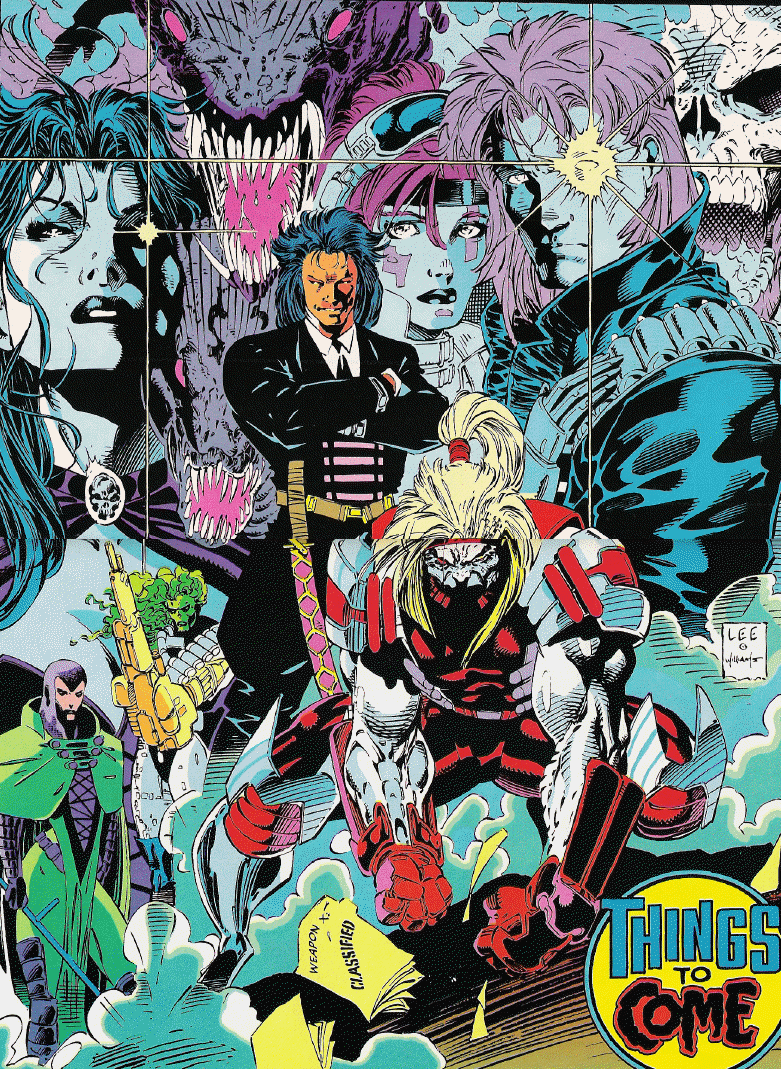 You can see at a glance that Jim Lee and John Byrne probably followed a lot of existing threads.  Omega Red, the Brood, Ghost Rider, and even Bella Donna are in this image, so it's quite likely these initial threads would have followed similar routes even under Claremont.
Lee and an over-worked Byrne, followed by Scott Lobdell, would go on to develop Gambit much more.  In X-Men #4, the Cajun charmer attempts to get on Rogue's good side, with some seriously over-the-top flirting that proves fairly successful – they even go on a date (and, granted, get that date crashed by other X-Men and an attack by the Hand, but hey, c'est la vie!).

You certainly can't say Rogue doesn't know how to look good!
The next arc of X-Men, though, really focused in on Remy.  X-Men #8 introduced the character of Bishop to the Blue Team, and he and Gambit hit it off right away.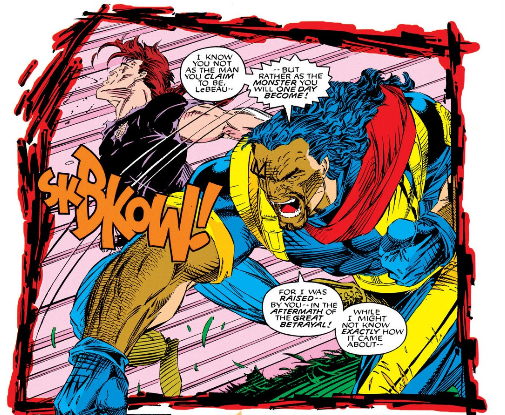 Bishop originated from a future in which the X-Men had been betrayed and murdered by one of their own.  From the outset, he was convinced that Gambit was said traitor.  The same issue, meanwhile, was used to kick off a crossover with the Ghost Rider title in which we discovered some of Gambit's history.  It began by introducing…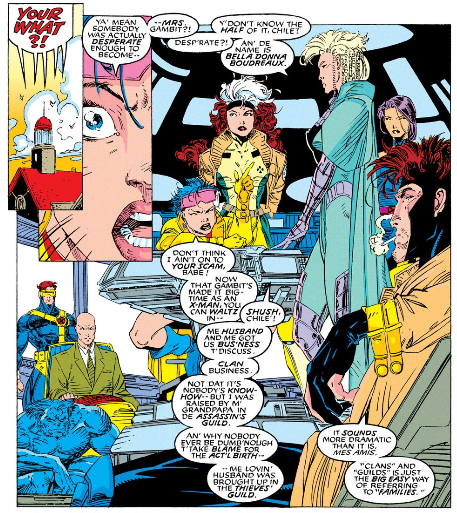 They married in an attempt to bring peace between the clans, but Gambit got himself exiled.  What followed was a fun arc, involving – as only the '90s X-Men could do – the Brood, New Orleans, Ghost Rider, and the Guilds.  By the end of it, Bella Donna was sadly dead.
Gambit stuck around in the Blue Team for several years, and mainly appearing in the pages of X-Men, with all the attendant '90s crossovers – such as X-Cutioner's Song.  During this saga, Rogue was blinded as a result of a battle with a light-manipulator; she became heavily dependent upon Gambit, a turn of events that displayed a more compassionate and caring side to the flirtatious Cajun (see X-Men #17 through #20).  This peaked for a time in X-Men #24, in which, with the X-Men torn by grief over the death of Illyana, Rogue and Gambit almost kissed – and made a classic cover.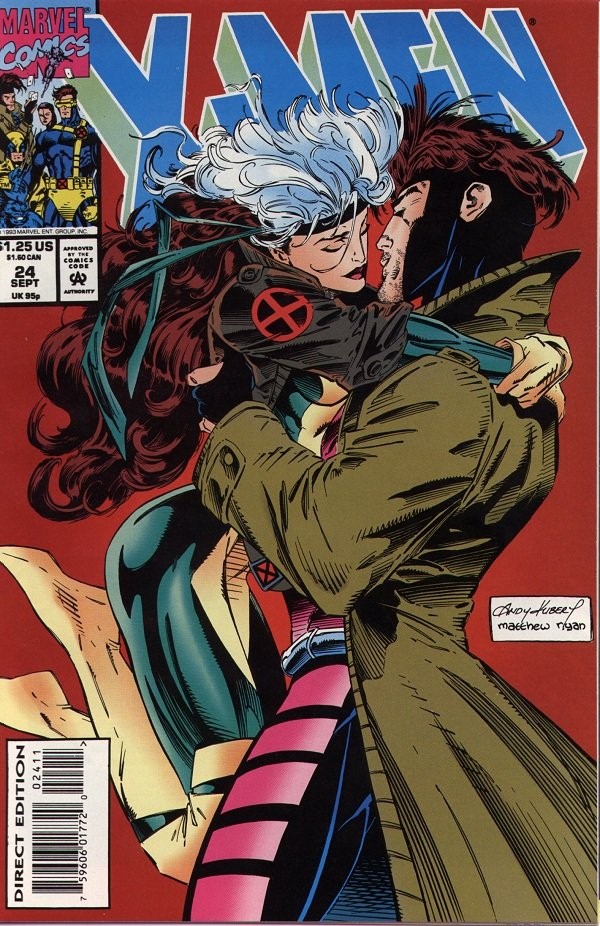 I personally think that the first Gambit series should be slotted into continuity here, as it contains comments about the relationship between Gambit and Rogue that really only fit if based after X-Men #24.  In this series, Gambit is drawn back to New Orleans, and learns that his wife Bella Donna is still alive, albeit comatose.  Gambit uncovers some of the history of the Guilds, and successfully obtains an Elixir of Life to revive Bella Donna; however her memories are gone.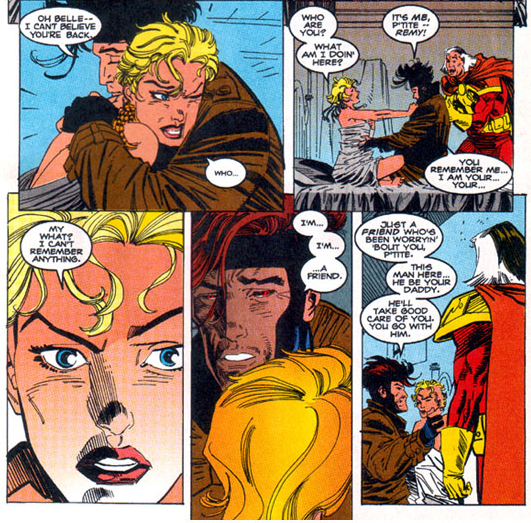 The comic in question is actually rather intriguing from a moral perspective – it's unclear why Bella Donna lost her memory.  It's possible that this is a result of the Elixir that Gambit gave her; it's also equally possible that this was intended to be a result of Rogue's touching the comatose Bella Donna.  Either way, the relationship between Gambit and Rogue was no doubt complicated by the fact that Rogue had experienced the desires and memories of Gambit's wife.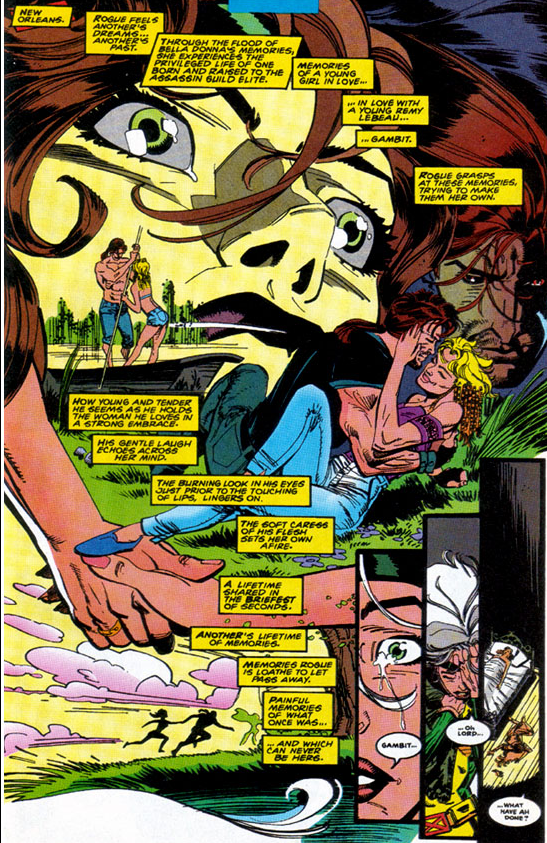 When Xavier chose a select strike-team to head to Avalon to confront Magneto in Fatal Attractions, Gambit was one of them (X-Men #25).  Along with Wolverine, the Cajun was chosen because of his stealth.  The battle was more tense for Remy, though, because of Rogue's old romance with Magneto; during the last encounter between the two, Rogue attempted to absorb Magneto's memories with a kiss, but he proved resistant to her powers.  Suddenly Gambit had a kind of competition, and one who may well be able to have physical contact with Rogue!
It was only in X-Men #28 that Gambit's past began to catch up with him; Xavier took Sabretooth into his custody, and Creed hinted at a strange history the two shared, with something particularly ominous – and heart-breaking – about Paris.  In X-Men #33, Gambit hesitantly reveals this to Rogue – on occasion when he crossed Sabretooth, and was given a choice between a French woman he may well have come to love, and saving the life of his brother Henri.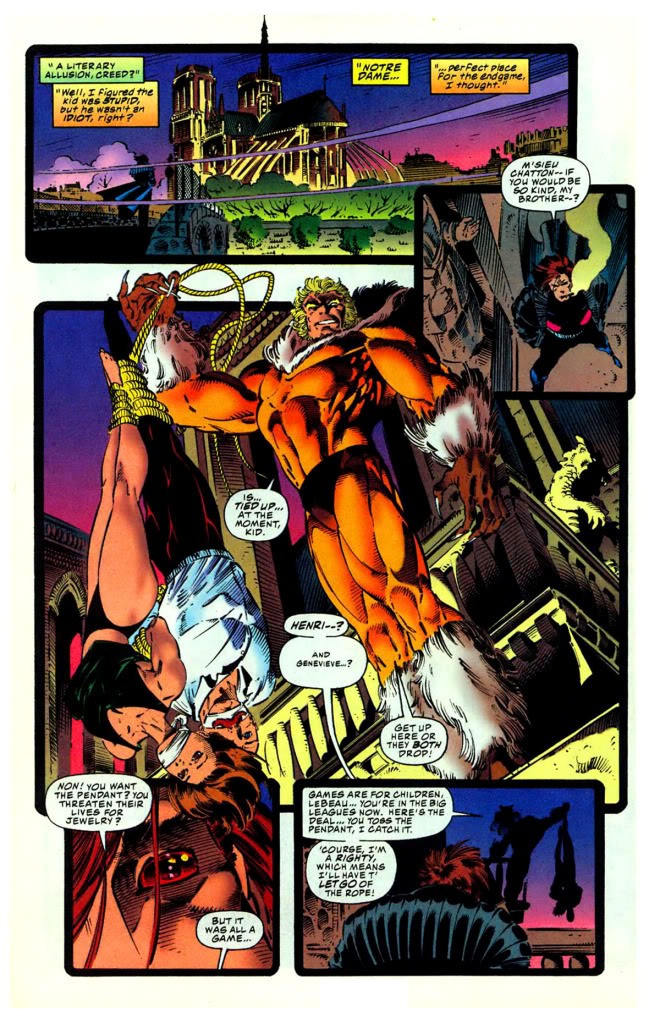 There are similar hints that Gambit isn't exactly a 'good man' in Uncanny X-Men #312-313, where Gambit and Storm team up with Yukio to escape the early Phalanx.  Yukio mentions crossing paths with Gambit before, in Madrid, and does not seem fond of him!
As X-Men #34 made clear, Sabretooth's interference was making things difficult for Gambit and Rogue – a fact that Gambit didn't like at all, and he almost killed Creed in X-Men #38.  Meanwhile, back in New Orleans, Bella Donna takes over the Assassins Guild (X-Men #35), and makes serious trouble in the Rogue miniseries (but I'll discuss that in the next instalment!).
I'll bring today's instalment to an end with the moment when reality itself seemed about to be turned inside-out, in X-Men #41.  Gambit and Rogue watched in horror as the M'Kraan wave swept across the face of existence, nullifying all that is and was; and they chose to experience one last tender moment.  Of course, reality would be restored in the wake of Age of Apocalypse, and the consequences of this kiss would, for Gambit, be dramatic.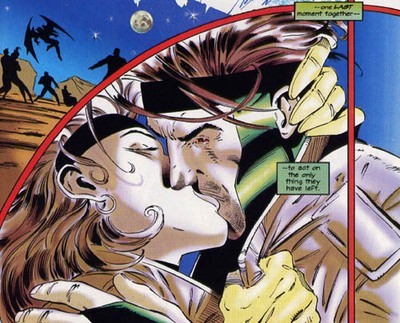 As you can see, for Gambit two things had come to the fore throughout the early '90s; a backstory tied to the Thieves and Assassins in New Orleans and, in the present day, a romance with Rogue.  That kiss, though, would enable Scott Lobdell to launch Gambit and Rogue on to very different journeys.