2018 was a significant year for Aquaman, both as a character and as a figure in the cultural consciousness. After spending decades best known as a useless punchline, Arthur Curry's status in pop culture was overhauled entirely into that of a muscular, sea-soaked sex symbol thanks to the outrageously successful Aquaman
film, starring Jason Momoa. In contrast, Aquaman had never suffered the same harsh reputation as a joke in the world of comic books, thanks to well-regarded runs from creators such as Peter David and Dan Abnett.
On top of his blockbuster debut, Arthur found himself under one of his biggest comic book spotlights yet, leading a crossover event with DC's flagship Justice League series, titled Drowned Earth
. Wanting to capitalize on the hype surrounding the 77-year old mainstay's movie debut, DC Comics announced a new, high profile creative team to take over Aquaman following the crossover: Kelly Sue DeConnick, the writer who modernized Captain Marvel
and led to the Marvel superhero's current massive popularity, with Robson Rocha, a historically overlooked but very talented star within DC's artist roster.
With one successful revamp of a longstanding superhero into a mega star under her belt, DeConnick seemed like a natural fit to overhaul the King of Atlantis for modern readers. Unfortunately, Aquaman has yet to live up to those lofty expectations, having nearly all of its exciting ideas weighed down with questionable execution.

Following the events of Drowned Earth, Arthur was presumed dead by the world at large, having seemingly sacrificed himself to save the world. However, the first issue of DeConnick and Rocha's Aquaman found Arthur very much alive on a mysterious island while suffering from amnesia. The initial 5-issue arc, titled "Unspoken Water," reveals that Aquaman was, in fact, alive. The Atlantean hero washed ashore in a sort of limbo for sea gods, populated with half a dozen deities gathered from real-world faiths the world over.
Support For Comic Book Herald:
Comic Book Herald is reader-supported. When you buy through links on our site, we may earn a qualifying affiliate commission.
Comic Book Herald's reading orders and guides are also made possible by reader support on Patreon, and generous reader donations.
Any size contribution will help keep CBH alive and full of new comics guides and content. Support CBH on Patreon for exclusive rewards, or Donate here! Thank you for reading!
This decision is the first misstep of DeConnick's story. In a jumping on point ostensibly designed for new readers (the first issue of this era, Aquaman #43, sports an ALL-NEW header above the title as well as a large PART ONE logo), Arthur spends the entire story unsure of his past, his abilities and even his own name. This worn-out premise, paired with an over-emphasis placed on the supporting cast of sea gods and new characters, makes this introduction arc feels less like an Aquaman story than a story exploring creation myths and different culture's ties to the ocean. There is no unwritten rule that dictates a solo series must focus on its titular lead at all times; many series have played with that structure to great success. In this case, however, it feels like a significant mistake given the context of this particular debut.
Another questionable choice is the redesign of Aquaman that occurs in Aquaman #47. In a direction, by all appearances, designed to echo the look of Jason Momoa's film incarnation (who, ironically, is sporting the classic orange-and-green armor by the end of the film), Arthur is given a new set of mystical tattoos by the real-world Maori diety Tangaroa as a reward for saving the lost sea gods. From this point on through the present day, Arthur has spent most of his appearances completely shirtless with his tattoos on full display.
DeConnick has acknowledged the inspiration, saying that there is "a certain swagger" that the new look brought to Arthur Curry. A billion-dollar box office and countless thirst tweets show that Jason Momoa's heavily tattooed, shirtless Aquaman is a sex symbol, and it makes sense for DC to attempt to capture this appeal. The film's Arthur Curry, however, is played by a native Hawaiian actor. His tattoos pay homage to his real-life culture and provide a unique take on the oceanic hero and bring some much-needed diversity to DC's pantheon of characters. On the blonde-haired, blue-eyed white comics incarnation of Aquaman, the tattoos become an awkward eyesore that smacks of appropriation. For the record, I am also very white and don't want to presume to speak for anyone of Pasifika heritage that disagrees with my stance. I defer to these voices, as it is their culture that the story invokes.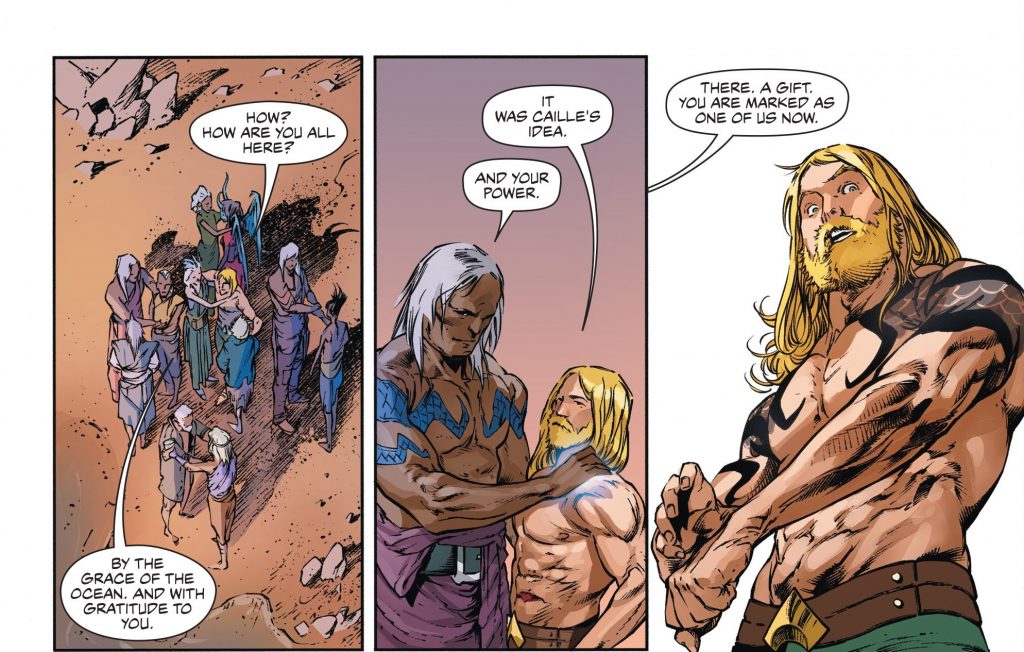 Following the rocky debut, Aquaman swiftly settled into a more traditional space for the character. Arthur regained his memories and identity while departing his mystical prison. His long time love, Mera, rejoined the cast as well as his arch-nemesis, Black Manta. Jackson Hyde, a.k.a. Aqualad, arrived to the series in Aquaman #50, having been absent from any Aquaman titles for nearly a decade prior.
Unfortunately, Jackson's return is indicative of the issues that continue to dog the title to this day. On a conceptual level, Jackson Hyde's return to the fold is an outstanding idea. Jackson is a gay black man, a tragic rarity in superhero comics, as well as the son of Aquaman's greatest foe. In execution, however, it has proven lacking. Jackson's identity as a queer man has yet to be mentioned in the near year since his arrival, and his dialogue often feels like an awkward, stilted version of how a middle-aged person thinks a teenager sounds. In one particularly painful instance, he faces down a nightmarish Lovecraftian horror while shouting, "I fought this thing in an RPG! I attack the monster with my +3 water bearers!" Ouch.
This is made all-the-more awkward when compared to Alex Sanchez and Julie Maroh's You Brought Me the Ocean
, a recently released graphic novel from DC which stars Hyde and wholeheartedly embraces his sexuality. Jackson has done far too little in the series so far, being quickly relegated to a background player when his father is not in the picture. Aqualad's return to Arthur's supporting cast is inarguably long over-due, but it is hard to celebrate when Jackson's appearances thus far have felt shallow and half-formed.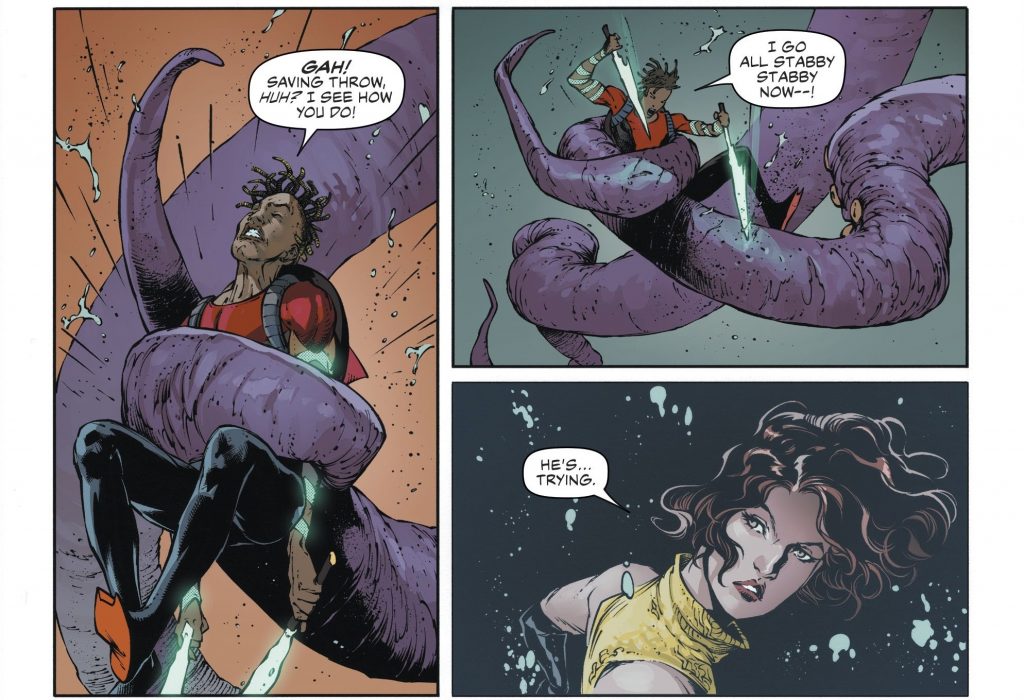 One of the biggest shake-ups of DeConnick and Rocha's tenure has been the re-introduction of Arthur and Mera's child, nicknamed by fans as the Aquababy. Decades prior in a now-infamous storyline, the child of Arthur and Mera was killed at the hands of Black Manta in a shocking bout of violence. This act cost Arthur a hand and led to a grim-and-gritty revamp of his character for nearly a decade. Now, several continuity reboots later, and the royal couple has found themselves parents once more, this time to a baby girl named Andy.
The concept of superhero parents is not a new one (even at DC Comics alone, with both Superman and Batman becoming parents in the past decade or two), but the dynamic remains a compelling one. A new heir to the throne of Atlantis and super-child running around the DCU are story threads with a good deal of potential. Unfortunately, Andy has been little more than a prop since her birth. Her mother was in a coma following the procedure, and quickly following that, she was kidnapped by Arthur's brother Orm before being taken to a mystical realm by the sea gods for her protection. Admittedly, Andy has only been around for a handful of issues, and DeConnick and Rocha have plenty of freedom to run with the Princess of Atlantis as a worthwhile addition to the book. The results thus far, sadly, do not give me much hope.
This combination, excellent ideas marred by lackluster execution, is a recurring theme in the still-ongoing title. Mera, having been cast as a strong, cunning political leader, is relegated to convoluted and unsatisfying plots within plots and a disappointingly melodramatic and trite coma. Black Manta's blood-soaked vengeful return is weighed down by a mandated tie-in to the Year of the Villain event, saddling him with a massive mecha-suit and the mind of his deceased father. The integration of both mythic gods and eldritch horrors to Arthur's life is quickly left to dangle in the wind, with only the hope that they will be addressed left with readers.
The most recent issue as of this writing, Aquaman #61
, concludes with Mera demanding the dissolution of monarchies across the Seven Kingdoms of the Sea, returning power to the people. An excellent idea, as superhero comics are all-to-enamored with monarchies as a concept and rarely address the toxic nature of their existence. But it is hard to shake off a pattern that has formed over the 18 issues thus far. While the plot and dialogue have left me wanting more, Robson Rocha's work on the title does deserve praise. Tackling subjects ranging from ancient gods and myths to sleek high-tech underwater cities, his artwork is filled with a raw intensity that never falters. His interpretations of both Arthur, tattoos aside, and Mera are among the most jaw-dropping and gorgeous that the characters have ever been and clears the high bar set by the film's interpretations.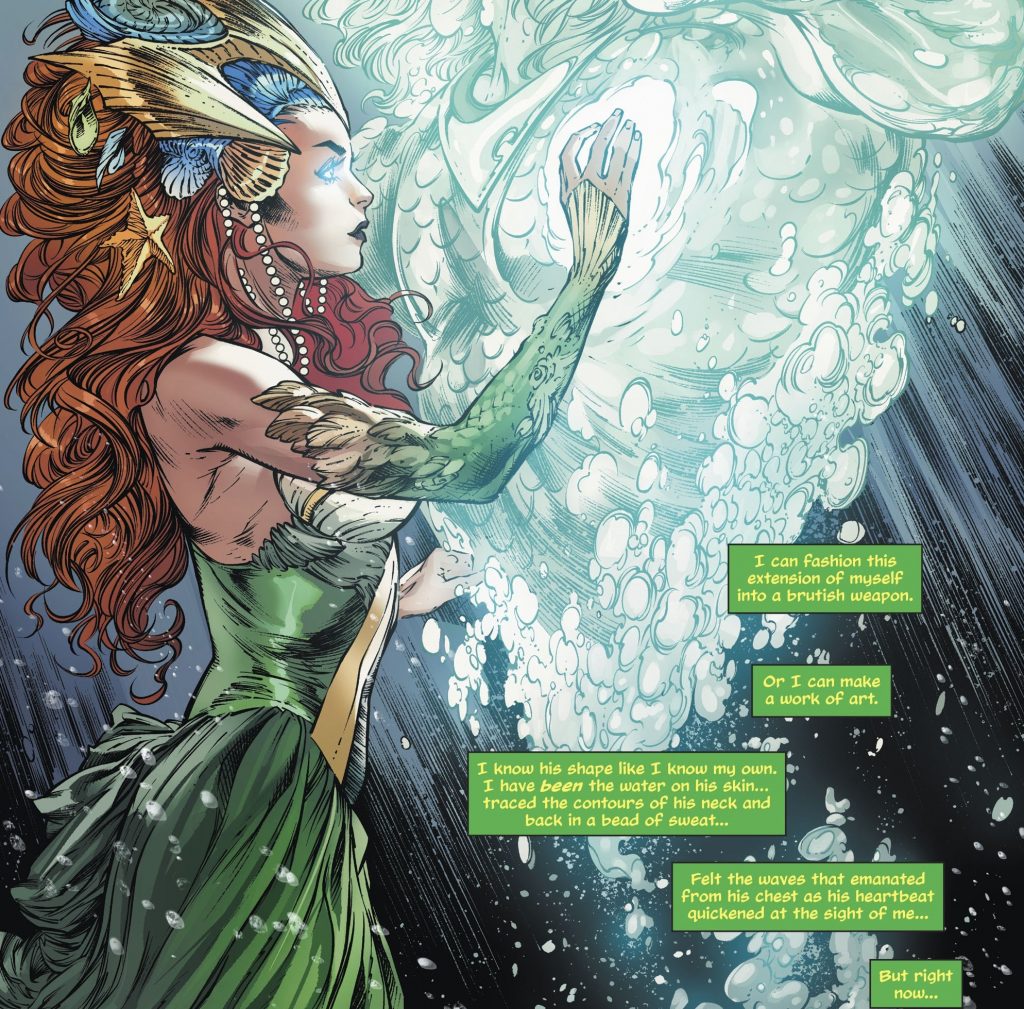 I love Aquaman. The character has always been one of my favorite B-tier DC standbys. While not every run on the title has been to my taste, incarnations ranging from the whooping bro-tinged film incarnation, the swashbuckling fantasy hero of Busiek and Guice's Sword of Atlantis
or the more modern, unyielding and put upon hero-king of Dan Abnett have landed very well. What these stories have in common is a clarity of vision. James Wan, director of Aquaman, knew precisely what he wanted to bring to life in his pulpy, endearing cheesy image of Arthur, as did Busiek with his Conan-inspired sword-wielding wanderer.
The current era of Aquaman lacks this crucial fixture and suffers because of it. Torn between being a family-focused tale of connection and growth, a deep dive into myth and legend, and a political thriller, it never commits to any one direction and fails to excel at any of them. At a time when more eyes are on Arthur Curry than ever before, the character and title feel more hesitant and confused than ever. Hopefully, DeConnick can shake off this slump and find a path forward, as she did with Captain Marvel until then, Aquaman is just treading water.