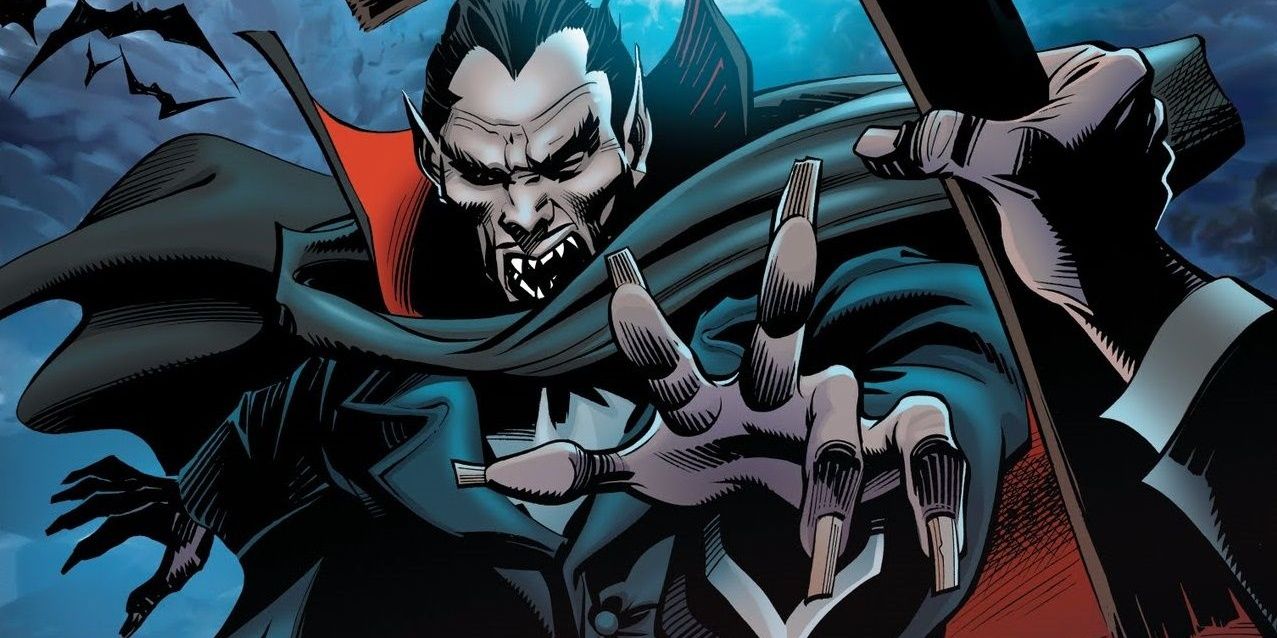 In the 1970s, after having spent more than a decade as a juggernaut of superhero comics, Marvel expanded their line in a new direction, going back to their 50s Atlas Comics tradition of horror and supernatural stories. But instead of Kirby-esque creatures from outer space like "Xemnu the Living Hulk" or "Groot from Planet X," Marvel found its new monsters in literary and cinematographic icons such as Frankenstein's monster, the Werewolf, and — most notable among them — Dracula.
The Tomb of Dracula became the most successful of Marvel's 70s horror comics, telling the story of the continued struggle between a group of vampire hunters and the titular villain. Count Dracula is presented as a villainous – although at time sympathetic – figure, sometimes fighting alongside the heroes, but always motivated by his hunger for blood and power.
For most of his initial series, Dracula stayed in his own part of the Marvel universe, very rarely crossing over with other titles, and mostly with similarly horrific or supernatural characters. But this started changing in the 2000s, when the Lord of the Vampires became a villain for the whole Marvel universe, encountering characters like Captain Britain, the X-Men, or even Deadpool. Most recently, since 2019, Dracula has become the leader of his own Vampire Nation, serving as an antagonist for the Avengers as well as Wolverine.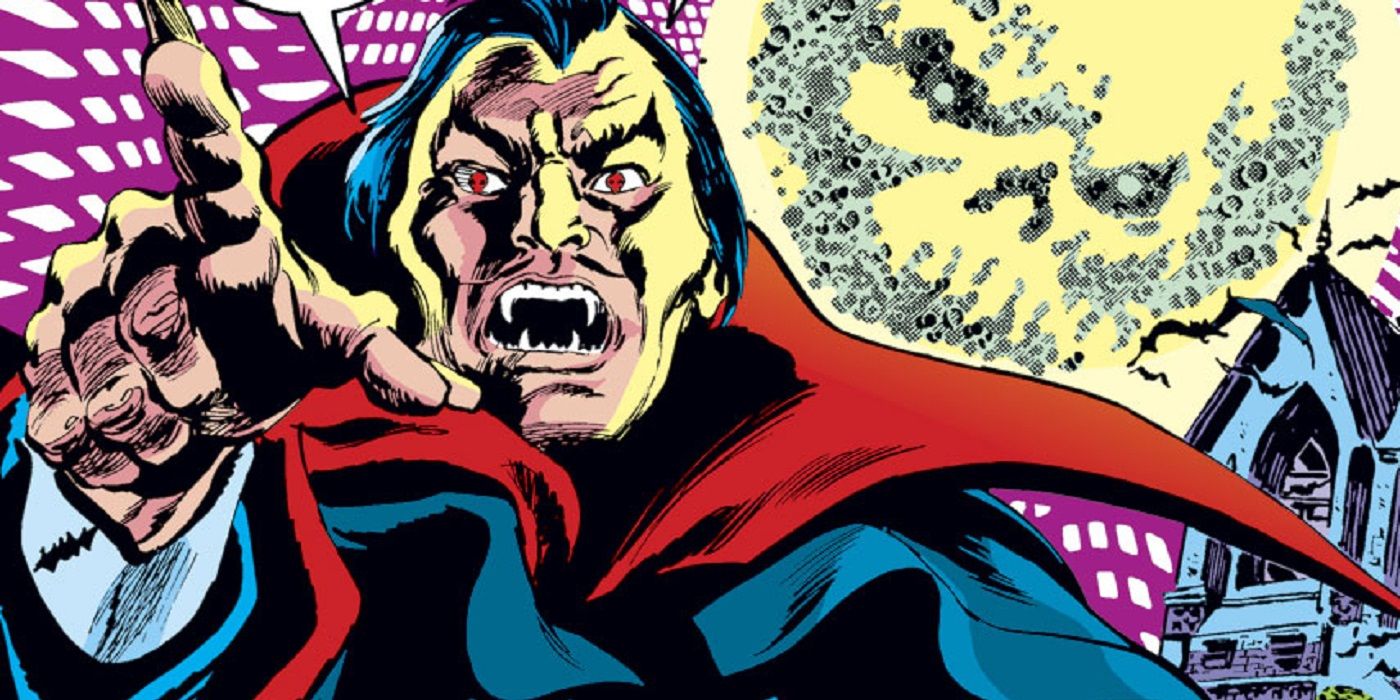 Tales from the Tomb
Tomb of Dracula: The Complete Collection Vol. 1
Collects: Tomb of Dracula #1-15, Dracula Lives! #1-4
Support For Comic Book Herald:
Comic Book Herald is reader-supported. When you buy through links on our site, we may earn a qualifying affiliate commission.
Comic Book Herald's reading orders and guides are also made possible by reader support on Patreon, and generous reader donations.
Any size contribution will help keep CBH alive and full of new comics guides and content. Support CBH on Patreon for exclusive rewards, or Donate here! Thank you for reading!
Marvel Comics' own version of the world's most famous vampire was introduced in 1972 by writer Gerry Conway and artist Gene Colan in the Tomb of Dracula ongoing series. Brought back to life after decades spent as a skeleton in his tomb, Dracula faces a group of vampire hunters, most of them descendants of characters from Bram Stoker's original novel. Among them are Rachel Van Helsing, Quincy Harker, Dracula's own descendant Frank Drake, and even Blade, Marvel's most notorious vampire hunter, who was first introduced in Tomb of Dracula #10.
Various Dracula stories were also published in the black-and-white magazine Dracula Lives! ; some from his past (from being turned into a vampire to fighting Nazis in 1944), and some from the time of The Tomb of Dracula.
Tomb of Dracula: The Complete Collection Vol. 2
Collects: Tomb of Dracula #16-24, Werewolf By Night #15, Giant-Size Spider-Man #1, Giant-Size Chillers #1, Giant-Size Dracula #2, Frankenstein #7-9, Dracula Lives! #5-7
Dracula crosses over for the first time with the rest of the Marvel universe, meeting characters like the Werewolf by Night, Frankenstein's monster, and even Spider-Man.
Lilith, daughter of Dracula, is introduced in Giant-Size Chillers #1, becoming a recurring secondary character in Marvel's Dracula stories. Meanwhile, Dracula Lives! #5 begins a comic book adaptation of Bram Stoker's original novel, written by Roy Thomas and drawn by Dick Giordano.
In the main Tomb of Dracula title, Dracula encounters a new enemy in Doctor Sun, a Chinese scientist studying vampires to gain power from them. Oh, and he's also literally a brain in a jar with a robot body.
Tomb of Dracula: The Complete Collection Vol. 3
Collects: Tomb of Dracula #25-35, Giant-Size Dracula #3-5, Dracula Lives! #8-11
Tomb of Dracula #25 introduces a new vampire hunter named Hannibal King, who is himself a vampire. In this volume's later issues, Dracula has a big confrontation with his long-time enemy Quincy Harker, who gets very close to killing the Lord of the Undead.
Tomb of Dracula: The Complete Collection Vol. 4
Collects: Tomb of Dracula #36-54, Doctor Strange #14, Dracula Lives! #12-13, Legion of Monsters #1
Dracula goes after Doctor Sun in Boston, as the scientist-turned-supervillain starts stealing his vampiric powers. Although he is killed while fighting Sun's minion Juno, the vampire is immediately brought back by Quincy Harker and his allies, who now need him to save the world from their common enemy. Dracula even teams up with Blade against hypnotized G.I.s.
Later, Dracula's story crosses over once again with the wider Marvel universe, as he fights Doctor Strange as well as the Silver Surfer. The vampire also starts working with a sect called the Church of Satan, even falling in love with and marrying Domini, one of the Church's members. After a ritualistic spell cast by the Church's leader Anton Lupeski, Domini gives birth to her and Dracula's son, Janus.
Tomb of Dracula: The Complete Collection Vol. 5
Collects: Tomb of Dracula #55-70, Stoker's Dracula #2-4, Marvel Preview #12, Savage Sword of Conan #26
Baby Janus is killed in the crossfire of a battle between Dracula and the vampire hunters, and Domini attempts to resurrect him. The baby comes back as a full-grown adult, possessed by an angel trying to kill Dracula. After battling his own son as well as Satan himself, and even temporarily becoming human again, Dracula enters a final confrontation with Quincy Harker, and the two archenemies kill each other.
What Is Undead May Never Die
After the end of its original run, The Tomb of Dracula came back for an uncollected 6-issue miniseries in 1979, in which Dracula is brought back to life for a couple of new stories (including "The Dimensional Man", drawn by Steve Ditko), as well as some flashback stories, and even a few centered around his daughter Lilith.
In the 1980s, Dracula made a few appearances in the wider Marvel universe, including teaming up with the Defenders in Defenders #95, or taking on the X-Men in Uncanny X-Men #159 and Annual #6 (in which he turns Storm into a vampire, and is shown to have done the same to his former enemy Rachel Van Helsing). Around the same time, he also turned the goddess Sif into a vampire, leading the dark lord to fight the God of Thunder in Thor #332 and #333.
Doctor Strange vs. Dracula: The Montesi Formula
Collects: Tomb of Dracula #44, Doctor Strange (1974) #14, #58-62
Dracula is gaining power and wants to get his hands on the Darkhold, a collection of dark spells. He launches an attack against Avengers Mansion to steal it and is only stopped by the combined forces of Doctor Strange, Hannibal King, Captain Marvel, and the Scarlet Witch. Strange and King are then joined by Blade in a final fight against the Lord of the Undead that ends when the Sorcerer Supreme uses a spell called the Montesi Formula to destroy all vampires, including Dracula.
Tomb of Dracula: Day of Blood, Night of Redemption
Collects: Tomb of Dracula (1991) #1-4
Dracula (the character) and the Tomb of Dracula (the title) were both revived once again in 1991 for a four-issue miniseries, which sees him reunited with his foe and descendant Frank Drake, as well as facing Doctor Gregor Smirnoff, a Russian scientist seeking immortality.
The same year, a World War II story featuring Dracula teaming up with Nick Fury and the Howling Commandos against the Nazis was published in Marvel Comics Presents #77, #78 and #79, story in which the vampire even helps the Commandos to liberate a concentration camp.
Dracula disappeared from Marvel Comics for most of the 90s, except for the uncollected three-issue miniseries Dracula: Lord of the Undead from 1998. In that miniseries, Vlad faces a virus that's killing vampires which has been unleashed as part of a scheme fomented by his own daughter Lilith.
In 2004, Dracula appeared in one more Tomb of Dracula relaunch, a four-issue miniseries with Blade as the main character. Dracula spends most of the series in a chrysalis, attempting a ritual to gain tremendous power. He sends armies of vampires after Blade and other vampire hunters, but in the end, he is killed once again.
Collects: X-Men: Apocalypse/Dracula #1-4
In 2006, Dracula's story was forever tied to that of the Marvel universe when it was revealed that in the 15th century, the X-Men villain Apocalypse was the one to have ended Vlad Tepes' human life, leading him to become a vampire. Set in Victorian London, this miniseries is about the two enemies meeting once again and coming into conflict, with Apocalypse's Clan Akkaba in the middle of it.
Captain Britain and MI: 13 Vol. 3: Vampire State
Collects: Captain Britain and MI-13 #10-15, Annual #1
Now living in a castle on the Moon, Dracula is planning an invasion of Great Britain with his vampire forces. His plan includes massacring the Houses of Parliament, a giant flying ship, and even launching vampires straight into Earth's atmosphere like cannonballs… but in the end, Dracula is slain by Faiza Hussain, an agent of MI13 wielding Excalibur.
The Vampire Strikes Back
Collects: X-Men (2010) #1-6
Dracula is at the center of 2010's X-Men event, introduced by the Death of Dracula #1 one-shot. In Death of Dracula, the Lord of the Undead (now redesigned to look more like a medieval warlord than a Bela Lugosi character) is killed by his son Xarus, who unites all the different sects of vampires under his control. Xarus then enters a conflict with the X-Men after turning Jubilee into a vampire, which leads the mutants to revive Dracula, hoping the Lord of the Undead might be able to stop his son. By the end of the event, Dracula now leads a united vampire nation made of all the previously divided sects of vampires.
In the Fear Itself crossover event, Dracula and his vampire armies appear in Fear Itself: Hulk vs Dracula, trying to stop a Hulk empowered with Asgardian magic.
Dracula hired Deadpool to bring him his bride-to-be Shiklah, Queen of the Monsters, in the made-for-digital Deadpool: The Gauntlet Infinite but Shiklah ends up marrying the Merc with a Mouth instead. Having tried to Deadpool only to be poisoned by the effort, Dracula flees, having lost both his bride and his people. Sick and almost appearing to be dying, he tried to take vengeance by sending a Spider-Slayer after Wade Wilson in Deadpool #35.
Wolverine: Old Man Logan Vol. 4: Old Monsters
Collects: Old Man Logan #14-19
After having been seen unconscious and experimented upon in Area 13 in Howling Commandos of S.H.I.E.L.D. #2, Dracula apparently escaped, capturing both Jubilee and Vampire by Night. Old Man Logan and the Howling Commandos teamed up against the undead lord to save their friends, and Dracula was killed once again.
Deadpool: World's Greatest Vol. 8: Til Death Do Us…
Collects: Deadpool (2015) #28-29, Deadpool & the Mercs for Money #9-10, Spider-Man/Deadpool #15-16
In the Deadpool storyline and mini-event "Til Death Do Us", a depressed Dracula was recruited by Deadpool and Spider-Man to help them against Shiklah, who had decided to wage war on New York City. By the end of the event, Dracula and Shiklah are married by Mephisto and leave to honeymoon.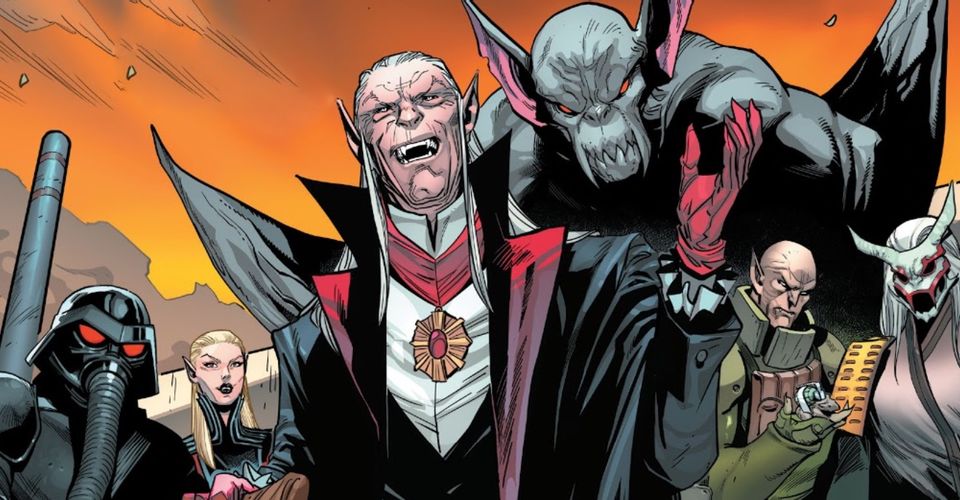 Avengers by Jason Aaron Vol. 3: War of the Vampires
Collects: Avengers (2018) #13-17
When a legion of vampires started attacking places from Romania to Manhattan and even Wakanda, Dracula reappeared in Russia, looking older and claiming to seek political asylum. He was captured by the Winter Guard and sent to Chernobyl. However, as vampires are able to survive despite the radiation, Dracula used the exclusion zone as the base for his new Kingdom of Vampires. In Avengers #32, Dracula is shown eliminating weak vampires and only allowing the strong into his Kingdom.
Wolverine by Benjamin Percy Vol. 1
Collects: Wolverine (2020) #1-5
Dracula gets his hands on Wolverine's blood, which allows him and his vampires to walk in daylight.
In Avengers #45, Dracula asks for his Nation of Vampires to be formally recognized by the world for having helped out in the fight against Knull during King in Black. In return, Black Panther sends Blade to make sure the vampires stay in line.
Wolverine by Benjamin Percy Vol. 2
Collects: Wolverine (2020) #8-12
Wolverine and X-Force make plans to try and stop Dracula, including asking the Otherworld Vampire Kingdom of Sevalith and Apocalypse's former Horseman Death for help.