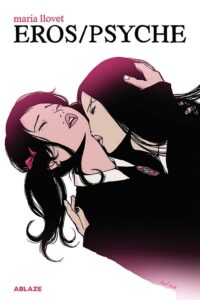 We begin at an ominous boarding school for girls that seems to exist in its own removed plane of reality. The students are free to stay indefinitely, so long as they adhere to a series of strict, seemingly nonsensical rules and participate in bizarre extracurricular group activities. The cult vibes are strong, but that doesn't stop our protagonist Sara from becoming entranced by the school and her fellow students alike.
Eros/Psyche
is a strange book, even in a world of challenging and unique sequential works that have pushed for a looser and more experimental approach to comic book storytelling. At some times detached and at others overwhelmingly romantic, it shares an interesting combination of qualities that would be at home in David Lynch movies, found footage horror, nonfiction cult studies, and coming-of-age queer loves stories of the early 2000s. Though not an easy book to pin down, its re-read value is high, in some parts due to being a secretive and beautifully-drawn dreamscape, and in other parts due to its mysterious plot and characters, which seemingly intentionally leave the door wide open to a number of interpretations.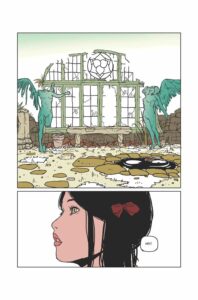 THE ROSE
Our story begins with Sara receiving an envelope which holds a letter featuring several numbers in sequence. The meaning of this message is indecipherable to us, but Sara seems to understand. Her narration indicates that this is an isolated school known as The Rose that she has since departed and is currently remembering with fondness after having spent her formative years here. She goes out to a decaying garden with broken statues, finding a scarf that belongs to the mysterious Silje. For reasons that seem absurd to Sara, Silje makes her swear on a blood oath to share the secret of the scarf and its hiding spot on the deteriorating terrace.
Sara goes on and attempts to fit in at the school, though the other students are capable of voting her out at any time. She becomes enamored with Silje, who seems to be the center of everyone's attention due to her status as the "key student," or the unofficial leader of the school. Still, Sara's attention is more acute than that of the others, and Silje's presence seems to invigorate and anchor her. Silje remains distant, but shares Sara's attraction, detachedly telling her the story of Psyche and Eros (a story of a mythical couple that overcomes all obstacles to be together). This only feeds Sara's growing crush on Silje, and before long, the two spend all of their time together.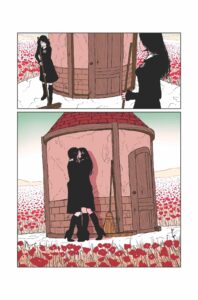 DON'T TELL ME TO GROW UP, MOM
The narrative drifts from scene to scene without time indicators, giving a sense of flow that seems looser than the edgy horror-themed undertones would imply. Each part of Sara's memories is infused with a kind of haziness, with one scene showing Sara studying by candlelight in an empty classroom with a drawing of a heart on the blackboard while another shows the girls painting dozens of dolls only to put them on rowboats to float down the river. These moments aren't explained, but the overall implication is that there are a number of odd, possibly religious rituals that the girls are there to study and learn to perform. No one is ever seen learning to divide or memorizing state capitals, instead focusing their attention on these apparently occult-themed activities.
Support For Comic Book Herald:
Comic Book Herald is reader-supported. When you buy through links on our site, we may earn a qualifying affiliate commission.
Comic Book Herald's reading orders and guides are also made possible by reader support on Patreon, and generous reader donations.
Any size contribution will help keep CBH alive and full of new comics guides and content. Support CBH on Patreon for exclusive rewards, or Donate here! Thank you for reading!
Yet, even as the story borders on a sort of Never Never Land that has replaced the Lost Boys with a group of Lost Girls equally opposed to adult intervention and incapable of growing up, true horror dances just out of sight. Under the threat of being forced to go to "the room," a young woman chooses instead to die by suicide. When Sara struggles to find meaning in this, Silje shrugs that she wasn't the first and won't be the last. Going from this stark and bleak conversation to several pages of communal recreational activities like swimming and crafting, we see how the others normalized the life or death stakes of their time at The Rose.
Still, even as they are having what seems to be at first glance meaningless teenage fun, when the camera pulls back just a bit, we see that the girls have been tying open sets of scissors to hang over birds' nests. At its most benign, the school is full of morbid rules and rituals that blend with the day-to-day, creating a setting that drifts but is capable of turning into a nightmare at any moment.
HIGH ON VIBES, LOW ON STRUCTURE
One of the strangest aspects of Eros/Psyche beyond the Land of Narnia style lawlessness is that there are no adults. Little if any mention is made of parents or teachers, and the girls seem to govern themselves entirely. This infuses the story with a sort of more cordial version of The Lord of the Flies, in which the girls never seem inordinately cruel to one another but nevertheless drive each other to self-harm and exile. One girl leaves after biting a classmate's ear off, while another is punished for falling in love with a boy.
Even for Sara and Silje, attraction feels dangerous. Though Sara is openly enamored with Silje throughout the book, it takes her ages to attempt to kiss Silje, who reacts with fear and shock. Later, with Sara collapsed and crying alone in the rain, Silje follows her, and the two embark on a highly-passionate affair despite Silje's apprehension. Naturally, this all ends with Silje telling Sara that there was always more to her than meets the eye as she reveals a genuinely startling secret and leaves the school forever. Still, even after being lied to, years in the future, we see that Sara still prays that they might cross paths again someday, which speaks to her attachment to Silje as well as her overall directionless, untethered way of existing.
To that end, though this story is told from Sara's perspective, we learn essentially nothing about her beyond the fact that she doesn't mind the convoluted rule system of the school, The Rose serves as a sort of haven for her, and she is in love with Silje. It's hard to connect with her when much of her own trajectory rests on her infatuation with a girl that we likewise don't get to know very well. Even at that, there is a level of romanticism in her that makes it hard not to root for her. In youth, it's hard to see the way that our views on love might change, and when Sara realizes she might not be destined to stay with Silje after all, it's easy to mourn that loss right along with her. There are questions about where Silje goes from here, but Sara is likewise plagued by the open-endedness of their romance.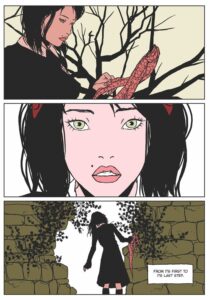 WHY DID IT HAVE TO BE DREAM LOGIC
Readers who prefer a well-developed narrative to dream logic meanderings will likely be frustrated by Eros/Psyche, but if you have the ability to let open-ended plot points slide, there's a lot to love about this book. Silje's guardedness around Sara and her ultimate confessions of being trapped in a world beyond time make for an intriguing if ultimately somewhat toxic character, and it's easy to understand why Sara's full sympathies are with her even after her deception. The Rose is a fascinating environment that could very much stand to be fleshed out, as this edition makes it seem like a disconnected building with rooms that you get the feeling might move around a bit when nobody's looking.
Eros/Psyche reads very much like a dream, not particularly grounded in anything but drenched in longing and a sense of inexplicable dread. We don't learn anything about Sara, but perhaps the point is that we don't really need to, and that any world before The Rose is one that simply seems less real or even somewhat unimportant through her eyes. In that spirit, this is a collection best read with the willingness to let go of narrative concerns and allow distant memories of lost loves to resurface for one last gasp of air.