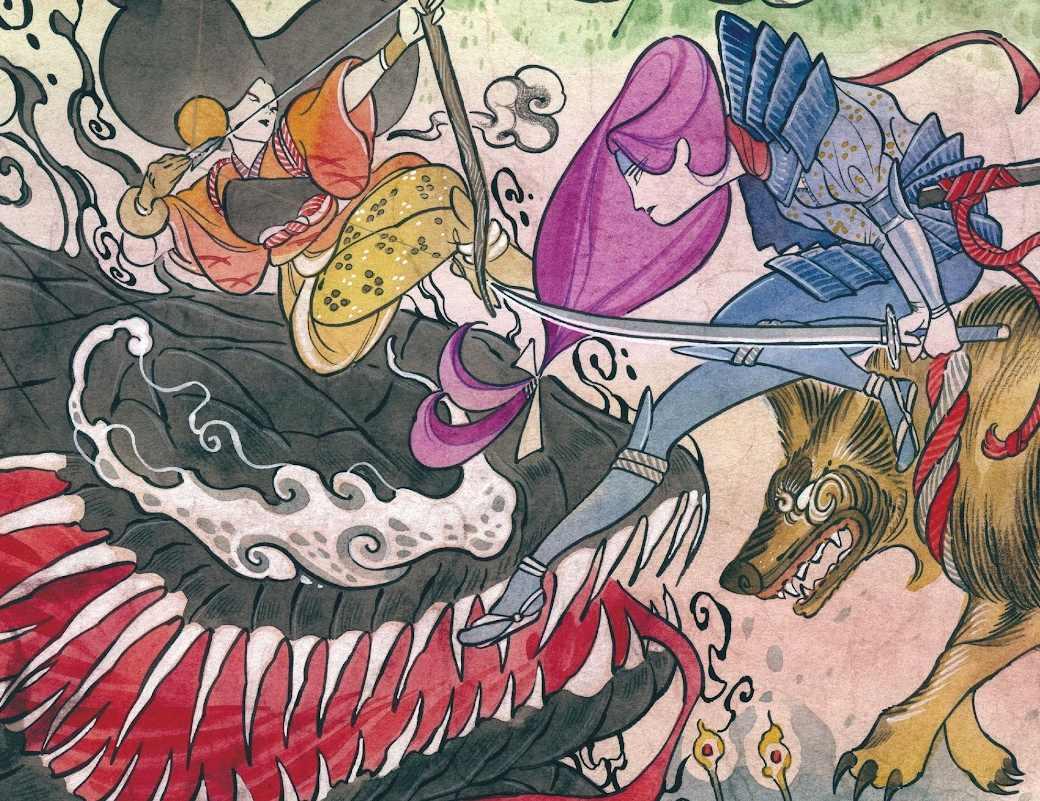 Peach Momoko is one of the most popular cover artists now, thanks to her distinct and almost dream-like style inspired by horror and Japanese cinema. In 2021, Momoko also filled the insides of comics with her watercolors in the "Momomo-verse," starting with Demon Days: X-Men #1. Its premise is to create a new Marvel universe, but more inspired by Yokai stories and Japanese folktales, creating new versions of popular characters and transporting them to different settings.
As of 2023, the Momoko-verse has two main stories: Demon Days and Demon Wars. Each has a character called Mariko as the protagonist. She is a new character created by Momoko who suddenly finds herself between the world of humans and Yokai. That'll bring changes to her own life but also to many others.
Demon Days
Collects: Demon Days: X-Men (2021) #1; Demon Days: Mariko (2021) #1; Demon Days: Cursed Web (2021) #1; Demon Days: Rising Storm (2021) #1; Demon Days: Blood Feud (2022) #1; King in Black #4 (Demon Days Prelude); Elektra: Black, White & Blood (2021) #4 (Demon Days story)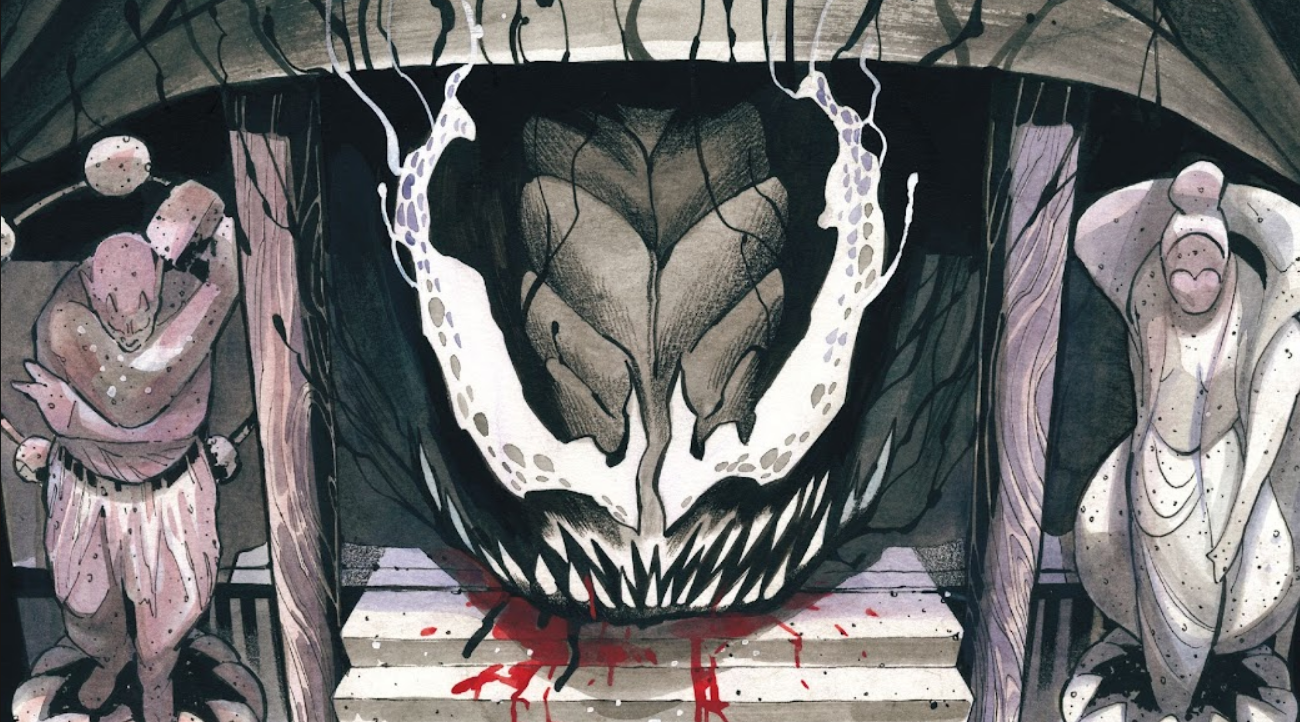 Demon Days: X-Men
Let's start with the most important thing first. Wolverine is a wolf here, which is both so cool and cute. This chapter tells the tale of Kirisaki Mountain. It starts with Sai, a sword for hire, trying to find a new place to rest. She soon gets wrapped up in the fight against Orochi (Venom) and an Oni with a recognizable catchphrase.
Support For Comic Book Herald:
Comic Book Herald is reader-supported. When you buy through links on our site, we may earn a qualifying affiliate commission.
Comic Book Herald's reading orders and guides are also made possible by reader support on Patreon, and generous reader donations.
Any size contribution will help keep CBH alive and full of new comics guides and content. Support CBH on Patreon for exclusive rewards, or Donate here! Thank you for reading!
Like with almost all alternative universes, one of the best things is seeing the different versions of the characters you love, which Momoko-verse has plenty of. The characters get other names and powers and fit Japanese tales in some way, like Jubilee becoming a Jushi (a type of witch). This also works wonders for the setting, as it's a Marvel universe more involved with nature than we are used to. Momoko also ties this to the story, so everything feels connected.
Demon Days: Mariko
Here, Momoko shows more of her horror inspiration. You can sense that not only in the scenes tackling the bullying of the main character, Mariko but also in a few moments that could have been seen as completely mundane, such as one of an old lady blowing out a candle.
We have been transported to the present day, but Japanese folktales still are strong. Mariko lives with her grandmother and Kuroki, her maid. To Mariko's surprise, she's part of a greater mystery (and game) than she could have ever expected. The chapter takes its time, reserving more action and a chance to see the other side of the story in the future. Momoko knows how she should pace the comic and how to build little mysteries that will intrigue everyone.
Demon Days: Cursed Web
On Cursed Web, we get the first action-focused chapter. And, again, Peach Momoko doesn't disappoint. The fights are fluid and easy to follow, also serving as an opportunity to present more aspects of some Yokai differently. But action isn't everything in this chapter, as we also get a few new characters and another internal conflict Mariko will have to deal with.
The alternative versions of Sabretooth and Mystique are fun, but Silk's (or Reina, in this case) steals the show. Her power is one of the funniest and most creative changes: as much as I'd like her to be a Yokai, I couldn't be sad seeing her using yo-yos instead of webs.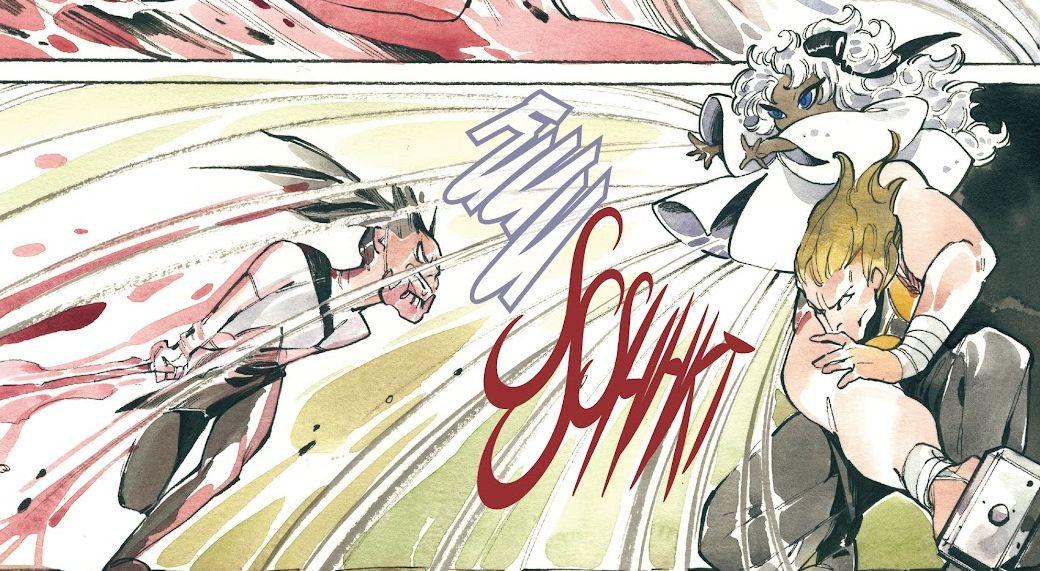 Demon Days: Rising Storm
I won't go into details as it'd reveal one of the surprises, but the page with Ororo's and Thor's revelation is the best Momoko has ever drawn in the saga. Everything about it is great. The character designs, the fluidity of the page, the colors, everything. I'm mesmerized. The Demon Days/Demon Wars Saga is unlikely anything being released right now. This should already be a big reason to give it a try.
Also, Rising Storm is probably the first issue with all the aspects I have mentioned until now. And all of them are done very well. It's only low on horror and gore, but it definitely doesn't feel lacking.
Demon Days: Blood Feud
Blood Feud was a good way to finish the story while leaving space open for many other stories. Momoko using the Yokai as an analogy for the mutants in the mainline Marvel universe is very clever. It's interesting to see them as scattered and lonely individuals that were once an important part of that world.
That's also why the Momoko-verse feels sincere and genuine. The art fits the storyline perfectly, and the character's feelings draw you in even more. I wish this saga had more time to craft a deeper story. Still, it's hard to read it and not get excited about what's to come.
Demon Wars
Collects: Demon Wars: The Iron Samurai (2022) #1; Demon Wars: Shield Of Justice (2022) #1; Demon Wars: Down In Flames (2023) #1; Demon Wars: Scarlet Sin (2023) #1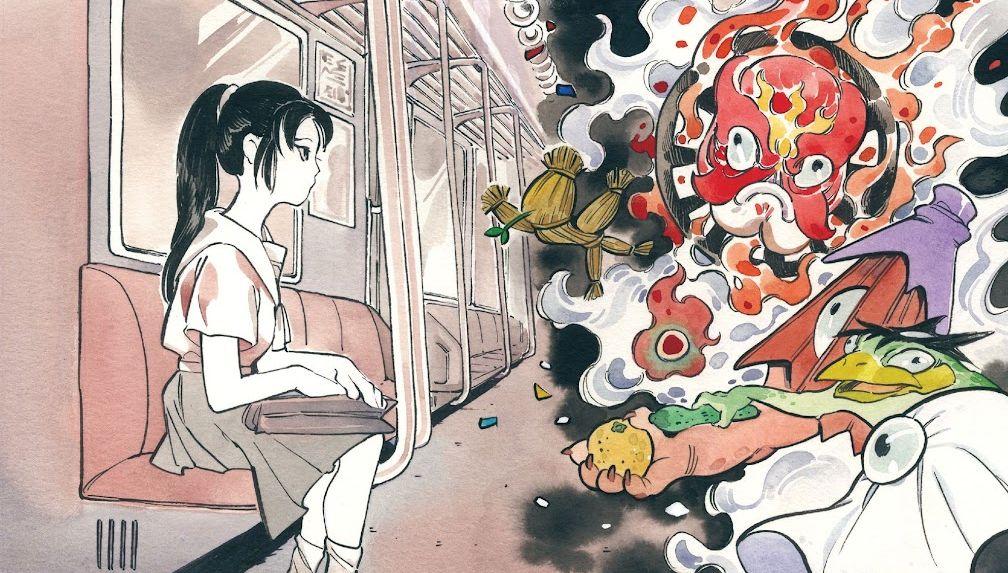 Demon Wars: The Iron Samurai
The Iron Samurai marks the start of "Into The Spirit World," the series' newest saga. We follow a depressed Mariko, conflicted with returning to her daily life. However, spirits and recent earthquakes drag her to a new adventure in the Spirit World, where she will need to choose a side and change the future of Yokai forever.
Saying the art is great seems redundant, but I'll have to do that anyway. Momoko uses different sets of colors at the start of the comic to represent how Mariko's word seems bland and somber. The pages seem to be pouring out emotion. Momoko also delivers some incredibly colorful panels and a page that would make anyone missing her horror inspirations fall in love.
Demon Wars: Shield of Justice
We finally look closer at the other side of our "Civil War" here. Mariko returns to the Spirit World, but instead of meeting the Yokai who helped her before, she finds Nekomata (Black Panther) and Yamato (Captain America). They explain their views more, and we find out something is wrong with Yamato, corrupting him.
Like the second chapter of Demon Days, this one does a great job of setting up conflicts and mysteries. Not to mention, we see some key players of the Marvel universe for the first time, like our friendly neighborhood spider-spirit.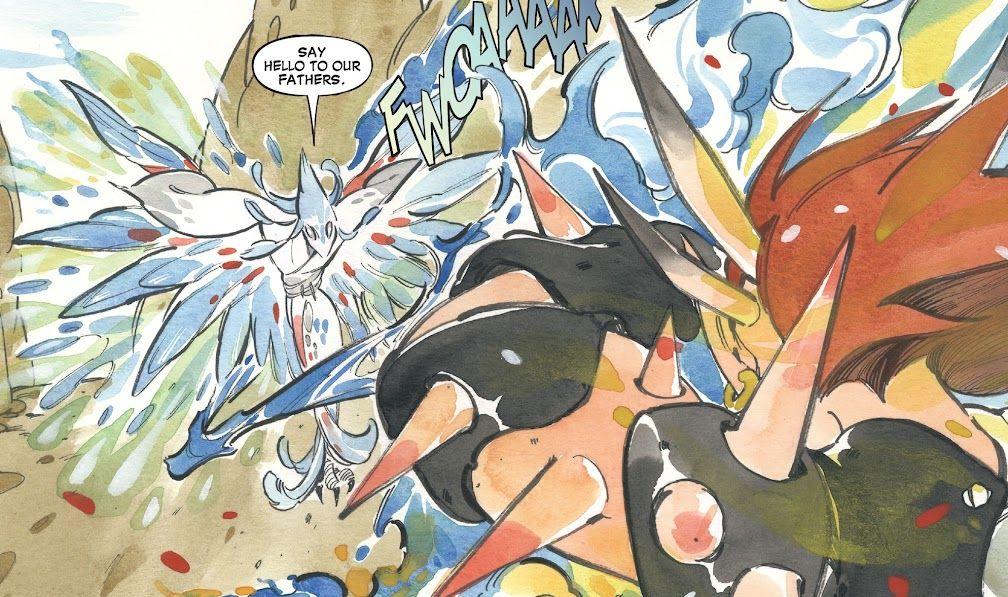 Demon Wars: Down in Flames
This time, Momoko brings two characters who weren't involved in the original Civil War, Aosagi (Jean Grey) and Itsuki (Magik). They really fit the folklore and the conflicts of the series. The adaptation they go through was a great idea.
Besides their fight, we also follow Mariko trying to talk to Yamato and her ancestor, hoping they can find a third way to solve the problem. However, as always, things are harder than they should be.
Demon Wars: Scarlet Sin
The Demon Wars Saga ends, but it doesn't mean the end of the Momoko-verse. We finally meet the big bad of this arc, and although the ending could have been better, they feel complex and genuine.
The best aspect of this chapter's plot is the signs of what might come next. If you've read up until here, you certainly like Momoko's storytelling, not only her art, so it's going to be a treat for you. In a publisher like Marvel, which has so many different universes, it's hard to create a new one that keeps attracting fans, and that's what the Momoko-verse does. Let's wait together for the rest of Mariko's journey.