Before I get to the content of this issue, let me just say that if you have not read any of the Archer and Armstrong or Quantum and Woody comics that Valiant has been publishing the past couple of years, this is not the best entry point for either series. Now I don't mean that in order to read this comic you need to be up-to-date with both series; all you need to read is the first arc of both books so you can understand the power sets, attitudes, and character relationships of both teams. You can sort of piece things together if this is your first exposure to these characters, but you will get the most out of this issue if you go into this already knowing everyone. I'm telling you this because I'm coming from someone who has read both books, so I'll be reviewing this comic from that point of view. If you haven't read either book, you can skip this issue. If you have read either (or preferably both) books, well lets get to that now.
The issue begins by showing the reader a new part of Armstrong's past. This time he's traveling around America as a hobo, with the "Hobo King", during the Depression. After an incident involving our lovable imortal, a farmer's wife, and the farmer, both have to flee the location and jump aboard a passing train. While on the train, the King presents Armstrong with a map to "The Treasure of the Hobos" because he deams him worthy of the honor. This map is made out of the butt of a previous map carrier (just trust me, it's pretty funny). Unsurprisingly, Armstrong loses half the map which eventually ends up in the hands of Mondostano, an evil agricultural corporation that (for some reason) hires Quantum and Woody to track down the treasure.
That's the basic setup for this series, a treasure hunt involving two teams of idiots. Sounds good to me. Unfortunately, one problem with this story is that the two teams do not meet up in this issue. Hopefully they do next issue and this story doesn't drag out the whole "oh man it will be great when they meet" thing up until the very last issue.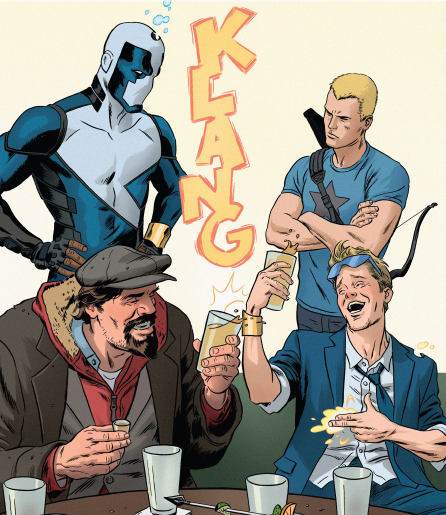 The Delinquents is written by both Fred Van Lente and James Asmus, so it's no surprise that all the characters act as they do in their own books (Fred writes Archer and Armstrong, James writes Quantum and Woody). It's also no surprise that this book is very funny. Through a combination of visual gags, odd situations, and eccentric character actions, this book should at least keep you giggling the whole way through. One running joke in particular that involves symbols the hobos use to communicate with one another drew quite a few laughs from me.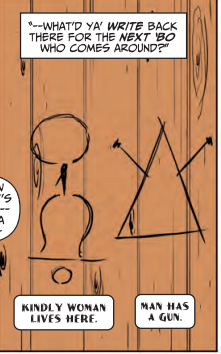 The artwork this time around is done by Kano, who does a really good job portraying these comedic moments. While his artwork is not as cartoony as you may want for this kind of story, the expressions he's able to give everyone fits perfectly with what's going on. He also does some interesting layouts in this comic as well, such as two pages of 4 by 4 panels that present the journey of half the map kind of like the beginning of a film would.
Support For Comic Book Herald:
Comic Book Herald is reader-supported. When you buy through links on our site, we may earn a qualifying affiliate commission.
Comic Book Herald's reading orders and guides are also made possible by reader support on Patreon, and generous reader donations.
Any size contribution will help keep CBH alive and full of new comics guides and content. Support CBH on Patreon for exclusive rewards, or Donate here! Thank you for reading!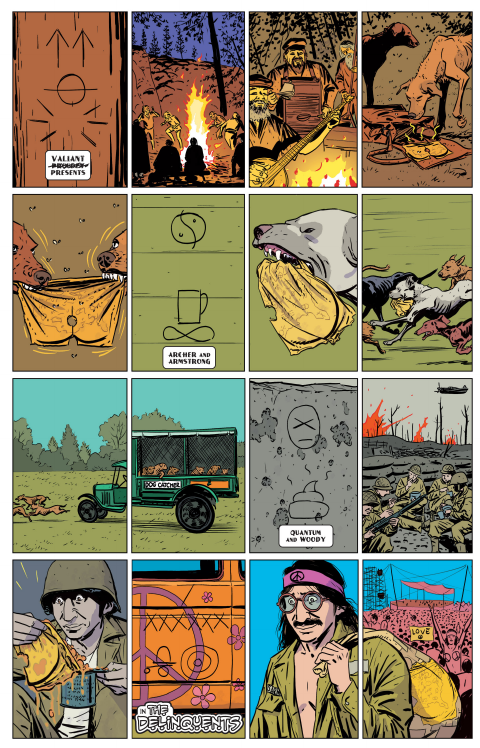 This issue is divided in half between what Archer and Armstrong are doing, and what Quantum and Woody are doing. So one team does not push the other out of this story. If anyone ends up short, it would be Archer who really does not get a whole lot to do this issue. The villains of this story have also not been fully introduced yet. We see them do some pretty bad stuff, don't get me wrong, but what they want or why they are like this have not been made clear. Of course that is not the main point of this issue. What this needed to do was get the two teams together and have them bounce off one another. Unfortunately that does not happen this issue. What we are given is a pretty believable reason why these two teams will meet and some pretty funny moments from both teams individually. One of the standout moments includes the introduction of Quantum and Woody to this story.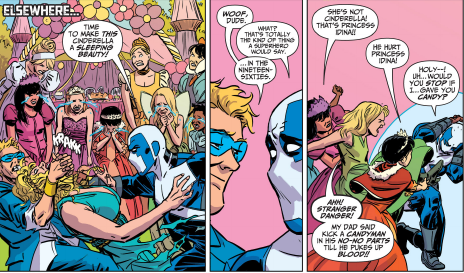 Overall, I am pleased with how this issue turned out. I would have liked the two teams to have met up by now, but the writers at least appear to be moving them towards that goal and do not appear to be padding things out. What is also nice about this story is that it appears to be completely self contained. There are no tie-ins to this story, not even from the two individual series for these teams. The artwork is also enjoyable to look at, and provides much of the book's humor. If you're a fan of both titles, than this is definitely worth a look at. Even if you only know one of the teams, you should be able find a lot of entertainment from this as well.
CBH Score: 4 out of 5