If you're a 90's kid like me, you probably remember Deathlok. Well, you probably remember at least one Deathlok. Between 1992 and 1993, I think he made a guest appearance in just about every Marvel book there was. He embodied much of the 90's comics aesthetic; cybernetic arms and legs, big guns, an eye-piece, belt pouches, those new-fangled computer thingies, the whole deal. But that was the Michael Collins Deathlok. In Deathlok #1, Marvel launches a newer, hipper, Deathlok into the 21st century. Well, sort of.
This Deathlok is Henry Hayes, introduced in the Original Sin event, and he is a bit different than the Deathlok of old. This issue serves mostly as an introduction to the character, which is appreciated, especially if you didn't read Original Sin. We learn that Henry is a father to a teenage daughter, has a cybernetic leg to which Biotek mechanics make house calls, does laundry, wears Under Armour, and works for 'Medics Without Borders'. At least that's what Hayes thinks he does. As we see throughout the issue, whenever he heads off somewhere to do aid work, he is instead activated by a shadowy organization and transforms into Deathlok, an extremely efficient and deadly operative. Once his mission is completed, his mind is wiped and he heads back home having no idea of what he's just done.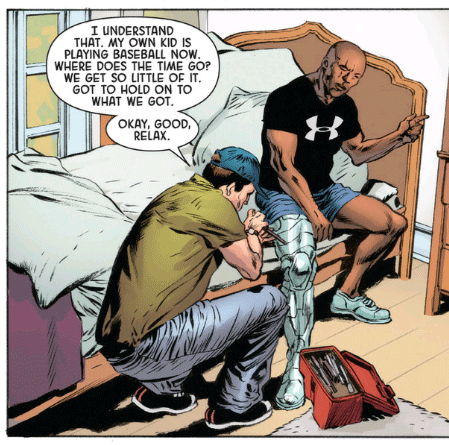 Nathan Edmonson's script is utilitarian, just setting up the premise and giving the reader some exposition to get the series rolling. I've seen more creative first issues, but as an introduction this isn't the worst. We get some tidbits of character for both Hayes and his daughter, but nothing yet that pushes it beyond cliché. The missions we see Deathlok on are likewise non-descript and cliché. Spin the wheel of comic book plots and land on "take out some random South American rebels" and boom, you're good to go. A minor villain makes a cameo appearance that will probably lead to a future conflict, so it's nice to see the possibility of building a rogue's gallery for our title character.
We also see Maria Hill of S.H.I.E.L.D. taking an interest in Deathlok's actions, and she sends Agent Andrea Hope to investigate. Agent Hope's first stop in her investigation looks to be none other than Michael Collins, according to the file that Hill hands her, so I'm hoping he'll show up in the next issue. Maybe we'll even get to see 'Puter!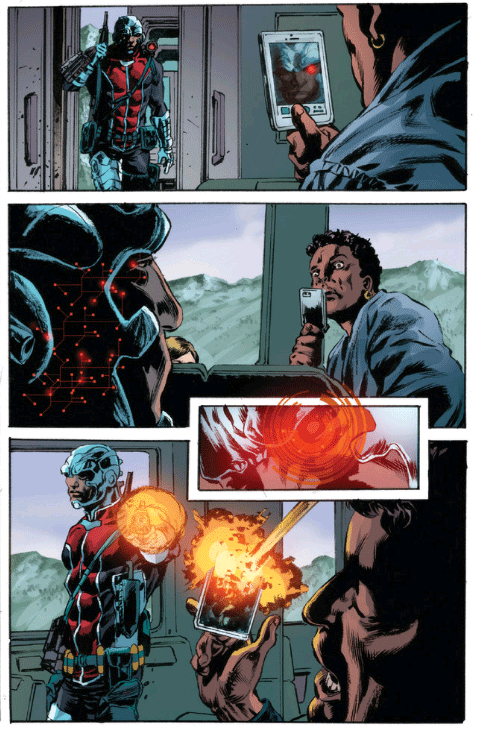 Mike Perkin's art is serviceable, but most of the action is shown from a distance. This may be a conscious choice by the creative team to show that we're not familiar with this character yet, or that we are supposed to be distanced from Hayes' actions as Deathlok, as even he himself is at this point. It's not my favorite art style, but at least it is clear as to what is going on and what the reader is supposed to be looking at. However, I do think the big action moment splash page is a missed opportunity. It just looks awkward and I didn't realize that one object on the page was supposed to be a helicopter. That's not ideal.
Support For Comic Book Herald:
Comic Book Herald is reader-supported. When you buy through links on our site, we may earn a qualifying affiliate commission.
Comic Book Herald's reading orders and guides are also made possible by reader support on Patreon, and generous reader donations.
Any size contribution will help keep CBH alive and full of new comics guides and content. Support CBH on Patreon for exclusive rewards, or Donate here! Thank you for reading!
However, the action piece that introduces the aforementioned villain cameo was drawn really well. It's shocking and gives you all the motivation for a future rematch over the span of two panels.
This issue is successful in setting the story's tone and in creating a few mysteries to look forward to in future issues. I really like the twist on the premise in that Henry Hayes doesn't even know that he is Deathlok, and I'm interested to see what will happen once he finds out. While I wouldn't say this issue is a great one, at least it shows that it has some potential to tell a compelling story. If you're a fan of Deathlok, any Deathlok, you might want to keep one cybernetic eye on this series.
CBH Score: 3.0 of 5.0
[schema type="review" rev_name="Deathlok #1 Review" user_review="3.0″ min_review="0.0″ max_review="5.0″ ]