Immortal Hulk is easily one of the most talked-about Hulk comics in some time, though the idea of a shockingly powerful, intrinsically misanthropic Hulk certainly isn't without precedent. Indeed, much of what made the run so successful for all fifty issues was its willingness to move slightly away from standard Marvel Comics hijinks in order to embrace the weird sci-fi and horror concepts that were baked into the concept from the jump.
Yet, taking it all one step further to address heavy subjects such as immortality in the Marvel Universe, as well as dealing with long-term trauma caused by childhood abuse, is what made this book something significantly more than a retread of the Hulk's weirdest moments. Though this builds on what came before, there has never been a comic quite like The Immortal Hulk
.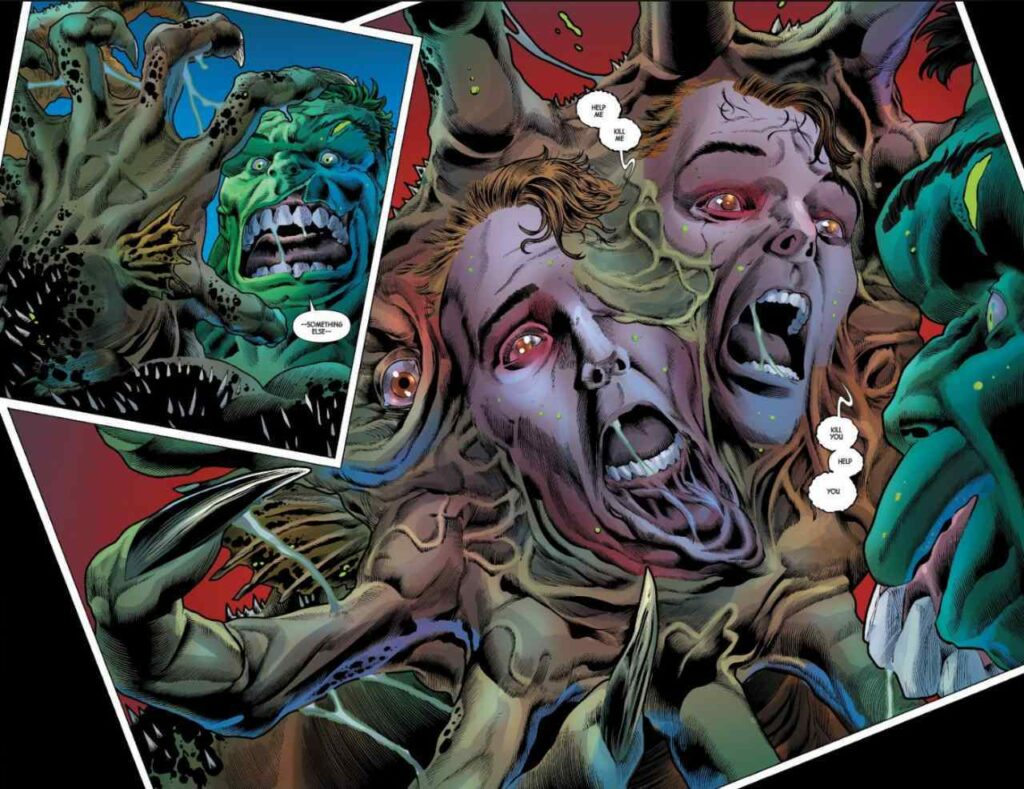 AREN'T YOU DEAD?
The Immortal Hulk, once known as The Devil Hulk, is the strongest and most terrifying of the Hulk personas. Once, we knew this entity only as the Hulk that was too dangerous to ever be released, lest he bring about the end of the world. Yet, with Bruce Banner's self-arranged death via Hawkeye's arrow in one of Civil War II's messiest moments and his subsequent resurrection, Bruce finds himself beyond disoriented and looking to find a new way of staying alive.
The first arc of the series, Or Is He Both?, introduces us to a Bruce Banner on the run again, no longer even attempting to establish a stable foundation for himself. Having so recently died, he tries to lose himself in limited material joys while bussing from city to city. He and Immortal Hulk share a day and night truce – Bruce is in charge during the day, and The Immortal Hulk comes out at night.
When a young man attempts to rob a gas station and ends up killing people, including a twelve year old child, Hulk tracks him down and beats him nearly to death, alerting authorities to his return. This likewise shows us that we're dealing with a Hulk that believes in serious punishment for those that hurt others, which is foreshadowing for his later reveal that he's on a quest to end human society, not out of malice towards humanity but out of a desire to save the species. Regardless, this alerts many of the other heroes to the possibility that he may soon become a serious threat to the planet. Many issues into the series, this leads to an enjoyable interaction with the comparatively optimistic Amadeus Cho, who gently urges Bruce and the Hulk to examine their motivations a little more deeply lest they cause cataclysmic destruction.
Support For Comic Book Herald:
Comic Book Herald is reader-supported. When you buy through links on our site, we may earn a qualifying affiliate commission.
Comic Book Herald's reading orders and guides are also made possible by reader support on Patreon, and generous reader donations.
Any size contribution will help keep CBH alive and full of new comics guides and content. Support CBH on Patreon for exclusive rewards, or Donate here! Thank you for reading!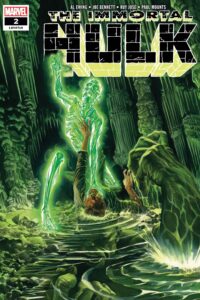 WE AREN'T THE BAD GUYS HERE
This series stands out for its willingness to dissect Bruce's actions and view them as being understandable, misguided, frightening, or heroic on a case-by-case basis. He has good intentions, but that only counts for so much when one occasionally turns into an irradiated monster and engages in massive city-wrecking brawls. Yet, the theory that Bruce has always been struggling to save lives even when buried inside the Hulk gains a great deal of credence here.
Reporter Jackie McGee is an incredible new character full of nuance and moral complexity, who at first asks Hulk how she might become like him, then later elaborates that she would simply like to know how it feels to have one's rage actually acknowledged by the world at large. Jackie is a recurring character for most of the series, and her ability to speak to Hulk in a way that forces him to acknowledge some level of the harm he has caused is impressive throughout.
Often enough, the other heroes are at least just as morally gray as the Hulk. The Avengers actively blow the Hulk to smithereens and lose track of his remains. They then spend significantly more time justifying their actions than effecting any kind of a search until Captain Marvel takes control and creates a new Gamma Flight to deal with Hulk-related issues. Composed of Puck, Absorbing Man, Titania, and Charlene McGowan, this team does its best to stay on the right side of Hulk Affairs but still manages to cause more harm than they prevent by attacking the Hulk while he's trying to surrender and spurring him to fight once more. The complexity of acting before examining a situation and being convinced of one's own righteousness is examined and viewed with a refreshing level of apprehension.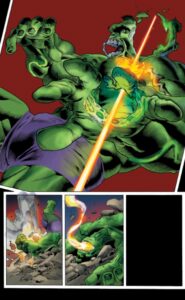 LISTEN, A LOT OF STUFF HAPPENS IN THIS COMIC
Charlene McGowan is another character whose job places her in close proximity to the Hulk. Having lost her job due to drug use caused in no small part by gender dysphoria, she found herself in the uncomfortable position of working for Doctor Clive, who helped to steal Hulk's remains after he was blasted to pieces by the Avengers. McGowan is another breakout character that adds a great deal to the overall narrative by showing us a supposedly "faceless evil scientist" who experiences genuine regret and works to make things right without resorting to didactic moralism.
Hulk hurts people. Trying or not, he hurts people. He blows up an entire town with a blast of radiation. His closest friends, Betty Ross and Rick Jones, spend much of this series in radioactive hellscapes as their physical forms morph and change beyond all recognition. Leonard Samson and Walter Langkowski both return, then are killed once more, only to return as a strange Samson-Langkowski hybrid. By the end, it becomes clear that the common thread through the stories is rebirth, but there are a lot of different themes at play.
Yet, so much of the narrative revolves around the pain that Bruce has caused himself by refusing to accept his feelings. Desiring his father's love created the Hulk while a need for protection created the Devil Hulk. Joe Fixit is the kind of one-dimensional gangster that young Bruce longed to someday become, but even Fixit is significantly fleshed out in this run, occasionally becoming Bruce's best self when he accepts Betty, shames Ben Grimm for beating up on the Hulk, and even kills one of the Hulk's greatest foes in a true life-or-death moment. As hurt as Bruce has been, and as terrifying as his many selves are, this series seeks to create a resolution between his many warring personalities, and by the end, it succeeds as much as any ongoing series for a commercial character possibly could.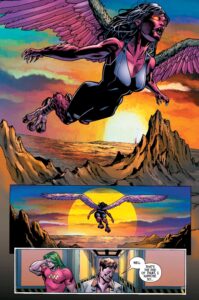 THE RETURNS AND THE DEMISES
One of the greatest turns of this series is how it shows the extreme and lifelong trauma visited on Hulk's closest friends. Rick appears as the tormented Subject B, his body ravaged by gamma radiation. Meanwhile, Betty Ross makes her return as the Red Harpy after a particularly compelling examination of her feelings in the wake of Bruce and her father Thunderbolt Ross's deaths. She rips through the Hulk's chest and consumes his glowing, irradiated heart, growling, "This is me." Soon, the Hulk recovers, and requests that she not hurt him again, to which she responds, "Don't hurt me again."
The Red Harpy is an unending delight throughout the series, granting Betty Ross the rare power and autonomy that so many (though not all) arcs have denied her. She loves Bruce and continues to protect him, but he's horrified by her and refuses to accept her. After she dealt with his many outbursts and transformations, she is frustrated to find that he won't grant her the same level of understanding. To him, the Red Harpy is simply a manifestation of her anger towards him, which offends her as she continues to try and explain to him that not everything is about him before flying away, adamantly refusing to live in the cages that he constructs for her.
Reginald Fortean reappears in this arc as the new Abomination, and is in fact inspired by the beauty he sees in the Red Harpy to do so. While Bruce can't handle looking her in the eye, Reginald thinks of this as her most complete form. Fortean once desired to become the next Thunderbolt Ross, and this is where we see this initially heroic desire run its tragic, dangerous, and self-prophesied course.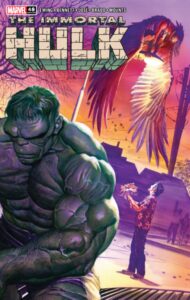 THIS COMIC KEEPS MAKING ME CRY
There are multiple interactions between a sympathetic and supportive Devil Hulk and a cowering, frightened Bruce Banner in which he attempts to convince him that he's there to protect him and that things are going to be okay. Rather than examining Bruce's rage, this story is primed to examine what hides under anger – the loneliness, fear, sadness, and despair that can inspire flashes of temper in others. Without justifying him, the story actively encourages all of Bruce's personalities to work in tandem.
The last half of Immortal Hulk sees the return of some classic Marvel villains, such as Xemnu and classic Hulk archfoe The Leader. Xemnu uses his manipulation powers to turn public perception against the Hulk, and they end up in an epic battle against one another. The Leader creeps at the edges of the series before coming back in a big way in The Keeper of the Door. He has gained access to the Green Door, introduced by Ewing and others in an issue of the Avengers circa-2018 as being the barrier that led to the Below-Place, or the region below Hell.
Here, The Leader takes advantage of his access to various green doors in order to take control of Rick Jones, using his body as a puppet and kidnapping Hulk's different personas along the way. Bruce Banner and the Hulk as well as their friends are taunted and toyed with, and their fates are seldom in their own control. By the end, the only thing Hulk can control is himself – who he loves, who he forgives, who he fights, and who he protects – and it leads to some surprisingly tender moments between him and characters who have every right to hate him, like Jackie McGee and Betty Ross.
Tapping into Bruce's guilt and self-loathing to give nuance to the Hulk's rage, The Immortal Hulk was the rare superhero resurrection that examined what happens when death isn't and can't be permanent. The coffin closes but it keeps popping back open, and that's both where we begin and where we end with Bruce Banner and his friends. The book becomes a modern horror masterpiece along the way, as well as offering new insight to its characters. The lives of Hulk's friends and enemies alike are more intertwined than ever. Bruce's childhood trauma continues to affect him and everyone in his life, but, more than anything else, Immortal Hulk becomes a book where he is finally given the space to forgive himself. In the end, it's a heartfelt desire to find peace that defines the series, even if it takes a whole lot of guts and radioactive gore to get there.