For modern fans of Deadman, the character will likely be best known as a melancholy spirit with a penchant for teaming up with Batman to assist in solving mysteries that the Dark Knight can't handle alone. The Deadman Omnibus
collects many of his early appearances, including his debut in Strange Adventures, and various team-ups with characters like Aquaman, the Challengers of the Unknown, Swamp Thing, and the Phantom Stranger. A surprisingly ubiquitous character throughout much of the late Silver age running into the Bronze age of comics, these early adventures give us a slightly different character than the handful of guest appearances he's had in the modern age would imply.
Many of the greatest creators of the time worked on these Deadman stories, including Len Wein, Neal Adams, Jose Luis Garcia-Lopez, Keith Giffen, and many more, via this somewhat scattered handful of appearances. Deadman's popularity for the time is unquestionable considering how often he showed up, but it still took all the way until the mid-eighties for him to land his own mini-series, and his appearances have become increasingly sparse over time. This omnibus will be good for fans of the character, but it will also collect a smattering of tales that otherwise could easily fall under the radar even for longtime comic readers.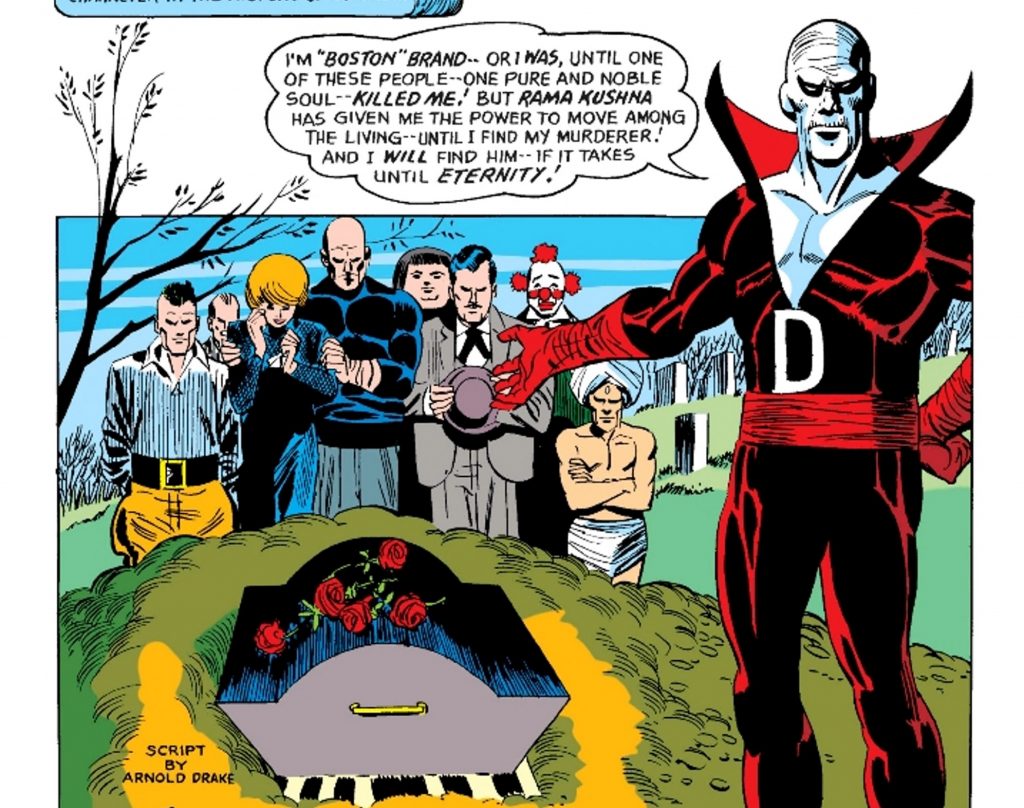 HOW MANY TIMES CAN A GUY DIE?
Deadman made his first appearance in 1967 in Strange Adventures #205. Strange Adventures had a long history in the DC Universe as a science fiction themed anthology series, but it is best known for ultimately leaning into tales of the supernatural and introducing characters like Animal Man, The Enchantress, and, of course, Deadman. Famously, Deadman's first appearance is also the first appearance of drugs, in that his debut issue is the first comic known to see approval from the Comics Code Authority despite featuring "narcotics" on panel.
Boston Brand was once a death-defying aerialist who embraced his image as a risk taker. He had a cynical view of his audience and dressed in horror makeup to appease their desire to see death. During a performance one night, he was shot multiple times by an unknown assailant with a hook for a hand. Due to the injustice of his death, Brand was allowed by the deity Rama Kushna to live on as a ghost with the ability to possess others for brief periods of time. Brand's early tales are generally about trying to uncover the mystery of who killed him, though, with time, he moves on to acting as a balancer of justice and injustice, true to Rama Kushna's wishes.
Brand's first story follows him as he discovers his new abilities and watches those he cared about mourn him. Watching over his own funeral in ghostly form, unable to comfort his friends and loved ones, horrified at the prospect that his killer will come for one of them next, Brand wallows in despair and anger. His rage is given an outlet as another performer known as The Eagle attempts to step in and manipulate Lorna to his own desires in a bid to take claim over the circus. Brand has a truly epic brawl with The Eagle that takes them across the circus, from the top of the ferris wheel to the same trapeze where he had lost his life, but it ends with him screaming at The Eagle to admit that he's actually a sparrow, which is perhaps one of the strangest conclusions to a superhero fight ever to grace the pages of a mainstream comic.
Support For Comic Book Herald:
Comic Book Herald is reader-supported. When you buy through links on our site, we may earn a qualifying affiliate commission.
Comic Book Herald's reading orders and guides are also made possible by reader support on Patreon, and generous reader donations.
Any size contribution will help keep CBH alive and full of new comics guides and content. Support CBH on Patreon for exclusive rewards, or Donate here! Thank you for reading!
WHO'S BEEN WALKING ON MY GRAVE?
Perhaps unsurprisingly, there is a sense of exoticism to many of Boston Brand's early stories. Reductive interpretations of other cultures abound, and while they aren't especially unique for the time, they are baked right into the core concept behind Deadman's resurrection. Brand is indebted to Rama Kushna, a god who was invented for the purpose of the story, known foremost as a balancer of good and evil as well as the benefactor of the also-fictional Himalayan city of Nanda Parbat. Brand's relationship with Rama is initially somewhat adversarial, though he does ultimately accept the need to work in accordance with her wishes and comes to respect her as the supreme power of the universe. Though Rama is portrayed as benevolent, she generally refuses to explain herself and occasionally goes out of her way to deprive Boston of what he wants, be that a new body to house his spirit in or the discovery of his killer.
Deadman's need to connect with the living without fully understanding how or why is present in all of his early stories. In the beginning, he relies on those he knew before his death to help him along in his quest to solve the mystery of his own murder. Yet, many of the stories in this volume feature his team-ups with any number of more standard DC superheroes. He has a delightful encounter with Aquaman and Mera, possesses the bodies of the Challengers of the Unknown, and shares a moment with Swamp Thing. Still, his most prominent friendship is the one he shares with Batman, who he teams up with regularly. Their interactions are indeed fascinating, with Batman using his skills as a detective to read Deadman's wishes. Though he bristles at the idea of Boston taking control of his body, he has a lot of faith in Boston to do the right thing.
Boston's supporting cast is mostly situational. As a deceased person, it's easy to imagine him alongside a variety of different characters, but giving him a solid supporting cast is more or less impossible due to the concept behind his character. We are introduced to his brother, Cleveland, who lived his life in Boston's shadow and unfortunately continues to do so even after his death. Lorna is the daughter of the deceased owner of the carnival who left much of the estate to Boston before it ultimately reverted to her upon his death. Tiny is one of the circus performers, a well-intentioned man who is repeatedly possessed by Brand due to his physical size and strength.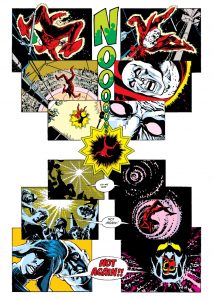 Paradoxically, though he aches to be there for them, Boston did not seem to appreciate the people in his life before he died. He seemed genuinely incapable of speaking to Lorna without talking down to her and actively trying to destroy her self-esteem, and the others were prone to bearing the brunt of his profound narcissism and aggression. These traits continue throughout his first many appearances as Deadman, though they've fortunately toned down a bit in the modern age as his reliance on humor and gentle deference to the powers that be have become more prominent traits.
Brand's selfishness comes into full light in the Deadman mini-series, in which he defies Rama to go back home and say goodbye to those he's leaving behind. He uses his brother Cleveland's body to reinsert himself in Lorna's life, once again stepping into prominence as a star aeralist. However, during a performance, another unknown killer steps in and kills him in exactly the same way. Cleveland is infuriated to have fallen victim to Boston's ego and lack of care, and Boston is shattered with remorse. Though he does put his very soul on the line to make things right, it is a situation entirely of his own making, and that isn't something he can ever forget.
The stories in this omnibus are more than a bit repetitive with their obsessive focus on Brand tracking down the man who killed him, but without fail, every story in them is beautifully illustrated and that alone brings a sense of epic scale that breaks up the thematic monotony of these early adventures. The explosive anger and obsessive malaise of Brand is generally offset by his proximity to the brightly-colored world of Bronze Age comic palettes and superheroes who blithely continue on their journeys in spite of him, barely noticing his presence at all. Though he isn't always fun to be around, Brand is still a sympathetic hero, and moments he spends close to humanity but unable to interact are genuinely haunting. He's no perfect hero, not by a long shot, but this collection gives us the stories that make it easy to understand his mistakes and regret them alongside him.