"Long is the way and hard, that out of Hell leads up to light" – John Milton, Paradise Lost
In the hands of writer Chip Zdarsky, the journey of Matt Murdock is a purifying inferno that has been a long time coming for Daredevil.
When Zdarsky began his currently ongoing run with Daredevil Vol. 6 #1
in February 2019, he inherited a Man Without Fear who had nearly died at the hands of previous writer Charles Soule, but who had chosen to continue his fight for Hell's Kitchen. It's a hopeful note for Soule's run to end on – a man choosing the light when his world contains so much darkness. But what would happen to a Daredevil shaken by his brush with death and still in the grips of a self-destructive lifestyle?
Chip Zdarsky's Daredevil, which has totaled 25 issues and 1 annual at the time of this video's publication, is the story of a hero compelled to continue his fight to protect Hell's Kitchen, but who makes a life-changing mistake. And when he's forced to come face to face with his own guilt, he questions everything he's committed himself to in life.
This is Matt Murdock's descent into hell and his Dante-esque travels through the inferno and back into the light. A fiery crucible that will either reforge or shatter the Man Without Fear. This is Matt Murdock's call to be better than he ever was before – a better hero, a better friend, and a better man. But what must be purged to purify the soul? What will be lost in the process? And what forces conspire to keep the world the same as it ever was for the benefit of evil men?
* Spoilers from here on out for this ongoing series. *
Support For Comic Book Herald:
Comic Book Herald is reader-supported. When you buy through links on our site, we may earn a qualifying affiliate commission.
Comic Book Herald's reading orders and guides are also made possible by reader support on Patreon, and generous reader donations.
Any size contribution will help keep CBH alive and full of new comics guides and content. Support CBH on Patreon for exclusive rewards, or Donate here! Thank you for reading!
Cast Out the Devil
The very first issue of Zdarsky's run sees Matt Murdock, still recovering from being hit by a truck at the end of Soule's run, suit back up as Daredevil. But it's clear that our hero isn't back to top form. He's sloppy, distracted, and weaker. And when he stops a convenience store robbery, he's nearly killed by a few common thieves. That is, until he recklessly lashes out, causing one of the robbers, Joe Carraro, to hit his head on a wall and die from the injury.
It's a line that Daredevil has never crossed, pointedly making sure to define himself as a man who may use violence to bring about justice, but who never takes a life. And now, thanks to his irresponsible actions, he's killed a man. Now, Daredevil is hunted by the police and must decide his future as a hero.
With this story of guilt and the gray area that Daredevil operates in, Zdarsky is pointedly criticizing the most troubling aspects of superhero stories. These are tales of men and women who inflict violence on strangers in the name of a higher calling. When it's done in a more simplified, fantastical manner, it's easy to see these stories as metaphors. But when it's applied through a more realistic lens, the most disturbing aspects of superhero fights become apparent. Bruises, cuts, concussions, broken bones, hospital visits, and shattered lives.
To some degree, Zdarsky's Daredevil is a retort to many modern Daredevil stories and especially to the brutality of the Netflix series. These are stories that detail and sometimes revel in the brutally fleshy aftermath of the violence they display, but stop short of showing all its ripple effects.
"We're going all in on what violence does to a person, to a world, and how Matt reconciles that with his beliefs," said Zdarsky. "He's incredibly complicated and I'm doing my best to do a deep dive into his psyche."
Zdarsky's run hinges on a single small act of violence that would otherwise be a fleeting scene in most comics. But Matt's rusty skills and all-too-human nature result in a death – a consequence far more likely to happen in real life. Suddenly, Daredevil's return to heroism comes crashing down and our hero must be convicted of his actions.
The trouble is that for someone like Matt Murdock, who's been dragged through hell over and over, self conviction doesn't come easily. And the first arc, "Know Fear," which sees Daredevil commit the crime, be pursued by police, be physically destroyed by Detective Cole North, battle The Punisher, and nearly be killed in combat with a horde of thugs, is the process of Matt accepting what he's done and being rightfully forced to give up being Daredevil by Spider-Man.
The follow-up arc, "No Devils, Only God," is all about Matt Murdock pursuing happiness and fulfillment outside the mask, but questioning what role God wants him to play in the world. And it isn't just Matt who questions his beliefs. Detective Cole North, a recent transfer to New York with an extremely strict, letter of the law approach to his job, is the man responsible for Daredevil's capture, but is targeted by corrupt cops due to the pressure he brings into the precinct. And Wilson Fisk, the man formerly known as The Kingpin and now Mayor of New York, washes his hands of his former criminal empire in search of greater power, only to run into The Stromwyns, high powered siblings who control the media and much of the infrastructure around New York.
All three of these men are caught in a cycle of violence they both propagate and suffer from, urged on by their beliefs about themselves and their world. Zdarsky's run is fueled by all three characters' revelations that who they are and how they act are simply not good enough for a world as complex and brutal as theirs. And that world is defined by two extremes – the smallest of actions – a punch that kills instead of wounds – and the largest scale of corruption – those in power who can wipe a neighborhood off the map with a single phonecall.
To be a better hero, Matt must think about every action and its consequence. He must be reborn from the fires of hell.
Through Hell
Matt Murdock's Catholicism has been a critical aspect of the character for decades, but it's importance within his conscious motivations can greatly vary between creators. Zdarsky's run may be the most heavily affected by its lead character's religious beliefs, making Matt's faith both a source of inspiration and of personal conviction.
Issue 1 is filled with flashbacks to various points in Matt's life in the church. From his days as a troublesome kid to his blinding to his first days as The Man Without Fear, we can see that Matt is spurred on to do something good in the world with his gifts, but is also convicted of the sins brought on by seeking violence. It's the central push and pull within the character that poses a crucial question.
Is Matt Murdock's identity as Daredevil the embodiment of a higher calling or the selfish fulfillment of anger?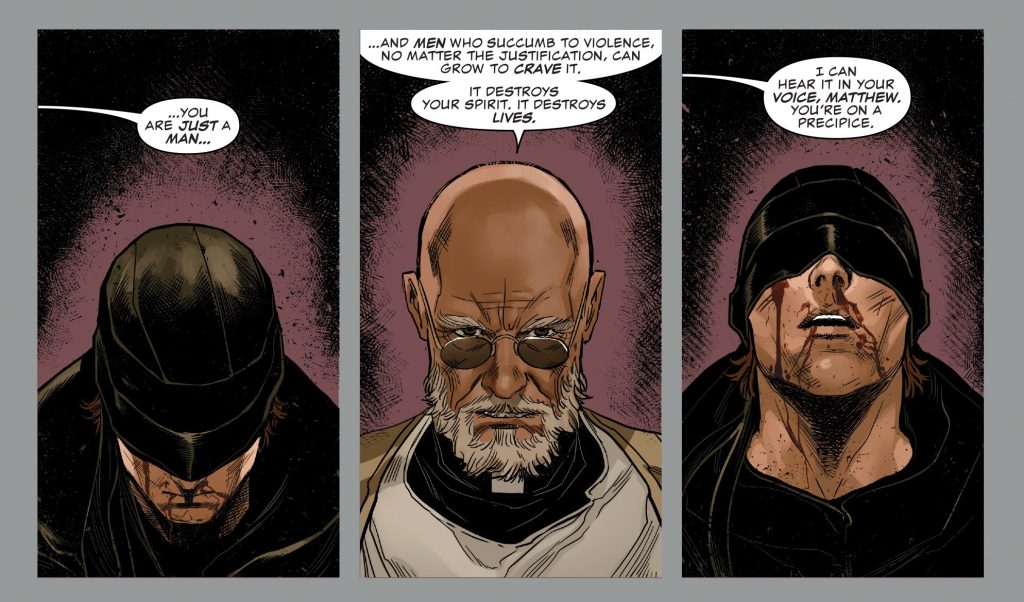 Giving up the Daredevil identity helps Matt understand that he's guilty of his sins, but we see that our hero can never truly give up his calling. Wearing a bandana over his eyes and a tactical suit means that Matt isn't technically Daredevil anymore, but he's never stopped his pursuit of justice. And his hypersenses mean that he is constantly, fully aware of the injustices being suffered around him.
Artists Marco Checchetto and Jorge Fornes depict these senses as a blaring siren, making Matt constantly, acutely aware of everything around him. That can include the hormonal attractions of a woman, which plays into Matt's lust and continual sexual pitfalls, but it also includes the rising tide of crime happening all around him. When we dip into Matt's perceptions, we see constant calls for help and a radar sense blazing into the mind.
Matt is acutely aware of every imperceptible cue happening around him and can't cut it off. And even when he's punished himself for the death he caused, he still sins. Having an affair with Mindy Libris being one of the most egregious.
The 8-part "Through Hell" arc and this story as a whole so far is a sort of reflection of Dante Aligheri's "Inferno," part of the Italian writer's 14th century epic poem, "The Divine Comedy." Matt travels through his own personal hell and encounters all manner of wickedness. People like the Stromwyns are the embodiment of absolute institutional corruption, abusing the systems in place for their own financial gain. Meanwhile, someone like mob boss Izzy Libris is an example of placing your own family's needs above any legal definition of right and wrong.
Both of these encounters illustrate that Daredevil must look beyond his simple preconceived notions of good and evil and instead look to change the corrupt systems forcing everyday people into lives of crime. But it's an act of forgiveness that sets Matt on the path to redemption as Maria Carraro, the mother of the young man Matt killed, learns who he is.
It's a form of absolution that Matt could never achieve on his own and relieves him of immobilizing guilt. But his penance is not over.
Zdarsky's story so far climaxes in the 2-part "Inferno," where the Stromwyns unleash a horde of supervillains to destroy Hell's Kitchen.
This is the true crucible that returns the Daredevil mantle to Matt, but this is a Matt called to be greater than ever. Every swing of the billy club, every hit, has its purpose. Rather than destroying evil, Matt is protecting good. And it's his commitment to never taking another life that lets him embrace God's purpose in gifting him with hypersenses and a compulsion for justice.
This is the tipping of the scales between human justice and God's justice. They may often intersect, but they find very different meanings in the world.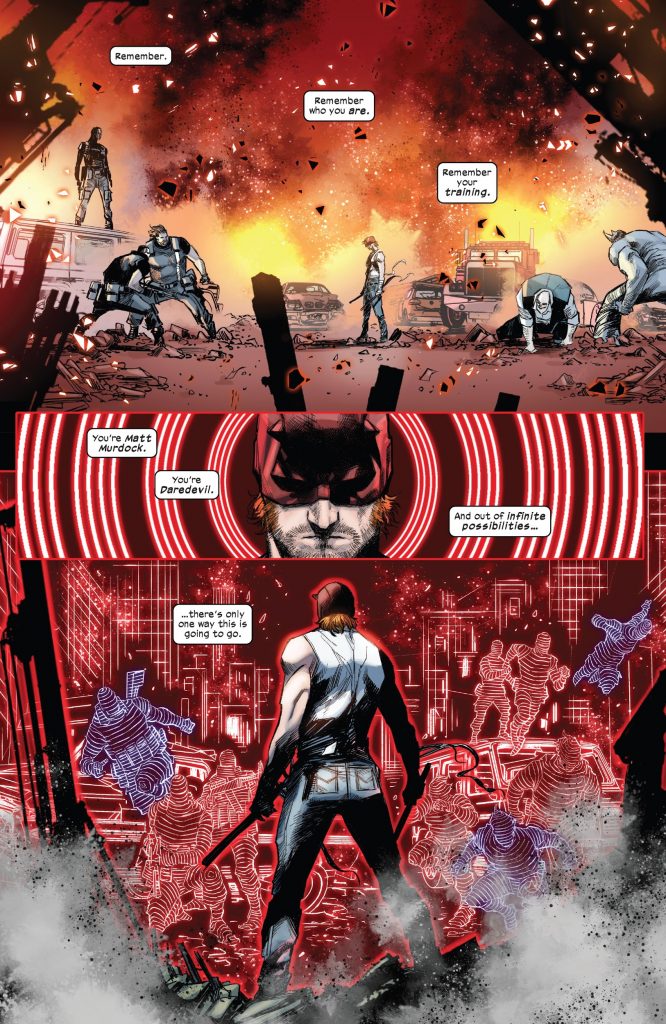 In the Catholic faith, justification is the process of receiving God's grace and being transformed from unrighteousness into a state of holiness. But this is a process that requires continual confession and atonement, which is then lived out through works. However, mortal sins, such as killing a man, can cause a person to lose their justification, which can only be regained through further confession and atonement.
For Daredevil, fighting crime is both a work of faith that lives out justification and the cause of many sins that require continual atonement. It's an eternal cycle of righteousness and unrighteousness and the source of much torment for Matt Murdock. In this run, Matt must become something greater, a hero who seeks justice, only uses violence as necessary, and pursues God's greater purpose for the world rather than his own selfish desires.
This is Matt's refocus, shifting from a man taking his anger out on the poor driven to crime and instead understanding that the corruption at a higher institutional level drives people toward crime. In a way, this is Daredevil's interpretation of "Think globally, act locally," and it creates a more morally and socially complex world for The Man Without Fear.
The Art of Hell
Let's take a quick break from our analysis of the larger themes to discuss Zdarsky and company's creative decisions regarding Daredevil.
First, we have to give a special focus to the various artists onboard during this run. The majority has been illustrated by Marco Checchetto and Jorge Fornes, and while their art styles couldn't be any more different from one another, they're both perfectly suited to this type of story.
Checchetto, with colorist Sunny Gho, is focused on creating a realistic but stylish take on Daredevil that evokes feelings of Frank Miller and John Romita, Jr., providing a detailed examination of the physical toll inflicted by and suffered by The Man Without Fear. Meanwhile, Fornes, who's likely off the book for a while, provides a more simplified cartooning approach that evokes David Mazzucchelli and David Aja. It's all flat colors and striking moments of emotion that manifest in the world. But both successfully convey the gritty yet realistically modern world that Matt Murdock lives in. If there is a weak point here, it's that the series continually changes artists to keep up with shipping dates, adding more and more artists to the roster who just aren't equal to Checchetto and Fornes.
Every DD run is in some way a reaction to the run that came right before it. Bendis' downward spiral begets Brubaker's story of personal disaster begets Diggle's villainous turn begets Waid's embracing of the light and finally begets Soule's decision to wipe everyone's memory of Daredevil's true identity. It's Soule who also made Wilson Fisk into the Mayor of New York and turned the fictional alternate identity of Mike Murdock into a living being.
Zdarsky's run references just enough of what's come before to exist within the larger saga of the character and slowly trickles in long-standing supporting characters. Foggy, Elektra, Bullseye, and Kirsten McDuffie (the greatest love interest in Daredevil history) – the staples return, but Zdasky also introduces a larger cast of non-powered characters to populate his world, specifically the criminal Libris Family, who become major players in Hell's Kitchen, Sister Elizabeth, who reflects Matt's religious convictions, and the various citizens of Hell's Kitchen who take up the Daredevil identity when Matt leaves the mask behind.
Hell's Kitchen is a living, breathing location. The reason behind Daredevil's fall and the motivation behind his redemption. As the run has continued, Zdarsky has added more and more wrinkles, with the now in-continuity twin brother of Mike Murdock, the rising of The Hand, and the long-lost son of The Kingpin, Butch, feeling like timebombs that will trigger a much larger conflict in this story.
Out of the Inferno
The end of Inferno leads to Matt not only accepting that Daredevil is a permanent part of himself, but also letting himself be placed under arrest for the death of Leo Carraro. Because the only way for Daredevil to become a hero who can judge right and wrong is to be judged himself.
By forcing Matt Murdock to come to terms with his personal guilt and his guilt under the law, Zdarsky is also removing the more fascist elements of superheroism. While it's easy to create a strawman argument that superheroes are fascist ideals because of their connections to the belief that might makes right and that one man can be elevated above the law he imposes on others, it's still a sticky situation that many costumed characters can find themselves in when applying too much of the real world to their stories.
Matt Murdock comes to understand that in order to pay for his wrongs and truly absolve himself of his guilt, he must place himself at the mercy of the court. In Zdarsky's latest stories, Matt uses a new legal precedent to have himself tried under his Daredevil identity. Zdarsky continues to purposefully wade into murky legal and moral waters and offer no easy answers. Is Matt's submission to the court another form of self-destruction? Is this the right thing to do for Hell's Kitchen? Does the good he does in the world outweigh the wrongs he's committed? Is a prison sentence enough punishment for taking a life?
After his journey through hell, Matt submitting himself to the court is the Catholic Sacrament of Penance committed on a legal level, confessing sins and becoming penitent through a prison sentence. While the road ahead is yet to be seen, it seems as though Matt will have to spend time behind bars. But what will come out the other side?
How can the Stromwyns be stopped? What role will Elektra play in Matt's life? How will Izzy Libris function as the new Kingpin? Will Wilson Fisk become a legitimate businessman? How will Cole North change his department? Will Matt be able to maintain his secret identity?
Regarding the arcs of both Murdock and Fisk, Zdarsky said, "I think both of their paths are about recognizing that you can change, but are you willing to put in the work to make that happen? We all have so much damage and scar tissue and pieces that need unravelling before we can move on. The jury's not out yet on Matt and Fisk's journeys toward change."
If the first 24 issues of Zdarsky's run have been a reflection of the Inferno, will Dante's "Divine Comedy" continue to be reflected? Will Matt journey through Purgatory and eventually reach Paradise? It's hard to say when there's still so much ahead for Daredevil.
Zdarsky's run may follow the long, arduous process of the glorification of a man, but the path toward righteousness is long and hard. Easy to stray from in a dark world.
Only time will tell if Matt Murdock can remain in the newfound light.
http://www.manwithoutfear.com/daredevil-interviews/Chip-Zdarsky