Have you read Part One yet? Like Criminal, you don't have to read anything earlier to enjoy what's here. But, also like Criminal, you'll be missing out if you don't. All set? Because today we're going over the second Criminal Deluxe Edition, with the continuing stories of Center City, and the people who live there.
Collected here, we have "Bad Night," where we get to know Jake, an ex-counterfeiter and current cartoonist. In "The Sinners" we check in on Tracy Lawless who, against his wishes, has stuck around Center City. Finally, in "The Last of the Innocent" we meet Riley Richards, a character who is definitely and absolutely nothing like Archie Andrews, unhappily married to somebody that bears no resemblance whatsoever to Veronica Lodge. This second collection continues the quality that Ed Brubaker and Sean Philips showed in the first. Their first collection was notable for stylistic choices, and playing with the norms of the crime genre. Here they ratchet those choices up to eleven, managing to do so without any loss of story or effect.
It starts with the fever dream that is:
Bad Night
What's a word that means the opposite of erotic? If erotic describes a thing as suggestive, something subtle and evocative and sensual, then "Bad Night" is not erotic. "Bad Night" is the story of Jake's home invasion.
Jake's an insomniac, and this whole story feels like a nightmare. Philips' art delivers surreal characters and backgrounds, matching Jake's paranoia and confusion. Brubaker's writing inserts fear into every corner. See, Jake's had run-ins with the police before. And he's had run-ins with the mob, run-ins that left him crippled. He's terrified of pain. This is the story that disillusions you of any notion that some square jawed maverick will stand up after a beating and shrug it off. This is the story of living with the fear that intense pain leaves behind. Also, living with a drop dead gorgeous redhead, and her psychotic boyfriend. Because the two of them, they broke into your house, and are forcing you back into a life of crime.
Support For Comic Book Herald:
Comic Book Herald is reader-supported. When you buy through links on our site, we may earn a qualifying affiliate commission.
Comic Book Herald's reading orders and guides are also made possible by reader support on Patreon, and generous reader donations.
Any size contribution will help keep CBH alive and full of new comics guides and content. Support CBH on Patreon for exclusive rewards, or Donate here! Thank you for reading!
But Jake, in addition to the stress a home invasion would normally cause, can't take his eyes off the girl. He can't stop thinking about her, and his thoughts, they start to color the way he views his attackers. He starts to sympathize with her, and his fantasies begin to mix with his fear.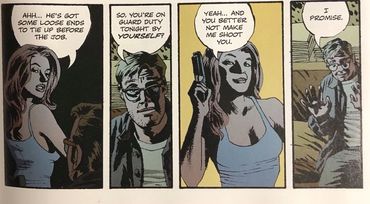 This intersection of fear and sex is unsettling enough on its own, but Brubaker and Phillips are masters. It's not enough for them to unsettle the reader; they want you to feel what Jake's feeling. And, from page one, we've been conditioned to see the world through Jake's eyes. We're told the story through Jake's narration, so the things we see are the things Jake sees. And when we first see the girl, the art frames her, not as a threat, but as something to be desired.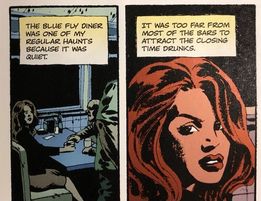 So, uncomfortable as it is, we understand Jake's desire for her, even as we remind ourselves, no, this is very, very bad. What would otherwise have been an unsettling story of infatuation, becomes deeply disturbing, as we see the characters and their actions through Jake, and understand them the way he does.
Eventually, the reader begins to wonder, just how reliable is Jake as a narrator? Just how much can we trust what's going on? And as soon as we start wondering if we can trust Jake, we end up in the same confused world he's in. A world without stability, without order, a world where everyone is out to get you.
The Sinners
In "The Sinners", we look back at Tracy Lawless. Last time we saw him, he found himself adopting his dead brother's life. Taking the same jobs, working with the same people, sleeping with the same woman. Now, he's moved past that. Now, he's working for Mr. Hyde, the local crime boss. Getting rid of the people Mr. Hyde doesn't want around and hating every second of it, but doing it because he doesn't have other options.
Just like his father used to do.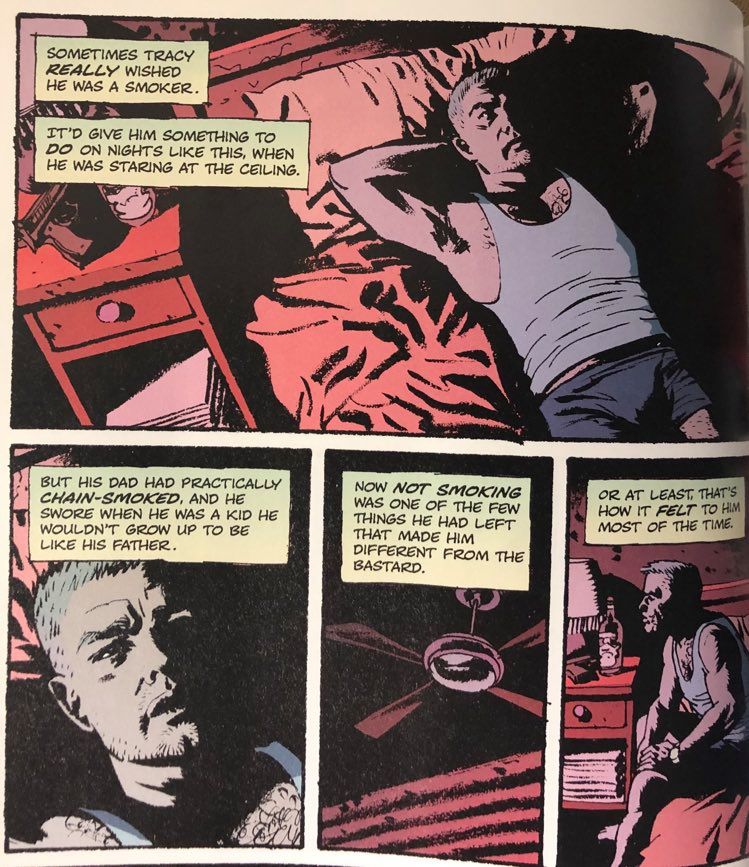 Again, Tracy becomes the unwilling private investigator. Criminals all over the city, criminals who should be untouchable, are being killed, and Tracy's supposed to find out why. As before, Tracy exhibits the same stoicism, the same intensity. It's as though his life is not his own, he's just moving through it. And it certainly feels that way to him. He's trapped by his dead brother's debts, trapped by his employer, and trapped in the same life his father led.
Philips has already shown us how adept he is at portraying emotion. He shows that here too, whether the people are bitter, or disillusioned, or competent. The emotions shine through in every feature. Tracy's character shines through in his features. His thoughts, and emotions, and feelings. In Tracy's case, his expression doesn't change. No matter what's done to him, no matter what he has to do, his expression is the same.
In "Bad Night" we focused on relationships that warped people. Now, in "The Sinners", we focus on relationships of a different sort. The love here is based around unhappiness. We see Mr. Hyde's family, and it's not just warped because he's a crime boss. It's warped because his son has cancer. The rest of his family, his daughter, his current wife, they've been tested for matching bone marrow. None of them match.
Tracy has an affair with Mr. Hyde's wife, one that started as an act of revenge against his boss, but turned into something more. Once again, the ties that bind the relationship together are based around unhappiness. The connections, the love these characters have, it isn't redemptive. It doesn't improve them, it doesn't make them better people. But it keeps them from sinking any further down. It helps them function day to day. It helps them just to survive.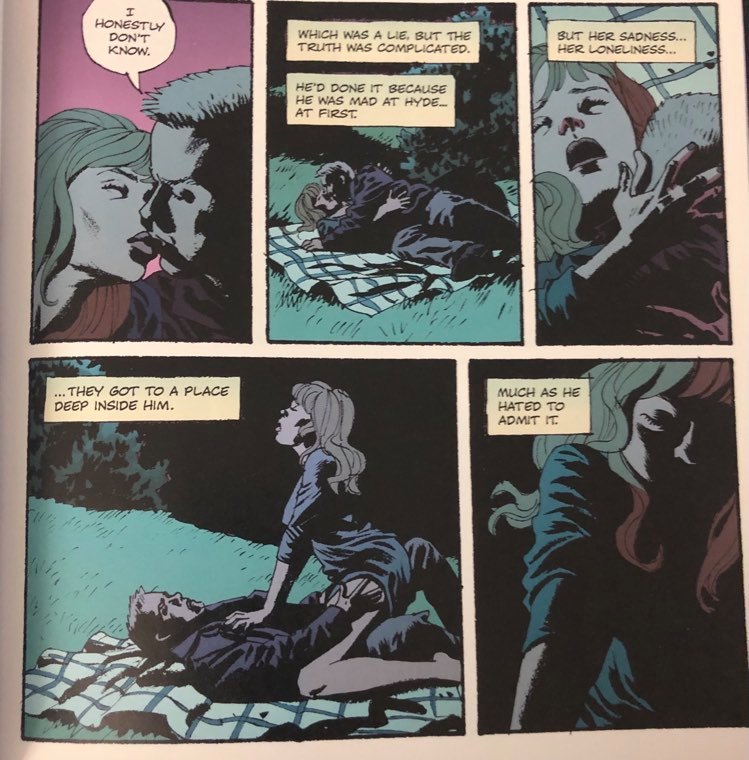 They're like Tracy's relationship with his father and brother. They're based around desperation and need. But they're the only relationships these people have.
The Last of the Innocent
When you were a kid, did you ever read Archie? Of course you did. Everyone read Archie. Archie Andrews was living the dream. Epitomizing the teenage years that nobody actually lived through, Archie was a goofball who had trouble in school, spent his time in malt shops, and had the two prettiest girls in town chasing him. His best friend was the best of friends, and his worst enemy was the slimiest of slimeballs. He was loveable, not only serving as a mascot for his fictional small town, but held up as an ideal of growing up in America. Because that's the American Dream. The one where you're the center of the universe.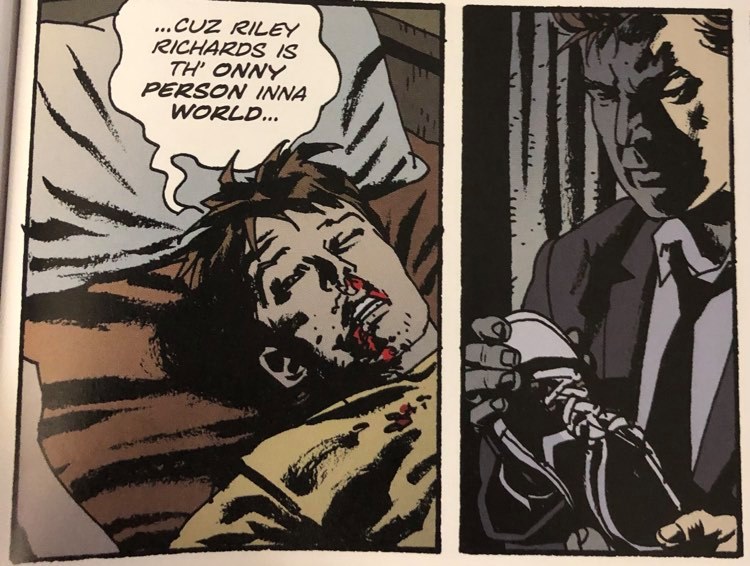 Riley Richards was born in Brookview, but when he grew up, he moved to Center City, since that was where the drugs, hookers, and gambling were. He dreams of simpler times, when he was young. Back then, the biggest problem was who he'd take to prom. Back then, the fights were harmless. Back then, his best friend was a party to be around, and not an alcoholic junkie. If he could go back to the good old days, maybe he could fix things. If only he'd married the girl next door, and not the rich, stylish, sexy, woman he ended up choosing. But Riley Richards is the center of the world. And that means he's allowed to do whatever he wants to, to make sure the world gives him the life he deserves.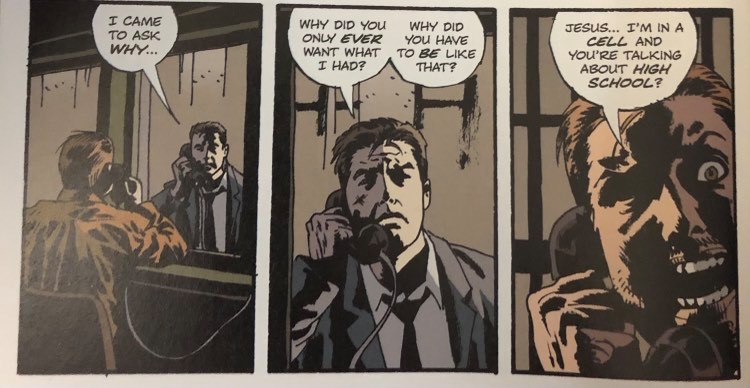 It's impossible not to see how much fun Philips is having with the art. While the present day is drawn in the grimy, realistic tone Criminal fans are accustomed to, flashbacks are given a lighter, cartoony feel, mirroring how Riley feels about the past, when things felt simpler. This becomes more notable as the memories themselves become darker. Flashbacks gradually morph from Riley breaking curfew, into Riley spying on his neighbours, and all the way to the series of murders that happened when he was a kid. As the flashbacks get darker and darker, the art remains the same, a bright, simple idealism that Riley wants to return to. And we realize times weren't actually simpler then, Riley's just convinced himself they were.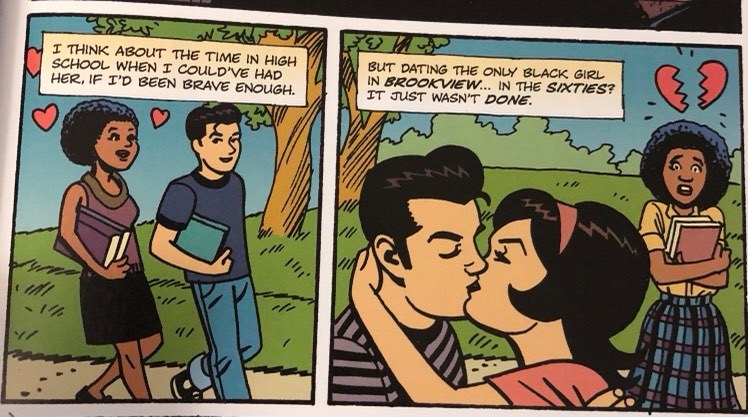 The cast of characters is large, and we get hints of each one's life. But only hints, because Riley really doesn't care about any of them. They serve as backgrounds to the life he wants to live. Riley defines their entire life simply by their relationship to him. All the same, we meet analogues of famous children's characters, all grown up. There's Gordie Gold, who has more money than God, and Britt Black, a private eye who's been catching people in lies since he was twelve years old. Lizzie Gordon, of course, the sweet girl next door, and Felix Doolittle, beautiful, stuck-up, and wealthy. If only Riley hadn't chosen Felix.
As it is, they're married now, and Riley finds her having an affair with Teddy, his old high school rival. As we meet these character's and piece together who they're supposed to represent, we realize there's no such thing as a simpler time. Richie Rich is involved in hostile takeovers, and Encyclopedia Brown investigates prison rape.
"The Last of the Innocent" starts with the idea that the past is a better place, a foreign country of simplicity and goodness. And it's a past we're all familiar with. We all have our own memories of the times things were good. Brubaker and Philips use the analogue of children's comics to make the past a universal experience, a common nostalgia we can all relate to. Then, bit by bit, they reveal what a lie that is.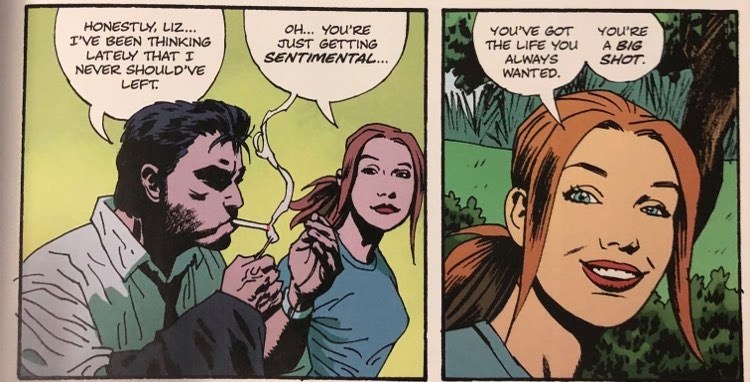 Here, as in their previous collection, Brubaker and Philips tell a series of self-contained noir stories. Dialogue and art combine in creating a fully realized world, a world of characters we grow to love, and if not love, then at least to understand. A world with a keen eye for human nature, human foibles, and human connection. A world worth visiting.