Ted Naifeh's Courtney Crumrin
falls under the category of children's stories that scare the hell out of me. I first read them in tiny black and white editions, camped out in the local library. They didn't have all of them, but the ones they did have?
A creepy little town with an imposing great-uncle. A tongue in cheek tone, as a two-legged wolf thing introduces the story and characters. Goblin Town, magic, and fairy tales. Family and loneliness and love. I was immediately pulled in by the fairy tale aspects, and the sense of meaning and significance that all good legends carry.
I was kept in by the world's cruelty. Although perhaps it wasn't really cruelty. Perhaps it was justice. A cold, uncompromising justice. The consequences for wrongdoing were harsh and unyielding and fair. Fairy tale endings in the vein of Oscar Wilde, not Disney. 
The girl who tortures her classmates, being tortured in turn by the Night Things who come to her bed while she tries to sleep.
The children who, to show off, transform a younger brother into a Night Thing, but are powerless to change him back.
Support For Comic Book Herald:
Comic Book Herald is reader-supported. When you buy through links on our site, we may earn a qualifying affiliate commission.
Comic Book Herald's reading orders and guides are also made possible by reader support on Patreon, and generous reader donations.
Any size contribution will help keep CBH alive and full of new comics guides and content. Support CBH on Patreon for exclusive rewards, or Donate here! Thank you for reading!
The man who is given perfect clarity about his misfired bullet, and stands vigil, weeping, over the girl he murdered.
The perfect fairness of sickness, and loneliness, and death.
Courtney, a child, exists in this world just as we exist in ours. She carries a sense of justice, alongside a child's desire for love, and an anger at the world's wrongs, the wrongs everyone around her seems to accept as a matter of course.
Surrounded by cruel children, superficial parents, and ignorant adults, Courtney alternates between trying to fix the world's cruelties and making a child's mistakes. Often, these two things overlap.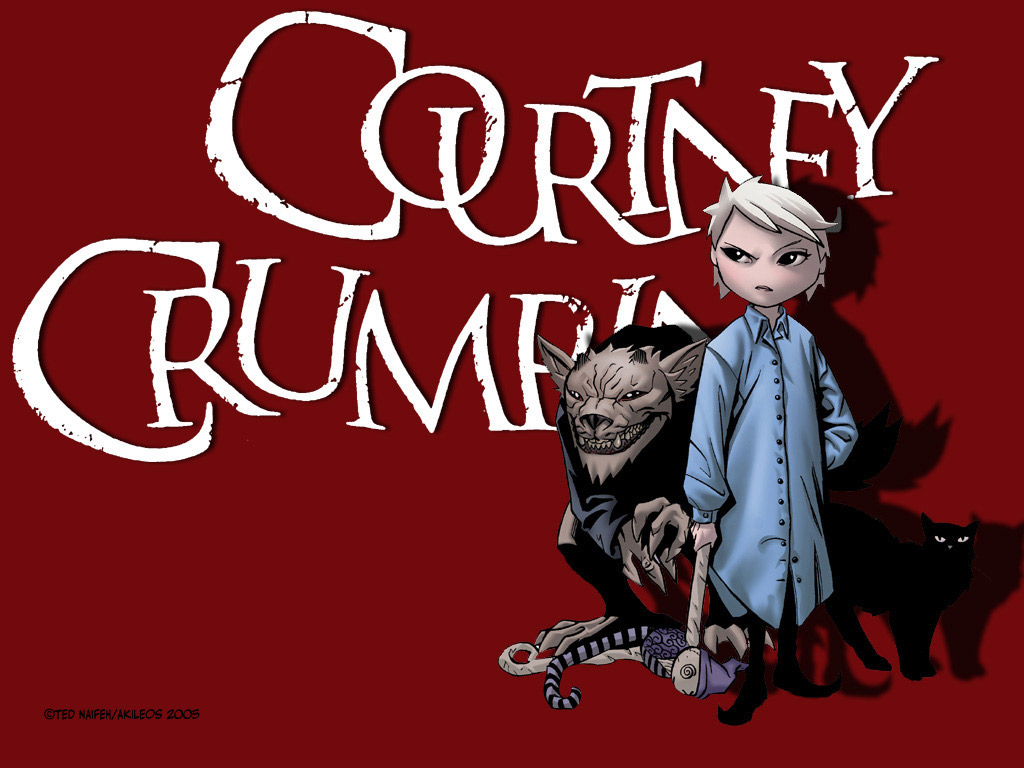 It wasn't till years later I finished the series, at which point I went back to the first story and started again. Reading it again, I appreciated aspects I hadn't seen before.
The world of Courtney Crumrin starts small. Each chapter is self-contained, an adventure and exploration complete in itself. Even her uncle Aloysius, who grows to be the most important person in her life, is barely present. 
But we learn about Courtney, and we learn about magic, and we learn about her classmates, her parents, her uncle. We learn about Goblin Town, and we meet the Coven of Mystics.  Bit by bit, Courtney's world grows to encompass and explore all these things.
And as the world grows, so do the stakes.
We go from meeting night creatures with fun accents to meeting Tommy Rawhead, the worst hobgoblin who ever was. We go from quick forays into Goblin Town to quests for the orchards of the Twilight King. Courtney's greatest threat in Goblin Town stops being a bat in a suit who wants to auction her off, and becomes the Dreadful Duchess, who wants mortal children to help stave off her loneliness.
As Courtney's world grows larger, in both cast and locations, there's more and more opportunity to appreciate the art. The art is gorgeous and gothic, with long shadows, rickety architecture, and deep forests. The occasional splash pages are well used, highlighting a sense of terror or unexpected wonder. The characters are composed of simple lines, simpler than the backgrounds. Dotted eyes and circular mouths lend a cartoonish quality, one that enhances the characters emotions and interactions. 
This quality has a huge advantage when it comes to drawing the Night Things.  Even the most attractive of the Night Things are unsettling. Sometimes, they're unsettling because they're hiding around the page, rather than because they're grotesque or fangy. In the case of a vampire, the fear comes as we watch his body wither away.
Sometimes the Night Things are funny, like the changeling who worries about losing his pension, or Norbert, the runt of a litter of tiny hooded things. 
The humour's unsettling too. Sure, the changeling sneaks liquor and complains about his pension, but also? He helped kidnap a human baby. Who's been auctioned off in Goblin Town, beyond all help.
And Norbert? Well, cute as he is, if his family doesn't find dinner, they have the habit of eating the runt, something the reader learns before never hearing from him again.
The art's ability to move through realms of caricature and cartooning draws the reader closer into the world. It mirrors the excesses and absolutes that are a part of both fairy tales, and childhood.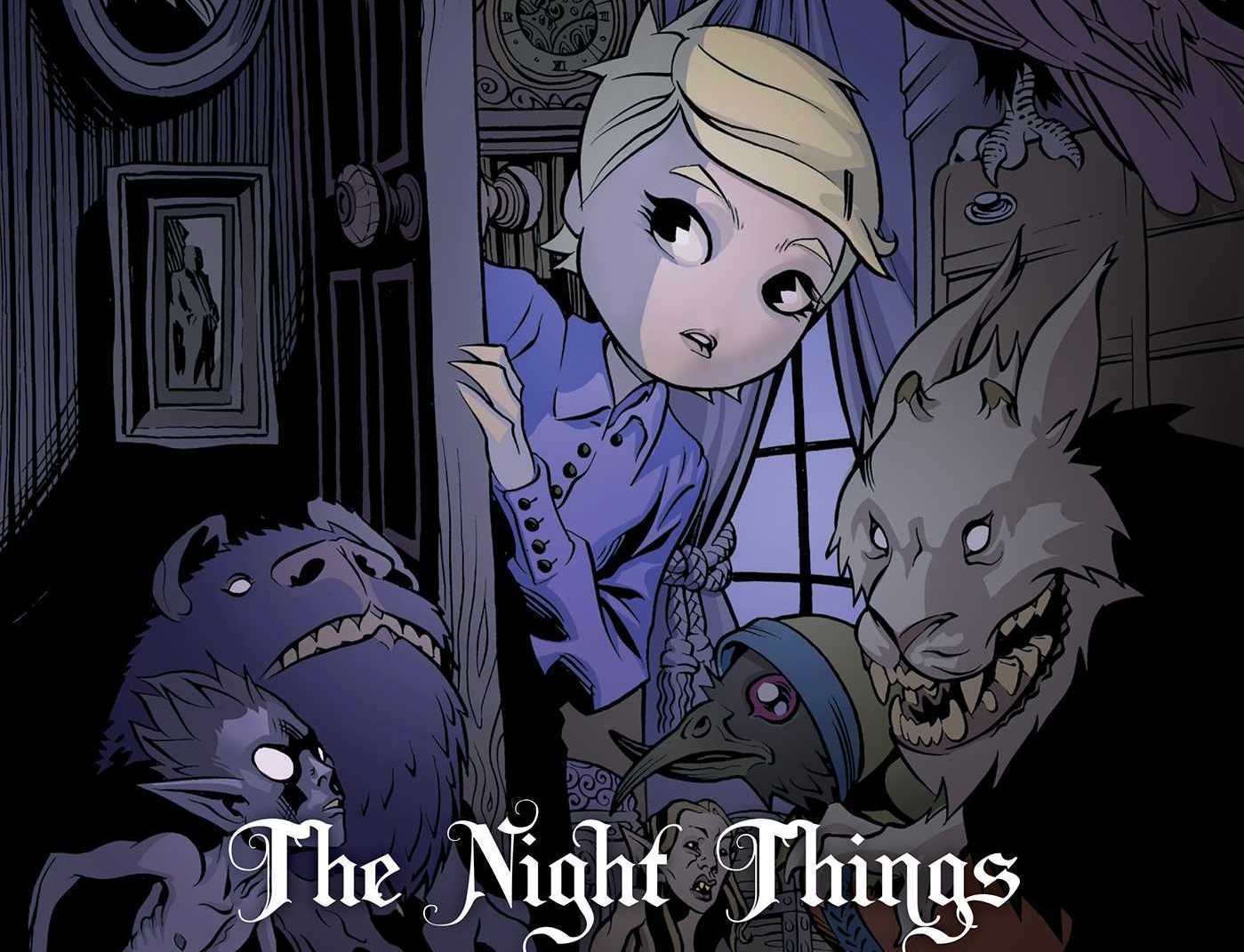 As Courtney's story continues, characters, locations, and depths of plots are all built upon. As these build, so do the themes. The first few stories are dark, but wry. The fear comes from things that go bump in the night, not from people. Not from loneliness. 
As Courtney grows up, the loneliness changes too. The stories stop dealing with schoolyard alienation, and instead deal with true grief. Lost youth, lost loves, lost family. By creating a world that grows along with its protagonist, Naifeh creates a fully realized world, one with a constant potential for growth.
As the stories grow in length and complexity, we, along with Courtney, meet the Coven of Mystics, the counsel of witches and warlocks who govern magic and the town. The world becomes more complex with their introduction, and at the same time, so do the themes. It turns out, the men and woman who run the town are selfish. They're petty, and they're foolish.
And we, alongside Courtney, discover that the social dynamics of childhood, the injustice, the cruelty, the stupidity, they don't end when you become an adult. They just become more dangerous, and we become better at ignoring them. Courtney sees the consequences of this first hand, and learns that even seeing what is good doesn't always help. Good intentions aren't enough to stop cruelty.
*
As Courtney grows up, and the world around her grows, she starts to realize that maybe her sense of loneliness isn't something wrong with her, it's something wrong with the world. Maybe that isolation, that cruelty, it's just what the world is.  Maybe the reason people around her are foolish, or unkind, or greedy, maybe it's because the world's forced them to be.
Maybe they're doing their best. 
She first realizes this when she sees her Dad surrounded by bills, desperately trying to keep his family afloat. Up until now, her parents have been one note characters. They exist to be distant, and so Courtney can be misunderstood. 
Now though? 
Courtney sees her father exhausted and trying his best, and can't bear to tell him how awful her day has been. She keeps her loneliness to herself. Because that's the thing about love. It's always cut with loneliness, always cut with pain. They're tied together, because in the moment of loving, you make inevitable that the love will someday end.
Courtney and Skarrow, the Night Thing she befriends. 
Courtney and Malcolm, the friend her parents moved her far away from.
Holly, who moves in next door to Courtney.
And, perhaps ultimately, her uncle Aloysius.
But for all that inevitable pain, the love is necessary. The heart must feel to be strong, as one character says. We need connection. We need people. 
As the stories move in and out of one another, again and again, we're introduced to cautionary tales, people who thought they could go it alone, thought they could function without friends, without families. And we see the husks they've become.
*
Courtney Crumrin
steers clear of any grey morality clichés. It never turns to the reader and asks whether a character really did the right thing or not, it doesn't play with whether or not the end justifies the means.
Instead, it tells the reader that people make mistakes. Courtney does, and so does her uncle. But, ultimately, they still love each other. Making mistakes is a part of being human, and the difficulty comes in owning up to one's mistakes, and trying to do better next time. The difficulty comes, in growing. And if you grow, it's worth it.
Because the world might be full of cruelty, casual and otherwise. It might be unfair, and it might be lonely. But also, you get to fall in love. And you get to help the people close to you. And you get to explore and experiment and live.
And also, there's magic.