Man, let me tell you about the first time I saw Vampirella. I was walking through my local comic shop in downtown Chicago (Graham Cracker Comics stand up!) when suddenly, to my surprise, I saw the most scantily clad lady I've ever seen on a comic book cover (and that's saying something). Noob, meet: Vampirella!
Even now, separating Vampirella and the stellar array of creators who have written the vampire's vampire hunter over the years from red bikini cheesecake is a challenge. Is Vampirella an iconic comic book series with great stories, or pure fodder for teenage boys?
As usual, the answer is some muddled blend of both. Vampirella is a fascinating mix of science fiction and horror (she initially hails from a humanoid-vampire crossover race on Drakulon), with connections to all sorts of gothic legends, including Dracula himself. Similar to the Blade, Buffy, and Angel stories to come, Vampirella is in an ongoing battle with vampiric forces, despite her own connections.
Below you'll find a complete guide to Vampirella comics since her origins, including the 2010's move to publisher Dynamite Comics.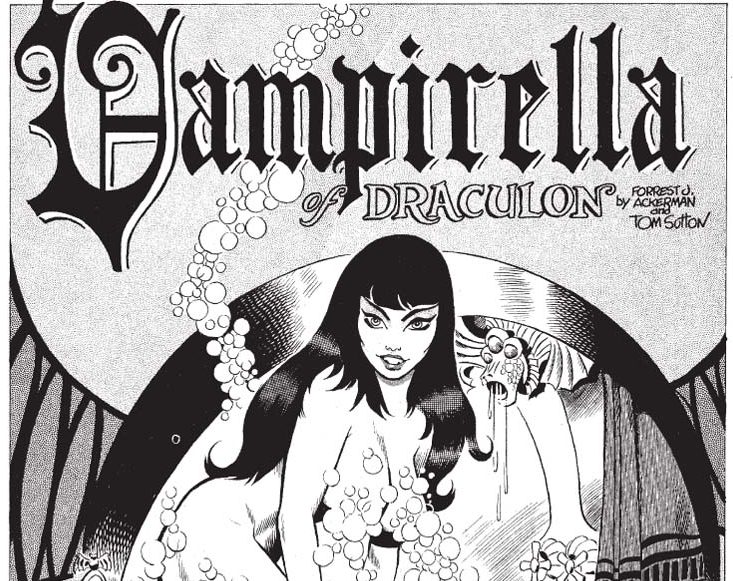 Vampirella Comics
Vampirella: The Essential Warren Years Vol. 1
Collects: Vampirella (1969-1974 Magazine) #1-37
Vampirella got her start in a black-and-white horror magazine, both "hosting" an anthology of horror stories (a la "Tales From the Crypt"), and starring in her own lead tales. The character was created by Forrest Ackerman and Trina Robbins, with sustained development by Archie Goodwin and Jose Gonzalez.
Vampirella Masters Series Vol. 5: Kurt Busiek
Collects: 1991 limited series "Morning In America", Three Short Stories from "Vampirella Summer Nights Special" (1992), Vampirella (1993) #1 to #4
Vampirella Masters Series Vol. 2: Warren Ellis
Collects: Vampirella Lives (1996) #1-3, Vampirella 25th Anniversary Special (1996), and Vampirella/Dracula: The Centennial (1997)
Vampirella Masters Series Vol. 6: James Robinson
Collects: "Blood Lust," Vampirella Vs. Dracula #1 to #6
Vampirella Masters Series Vol. 1: Grant Morrison
Collects:  Vampirella Monthly (1997-2000) #1-6, #13, Stories from Vampirella 25th Anniversary Special (1996) and Vampirella Strikes (1995) #6
The first part of the creator showcase "Masters Series" features the Vampirella stories of all-time great comic book writer Grant Morrison, alongside co-writer Mark Millar and artists like Amanda Connor, Jimmy Palmiotti, and Jae Lee.
Vampirella Masters Series Vol. 3: Mark Millar
Collects: "Nowheresville," "Fear of Mirrors"
Vampirella Masters Series Vol. 4: Visionaries
Collects:  "New European" By Alan Moore & Gary Frank, "Vampirella Of Drakulon" By Forest Ackerman & Mark Texeira, "Looking For Mr. Goodwin" By Jeph Loeb And Tim Sale, "Sanctuary" By Christopher Priest And Alan Davis, "Lust For Life" By Ty Templeton And Bruce Timm, "The Killing Floor" By Steve Lieber, "Winter Rose" By Liam Sharp, "Matinee" By Michael Golden, "Fantasy Feast" By Jimmy Palmiotti And Amanda Conner, "Angel Of Mercy" By Hester And Segovia, and Kurt Busiek & Arthur Adams with "Bugs"
Vampirella Masters Series Vol. 7: Pantha
Collects:  Vampirella Vs. Pantha, By Mark Millar And Mark Texeira, and Two Classic Reprints From The Original Vampirella Magazine
Vampirella Masters Series Vol. 8: Mike Carey with Joshua Hale Fialkov
Collects: Revelations #0 to #3, "Vengeance of Vampirella"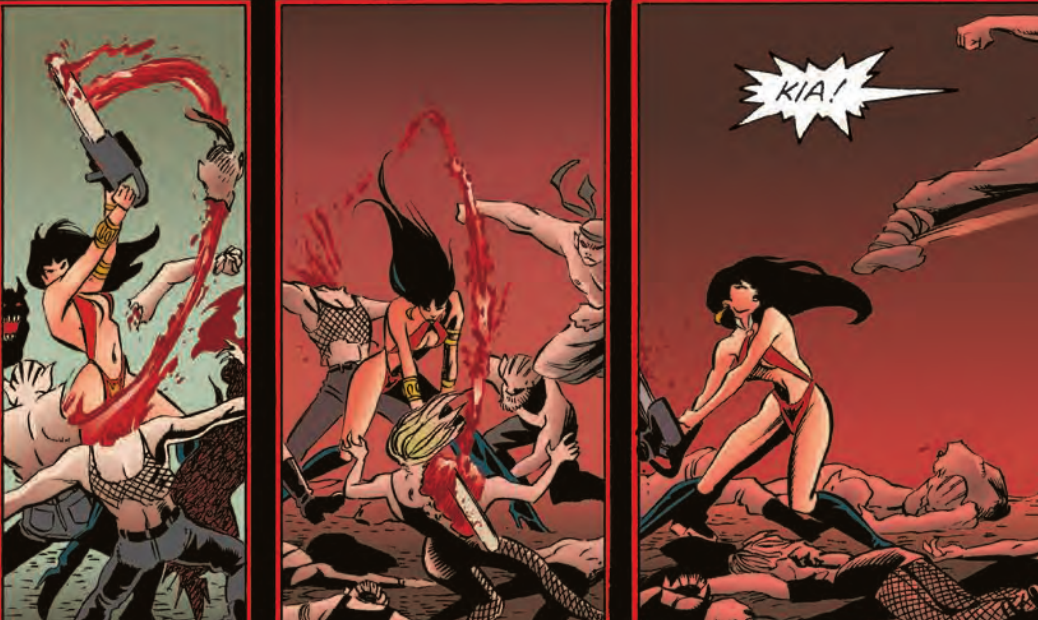 Dynamite Comics Era – Vampirella Order
Vampirella: The Dynamite Years Omnibus Vol. 1
Collects: Vampirella #1 To #20, Vampirella Annual #1 To #2
Vampirella: The Dynamite Years Omnibus Vol 2
Collects: Vampirella #21 To #38
Vampirella: The Dynamite Years Omnibus Vol. 3
Collects: Vampirella (2014) #1-13, Annual 2015, & Prelude To Shadows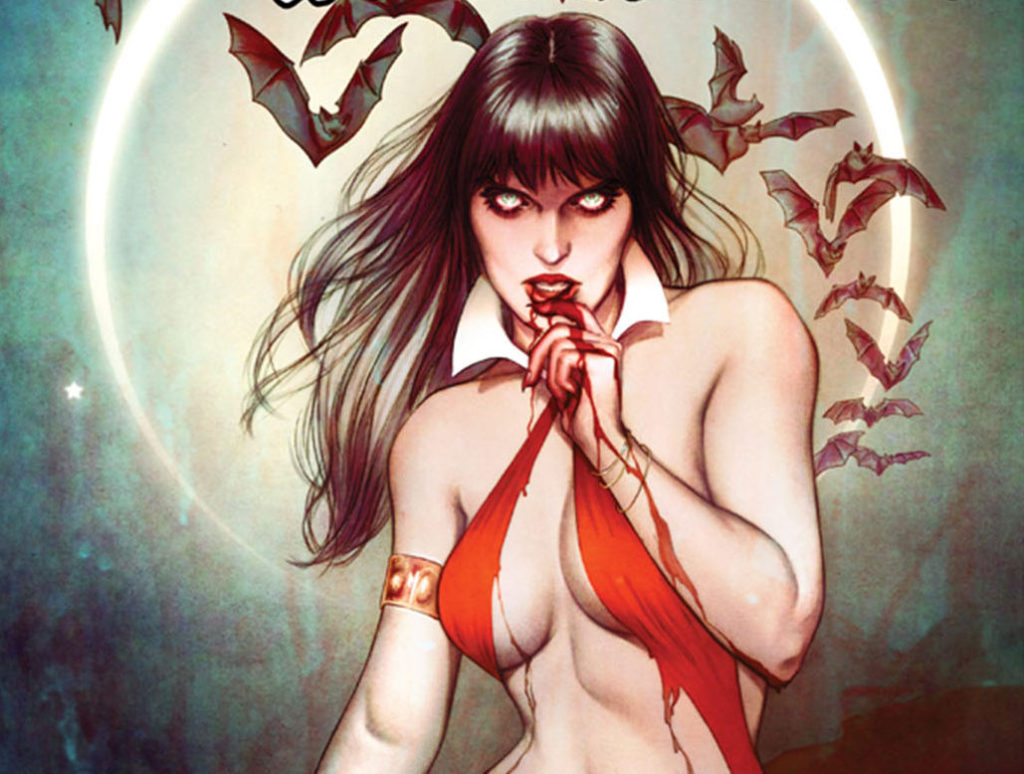 Vampirella (2011-2014) Vol. 1: Crown of Worms
Collects: Vampirella #1-7
Vampirella (2011-2014) Vol. 2: A Murder of Crows
Collects: Vampirella #8-11
Vampirella (2011-2014) Vol. 3: Throne of Skulls
Collects: Vampirella 12-20
Vampirella (2011-2014) Vol. 4: Inquisition
Collects: Vampirella #21-26
Vampirella (2011-2014) Vol. 5: Mothers, Sons, and a Holy Ghost
Collects: Vampirella #27 To #31
Vampirella (2011-2014) Vol. 6: The Final Curtain
Collects: Issues 32-38
Vampirella (2014-2015) Vol. 1: Our Lady of The Shadows
Collects: Vampirella #1 To #6
Vampirella (2014-2015) Vol. 2: God Save The Queen
Collects: Vampirella #7 To #13
Collects: Vampirella: Feary Tales #1-5
Collects: Vampirella Strikes #1-6
Collects: Legenderry Vampirella #1 to #5
Collects: Dawn / Vampirella #1 to #5
Vampirella (2016) Vol. 3: Hollywood Horror
Collects: Vampirella (2016) #1 To #6
Vampirella (2017) Vol. 1: Forbidden Fruit
Collects: Vampirella (2017) #1 To #6
Vampirella (2017) Vol. 2: The God You Know
Collects: Vampirella (2017) #7 To #11
Collects: Aliens / Vampirella #1 to #6
Hack/Slash vs. Vampirella: The Heart Is A Lonely Killer
Collects: Hack/Slash vs Vampirella #1 to #5