It's a concept comic book fans are intimately familiar with; a teenager suddenly develops abilities that defy human behavior. From X-Men to Harbinger, groups of powered people hated and feared by a confused populace are a staple of superhero mythology. Take that concept and apply it strictly to Black Americans, though, as Kwanza Osajyefo and Jamal Igle have done with Black Mask Studio's Black
, and suddenly you have a fascinatingly fresh story to tell.
Across the board, representation and progressive politics in Black Mask comics are raising old concepts into something altogether new and exciting. So far in the publisher's relatively short life span (founded in 2012), there are countless examples of familiar genres that transcend tradition with their diverse creators and cast of characters.
Below you'll find a complete guide to the often excellent comics released by Black Mask (not to be confused with DC Comics featuring Batman villain Black Mask), many of which you'll also find ranking on Comic Book Herald's best comics of all time.
Note: My top recommended reads below are signified by the inclusion of the Comic Book Herald logo next to the book title!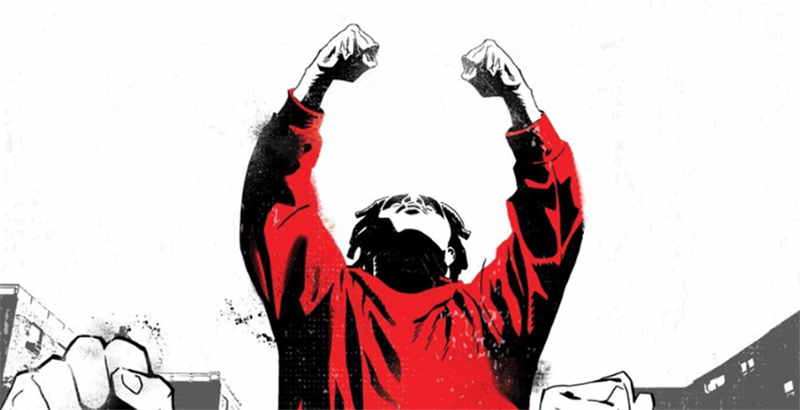 Collects: Occupy Comics Anthology
Collects: 12 Reasons To Die #1 To #6
If Ghostface Killah creates a comic book concept, that's just something you put out into the world.
Collects: Black #1 To #6
By Kwanza Osafyefo and Jamal Igle. Black reimagines Marvel's merry mutants in the context of a world where only Black people have super powers.
Black AF: America's Sweetheart
Collects: Ogn
Collects: Black Af: Widows & Orphans #1 To #4
Collects: Space Riders #1 to #4
One of my favorite Black Mask series, with adrenaline pumping cosmic nostalgia on every page.
Space Riders, vol 2: Galaxy Of Brutality
Collects: Space Riders: Galaxy of Brutality #1 to #4
Godkiller: Walk Among Us Complete Collection
Collects: Godkiller Vol. 1 & Vol. 2

Collects: Calexit #1 to #3
Pointed political fiction from creators Matteo Pizzolo and Amancay Nahuelpan. I'll be honest, I expected the team wouldn't have much mileage based on the title, but this story of California rebellion works very well.
Collects: Young Terrorists Part 1, Part 2, Fcbd Special
Collects: We Can Never Go Home #1 to #5
Written by Matthew Rosenberg and Patrick Kindlon, with art by Josh Hood. We Can Never Go Home never quite hit the way I wanted to, but the comic does interesting work subverting the classic teenage superpower discovery template.
Collects: 4 Kids Walk Into A Bank #1 to #5
My favorite Black Mask comic without exception, and one of the most recent books ranking inside my top 50 favorite comics of all time!

Kim & Kim Volume 1: This Glamorous, High-Flying Rock Star Life
Collects: Kim & Kim Vol. 1 #1 to #4
Kim & Kim is one of the most awesomely adventurous explorations of the comic book medium, with two lead queer characters (the Kims) leading a chaotic science-fiction joy ride.
Kim & Kim Volume 2: Love Is A Battlefield
Collects: Kim & Kim: Love Is A Battlefield #1 To #4
Oh S#!t It's Kim & Kim
Collects: Oh S#!t It's Kim & Kim #1 to #4
Collects: Quantum Teens Are Go #1 To #4
If Kim & Kim is the book that put writer Magdalene Visaggio on my radar, Quantum Teens Are Go is the one that convinced me to at least check out any book she's writing. With outstanding pencils and inks from Eryk Donovan, is a short reimagined future landscape where rogue science and invention is the new punk.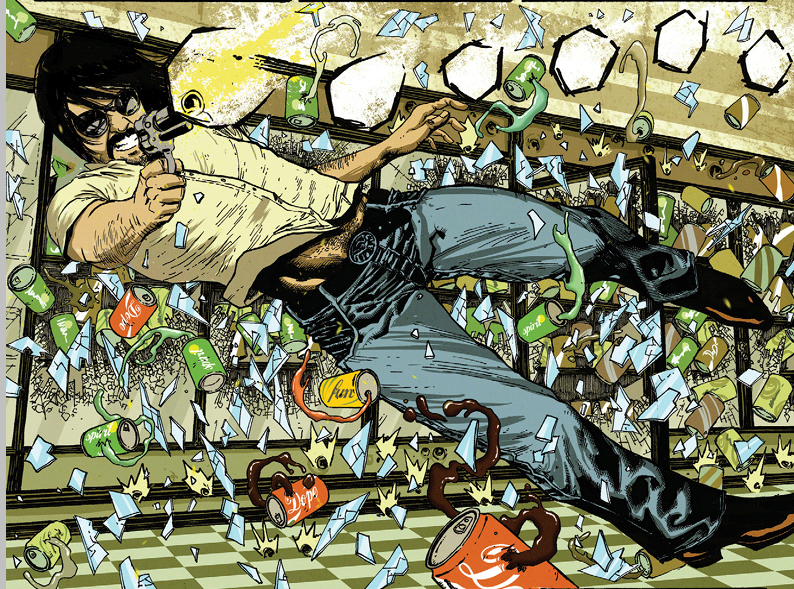 Clandestino Complete Collection
Collects: Clandestino #1 to #6
Amancay Nahuelpan steps up with some of my favorite comic book action and panel layouts of the entire Black Mask lineup. Far from perfect, but this comic about Latin American militants warring against a tyranical regime takes unexpected chances.
Collects: Graphic Novel
One of the more straight-forward Black Mask stories, with a one-and-done graphic novel from Eric Zawadzki and Ryan Lindsay. Beautiful book about an isle of shieldmaidens protecting their realm from a haunting presence.
Collects: Beautiful Canvas #1 to #4
There's Nothing There
Collects: There's Nothing There #1 to #5
Collects: No Angel #1 To #4
Collects: The Disciples #1 to #4
Liberator Volume 1: Rage Ignition
Collects: Liberator #1 to #4
Collects: Ballistic #1 to #5
Jade Street Protection Services
Collects: Jade Street Protection Services #1 to #4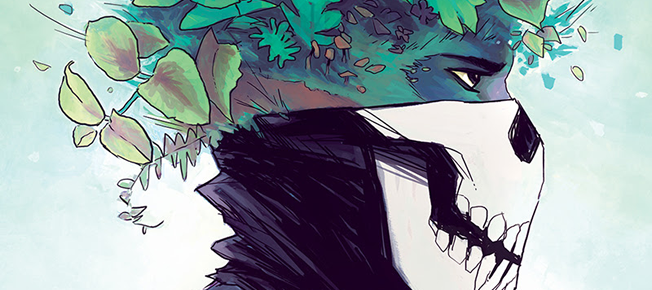 Collects: The Dregs #1 To #4
Collects: Breathless #1 To #4
Collects: Come Into Me #1 To #4
This book from Zac Thompson, Lonnie Nadler, and Piotr Kowalski got into my head and wouldn't let go. About the implications of a technology that lets two individual's consciousness inhabit the same body.
Collects: The Wilds #1 To #5
By Vita Ayala and Emily Pearson