Welcome back to the Comic Book Herald reading club. This week we read Grant Morrison and Frank Quitely's New X-Men #114 to #120 (plus annual #1!) from 2001.
As always, you can see what the rest of the CBH club is saying in our club forums, and you can always provide suggestions for what you're most interested in reading next (or just for the reading club in general). Additionally you can view past week's reading, if you missed a previous book.
You'll also find next week's reading at the end of this post, and in the forums.
The (New) X-Men of the 2000's
As evidenced by the forum responses, this run is undoubtedly our most controversial so far, with many of you expressing out and out displeasure with the comic.
I have to admit I was initially very surprised by this. New X-Men was one of the first modern X-Men comics I read, and in a lot of ways, Morrison and Quitely's work here convinced me that the X-Men could tell more realistic, meaningful stories set in our time. That said, upon re-reading, I can see where a lot of the complaints levied against Morrison and Quitely hold water.
Support For Comic Book Herald:
Comic Book Herald is reader-supported. When you buy through links on our site, we may earn a qualifying affiliate commission.
Comic Book Herald's reading orders and guides are also made possible by reader support on Patreon, and generous reader donations.
Any size contribution will help keep CBH alive and full of new comics guides and content. Support CBH on Patreon for exclusive rewards, or Donate here! Thank you for reading!
On the pro side, the importance of New X-Men's role in moving the world of mutants out of the 90's and into the new millennium can't be understated. The Uncanny X-Men and X-Men comics before this (the New X-Men series actually just continues the numbering of the series that was previously titled "X-Men"… because… comics?) feel like they're from another time period by comparison. We have dramatic Apocalypse sagas and fights with Magneto, and all of it feels very much cut from the same (excellent) cloth we'd seen for a decade.
Then Morrison & Quitely step in and the world of mutants got real, weird, and real weird. Suddenly there's an explosion of contemporary issues, classic mutant persecution mixed with a dollop of celebrity (Peter Milligan and Mike Allred's X-Statix would capture this theme even better), and wackadoo science fiction we had never seen before. Everything that happens in the world of the X-Men in the 2000's owes a debt to New X-Men. Even Joss Whedon and John Cassaday's Astonishing X-Men – which I would argue is the better run, and is highly recommended to those who left this with a nasty taste in their mouth – literally could not exist without New X-Men.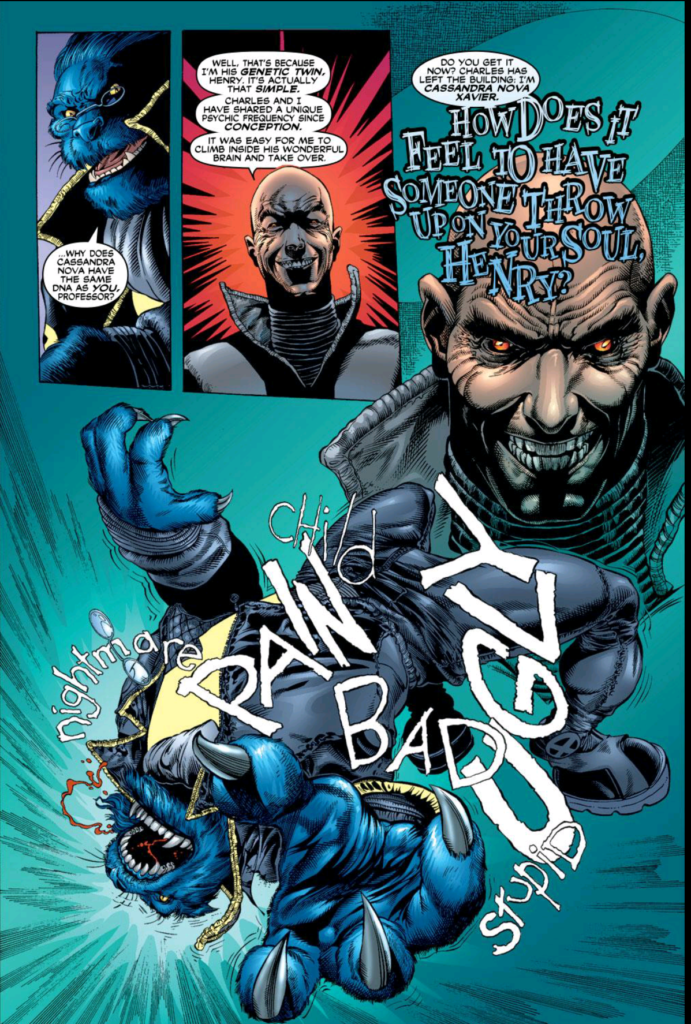 Of course, just because a series is important doesn't mean it's good comics, and that's where the debate gets fierier. If you felt the stories here were frequently disjointed, well, I can't argue. I can't think of many Grant Morrison comics where I don't feel that way, and within New X-Men he'll occasionally fire off imaginative bursts that seem like they warrant an entire issue, and they're only given a single beat in a single panel.
That's also part of what I love about New X-Men, though. As a comic, it's completely unafraid to try new things. Adaptive sentinels from a secret Master Mold location? Let's go for it. Wiping out the mutant safe haven of Genosha and then quickly moving on? Sure. Professor X revealing he's a mutant to the world population? What could go wrong.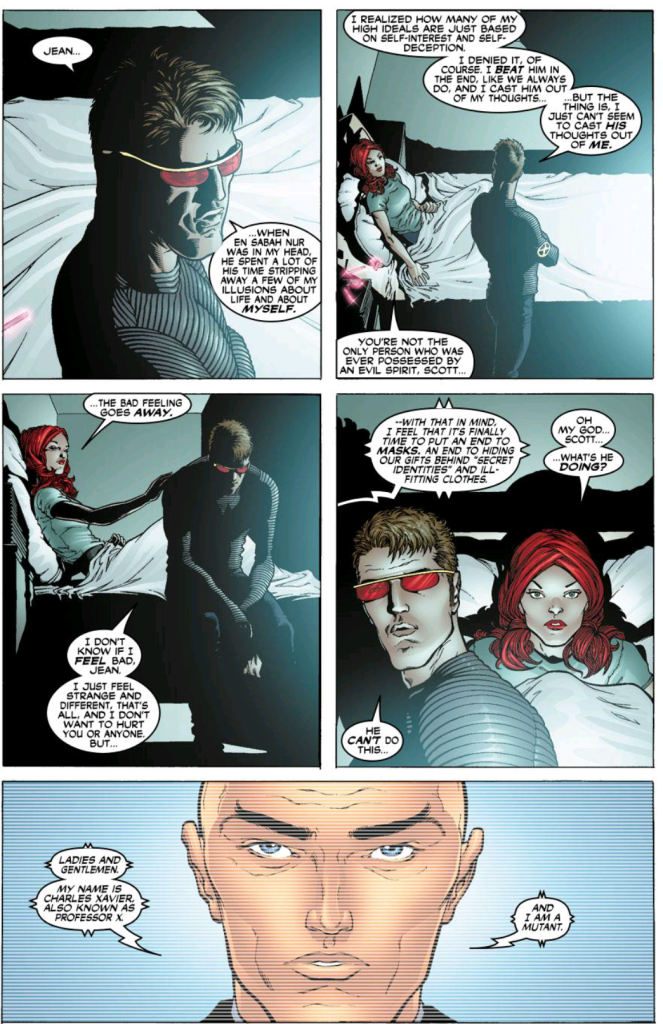 Where New X-Men Wins Me Over
There are a number of elements within New X-Men that completely win me over.
The Core X-Team
Read the apocalypse story "The Twelve" that proceeds New X-Men and you'll find a Xavier's Institute filled to the brim with X-men. The team is nearly 20 x-heroes deep, all with their own deeply established and personalized x-continuity (aside from Marrow, who's just like… Marrow?).
Morrison and Quitely reduce this cluster to a more manageable, more essential roster: Cyclops, Jean Grey, Wolverine, Beast, Professor X, and then the all-new Emma Frost. It's a fantastic roster that would also form much of the core of Astonishing X-Men. Of course, it would grow…

New Characters
This first Cassandra Nova driven story arc is only a portion of the new that this creative duo would bring to New X-Men, but even within the first six issues and annual, we get a lot of long lasting new X-creations. Xorn, Cassandra Nova, Glob Herman (in visual only), Beak (BEAK!), and Angel (female Butterfly version).
As New X-Men would progress, we'd also get completely game-changing concepts such as Quentin Quire, World X and Fantomex. Not only that, but New X-Men shows an uncanny ability to stay away from familiar villains and plots. It's astonishing, but throughout these near 50 issues we hardly ever see a familiar face opposing the X-Men, until the very end.
Focus on The School
It's very easy for X-Men stories to get away from the fact that at the heart of all this mutant fighting madness, there's supposed to be a school. New X-Men brings the education back to the forefront, with students running all over the mansion grounds, and building their own stories and personalities.
Gross Mutants
One of the most striking things about New X-Men is how gross and unappealing mutation can be. This is a hugely important point; mutation should not always be pretty, with your porn star Emma Frost, flawless red-head Jean Grey, or Hollywood also-ran Cyclops.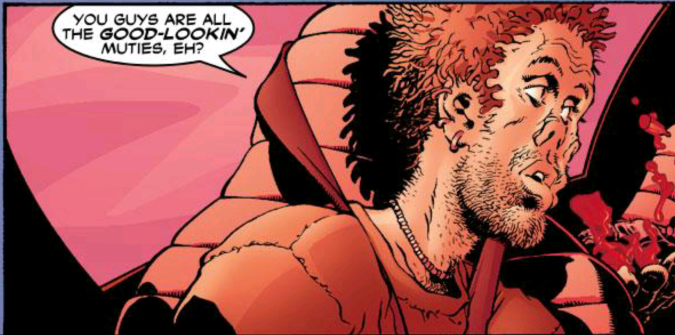 Quitely's art on New X-Men is never more memorable than when he's delivering a haunting Beak or Angel sprawling across the page in all the messiness of their uncontrollable mutation.
The Genosha Problem
Within these first issues of New X-Men, we see Cassandra Nova succeed in delivering Sentinel genocide to the island mutant nation of Genosha. Within the first 3 issues, 16 million mutants are dead, including Magneto, the greatest X-Men villain of all time.
While this sets the stage for all of New X-men, and the vast majority of X-men stories to follow, it's also representative of a major Marvel flaw in the early 2000's. Mark Millar and Bryan Hitch's Ultimates are similarly cavalier with unfathomable destruction. In the first volume of Ultimates stories, the Hulk wipes out an obscene number of innocent New York civilians.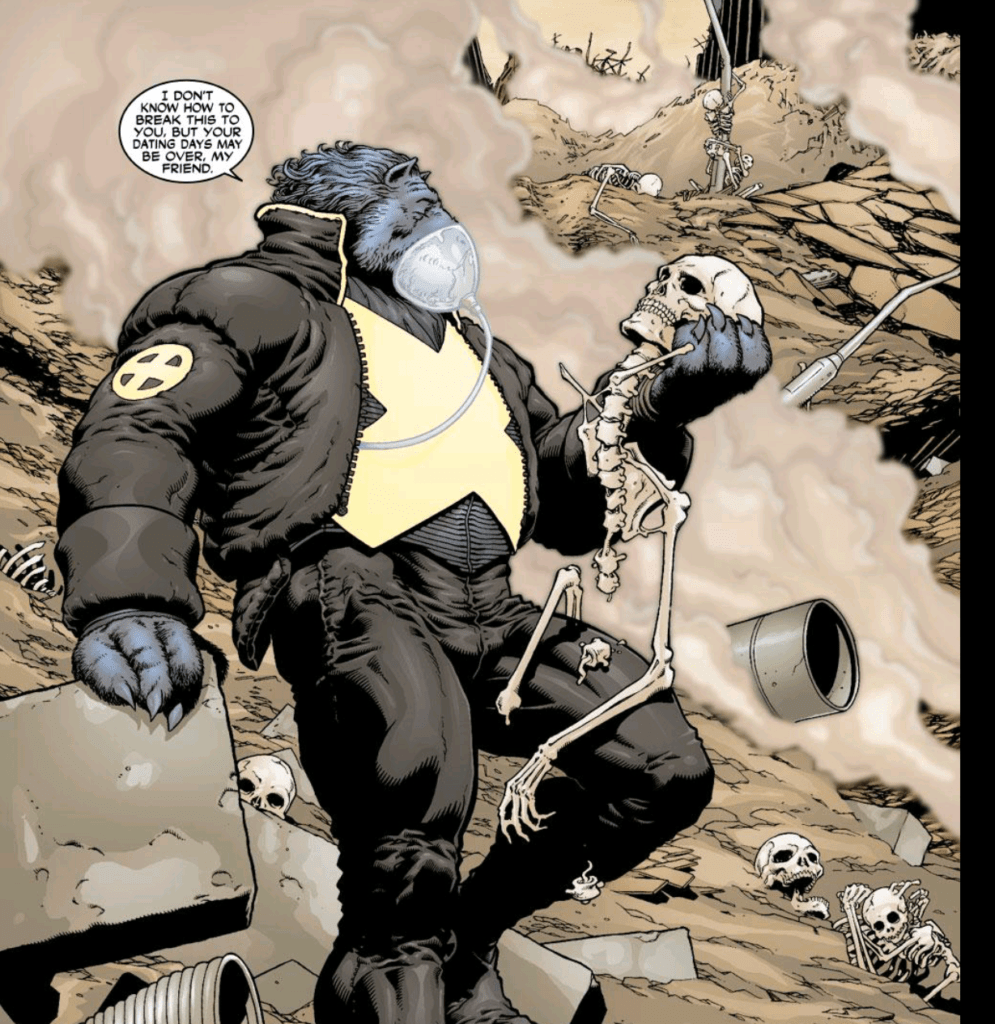 In Morrison's case, Genosha serves as the catalyst for change in the world of mutants, but it's also handled abruptly. One of my favorite things about Morrison can be his insistence to move forward, and to jump stories ahead the way only comics can. It can also be incredibly frustrating when it seems like a school of mutants should probably be more dramatically affected by an unprecedented genocide. A number of CBH club readers raised this point, that it simply didn't feel like the X-Men felt the genocide deeply enough, and I think it's an interesting criticism. In the hands of another creator, this fallout could have driven six issues of repetitive comics, but perhaps Morrison didn't do it justice.
Not to mention the seemingly inescapable problem of murdering Magneto in the first three issues of a series. I won't even get into all the issues this causes later, but what a bold play.
Next Week's Reading
A bit of a change of pace for week 6, as we'll be doing a sample platter of Marvel Knights reading.
Daredevil #1 to #5 (1998 series, "Guardian Devil" from Kevin Smith & Joe Quesada)
Inhumans #1 to #3 (12 issue miniseries from Paul Jenkins and Jae Lee. I highly recommend the full series)
Black Panther #1 to #5 (1998 series from Christopher Priest)