The post Avengers: Infinity War landscape is a challenging one. In the moment, neither Ant-Man & the Wasp nor Captain Marvel can truly exist outside the shadow of Thanos, the Infinity Gauntlet, and the lingering questions of how these movies can provide a way forward for Avengers: Endgame. This will likely matter less for posterity, but right now, with Endgame looming, it's genuinely difficult to enter the MCU and not at least wonder. Taking time for standalone story feels like a luxury this shared universe doesn't have.
Admittedly, these are the impossible standards I consider for Captain Marvel's role in this remarkably deep Marvel Cinematic Universe. Tell a good story, introduce a new hero, and develop Marvel cosmic features that can tie in to Endgame. Captain Marvel strikes this balance effectively – substantially more so than Ant-Man & The Wasp – telling a strong new hero origin story that sets the stage for Carol Danver's role in the MCU recovery.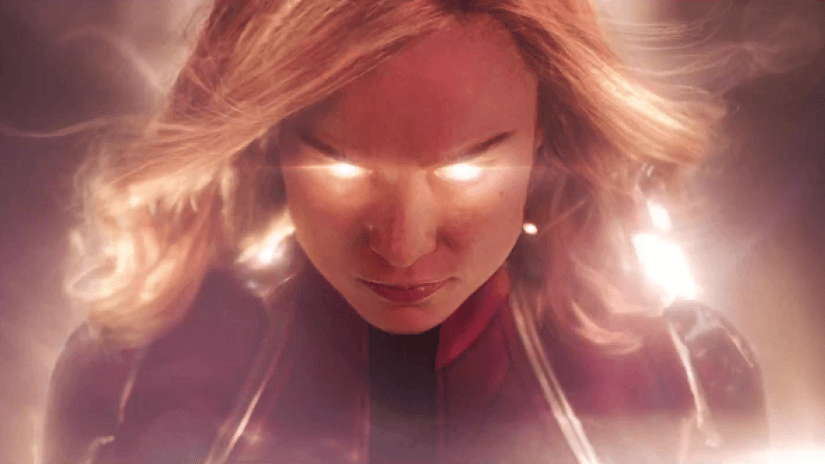 Related Reading Orders:
Spoiler Warning: Very minor spoilers are included in the first half of this review. The "More Thoughts" section after the power rankings is spoiler heavy!
Support For Comic Book Herald:
Comic Book Herald is reader-supported. When you buy through links on our site, we may earn a qualifying affiliate commission.
Comic Book Herald's reading orders and guides are also made possible by reader support on Patreon, and generous reader donations.
Any size contribution will help keep CBH alive and full of new comics guides and content. Support CBH on Patreon for exclusive rewards, or Donate here! Thank you for reading!
The decision to tell this story primarily in 1995 is a smart one, filling in some of the MCU's history without complicating the current state timeline. Much like Rogue One in the Star Wars universe, Captain Marvel is interested in details and expansion of a seemingly "known" time. Of course unlike Rogue One, Carol makes it out to impact the broader story.
For me, these are the two lenses I see the film, simultaneously a triumphant success of an origin story,  and a (seemingly) unfulfilled wish for Endgame clues. As origins go, Captain Marvel is very smartly assembled, and my favorite standalone MCU origin story since Captain America: The First Avenger in 2011 (this is a minor technicality on my part given Civil War's stealth origins of Black Panther and Spider-Man).
I expected the "origin" portion of Captain Marvel to stand out as the most boring part of the film, but instead I was consistently engaged with how exactly the film makers would pull the narrative thread in sync. In this way, I actually find Carol's fractured comics history helped, as the MCU version was able to puzzle together an elaborate concoction of old and new.
Captain Marvel's comics anatomy is remarkably diverse, pulling in Dr. Wendy Lawson as a seamless stand-in for the 1968 comics introduction of Mar-Vell (then as alter ego Dr. Walter Lawson). Likewise, the film pulls in Project Pegasus, minor elements of Secret Invasion, and the 2014 Captain Marvel
gag known as Flerken (in shocking quantities). I fully expected Captain Marvel to bypass the pre-2012 Carol Danvers era entirely, and was happy to see this attempted integration coalesce so nicely.
Brie Larson's easy charm and refusal to stay down won me over time and time again. Few actors can do more with a playful smirk. Larson makes a great Carol Danvers, and it's not at all difficult to imagine her holding her own with the likes of Tony Stark, Thor, and the rest of the Avengers crew. Just as importantly, I'm genuinely excited by the prospect of a "New Avengers" lineup (assuming we do ever make it out of Endgame) that includes the likes of Larson, Chadwick Boseman, Tom Holland, and Evangeline Lily (not to mention Sebastian Stan, Anthony Mackie, and many more!).
Even with an effective opening dive into the Kree vs. Skrull wars, there's definitely a part of me that wanted to see Captain Marvel get significantly more cosmic, introducing stranger and stranger elements that might contribute to the fabric of Endgame. Heading in to the film all possibilities felt open, from time travel to alternate dimensions, to anything in between.
Instead, Brie Larson crash lands on Earth and Captain Marvel transforms into a partial "young" Nick Fury story, showing how the agent of S.H.I.E.L.D.  would trend towards an "Avengers Initiative." Likewise, Captain Marvel digs in to the mystery of the titular heroes origins, answering whether she's alien, Terran, or some mixture. Again, since this origin feels more malleable than, say, Spider-Man, I was consistently intrigued by the set-up.
In the context of Avengers connections (an admittedly strange standard to set), Captain Marvel disappoints with new revelations, but successfully tells a story filling in some timeline blanks. It's a good movie, not a great one, and an unquestionably strong addition to the Marvel Cinematic Universe.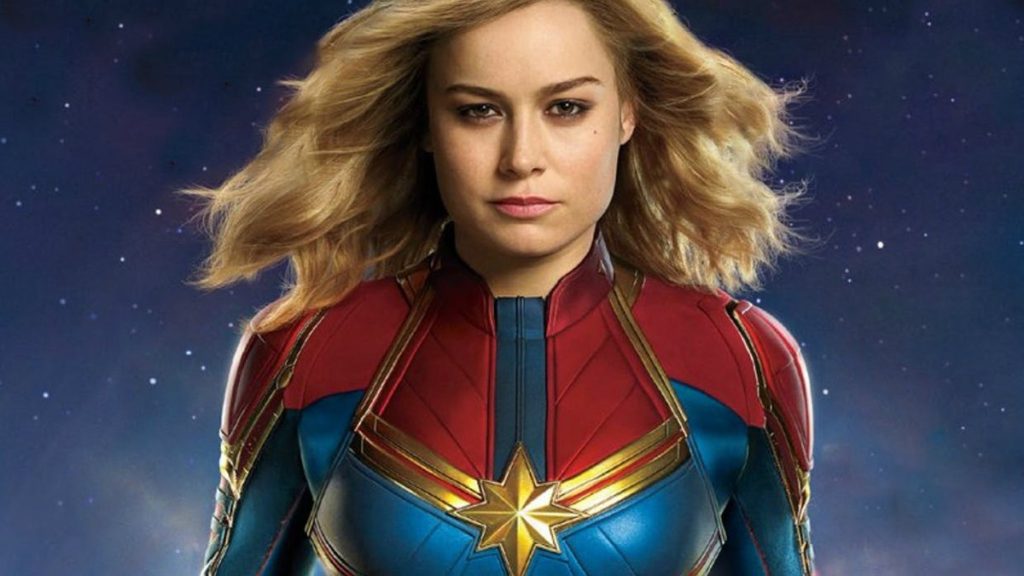 MCU Power Rankings!
Captain Marvel falls outside my top 10 overall, but right near the top of the increasingly exclusive third tier of "good, not great" MCU movies. 
I actually think the Captain Marvel vs Iron Man comparison is particularly interesting, as I weigh Iron Man heavily in favor of kicking off the entire MCU. The wild thing is it's not at all difficult to imagine a reality where Captain Marvel plays the same role of MCU leadoff hitter, and if that were the case, I'd definitely place it ahead of Iron Man. 
Nonetheless, I've kept my power rankings confined to the status of this reality, and you can see all the rankings below!
Tier 1: The Best
1) Avengers: Infinity War
2) Jessica Jones (Season 1)
3) Avengers
4) Guardians of the Galaxy
5) Thor: Ragnarok
Tier 2: Great
6) Captain America 3: Civil War
7) Black Panther
8) Captain America 2: The Winter Soldier
9) Daredevil (Seasons 1,2,3)
10) Spider-Man: Homecoming
Tier 3: Good
11) Iron Man
12) Captain Marvel
13) Captain America: The First Avenger
Tier 4: Perfectly Average
14) Guardians of the Galaxy Vol. 2
15) Iron Man 3
16) The Punisher (S1, S2)
17) Ant-Man & The Wasp
18) Avengers 2: Age of Ultron
19) Ant-Man
Tier 5: Mixed Feelings
20) Runaways (Season 1)
21) Doctor Strange
22) Luke Cage (Seasons 1 & 2)
23) Thor 2: The Dark World
24) Defenders
Tier 6: I'll Only Watch With a Comic In Hand
24) Thor
25) Agents of SHIELD (Seasons 1 through 4)
26) Agent Carter (Seasons 1 & 2)
27) Iron Fist Season Two
28) Incredible Hulk
Tier 7: Nope
29) Iron Man 2
30) Jessica Jones (Season Two)
31) Getting stuck in traffic
32) Iron Fist Season 1
33) Going through a difficult break-up
34) Inhumans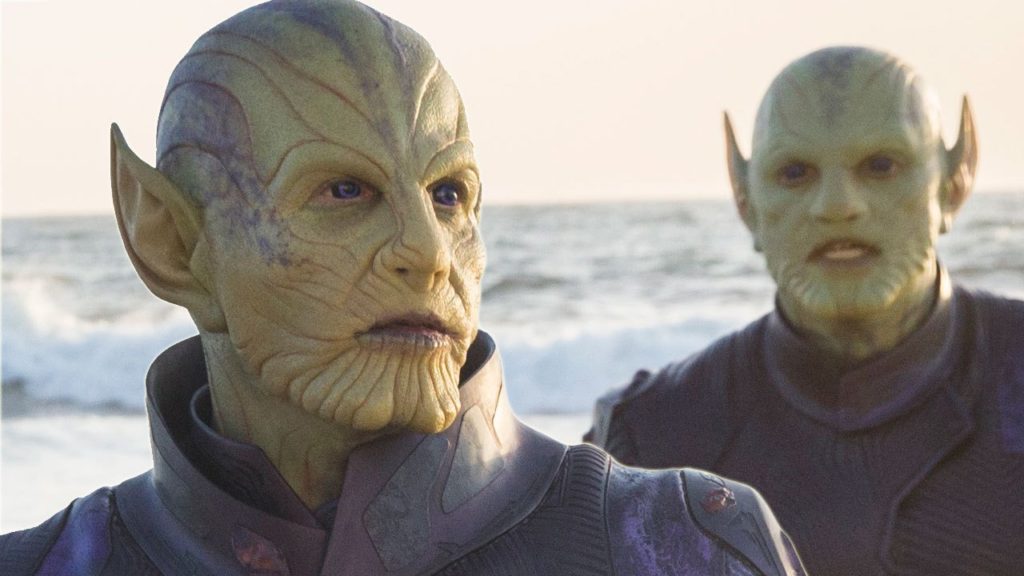 10 More Thoughts On Captain Marvel
1) Kree Skrull War! What Is It Good For?
I was pretty earnestly surprised by Captain Marvel's subversion of the Skrulls, turning them from the warring threat to the galaxy into refugees fleeing Kree injustice.
This twist feels remarkably similar to Iron Man 3's turn of the Mandarin, a clever twist of a known Marvel villain that also very much disposes of that villain for the sake of plot.
On one hand, flipping the Skrulls from cliched alien threat to victims is a pretty smart bit of commentary on the nature of war and truth. On the other, any pipe dreams of Skrull "Secret Invasion" don't hold much water with a race scattered across the galaxy seeking a safe haven.
Much like Mandarin, I can pretty easily see a follow-up movie re-establishing the Skrulls as a focal "threat" in a brand new context. Nonetheless, for the time being, all the flirtations with the Skrulls long-cons and infiltration (especially as a tie-in to Endgame) feels like a red (well, green) herring.
2) Wifely Hot Takes: Wakanda, Jack Kirby, & Cosmic Cubes!
My wife had the hottest take I've seen anywhere (albeit unbeknownst to her) after noting that the Kree jump-ship technology looks very similar to Wakanda's city shields. While this is probably just a result of similar visual styling, the use of the same tech implies the intergalactic empire of Wakanda
may well exist in the Marvel Cinematic Universe!
We also had a post-credits difference of interpretation regarding Goose's Tessaract hairball. Here's the question: was Goose spitting up the cosmic cube in the past or present day?
I take the view that the scene was meant to show how Nicky ballgame wound up with the one and only Tessaract, setting the stage for his SHIELD led experiments on the cube until Loki stole it in 2012's Avengers. On the other hand, my wife interpreted this as taking place in present day, with the cat-Flerken only now coughing up another Tessaract!
The primary evidence in favor of my theory is that Goose coughed up the cube on the same desk we see Fury occupy in 1995, and that Marvel tends to use the second post-credits scene for jokes that don't really contribute much to setting up the next movie. The evidence in favor of my wife's theory is that Nick Fury was absent (a la post-spannening), the scene took place after the mid-credits scene had jumped forward in time, and it's not much of a stretch to imagine Goose would have an unpredictably long life. 
I stand by my original read, but it's inarguably more interesting if Dr. Lawson and Project Pegasus actually found a way to create their own version of a cosmic cube, and that it's still hanging around the MCU. As a sucker for cosmic cube stories (darn tootin' Tales of Suspense #79 is framed on my office wall), I love this theory.
And finally… in perhaps my proudest moment as a husband, my wife turned to me after the "Thank you Stan" of the opening credits and said "What about Jack?" I loved this, but I actually had a similar uneasy feeling about the tribute to Stanly the Manly. I don't think it was wrong of Marvel Studios to Stan Lee-ify their opening credits in the wake of his passing. I'm genuinely sad that he's gone, and his contributions to Marvel are incalculable.
That said, I also think literally turning your logo into a sequence of Stan Lee heavily contributes to the misguided sense that one man created the entire universe. It's a tough one because giving any actual comics creator credit on that scale is unequivocally a good thing for the medium, but giving it all to Stan is just further fueling a decades-long issue.
3) Young Pope-Varr
I maintain Jude Law portraying the Young Pope throughout the entire film would have resulted in a top 3 movie. Not just MCU movie, but movie, period. I mean, come on:
4) Hail Fury
In the aftermath of Avengers: Infinity War, I remember saying on our podcast review that Nick Fury's final pager hail mary to Captain Marvel must have been sent somewhere beyond the known galaxy. Otherwise, there was a 50% chance that Fury's play was falling to another snapped character, and that seemed too dependent on luck.
While we don't *know* where Captain Marvel goes with the Skrulls, it does seem seem – again, at least on the surface – that Fury's final call was in fact just a nice stroke of luck. I can't entirely articulate why this bugs me, but I was really into the idea this pager went back in time, or somewhere Thanos couldn't have touched. Instead, it seems to be a coin-flip working in the Avengers' favor.
5) Comic Book Herald's "There is No Mandarin Award!"
Congrats to Ronan the Accuser for actually getting more boring in his second chance in the MCU. Ronan is the first two-time nominee for Comic Book Herald's "There Is No Mandarin Award," and I'd like to extend a sincere congratulations.
The award goes to the Marvel villain most thoroughly wasted in service of the plot, named after the honorable Ben Kingsley's turn as a drunken imposter posing as Mandarin. Previous winners include:
2013: The (Not) Mandarin
2014: Ronan the Accuser
2015: Baron Von Strucker
2016: Cottonmouth
2017: Surtur
2018: The Black Order
This year's front-runner is a dead heat between the subverted Skrulls and Ronan. Much like the Un-Mandarin, the Skrulls are humorous and genuinely compelling in their MCU roles, unlike Lee Pace's Ronan, who is simply the worst. With that in mind, it's time to give out a second award to the accuser-snoozer. Way to go, Ronan!
2019: Ronan the Accuser
6) It Still Took 11 Years
As much as celebrating the success of Captain Marvel is well worth the adulation, it didn't need to take this long for Marvel to commit to a female-led superhero movie. I'm happy we're in a place where Wonder Woman can blow down doors in 2017, and Captain Marvel can continue smashing them to pieces two years later, but none of that really changes the preposterously slow path to those successes.
Like I mentioned in the rankings, it's not at all difficult to imagine a Marvel Cinematic Universe that starts with Captain Marvel rather than sliding her into a "secret" past after a decade. 
Part of the blame here lies on Marvel Comics as a whole. While there are a lot of good female characters across the shared universe, it's not actually that easy to pick out Marvel's leading ladies. Plus, a huge percentage of the front-runners (Susan Richards, a gazillion X-Men like Storm, Jean Grey, Shark-Girl, etc) have been locked up in licensing rights. 
So yes, credit where it's due for eventually making the right call, but let's not pretend this was a sensible length of time to delay. Or that it's a passable state of affairs when Marvel Studios thinks a Scott Lang movie is an easier sell than literally any woman. I'm happy we're here, and hopefully the forward progress continues.
7) Timely Visual Cues
Props to the posters for the Smashing Pumpkins Mellon Collie and the Infinite Sadness telling me this movie takes place in 1995. I know there were plenty of other era-specific cues (for example, the Stanly the Manly Mallrats cameo prep that went completely over my head), but this one defined the exact year most precisely for me. 

8) MCU: 1996 – 2007
So if Captain Marvel is set in 1995, and Iron Man debuted in 2008, that means the Marvel Cinematic Universe was essentially hero-less (as far as we know) from '96 until Tony Stark met Yinsen. This is a big gap! 
It seems highly unlikely that Marvel Studios will leave these twelve-plus years empty. Just as one example, Ronan and the Kree vow to return for Captain Marvel, but to our knowledge, never do in over a decade. Alternately, if there were no Avenger-sized threats for over a decade, and then they start exploding the second the team comes together, what does that say about the age old "there wouldn't be villains without heroes" debate?
As licensing rights continue to tease the entrance of Marvel's X-Men or Fantastic Four, I'm looking to this gap for potential entry points. Same goes for the upcoming Disney+ promise of Marvel "TV."
9) "You Just Want An Avengers Movie!"
As I shared the "criticisms" I've elucidated (oh so suavely) above, my wife pointed out that really everything I was looking for was just another Avengers movie. She's not wrong! 
Bring on Endgame!
10) Goose 5 Issue Miniseries Coming Soon
If I were a betting man, I'd place a sizable wager on Marvel announcing a Goose comic book series in the next few months. My pick to write the cat-flerken is Kelly Thompson, with art by Erica Henderson.