Jeff Smith's Bone is one of the greatest success stories of the 90's self-publishing comics movement, and my third favorite graphic novel of all time. Bone straddles the remarkably difficult line of status as one of Time Magazine's 10 best graphic novels, and as the franchise that launched Scholastic's Graphix imprint in 2005, driving the boom of all ages and young readers comics that dominates the marketplace today.
In short, Bone is an all-time classic, and frankly a bit of a miracle.
Like a lot of readers getting into comics, I first read Bone as part of the giant all-in-one-volume that collects the entire story, all 55 issues that ran from 1991 to 2004, in one glorious reading package. Again, although I loved it, it didn't occur to me until years later (as I sat down with the chance to interview Jeff Smith) that there was more to enjoy in the Bone Universe. Fortunately, there's a nice array of supplemental story around the original Bone saga, and I'll outline these stories and where they fit in context below.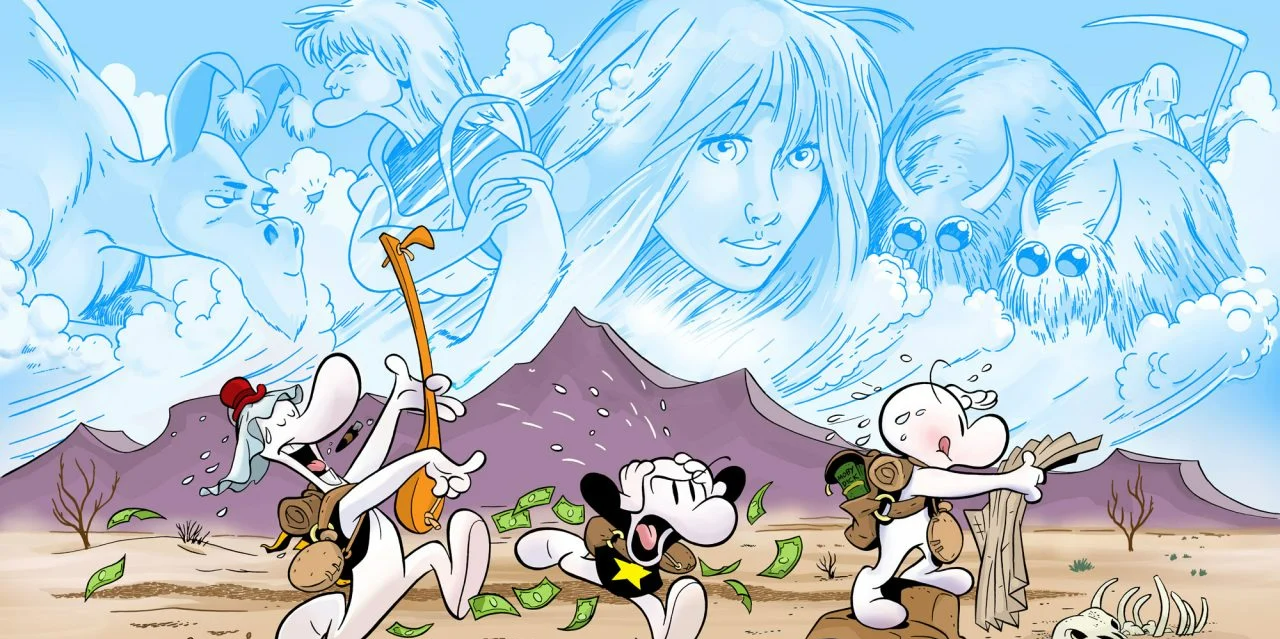 Bone Comics Reading Order!
There are two easily accessible ways to read the original Bone saga, and although some additional reading occurs chronologically before the story of Fone Bone, Smiley Bone, and Phoney Bone, I strongly recommend reading the core Bone first.
Support For Comic Book Herald:
Comic Book Herald is reader-supported. When you buy through links on our site, we may earn a qualifying affiliate commission.
Comic Book Herald's reading orders and guides are also made possible by reader support on Patreon, and generous reader donations.
Any size contribution will help keep CBH alive and full of new comics guides and content. Support CBH on Patreon for exclusive rewards, or Donate here! Thank you for reading!
The one volume edition linked above contains the entire narrative in one package, with black-and-white art just like Jeff Smith released the original run of comics. It is a tremendously satisfying epic, with a clear journey and earned conclusion. If it's more to your liking, there is also a 20th anniversary full color edition of the One Volume
, although this tends to be much harder to find in print.
If you want the 9-part saga broken into more digestible individual chunks, and to see Bone with Steve Hamaker's colors, Scholastic prints nine color volumes of the saga that should be read in the following order:
The Vernal Equinox Trilogy
Bone Volume One: Out From Boneville
Collects: Bone #1 to #6
Bone Volume Two: The Great Cow Race
Collects: Bone #7 to #12
Bone Volume Three: Eyes of the Storm
Collects: Bone #13 to #19
The Solstice Trilogy
Bone Volume Four: The Dragonslayer
Collects: Bone #20 to #27
Bone Volume Five: Rock Jaw, Master of the Eastern Border
Collects: Bone #28 to #32
Bone Volume Six: Old Man's Cave
Collects: Bone #33 to #37
The Harvest Trilogy
Bone Volume Seven: Ghost Circles
Collects: Bone #38 to #43
Bone Volume Eight: Treasure Hunters
Collects: Bone #44 to #49
Bone Volume Nine: Crown of Horns
Collects: Bone #50 to #55
Where To Read Bone Comics After the Original Saga!
"Coda" is the only direct follow-up to Bone from Smith, a 25 year anniversary follow-up to Fone, Smiley, Phoney and Bartleby's journey back to Boneville after the end of "Crown of Horns." In addition to the 35 page black-and-white new story from Smith, there's an essay from Jeff Smith about the creation of Bone, and a "Bone Companion" history from comics scholar Stephen Weiner. If you love comics history, this is a great resource of Bone's place in the medium, and includes some cool bonuses like Frank Miller's variant cover of Thorn on Bone #38, Jeff Smith's illustration of Marv (Sin City), Neil Gaiman's Sandman, Fone Bone, and the Spirit for a Comic Book Legal Defense Fund promo circa 2000.
"Rose" is a prequel graphic novel written by Smith with illustrations by Charles Vess. It tells the full story of what happened to Gran'ma Ben and her sister Princess Briar. If you found this mystery and mythology captivating in Bone, the prequel does a great job building out the details and setting the stage for what we know is to come with Thorn and the Lord of Locusts in Bone. Again, while this takes place prior to the events of Bone, it makes most sense to read after the original saga. For my money, this is the most essential contribution to the Bone Universe after the original series run concluded.
"Tall Tales" is a collection of short stories, with the majority written by Tom Sniegoski and illustrated by Jeff Smith focusing on the frontier hero Big Johnson Bone. The first 17 pages though are full color stories featuring Smiley and Bartleby, and then Fone and Phoney while living on Gran'Ma Ben's farm. The last and longest tall tale, "The Lost Tale of Big Johnson Bone," was originally collected in Stupid, Stupid Rat-Tails
. That late 90's collection also includes an incredibly goofy story called "Riblet" by Sniegoski and the incredible Stan Sakai (Usagi Yojimbo). It's worth it if only to see Sakai drawing Rat Creatures, but unfortunately Sakai's work is not reproduced in "Tall Tales." Regardless, the Big Johnson Bone stories are extremely fun, and well worth a read.
Along similar lines as "Tall Tales," Smith has also created a true beginning readers kids version of his characters with Bone Adventures
. There are two children's stories here, "Finders Keepers", which focuses on the Bone cousins as youngsters, and "Smiley's Dream," which is an entirely playful Smiley story.
The official "Handbook" recaps the full story of Bone, shares some good biography on creator Jeff Smith, and expands on details around the world's mythology and origins, particularly with Mim the Dragon Queen. Intriguingly, the content mirrors a lot of the 1995 Bone Sourcebook, but updated through the saga's conclusion. There's a smattering of short comic stories in here which could be read really any point after "The Great Cow Race". If you feel like tempting fate, there's also a recipe here for a peanut butter and pickle sandwich!
Bone: Quest for the Spark Book 1
Bone: Quest for the Spark Book 2
Bone: Quest for the Spark Book 3
The "Quest for the Spark" trilogy is a series of YA novels written by Tom Sniegoski with illustrations from Smith throughout, and although it's not a graphic novel, it's the closest thing to a "Bone 2" sequel we're likely going to see. The trilogy of novels really hones in on Bone's similarities to Harry Potter and Lord of the Rings, and does a nice job revisiting this universe with (mostly) all-new characters taking on the lead role. Queen Thorn and Gran'ma Ben play a role, but primarily this is the story of Tom Elm, the young turnip farmer, Roderick his racoon pal, the adventuring Percival F. Bone and his twin niece and nephew, a disgraced Veni Yan monk, and of course two stupid, stupid rat creatures and their dead squirrel, Frederick.
It's very easy to imagine a world where this story was Smith's Bone 2 graphic novel, which I intend as the highest compliment.