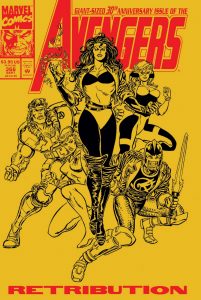 The early-to-mid-'90s were a wild time for superhero comics, and the overall "heavy on action, low on plot and character development" vibes have been commented on far and wide. Still, for all the bad, this was a time where major shake-ups were happening across the board. This omnibus collects a truly weird era of the Avengers in which the cast was flipped on its side with mostly lesser-known characters like the Black Knight and Crystal of the Inhumans taking the spotlight, and just about everyone owned at least one bomber jacket. Mainstays like Captain America and Iron Man disappear, and the book takes on a moody, tempestuous vibe rare to the Avengers. Love it or hate it, the era that brought us Avengers: The Gathering shook up the status quo of a team that could, at times, feel stagnant.
Collects: Avengers (1963) #343-344 And #348-375, Avengers Annual #22, Avengers Strikefile, X-Men (1991) #26, Avengers West Coast #101, Uncanny X-Men (1981) #307, Black Knight: Exodus And Avengers Anniversary Magazine
This saga kicks off with the return of the Swordsman, a former Avenger who died in a fight against Kang. Oddly enough, his story got even weirder after his death, with his ex-girlfriend Mantis marrying one of the Cotati, a species of… telepathic… trees(?) that occupied his corpse and brought it once more to nightmarish sentience. The body ultimately decomposed, and frankly nothing that happens here is going to be as intense and horrifying as that, so we might as well pack it up and head home. This version of the Swordsman is enraged with the Avengers for allowing him to die, but it becomes obvious very quickly that he's being fed fake news by his teammates in the mysterious group known as the Gatherers.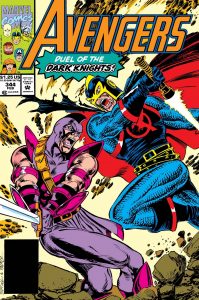 The Swordsman has a new boo named Magdalene and they have aligned themselves with an alternate-dimension Black Knight named Proctor, who is an incel. He was the Gann Josin (basically the husband) of an alternate reality Sersi. When she inevitably got tired of his antics and left him, it "drove him mad," which apparently granted him justification to psychically influence Sersi until she destroyed the entire planet and he gained control of the Ebony Blade, which then allowed him to strike her down. He escaped his doomed homeworld and went on a cross-dimensional rampage, murdering different Sersis across the multiverse and keeping their bodies as trophies. I take back what I said earlier that nothing more horrifying than a woman marrying her husband's tree-possessed corpse was going to happen in this story.
Proctor apparently began a romance with Magdalene, but when she ultimately grew to favor the Swordsman, Proctor's zany MRA hijinks began anew with her as their target. Proctor kills all of the Gatherers' 616 counterparts so that these transplants may thrive. The Swordsman continues to suffer from brutal headaches and illness during fights with the Avengers, who ultimately capture him and give him refuge. When Magdalene begs Proctor to let them save Swordsman, he brings an alternate universe T'Challa known as the Coal Tiger to kill Black Panther, but the Tiger refuses, choosing to fade into nothingness rather than become a villain.
Support For Comic Book Herald:
Comic Book Herald is reader-supported. When you buy through links on our site, we may earn a qualifying affiliate commission.
Comic Book Herald's reading orders and guides are also made possible by reader support on Patreon, and generous reader donations.
Any size contribution will help keep CBH alive and full of new comics guides and content. Support CBH on Patreon for exclusive rewards, or Donate here! Thank you for reading!
Meanwhile, Carol Danvers has returned to Earth after a lengthy stint in space with the Starjammers, and her former teammates, Raza and Hepzibah, take on a contract from a Kree soldier to kill the Black Knight in exchange for freeing Raza's family from slavery. The years of being unable to help them and Hepzibah's gentle nudging to accept the contract leads to a bloody battle between Dane and Raza, though Carol sympathizes with Raza and talks him down.
As with most comics of this era, you don't get much time to breathe between earth-shaking revelations. There is a two-parter in which Arkon, a sword and sorcery-inspired character from "the extra-dimensional world of Polemachus," makes an appearance. Arkon and his then-partner Thundra are fleeing with a young woman whom Anskar, a rival of Arkon's, is intent on killing as a part of a blood sacrifice. The Avengers vow to help, but none are more moved to protect the young woman than Sersi, who promises that she will not be returned to the villains who want only to destroy her. When a betrayal occurs and the woman dies anyway, Sersi is devastated, lashing out and killing Anskar. The other Avengers ask her if she has any idea what she's done, and she insists that she only did what an Avenger should do.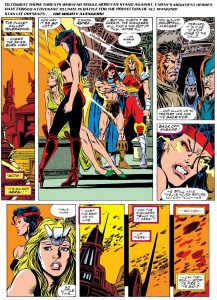 This character beat is important, as the Avengers are quick to turn on Sersi when they believe they have found evidence that she has committed various murders. Yet it is equally crucial to remember that Sersi is the only member of a team of heroes who seems personally hurt by the death of a young woman they had promised to protect. Only our world's Black Knight believes that Sersi had nothing to do with these new murders, but he is ravaged by the Gann Josin connection, which is being manipulated by Proctor. By the end of this arc, Dane forgoes his attraction to Crystal, ultimately choosing to go into parts unknown with a Sersi who no longer trusts herself, while Crystal reunites with her husband. This motley crew goes their separate ways to make room for the next lineup change.
Whatever the creative team was trying to accomplish with the Sersi/Crystal/Dane love triangle, putting it at the centerpiece of ongoing Avengers drama was a strange move and it doesn't always work. Even if you enjoy the love triangle, it's repetitive and takes up too much space at the cost of exploring more nuanced interpersonal dynamics between teammates. Issues in which Natasha appears as a somewhat detached but amused mentor to Dane, or the Vision does some deep soul-searching around the complexities of his past, make for compelling moments, but the character beats are too sparse. Hercules is on the team, though we barely see him, and the ongoing drama between Jarvis and Luna's nanny Martilla makes for some solid moments, but it's about all we get outside of the obnoxiously volatile love triangle. One can only hope that in today's world, Crystal, Sersi, and Dane would just be a throuple and we'd be spared all the stereotypical infighting and jealousy.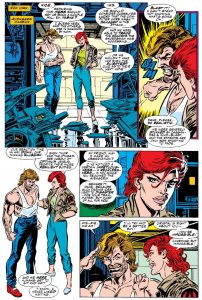 Pietro shows up intermittently, but sadly does not get to do much outside of being hot and cold with Crystal and pleading with Dane not to ruin his marriage. The biting jealousy of Pietro and his inability to meet Crystal where she's at continues to make it obvious why she finds their marriage limiting. But then again Crystal does fall in love at the drop of a hat and follow her immediate desires without thinking of long-term consequences. They're a bad match, and though they reconcile in this arc, it would prove to be far from permanent. Likewise, Sersi and Dane would ultimately split when Sersi later rejoined the Eternals.
The Blood Ties crossover brings the Avengers and the X-Men together by pitting them against one another. When the Avengers attempt to get involved with Genoshan affairs, they choose the "wrong" side and become more of a problem than a solution until they vow to stay out of politics entirely. This crossover is entertaining if not particularly satisfying in the long run, starting conversations it can't hope to address before ultimately giving way to a series of epic brawls across the Genoshan skyline between heroes and villains alike. Quicksilver and Luna reconnect during their search for their kidnapped daughter, and Sersi's fight against Exodus is easily worth the price of admission on its own.
Though the primary creative team is more or less consistent throughout this run, there are still a couple of short filler arcs by guest creators. The first is Avengers #352-354, in which the team goes to investigate a plane crash and end up sucked into another dimension by the Grim Reaper, who then attacks them with an army of the undead. This story is a definite tonal shift and doesn't make a ton of sense, but it works as a brief segue into the weirder parts of the Avengers' lore. The creepy vibes of the art help make for an entertaining jaunt through Grim Reaper's morbid attempts to destroy the Avengers.
The second filler, Avengers #370-371, focuses on Sersi, the Eternals, and the Deviants. Though this story has its moments and it's nice to see Sersi take the lead, the outside manipulations that dominate her arc are just as prominent here as they are throughout the story. In a lengthy trade like this, these issues feel particularly nonessential, but might help provide some context for a character who manages to be both prominent and sorely underdeveloped.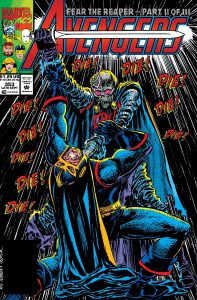 There are certainly flaws to be found within this run, and whether it's your specific cup of tea will likely revolve at least somewhat around what level of nostalgia you have for this era in general. Still, the lineup is compelling and the action sequences can't be beat. If nothing else, Steve Epting and Tom Palmer are one of the most underrated ongoing art teams of the '90s, and this is an excellent place to catch examples of their best work. Some of the story works, some doesn't, but a lot of it is just good old-fashioned Avengers hijinks. Despite the less thought-out elements of this run, this is one of the lesser-known eras of Avengers comics, and these stories have an delightfully chaotic aesthetic that makes them fun to revisit.