Round 1
The more I learn about Muhammad Ali, the less I realize I actually know about the near mythical boxing champion. As an all-around sports fan growing up decades after Ali's final fight, I'm certainly familiar with the sound bites ("Float like a butterfly, sting like a bee," and "I am the greatest!"), and the widely accepted knowledge that Ali, previously known as Cassius Clay, was not only the greatest boxer of his era, but one of the most dominant sports figures of all time.
All of that leaves out so many fascinating details that shape the full figure of the personality; Ali's public refusal to go to Vietnam, his connections to the likes of Malcolm X or Sam Cooke, his thoughts and influence on race, or – and this one blew my mind – that in 1990 Muhammad Ali met with Saddam Hussein to negotiate the release of 15 hostages!
The new Titan Comics graphic novel Muhammad Ali, Kinshasa 1974
doesn't deign to capture all of this in full, but in its way it does manage to shade in a more fully realized portrait of the world heavyweight champion, from his origins through his iconic comeback against George Foreman in Zaire (popularly known as "The Rumble in the Jungle"). The end result is one of the most interesting sports documentary graphic novels I've read, and one of my favorite reads of 2021.
Related:
Comic Book Herald's favorite comics of 2021
Support For Comic Book Herald:
Comic Book Herald is reader-supported. When you buy through links on our site, we may earn a qualifying affiliate commission.
Comic Book Herald's reading orders and guides are also made possible by reader support on Patreon, and generous reader donations.
Any size contribution will help keep CBH alive and full of new comics guides and content. Support CBH on Patreon for exclusive rewards, or Donate here! Thank you for reading!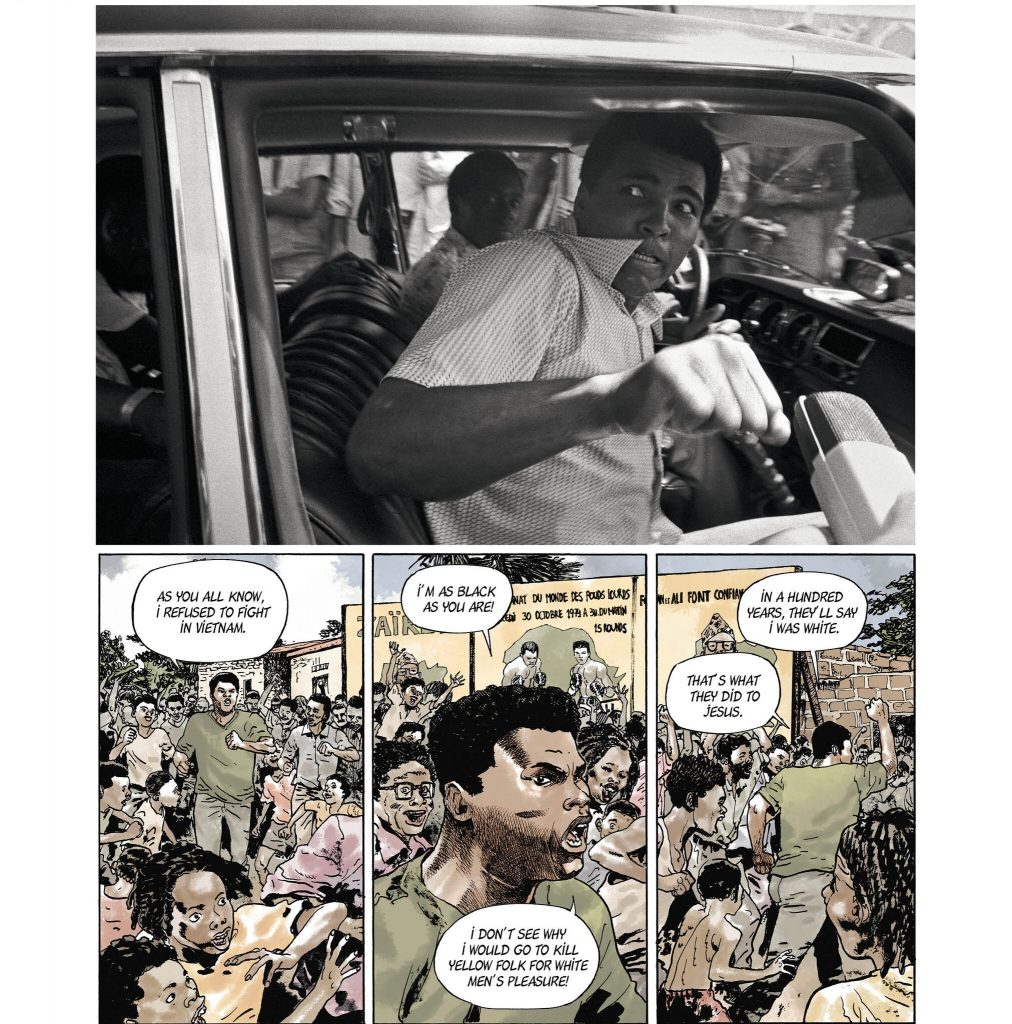 Round 2
Writer Jean-David Morvan and illustrator Rafael Ortiz craft an effective, and streamlined narrative of Ali vs. Foreman, dipping in and out of the fight build-up and recap to share a wide array of histories of all the players involved. Honestly, on this level alone, I would have eagerly consumed the story of this sports and cultural history I'd overlooked.
The real hook of Muhammad Ali, Kinshasa 1974 is the photojournalism, and rare archive of photos from the fight from celebrated photographer Abbas. The process of creative collaboration constructing a graphic novel is generally established for longtime comics fans, but the craft of blending photography with the illustrations, of a page layout that is one-third photo, two-thirds artist representation, is fairly uncommon today.
Because this story is so rooted in history, I find the blend of photo and comic particularly successful here, cementing the documentary-like narrative as real while simultaneously exploring the mythological power of Ali and those around him. There are definitely stories where the merger of art-forms would be too jarring, but in a sports biopic, almost like an ESPN 30×30, the opportunity to enjoy Abbas photography fits beautifully.
Round 3
I've talked a lot about Ali – his gravity will do that – but one of the most interesting aspects of Muhammad Ali, Kinshasa 1974 is that despite Ali's presence at the center, the story is actually told from the perspective of Abbas, and in many ways it's his story as well. This yet again taps into my curiosity and interest in stories and histories that have escaped my own knowledge.
One of the core themes of Abbas' placement at the Foreman/Ali bout is how creative coincidence, combined with preparation, merges to create these incredible documents of moments in time. Originally Abbas wouldn't even have been at the fight, but a fluke cut George Foreman received while training, postponed the rumble.
The concentration on Abbas helps elevate the structural inclusion of photography as well, giving a name and a face to the art, as if we're literally being told the story of Kinshasa 1974 at a table looking through these photos with Abbas. There's a democratization to photography that has expanded exponentially over the past decade-plus, but the focus on the actual photojournalist helps highlight the art of nailing moments in time, how the presence of body, mind, and senses leads to capturing history forever.
Round 4
Narratively, Morvan and Ortiz do an admirable job blending the moment with the secret origins of both a young Cassius Clay and Abbas. We see snapshots of Ali growing up in Louisville 1955, a little like watching a rapid fire Queens Gambit for boxing, as the young man learns the ropes (pun intended) and becomes a champion.
The graphic novel never pretends to be that full account of Ali's life, but in portraying flashes of his journey to the top, the team effectively sells in the rise and "fall" of the champ, and where he's at in 1974, seven years removed from his conscientious objector decision and losing his boxing titles.
The origins of Abbas are even more streamlined, but there are some deeply relevant historical flourishes here as well. Abbas lives through a French Insurrection – with tremendous political and societal repetition compared to what happened in the United States on January 6th, 2021 – and in doing so learns "the power of intellect over brutality." It's a lesson Abbas applies to Ali's boxing strategy against the bigger, stronger George Foreman, defeating the heavyweight by outthinking him rather than out punching him.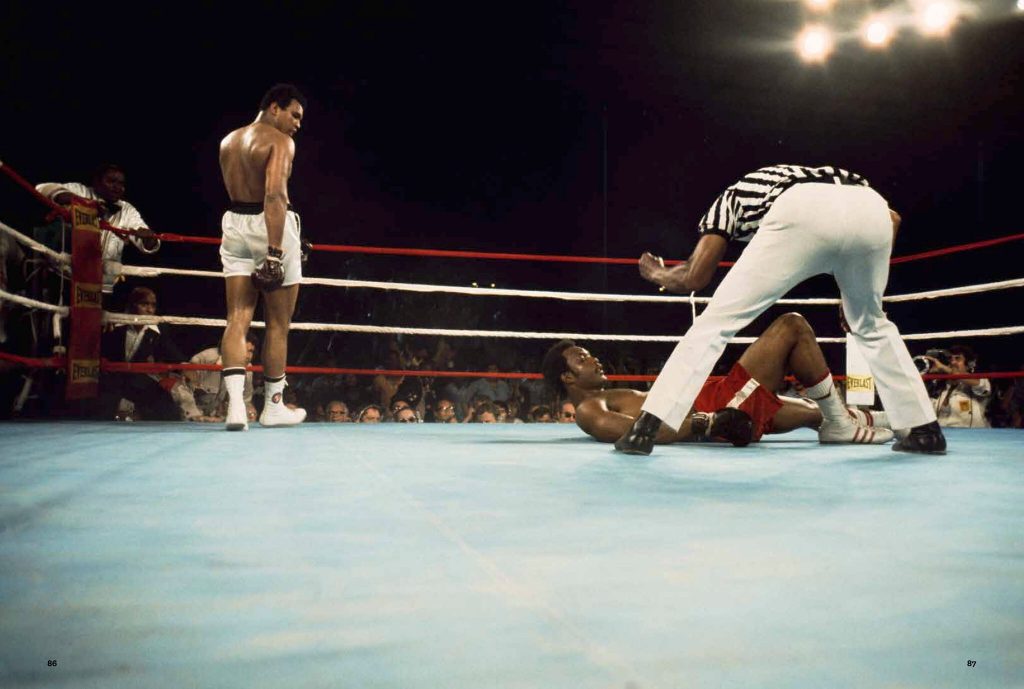 Round 5
My personal favorite aspect to the graphic novel is how expertly the creators weave in vast and varied histories beyond the "main characters." Like Ali, I know Don King as a cultural force in boxing (and hairstyle), but knew nothing of his background, and of his role with Ali and setting up the fight in Zaire. Same goes for big George Foreman, a boxer known as much today for his commercial presence and children's naming conventions as he is for being one of the most feared boxers of the era.
A real fascinating standout is President Mobutu of Zaire, who takes King's oversized circus like spectacle as a chance to highlight black athletes at the peak of a sport run by white Americans.
Round 6
I definitely grew up with the watered down version of Muhammad Ali; all the sports but so little of the race, politics, and significance. I knew Ali was a conscientious objector to Vietnam, but I'm not sure I fully realized what that cost him, or how long it kept him out of boxing. MJ leaving basketball for the White Sox in the mid-90s is the only sports parallel that even comes close, and truth be told, it's not very similar at all!
Ali's position as a charismatic, powerful, influential American black man is not the focus of this graphic novel, but even so, it comes through strongly in his trip to Zaire and in the people's reaction to him. So many Ali quotes are beyond incredible for their trash talk and boisterous confidence (I particularly loved: "Only last week, I murdered a rock! Injured a stone, hospitalized a brick!"), but in Zaire it's a different kind of biting focus Ali shares:
"I refused to fight in Vietnam. I'm as black as you are. Don't see why I would go to kill yellow folks for white men's pleasure."

"In a hundred years they'll say I was white. That's what they did to Jesus."
This is the Ali that gets sanitized via exclusive ESPN Classic exposure. A decade removed from 1964's famous One Night in Miami, Ali spent years facing fines and prison, all of which is tied up in his race and religion. This is a nuanced, experienced, fascinating person who also happens to be one of the greatest athlete's in the world.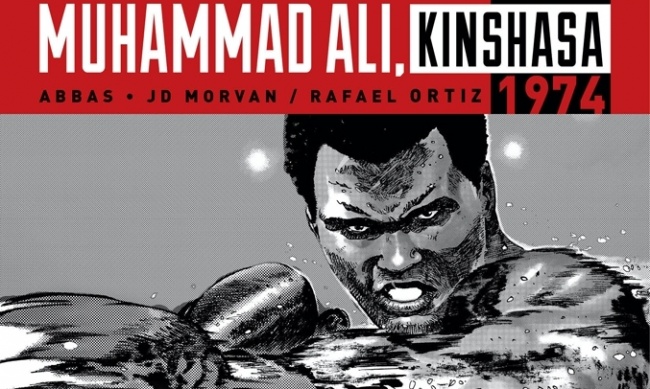 Round 7
The background material included at the end of this graphic novel presents a "Making Of" peek at the creative struggles and hurdles, really highlighting how much of a miracle it is that anything gets made, and made well at that! For example, Muhammad Ali, Kinshasa 1974 had a contracted artist on board for 20 pages of interiors (they're included in the backup and they look really good!) before the artist had to pull out of the project for personal reasons.
The Abbas backup interview is particularly fascinating, showing a bristly side to the photographer who was (at least initially) unwilling to give much of an interview at all. It's honestly incredible that Morvan still found a way to center Abbas in the work, and uses his voice as narration. Reading it you'd never know; truly I thought this was curated from plentiful Abbas interviews but to hear the writer tell it, everything that's in the finished work was basically it. Celebratory anecdote notwithstanding.
Round 8
The challenge of any sports documentary is that the outcome is ultimately known to viewers. ESPN's The Last Dance plays up the drama and challenges of Michael Jordan's last season on the Chicago Bulls, but ultimately sports fans have the image of MJ's follow through over Byron Russell's Jazz hands seared into our memories.
Wisely, Morvan and Ortiz don't play up the mystery of Ali's victory, only the odds he overcame. Likewise, as Ali finally tires Foreman, and leans in for his KO victory in the 8th round, the narrative shifts wholeheartedly to a fourth-wall breaking Abbas, leaning-in front row with his camera. Intelligence, strategy, and above all… patience. To the victors go the legacy.
Finally, for those as curious as I was, you can watch the fight on Youtube.