Image's "November
" by Matt Fraction and Elsa Charretier is a four-part, gritty, crime thriller about three women who become ensnared within a violent plot perpetrated by corrupt police, and go about fighting for their lives amidst a tide of masculine violence. Interweaving multiple perspectives, it's a story that blends noir crime fiction with hard-boiled mystery, while smoothly including impactful lesbian romances with depth and realism.
"November" was released as four graphic novels, serialized between November 2019 and March 2021 in beautiful 60-page hardcover editions. Each moody volume gives the story a sustained momentum where the reader is able to sit longer with each character and meditate on the colorized clues. Matt Fraction and Elsa Charretier plant such intricate devils in the details, relying on a reader's keenest faculties of observation, that "November" might not appeal to some casual readers. Nonetheless, lovers of the hard-boiled and the noir will feel this is a masterpiece.
Related:
Comic Book Herald's favorite comics of 2021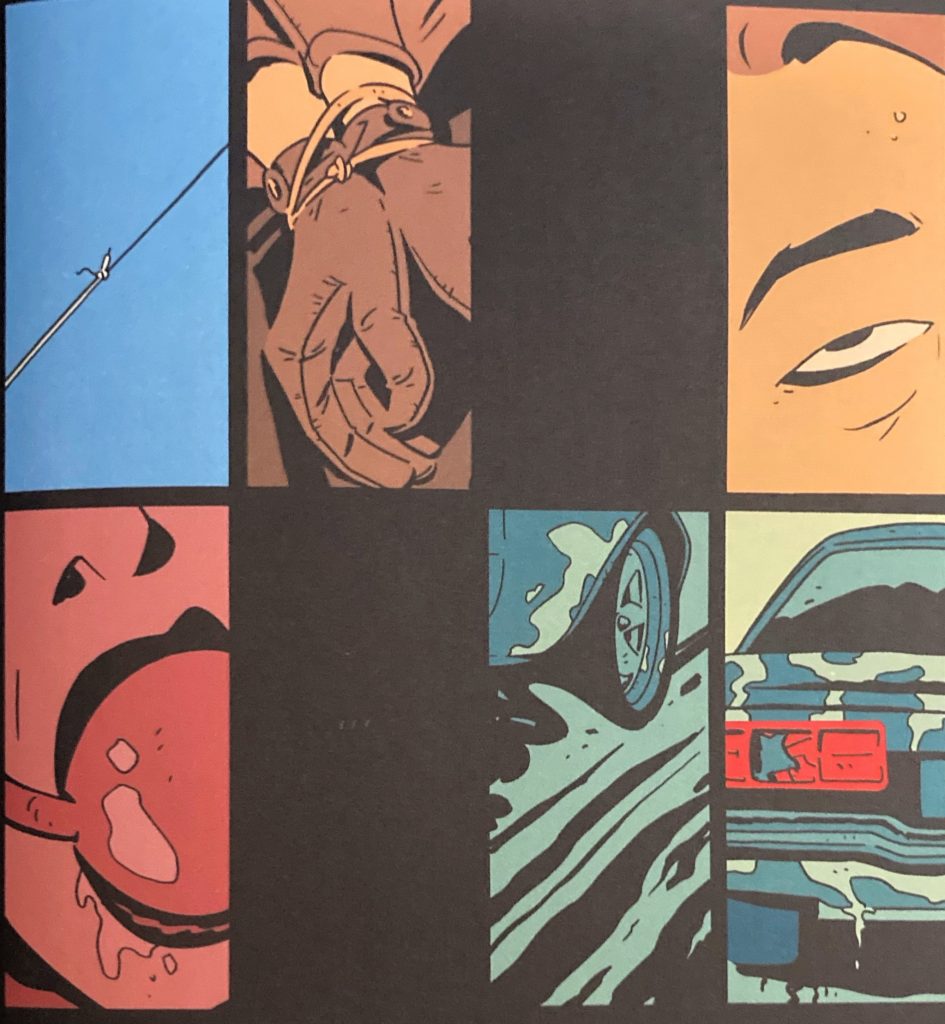 Matt Fraction's story-telling is concise, weaving together a complex noir crime story that deposits the reader 'en media res' in a fully realized city. Unfamiliar with his other works, I was impressed by how Fraction's characterization uses subtlety and understatement in order to build towards character-defining moments, quietly stunning in their brilliance. There are many tender moments which are quietly connected to other moments that carry immense emotional impact. Together, Fraction and Charretier are especially good at demonstrating delicate nuance that punches the reader in the gut.
Support For Comic Book Herald:
Comic Book Herald is reader-supported. When you buy through links on our site, we may earn a qualifying affiliate commission.
Comic Book Herald's reading orders and guides are also made possible by reader support on Patreon, and generous reader donations.
Any size contribution will help keep CBH alive and full of new comics guides and content. Support CBH on Patreon for exclusive rewards, or Donate here! Thank you for reading!
Elsa Charretier's bold, inky lines and deep shadows are perfect for illustrating the gritty, noir textures of "November." Akin to Mike Mignola, Frank Miller, Bruce Timm, and Becky Cloonan, Charretier's thick inky style has an attractive cartoon-ish quality that communicates intense emotion. Personally, I especially favor this style of art over hyper-realism, as if it relates to a deeper emotional gravity than can be reached by simply mirroring reality. With abundant use of absent space and dynamic framing, Charretier gives the city a spacious scale, breathing life into the grey machine and the little lives turning within it.
From diners, to rooftops, to strip clubs, to pawn stores, to emergency dispatch call centers, and evidence storage warehouses, every locale is filled with enough detail to build a world without overcrowding it. Charretier uses abundant grids and chain-link cross-hatching to symbolize how easily our human lives are caged by our conditions and routines. Whereas much of the story is related in loaded conversations — a pained dialogue between Kay and her girlfriend over a telephone takes place over 136 panels — Charettier animates each character's face with such genuine emotion and concise body language it's like watching skilled actors play out the scene.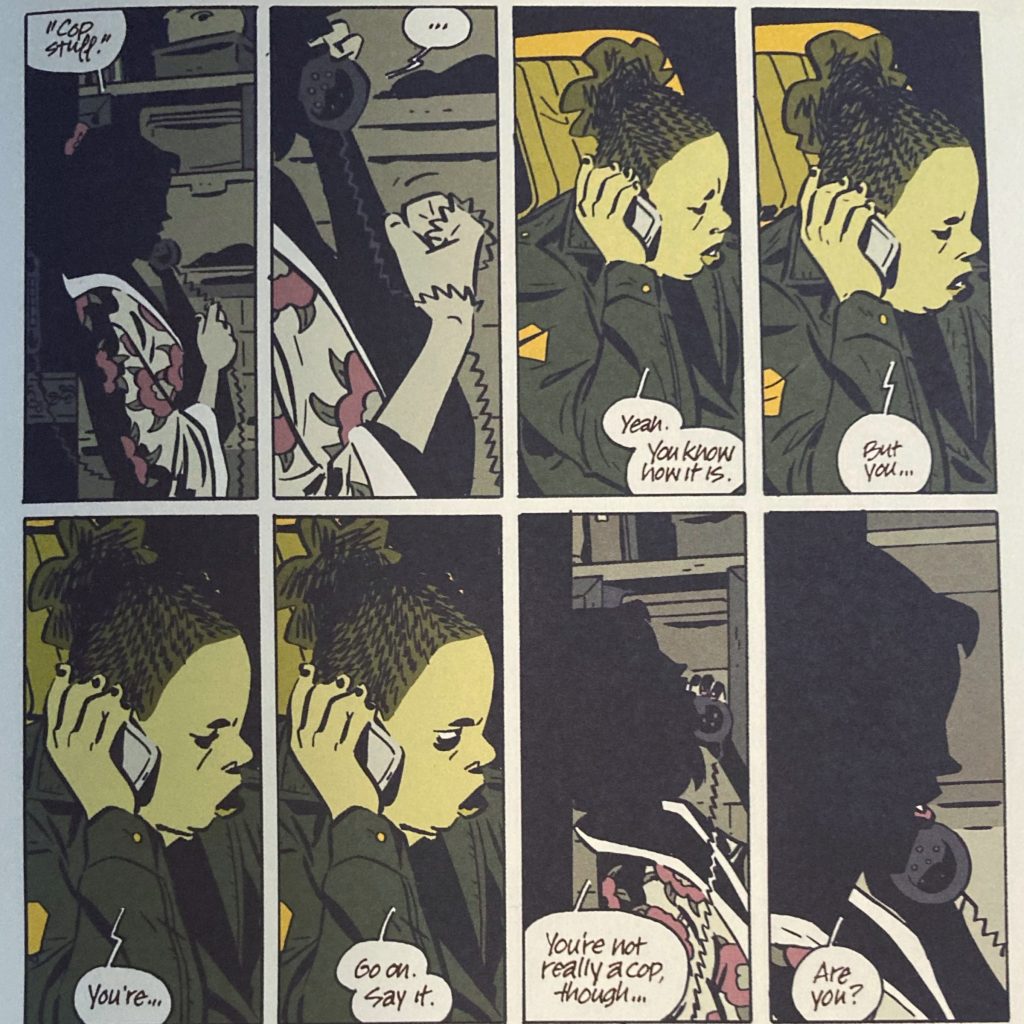 Matt Hollingsworth's work on "November" is a master-class in graphic-novel colorization, setting specific tones that surround and define the characters' mood, the city-itself, while linking objects and people in the past with present events. The colors are a vital ingredient in the world building and in trying to comprehend how the pieces of the story fit and function together, like a chain of evidence – more on this soon! Hollingsworth's "November" palette captures the encroaching chill of the eleventh month, as the last traces of warm days in October surrender to a cold winter. Without giving anything away, the post-scripts at the end of volume four are the most colorful part of the story, as bright spring colors are introduced here and there to contrast the darker shades which remain.
Kurt Ankeny's stylized hand-lettering is tailored to each character, giving them distinctive voices of their own. Entire panels are given over to Ankeny's letters: white text over black, reminiscent of text-frames in silent movies. As such, the weight of the characters' words and thoughts appear louder on the page: few, preciously considered, they hit with the beat of a clever pulp thriller. The sequences with cursive writing are pretty, bringing a soft edge to a hard-boiled character, but are somewhat a strain for eyes not accustomed to it.
At first the reader may struggle to puzzle out the mysterious events behind the fallout, but this confusion mirror's the same confusion felt by the women in the midst of a panicked situation they cannot fully comprehend. The story is primarily carried forward by the compelling characterization of "Dee", Emma "Em" Rose, and "Kay" Kowalski. Their lives couldn't be more different than each other but their stories intertwine when Emma Rose finds a gun – Dee's gun – in an alley puddle and makes a call to report it to 9-11, a call answered by former police-officer Kowalski. The story is also supplemented by the peripheral stories of a small corrupt cop ring including Mister Mann, Len Ward, Carl, and Mikey.
The characters are gears in a complex machine, only knowing as much as allows them to do their part, while none of them can see nor understand the greater function. In a short sequence of chaotic events that machine breaks down. It's not vital to understand how the machine works or why it's falling apart – it's enough to know that the system put in place allows a ring of corrupt police to steal and profit from the vast amounts of drugs, guns, and money laying in evidence storage warehouses that they have exclusive access to. When that system does fail it triggers a domino effect of chaos and violence that signals the relative "end of the goddamn world."
Caught in this web of police corruption, each of them have to come to terms with what's happening and, if they can, survive it. The reader will feel pulled into this web when, in volume one, shit hits the fan and won't stop hitting it. There won't be many answered questions, but the jigsaw begins falling in place by the second volume and reader patience is quickly rewarded. Volumes three and four will give the reader a confident grasp on the story, but some questions may remain, although there are very few loose threads.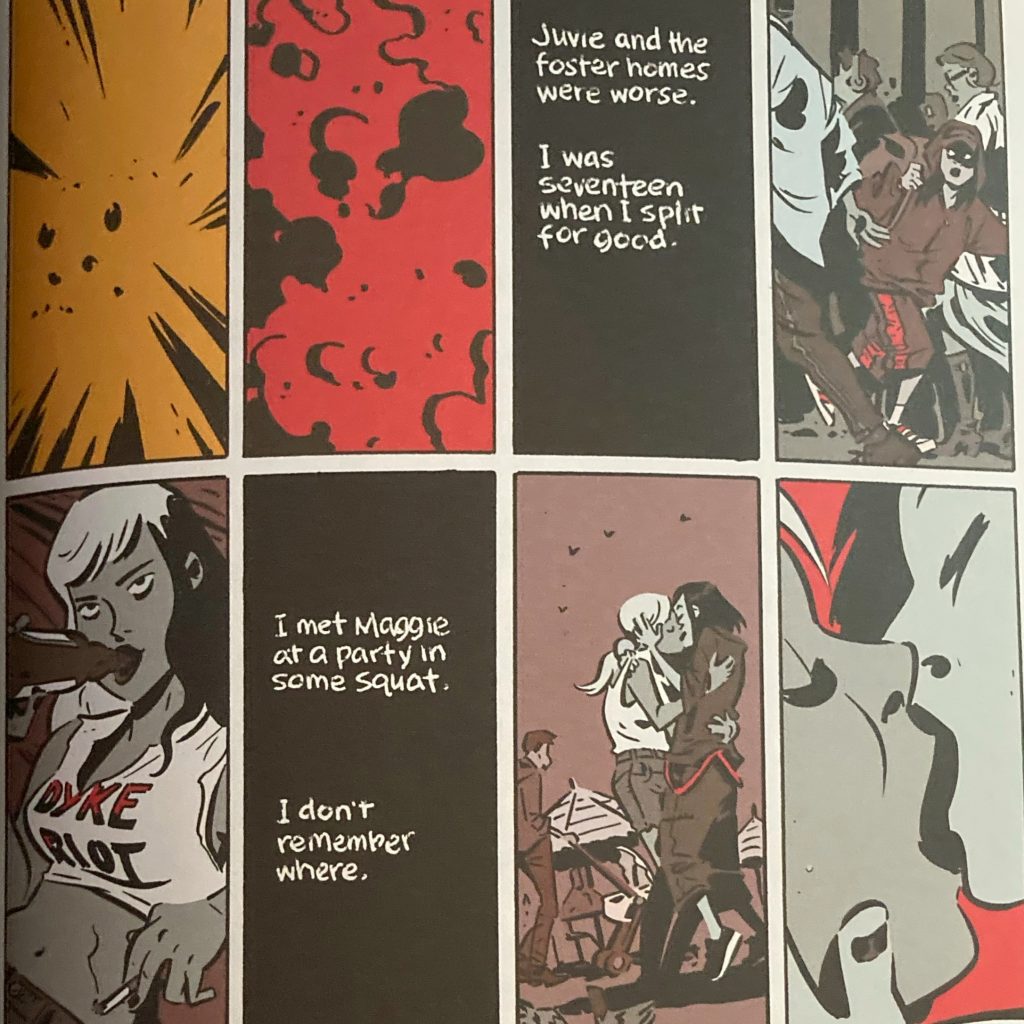 Dee's fragmented story is at the heart of "November's" web. A drug addict recovering from darker days, her escapist habits and predictable routines become a cage wherein she feels trapped in Zootown. Panels jump around in time between moments of her life, reflecting her loose stream-of-consciousness influenced by the hard drugs and alcohol she's actively consuming. As events unfold, and things go from bad to worse, the panels flash to other violent instances in Dee's life, bringing those traumas into the present. Dee aptly describes this feeling of slipping into recurring trauma, "when I get real drunk or real scared… it's like I slip an' everything bad that's ever happened happens all at once all at the same time. See some girls… we're just lucky." Real shit. With each successive volume Dee's story becomes clearer, her history more linear, as she becomes sober and lucid again, able to better react to the crisis at hand, or as best as a self-identified "junkie" can. Her spirit, while jaded, is a resilient flame.
A bright "pumpkin orange" brings awareness to moments of tension, pieces of evidence, the sign of a pawnshop; things not inherently dangerous but, if paid attention to, flag caution because of the danger they may lead to later in the story. Within the first panels of volume one, for instance, the orange pen Dee uses to solve crosswords in a paper is an indicator to Mister Mann that she can be useful to his mysterious plot, leading to him sitting across the table from her, setting off the chain of events.
Hollingsworth also uses a luxurious shade of "blood red" to sing a siren song of urgency, calling direct attention to clear and present dangers: the radio broadcast light, or the red pill caps Dee empties to inject into herself, the plaid shirt of a man who sexually assaults her and a friend in a flashback. These reds convey that five alarm emergency of panic and are used generously when blood starts flowing. There's a lot of red in Dee's story, but most of her present and past is dominated in soft browns, bronzed auburns and burnt oranges.
The central mystery in "November" revolves around the nature of the job Dee is given by the corrupt cop, "Mister Mann." For five hundred dollars a day, she is tasked with decrypting a simple key from the daily paper's crossword and then broadcasting this code over a very high-frequency radio at 4 o'clock in the afternoon. Mister Mann says only that the key goes to a lock which has to be changed every day in order to keep someone out. "We're all parts of a machine we cannot see. A system. All of us have our function. And if you break, you fuck everything up" says Mister Mann.
As noir crime fiction typically goes, the worst happens and everybody loses, whether they were directly involved or just happened to be at the wrong place at the wrong time. Dee fucks up. Asleep in a daze of drugs and sex, Dee misses a broadcast and the very next day there is no crossword in the paper for Dee to solve, signifying that whatever Mann meant by "the end of the goddamn world," it's coming for her. Suddenly there are reports of multiple explosions going off across the city, mass casualties. She has no choice but to transmit her pirate radio broadcast from her roof without a code, reading off a string of "zero's" in place, but it's too late, there are already men arriving, coming for her. She readies her gun. After a fight, Dee is violently subdued and her gun taken, but in a final fit of surfacing-trauma she is able to flail about, kicking her revolver off the roof of the building and into the alley below, where it is later found by Emma Rose, drawing her in to the same web of danger Dee's in.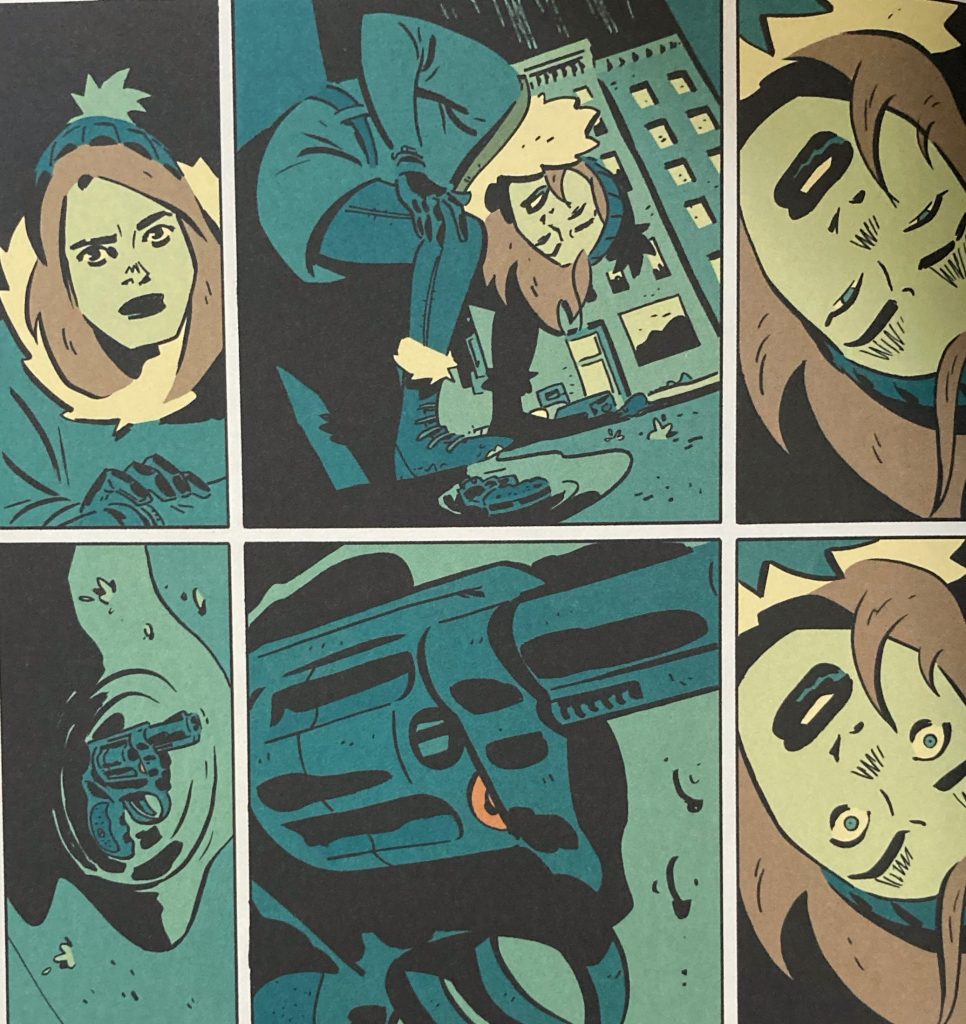 Emma Rose's chapters also jump between the present and a character-defining moment in her childhood wherein she ties several strings to a kite which allows it to fly further and further into the upper atmospheres, before her father clumsily causes her to let go of it. In that kite, Emma sees the ability to create distance from her life, the hope of escapism from an oppressive norm, and embeds this notion deep in her heart. When later she finds herself, tied up in the trunk of a car next to a fresh corpse, her panic is interrupted by panels of the bright, blue, empty sky of her childhood – a meditation which allows her to achieve the calm and summon dexterity she needs in that dire moment to begin loosening her bonds. Emma's story is colored in sickly greenish-blues and 'street-light yellows', even her skin seems affected by it, illustrating how thoroughly Emma Rose is lost amidst a city that she is ill at ease with. She hates this place, but circumstance keeps her pinned in the city. Panels which flashback to Emma' past are bright blue, a hopeful, unoppressive contrast to her present state.
"Kay" Kowalski's story is certainly more complex, as her history reveals she is a former well-intentioned police officer who became corrupted by the ring of cops including Mann and Ward, early in her career, skimming evidence from police-guarded facilities and selling it to shady people. But when stolen evidence is found on a few dead cops Kowalski gets spooked and, unable to cope with the lines she and her cop-friends are crossing, she pulls her gun on her former partner, effectively ending her career as a uniformed police officer. Kay becomes an emergency 9-11 dispatcher, and because of the explosions across the city she is working a triple-shift, placing her on the line when Emma Rose calls with the location of a loaded weapon in a puddle. Relaying the location of the gun to officer Ward, he snaps back in anger at her, and in that moment the realization dawns on her that Ward, and the others, are probably involved with the chaos going down in the city. She needs to follow her suspicions, and knowing the danger it places her in, she immediately sets out to find a gun to protect herself.
A variety of dead-leaf yellows, tans, and sepias are especially prevalent in Kowalski's life and background. Yellow colors her suspicions, while the other muted colors express the internal sense of dread and ambiguity she lives with. When she sets out to the location Emma reported the gun, the apartment where Dee lived, Kay encounters police investigating the damage from a fire on the rooftop where Dee broadcasted from. Kay is really the only one with a clue of what's going on, so responsibility and a desire for redemption make it impossible for her to turn away. She knows a confrontation with the responsible officers is inevitable.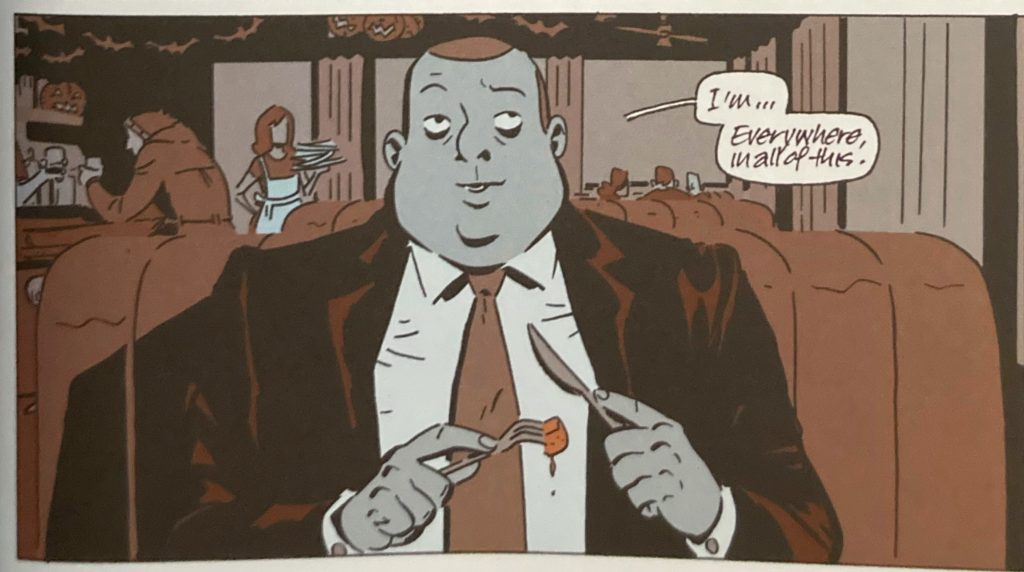 The other officers, including Mister Mann and Ken Ward, are often tinted in multiple hues of grey and blue, some bright, some muted, sharing a color palette with the city. None of the men in "November" are good guys, they all have elements of shade and the city-itself becomes a playground of masculine violence. Mann's history shows how easily he was corrupted, placing him in the middle of the violence, but it doesn't deprive him of humanity either.
Fraction doesn't minimize police officers to just their jobs. Rather, his writing highlights their human aspects and relationships, while deftly steering clear of glorifying them. Bad cops can only cross so many lines, legally speaking, before they start crossing one another. At the heart of most noir crime and hard-boiled fiction is the social consensus that the work of law enforcement is inescapably corrupt. In noir fiction, the main characters tend to be victims, witnesses, and bystanders of violence. The police can't be trusted, and so characters struggle to escape or survive some layered plot, whereas in hard-boiled fiction a cop or detective struggles against the inherent vices of their own environments. Hard-boiled detectives have seen the abundant corruption and it turned them into salty humans in trenchcoats. Fraction blends both genres with complex shades of humanity, giving even police officers due nuance that, while not all cops are bastards – as illustrated by Kowalski's redemptive storyline – the ONLY good cop is one that will put their life on the line to stop other cops from hurting innocent people.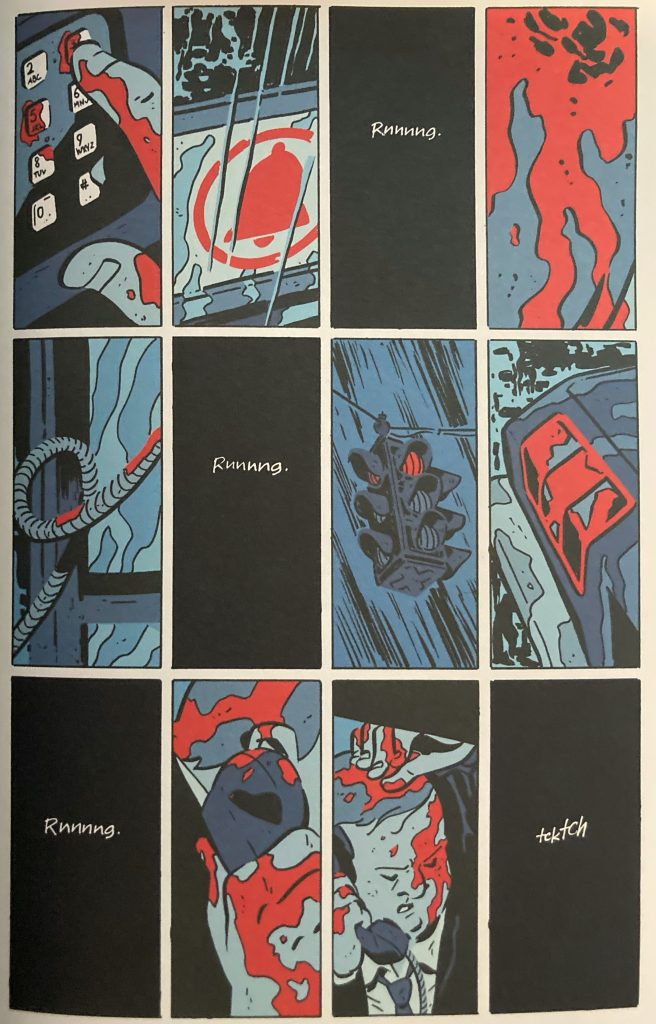 Even side characters get beautiful moments, such as an exotic dancer from volume one who assures Dee "of course you know my name. It's dancer, baby," and later, in volume four, the same woman tells Dee "you don't even know my name" to which Dee replies "of course I do, it's dancer." This isn't the answer the dancer is looking for when she's defending that she is more than what she does, but Dee can't win no matter what she says. It's a classically noir moment: a sex-working dame romantically disappoints the protagonist, forever alone. It's Zootown, baby.
While it required multiple read-thrus to catch all the connecting clues in the web, I couldn't stop trying to fit the pieces together and admiring the joint effort it took to finely craft a story so richly as this. It felt good to hold in my hands and comb over slowly, again and again. "November" is a testament to the Beatles-level harmonizing between the respective talents of Fraction, Charretier, Hollingsworth, and Ankeny. Editing and layout design are flawless – I especially love the vivid, matte ink printed on high-quality raw paper sooo much, the inks don't reflect glare from the light you're reading by, so shadows remain deep and true. It's a quality you can smell and it does go far to justify the eyebrow-raising cover price of $16.99 per book, or $67.96 for the set. This is a dream team of creators carefully crafting a beautifully layered story, with many surprises for readers to find, it'll be enjoyed and studied for several Novembers to come.
"November" by Matt Fraction, Elsa Charretier, Matt Hollingsworth, and Kurt Ankeny; published by Image Comics 2019, 2020, and 2021 is available now: