Summer's here and for the younger crowd, it probably means some long, lazy days of endless relaxation. And as much as it's an "enjoy it while you can" scenario, there's probably also a school summer reading list in the offing as well. Yes, it can be an uphill struggle at times to turn the next generation into avid, self-motivated readers but it doesn't necessarily have to be a chore.
Enter the comic book. As a storytelling device presented in a graphic format, comics are actually being looked upon more and more as an important literary gateway (as well they should). While smaller and independent presses seem to lean more into material that gets the critical accolades (looking in your direction, Top Shelf Productions…), Marvel just seems to dial straight into the easy-breezy smiles and laughs because, well, we all need a "brain break" sometimes.
Let's take a look now at some great examples from the House of Ideas that are fun for the whole family!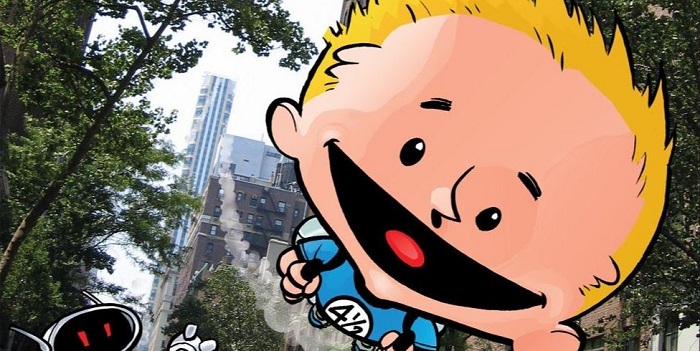 He's recently grown up a bit since the return of the Fantastic Four but for about forty years, Marvel gets seemingly endless mileage out of keeping the son of Reed and Sue Richards at some ambiguous age somewhere between toddlerhood and early elementary school. In fact, Franklin may very well be the character embodiment reasoning for Marvel's sliding timescale.
Very much in keeping with the spirit of comics for the sake of pure fun is a series of one-shot specials running from 2005 to 2009 by Chris Eliopoulos and Marc Sumerak, playfully saluting the world of the little kid. Imagine an approach not all dissimilar to syndicated newspaper funnies (think: huuuuge Calvin and Hobbes and Peanuts influences) applied to strictly non-canon Marvel settings that exist solely for the punchline in easy-to-digest five page stories. It's essentially Saturday morning cartoons on the static page that wears its heart so unabashedly on its sleeve, it's not even funny (this would be the only non-humorous aspect, mind you…).
Support For Comic Book Herald:
Comic Book Herald is reader-supported. When you buy through links on our site, we may earn a qualifying affiliate commission.
Comic Book Herald's reading orders and guides are also made possible by reader support on Patreon, and generous reader donations.
Any size contribution will help keep CBH alive and full of new comics guides and content. Support CBH on Patreon for exclusive rewards, or Donate here! Thank you for reading!
Early releases include titles such as Franklin Richards: Son of a Genius and Franklin Richards: Everybody Loves Franklin before transitioning into more concisely-based, holiday and/or calendar-specific volumes (Happy Franksgiving!, March Madness, Fall Football Fiasco, etc.). In 2018, Franklin Richards: A Fantastic Year
is released, serving as something of a "greatest hits" compilation and refresher of the previous material.
Want all the easy-to-identify nods to classic Avengers continuity done up in an all-new, plug-and-play-friendly universe but don't want all the sturm und drang real world heaviness of the Ultimates
, you say? Want to turn a young reader onto the thrill of superhero team books but don't want to explain literal decades-worth of continuity? Look no further than this gem!
Running for thirty-nine issues between 2006 and 2009, it's impressive to see how much this G-rated entry unknowingly gets ahead of the curve of the greater Avengers franchise- from the MCU to the prime comic universe.
In its day, sure, the big shake-up is seeing Bendis-era New Avengers Wolverine and Spider-Man juxtaposed against a more "old school" Avengers context, but that is something that comes to pass during the whole "Heroic Age" in the mainstream titles.
Storm- always thought to be an X-Men mainstay- is an Avenger in this universe? Okay. Cool. It's also something that happens in the "stories that count" later on.
And the Hulk is back as a regular member?!? At a time when he was busy getting blasted into outer space by Tony Stark and company (Planet Hulk
), there he is playing nice with everyone in the little kids' comics! Hmmm, maybe we can take a lesson from this? Oh wait, it seems Marvel Studios could have been paying attention because for some reason, the idea of Bruce Banner standing amongst Earth's Mightiest once again suddenly isn't as wacky as it was maybe ten or fifteen years ago.
There's no shortage of name talent on this title, either. Interior artistic contributions feature Manuel Garcia, Matteo Lolli and CAFU along with a smattering of covers by Leonard Kirk. The writing roster boasts stints from Paul Tobin, Ty Templeton and Marc Sumerak. However, anchoring a large portion is Jeff Parker of Agents of Atlas and Thunderbolts/ Dark Avengers fame, wielding a genuine gift to engage across the ages. It's an approach that will again serve him well on DC's Hanna Barbera mash-up title Future Quest.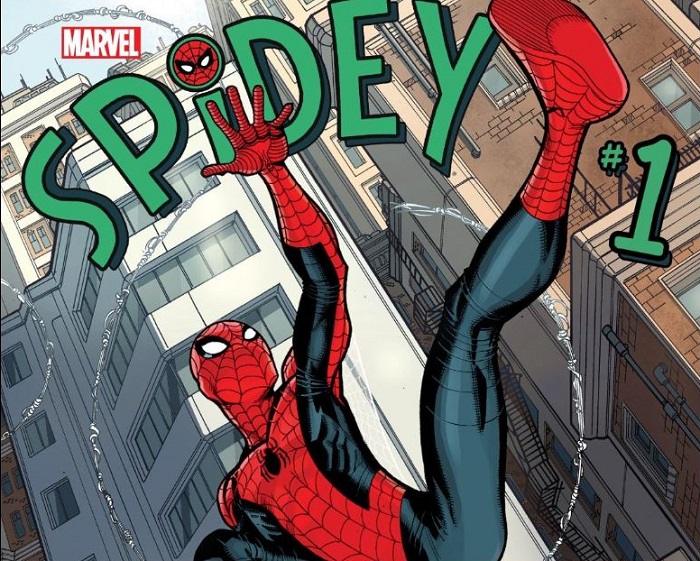 It's pretty common knowledge that Spider-Man is widely considered the true everyman of the Marvel Universe. Despite an amazingly fantastical origin story, there is something downright inherently relatable to the story of Peter Parker.
More to the point, the coming of age aspect of the tale is something of an eternal wellspring, despite original creators Stan Lee and Steve Ditko aging Peter out of high school a mere two years and change into his publication history. And yet it's something that fans and creators alike simply cannot get enough of.
Indeed, from cinematic adaptations to an out-of-the-park inspirational "what if" like Miles Morales, it will be evergreen material for as long as there will be young people in the world. While comics have re-examined this specific era multiple times, few have done so with the easy accessibility of Robbie Thompson and company's 2015 Spidey series.
At first, it seems to just play like an updated adaptation of the classic 1960s stories with events and encounters occurring in near-parallel with historic continuity before veering into something a little more reminiscent of the MCU, with the interjection of both Iron Man and Black Panther.
Leaning further into this flavor, a six-issue follow up by John Barber and Todd Nauck is released in 2018. Entitled Spidey: School's Out
, the impetus is essentially the "Stark internship as comic"- featuring everyone's favorite "Guy In The Chair", Ganke Lee!
An updated take on one of Jack Kirby's wackier 1970s concepts, Moon Girl and Devil Dinosaur has already tapped into quite a fanbase with younger readers- something of a surprise hit on the in-school book fair market. This is as positive as it is unexpected for a comic concept that hasn't even been in existence for a full four years yet!
However, in a landscape overrun with big capes and shiny armor, it's refreshing that the fundamental formula of "little girl genius plus giant fiery red tyrannosaurus rex" still equals "shut up and take my (parents') money!"
Indeed, MG & DD not only has the distinction of being the first in-continuity entry on this list, it also currently holds rank as Marvel's longest-running title without a reboot to date (*prophetically waits for announcement…*).
Furthermore, for the time in which Marvel wasn't publishing actual Fantastic Four comics, it also becomes the bastion for that particular spark of all-ages mirth- going so far as to feature the Human Torch and the ever-lovin' blue-eyed Thing at one point in a team-up (Moon Girl and Devil Dinosaur Vol. 5: Fantastic Three
). It's a nod that's also been reciprocated on Dan Slott's most recent volume of Fantastic Four, with Lunella and Devil officially joining forces with Franklin and Valeria Richards as a rather impressive "kids' table" F4.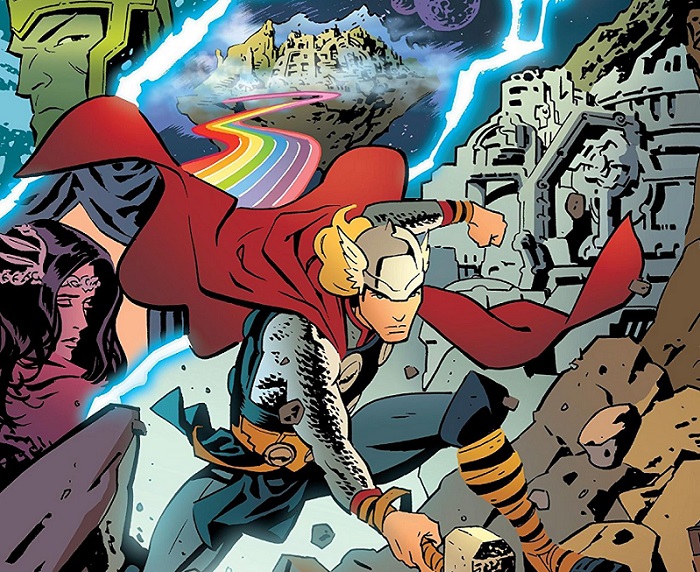 Much like the aforementioned Spidey franchise, this offering is also very much a clean "get in, get out" survey offering of a classic Marvel property loaded with tons of history. However, it differs greatly in that 2010's Thor: The Mighty Avenger actually predates a large portion of the MCU!
In eight issues, writer Roger Langridge and artist Chris Samnee capture all the magic and spirit of classic Marvel Asgard perfectly at a time when mainstream Thor comics appear to be caught up in damage control and/or servicing some larger plotline. Looking back, if one were to point a newcomer coming out of the first Thor movie (arguably the most impenetrable of all of the Phase One properties) in the direction of a then-current Thor comic, this would be the one!
This entry is also noteworthy for Samnee's textbook execution of sequential art landing him on the Marvel radar for some time- his flair for fluid, storyboard-esque motion yielding further acclaim on titles such as Daredevil, Black Widow and Captain America.
Easily the most "adult" entry on this list but it's certainly not due to any "suggestible content" connotations. It's more that this title is consistently one of Marvel's smartest offerings on a monthly basis and considering its packaging, it's easily the gateway for young adults to metaphorically elbow their way into the grown-ups' table…
Doreen Green is a second year computer science student at Peter Parker's old Alma Mater, Empire State University. Very much in keeping with the Spider-Man trope, Doreen is also the Unbeatable Squirrel Girl– eater of nuts and kicker of butts! (They also have a mutual co-creator: Steve Ditko…)
Writer Ryan North is also known for his abstractly sharp wit in the syndicated Dinosaur Comics and it's this very unconventionalism that has served him well on this title for four-and-a-half years and fifty-something issues- offering humor that always punches up and inventive solutions to problem-solving. There's even an issue where Doreen utilizes binary computer language (ones and zeroes) to defeat villains! (Found in The Unbeatable Squirrel Girl Vol. 4: I Kissed A Squirrel And I Liked It)
Never forget: you are always learning something.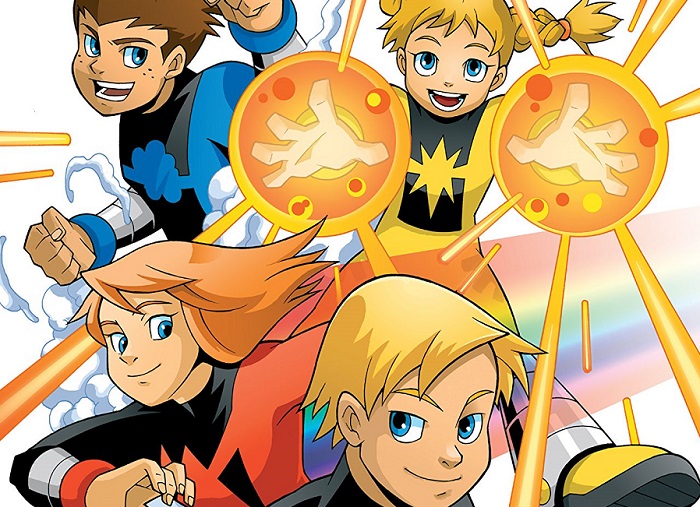 While the Power kids have been Marvel fixtures waxing and waning since their 1980s heyday, they also found something of a second life in a 2005 reboot series (Power Pack: Pack Attack!). Spinning the concept of granting a group of siblings superpowers through alien costumes into their own separate continuity, it radically frees up the franchise from a lot of real world heaviness that strangely always hung over the mainstream title.
Contemporary of the Franklin Richards releases, the four issue mini-series is also the brainchild of writer Marc Sumerak. However, joining him on this project is the arthouse of Gurihiru- bringing along an innately bubbly and appealing manga influence.
This "Saturday Morning" refresh proves so popular that a literal universe builds from it and for the next five years, a series of team-up releases appears like clockwork. Sumerak and Gurihuru helm many of them (X-Men and Power Pack, Avengers and Power Pack Assemble!, Spider-Man and Power Pack) before handing the reins off to others (Fred van Lente, Paul Tobin, Chris Giarrusso, et al).
Most recently, Marvel has announced as part of their 80th Anniversary celebration, there will be a new Power Pack one-shot. While set in prime continuity, it sees original series creators Louise Simonson and June Brigman back at it and recapturing the old feels. The most noteworthy part is that Simonson will also be writing a back-up feature with art by Gurihuru, thus bringing it all full circle! Does this mean time is right for another volume? Guess if we want to find out, we'll all just have to keep reading…