Hawkeye, the resourceful sharpshooting marksman of the Avengers, has always stood out amongst the other members of the team's core roster, mainly due to his particular skill set and its lack of a real "wow" factor. Because of this, Hawkeye's history has been a bit of a mixed bag, causing him to be a fan favorite that doesn't sell well—an interesting conundrum. When compared to the other world-shattering powers/capabilities of his superhero teammates and counterparts, it's hard to define the precise role that Hawkeye appears to serve in the heat of battle, and hard to ignore how damaging that has been to the perception of the character.
In addition to his time as an Avenger, Clint was also a member (and frequently a leader) of other superhero teams such as the West Coast Avengers, the Secret Avengers, and the Thunderbolts, just to name a few. With that being said, since his debut into the Marvel Comics foray, Hawkeye has been given a number of solo series, each tasked with creating a persona for Hawkeye outside of the Earth's Mightiest Heroes. Luckily, there exists a handful of storylines that do our bowman justice, and around the mid-2000s readers were treated with a revamping of sorts that reinvigorated Hawkeye's lore/mythos and finally carved out a lane for him to no longer lurk in the shadows of Steve Rogers and Tony Stark. With the mononymous MCU show coming to Disney+ soon, it would make sense to discuss the most incredible storylines that the mantle has had so far. So, let's look at the five best Hawkeye storylines from the character's entire existence.
Related: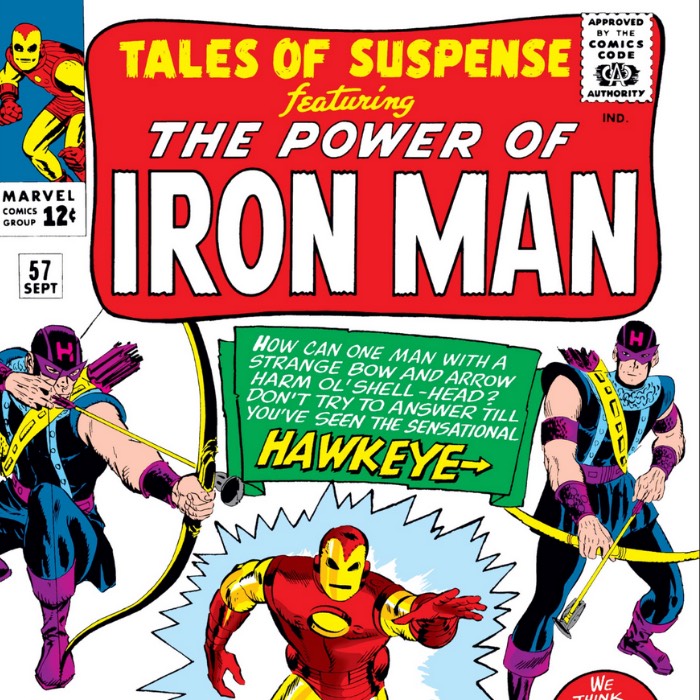 Taking us back to where it all started, Tales Suspense issue #57 is the debut of everyone's favorite cocky carny marksman. After being shown up by Iron Man as he saves the day at Coney Island during his bull's-eye performance, Hawkeye vows to exact his revenge on the Armored Avenger and show the world that he's worthy of similar praise and public admiration.
Support For Comic Book Herald:
Comic Book Herald is reader-supported. When you buy through links on our site, we may earn a qualifying affiliate commission.
Comic Book Herald's reading orders and guides are also made possible by reader support on Patreon, and generous reader donations.
Any size contribution will help keep CBH alive and full of new comics guides and content. Support CBH on Patreon for exclusive rewards, or Donate here! Thank you for reading!
Clint creates a costume of his own, calling himself Hawkeye, and begins his journey as a superhero. Hawkeye manages to stop a petty thief from fleeing with a gaggle of jewels during his first attempt at superherodom, but as he's collecting the evidence, a few police officers mistake Clint for working alongside the thief and order his arrest. Hawkeye makes a run for it and is almost run over by a woman in a car who, curiously, also wants to take down Iron Man. Hawkeye is smitten by this woman known as Natasha Romanoff and vows to do anything for her, including killing Iron Man.
This story is significant for two reasons: it's written by the incomparable Stan Lee (Excelsior!). Second, it was the beginning of Hawkeye's insecure, ego-driven depiction that would haunt his character for years to come.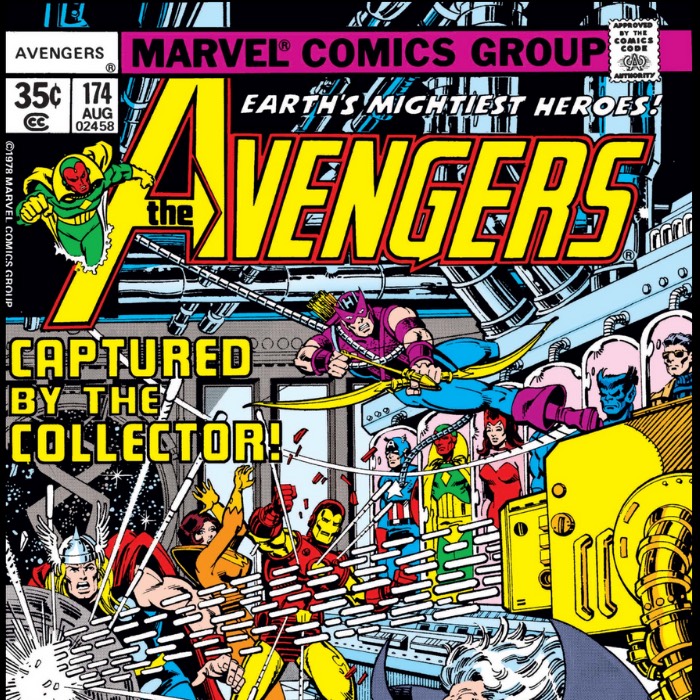 One of the best showings of Hawkeye's craftiness and determination came about as he dueled with one of the Elders of the Universe, the Collector, in Avengers #174 by Jim Shooter, Bill Mantlo, David Wendell, Pablo Marcos, Phil Rachelson, Shelly Leferman, Roger Stern, and Jim Sailcrup. After a number of past and current Avengers members are captured by the Collector, Iron Man, Thor, the Wasp, and Hawkeye arrive to do battle with the villain and free their comrades. Unfortunately, the Collector proves to be a formidable foe, Hawkeye is left as the last Avenger standing, and his team's fate depends on his performance. Making use of everything in his arsenal and the Collector's, however, Clint is able to defeat their galactic enemy and free his teammates.
In joining the Avengers, Hawkeye had always been one of the most underutilized pieces of the team, but this particular issue demonstrates why the famed marksman was offered an Avengers membership to begin with.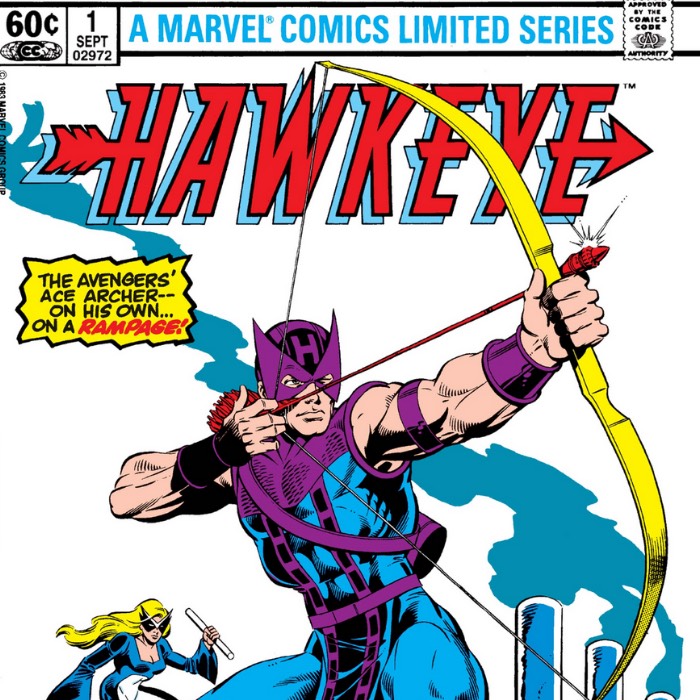 After proving to be a fan-favorite on the pages of the Avengers, Clint Barton was removed from the team and thrown into his first solo series. Hawkeye Vol. 1 by Mark Gruenwald, Danny Bulanadi, Ian Akin, Brian Garvey, Eliot R. Brown, Bob Sharen, Joe Rosen, Dennis O'Neil, and Bob Layton is a miniseries that sees Clint embarking on a solo adventure to prove that he doesn't need a team to be considered an effective superhero. Working as a security chief for CTE (Cross Technologies Enterprises), Clint's hopeless romanticism is used against him as Sheila, a woman whom he thought was interested in him, turns out to be working for Crossfire, who is working on another version of his brainwash device to turn superheroes against each other. Teaming up with Mockingbird, Hawkeye sets out to stop Sheila, Crossfire, and the nefarious workings of CTE.
A superhero romp in the same lighthearted Stan Lee-esque vein that elevated the character from petty villain to reformed hero in his early days, this story also establishes Hawkeye as a hero capable of carrying a book all on his own. In addition, Hawkeye Vol. 1 also helped set the beginning stages of Hawkeye's romance with Bobbi Morse, aka Mockingbird, as we get a good amount of backstory on her origins as well. Last but not least, this miniseries is significant for the beginnings of Hawkeye's going deaf as well.
This run would arguably serve as the de facto Hawkeye story for decades until Matt Fraction took up the reins in 2012…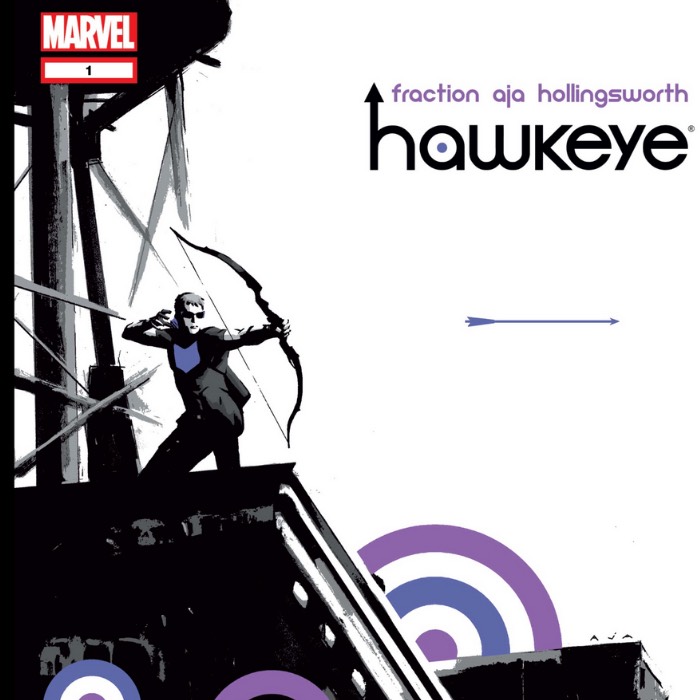 Remember when I mentioned that Vol. 1 was considered the best Hawkeye solo story until Matt Fraction came about? Well, here it is. Fresh on the heels of the landmark MCU movie The Avengers (2012), we received this little piece of work. Often considered to be the greatest Hawkeye story ever told, Hawkeye Vol. 4 by Matt Fraction and David Aja offers readers the most grounded view of Barton that the Marvel Comics pantheon has ever seen. Beginning in a shoddy New York City apartment and continuing throughout the ordinary and mundane happenings of Barton, we're introduced to an intimate viewing of what Hawkeye does "when he's not an Avenger." We even get new Hawkeye mythos such as the Tracksuit Mafia, Boomerang Arrows, Kate Bishop as a fellow Hawkeye
, and the crowd favorite Pizza Dog! Towards the back end of the volume, we're even treated to a team-up featuring Clint and his brother, Barney.
It's a masterfully written work that captures the essence of what makes Hawkeye such an interesting character over his entire existence and resituates him in an environment that isn't threatened by planetary crisis or other masked crusaders. Hell, other than the trademark purple clothing he wears, he doesn't don a full-fledged costume once. So yeah, it's that grounded. So please do yourself a favor and just read the entire run. You won't be disappointed.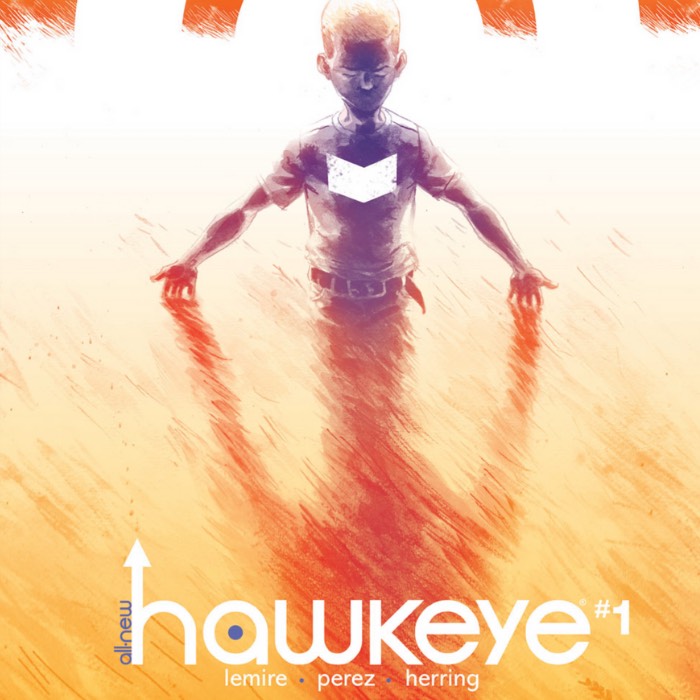 Using Hawkeye Vol. 4 as the jumping-off point, Jeff Lemire, Ramon Perez, Ian Herring, Joe Sabino, and Sana Amanat continue the deep dive into the everyday life of both Barton and Bishop in this series. This time, Kate Bishop is given more screen time as both the past and present (and even future) history of the Hawkeye mantle is placed under a microscope.
The story is mainly centered around a disturbing, Hydra-related secret experiment called Project Communion that has chilling implications. Hot on the trail of the experiment is Team Hawkeye as they attempt to uncover the meaning behind this shadowy operation. During the past segments of the book, we're allowed to find out more about Barton's childhood which leads to several revelations, one being that Hawkeye and his brother Barney were physically abused by their father (and step-father) as a child. We also get a glimpse into why Kate chose Hawkeye as the hero she wanted to model herself after through her recollection of the past. It's a thrilling story that effortlessly blends the history of the Hawkeye mantle into one rather enjoyable read.