Batwoman is one of DC Comic's best character creations of the 2000's, although oddly the mantle of "Batwoman" dates all the way back to the 1950's!
I won't get too deep into the original Batwoman here, other than to clarify this is a guide for the comics of Kate Kane, the Batwoman of the 2000's.
Kate first appears during DC's weekly 52 series, under the pen of writer Greg Rucka, heavily connected to the ongoing arc of the GCPD's Renee Montoya. Due to their romantic past, Kate and Renee's stories are intertwined from here forward, and bleed together into launches of the career's of both the new Batwoman and DC's new Question.
Below you'll find a complete guide to the now decade plus of modern Batwoman comics, from post Infinite Crisis through DC Rebirth. Batwoman has also had a strong presence in alternate reality / out of continuity titles like Injustice and DC Bombshells, so those selections are included at the bottom of the guide.
Related Reading Orders:
Support For Comic Book Herald:
Comic Book Herald is reader-supported. When you buy through links on our site, we may earn a qualifying affiliate commission.
Comic Book Herald's reading orders and guides are also made possible by reader support on Patreon, and generous reader donations.
Any size contribution will help keep CBH alive and full of new comics guides and content. Support CBH on Patreon for exclusive rewards, or Donate here! Thank you for reading!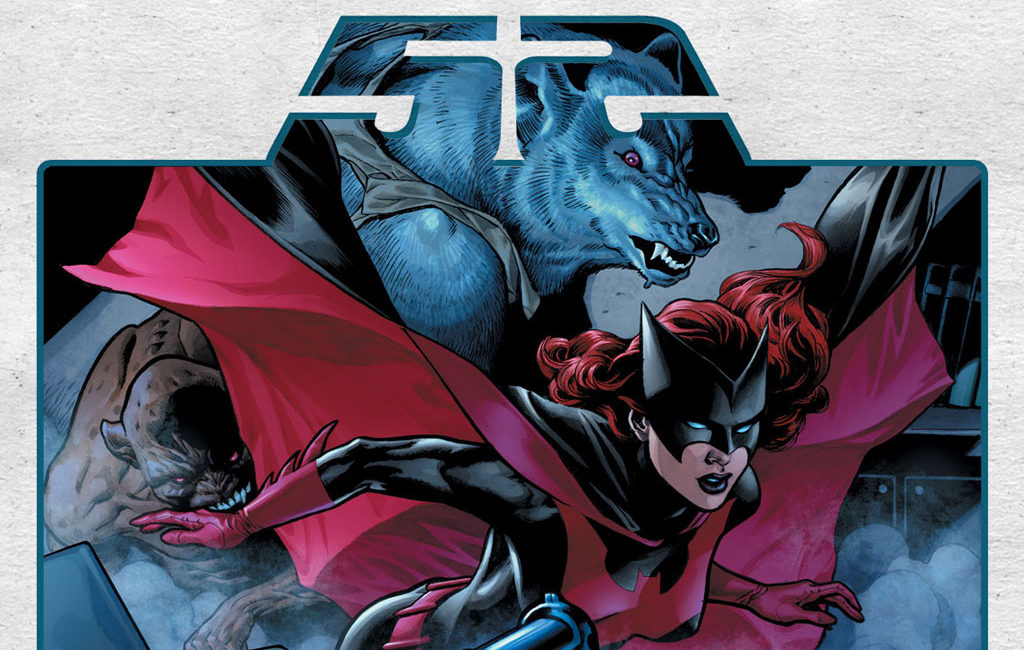 Batwoman Begins!
Collects: 52 #1 To #52
Kate Kane first appears in 52 issue #7, and becomes a recurring character in the ongoing weekly DC released after the events of Infinite Crisis.
The Question: Five Books of Blood 
Collects: Crime Bible: The Five Lessons Of Blood #1-5
While this is certainly focused on Renee Montoya's time as The Question, Kate has a minor supporting role given her relationship with Renee.
Collects: Batman: Battle For The Cowl #1-3
Far from required reading here, but this sets the stage for Batwoman's time leading Detective comics (up next)
Collects: Detective Comics #854-863
Justice League: Cry For Justice
Collects: Justice League: Cry For Justice #1 To #7
This is another tangential Batwoman appearance, but technically she engages with the Justice League during this arc.
Batman and Robin, Vol. 2: Batman vs. Robin
Collects: Batman And Robin #7-12
The "Blackest Knight" story arc finds Kate captured (again) and in apparent need of rescue by Dick Grayson and Knight and Squire.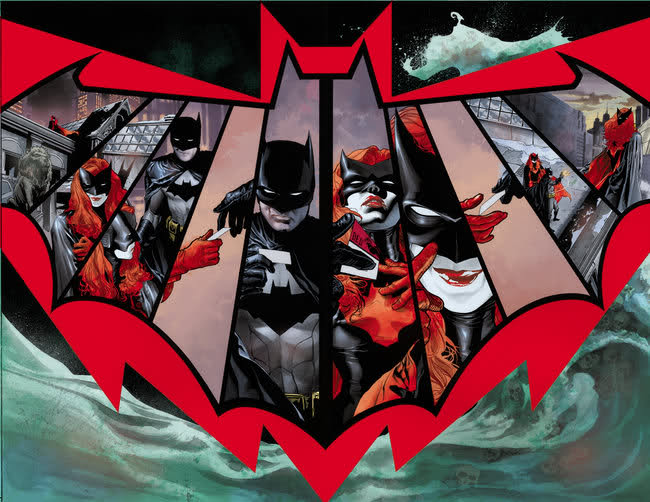 New 52 Batwoman
Collects: Batwoman #0 To #5
Batwoman Vol. 2: To Drown the World
Collects: Batwoman #6-11
Batwoman Vol. 3: World's Finest
Collects: Batwoman #12-17
Batwoman Vol. 4: This Blood is Thick
Collects: Batwoman #18-24
Collects: Batwoman Annual #1 And Batwoman #25-34
Batwoman (2011-2015) Vol. 6: The Unknowns
Collects: #35-40, Batwoman Annual #2, And Batwoman: Futures End #1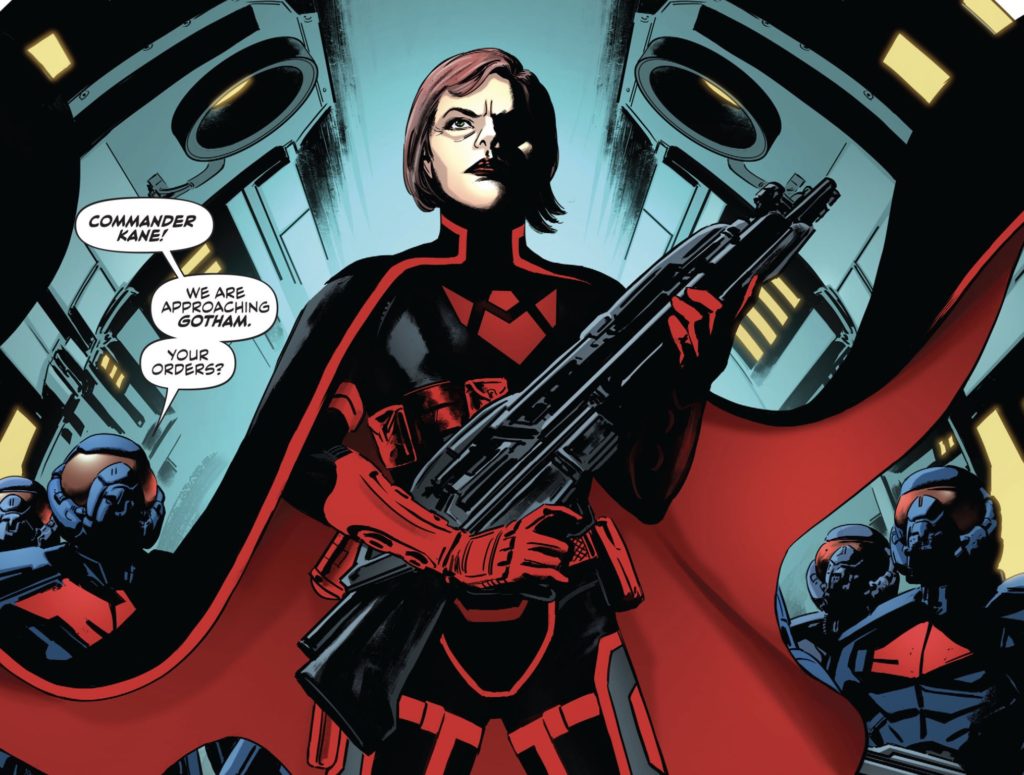 Batwoman in DC Rebirth
Batman: Detective Comics Vol. 1: Rise of the Batmen
Collects: Detective Comics #934-940
Batman: Night of the Monster Men 
Collects: Batman #7-8, Nightwing #5-6 And Detective Comics #941-942
Batman: Detective Comics Vol. 2
Collects: Detective Comics #943-949
Batwoman Vol. 1: The Many Arms of Death
Collects: Batwoman: Rebirth #1, Batwoman #1 To #6
Batman: Detective Comics Vol. 3: League of Shadows
Collects: Detective Comics #950-956
Batman: Detective Comics Vol. 4: Deus Ex Machina
Collects: Detective Comics #957-962
Collects: Batwoman #7-11
Batwoman Vol. 3: Fall of the House of Kane
Collects: Batwoman #12 to #18
Batman: Detective Comics Vol. 5: A Lonely Place of Living
Collects: Detective Comics #963-968 And Detective Comics Annual #1
Batman – Detective Comics Vol. 6: Fall of the Batmen
Collects:  Detective Comics #969-974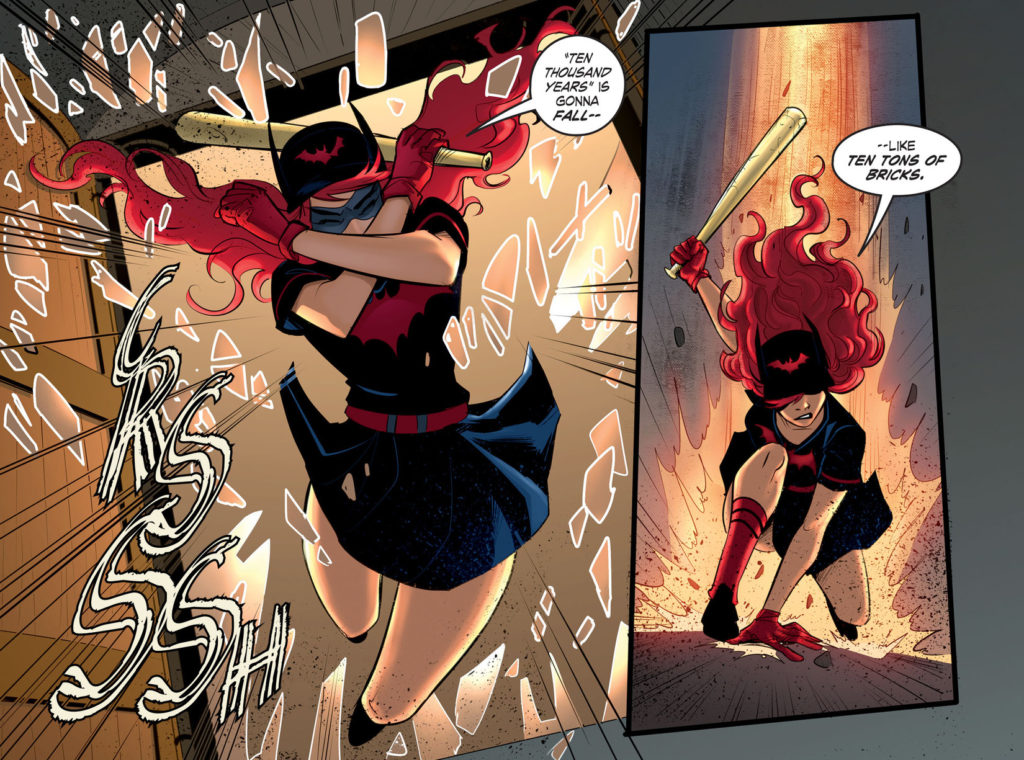 Alternate Reality Batwoman Stories
Injustice: Gods Among Us: Year One – The Complete Collection
Collects: Read It All
DC Comics: Bombshells Vol. 1: Enlisted
Collects: Dc Comics: Bombshells #1-6
DC Comics: Bombshells Vol. 2: Allies
Collects: #7-12
DC Comics: Bombshells Vol. 3: Uprising
Collects: #13-18
DC Comics: Bombshells Vol. 4: Queens
Collects: #19-24
DC Comics: Bombshells Vol. 5: The Death of Illusion
Collects: #26-29 And Dc Comics: Bombshells Annual #1
DC Comics: Bombshells Vol. 6: War Stories
Collects: Dc Comics: Bombshells #25 And #30-33
Bombshells: United Vol. 1: American Soil
Collects: Bombshells United #1-6
Bombshells United Vol. 2: War Bonds
Collects: Bombshells United #7-12