The White Knight
(2017) takes a look into the psyche of Batman and the Clown Prince of Crime, the Joker. This is perhaps one of the most outwardly progressive runs that has happened in the Gotham universe, though it is heavily flawed. While we get to take a closer look into the "bromance" between Joker and Batman, we also gain an introspective look into the social stratosphere of Gotham outside of the criminal activity that takes place. This is a socially relevant storyline and is just as complex as our world can be. One of the primary themes it tackles is mental health, its propensity of being criminalized – and who gets the privilege of escaping its punishments.
It's not a secret that Bruce Wayne has serious child trauma issues, but it has been a part of the discourse for a while now that his status as a privileged man in Gotham allows him to live out his revenge fantasies on so-called super villains. The White Knight shows us that the other side of the pasture is not as green as we'd like to see it.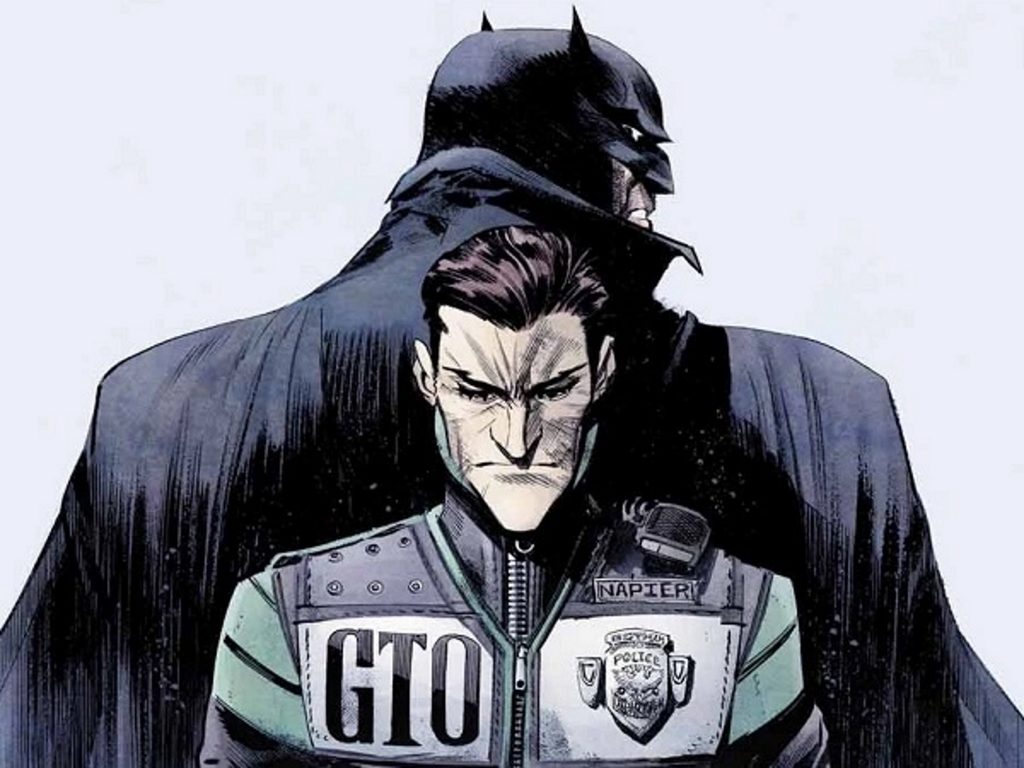 TWO SIDES OF THE SAME COIN
In issue one we see an encounter between the two enemies having their weekly dispute. Joker leads Batman (along with GCPD) to a factory. Joker laments that if it weren't for him, the Batman would have no true purpose. Batman rejects the notion, causing Joker to dramatically ingest hundreds of mystery pills. Batman then proceeds to beat Joker into a bloody pulp in front of the GCPD and his horrified teammates. Gordon is complicit in Batman's lawlessness because he allows it to happen. Though no one stops Batman, it is clear that he is crossing a line. In contrast to Joker's "madness," Batman is a manifestation of the same symptoms, only he is held to a high regard because of his allegiance with the GCPD. This brings another factor into this story – the complicity of police and assault that is done on their behalf.
While Joker is in the hospital, it becomes apparent that he is not the same. The pills that he had ingested seemed to have turned the "crazy" switch off. He insists that he be called by his original name, Jack Napier. He is clear, polite and an entirely different being. It could be safe to assume that the pills were an SSRI combination that toned down his mental illness. Despite this, his love affair with Batman still remains. It is not the typical, homicidal, devil may care love – but a new scheme to get closer to Batman. He decides to become a politician.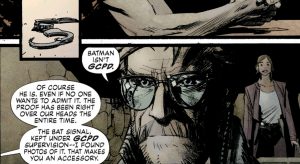 Joker doesn't have any superpowers but manages to reign as the super criminal of the city. He is known for his antics and they were the catalyst for his tumultuous relationship with Harleen Quinzel. Despite Harleen leaving him, he seemed to have bounced back quickly by finding a new impressionable blond with a death wish, Marian Drews. After he becomes "normal," New Harley becomes Neo Joker – a footprint that he wishes that he had never left behind. Still, her storyline is a bit of a mess and she is only there to add more drama.
Support For Comic Book Herald:
Comic Book Herald is reader-supported. When you buy through links on our site, we may earn a qualifying affiliate commission.
Comic Book Herald's reading orders and guides are also made possible by reader support on Patreon, and generous reader donations.
Any size contribution will help keep CBH alive and full of new comics guides and content. Support CBH on Patreon for exclusive rewards, or Donate here! Thank you for reading!
So if the cause of drama in Gotham is consistently aided by the love-hate relationship of the Batman and Joker, it makes sense that the two should be dealt with accordingly, right? Well, in an act that is regarded as political fodder, the further marginalized are used as political bait in order to further the Joker's agenda.
A JOKER REFORMED
Instead of eradicating the cops, Joker becomes a part of the problem but from an acceptable sphere. He suggests that Batman should be a part of the police department instead of fighting on the sidelines. In this scenario, a group of supercops would be the answer to the problem of regulating police brutality, which doesn't make a lot of sense.
The language in the series mimics those of our current headlines. Terms like "SJW" and "police brutality" are mentioned again and again. With the Black Lives Matter movement gaining steam and the issue of racial justice at a boiling point, it is interesting to see these same scenarios within our favorite corrupt city.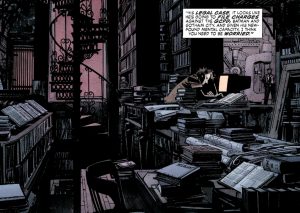 The issue lies within Batman's destructive crusades and the age-old tale of 'the rich get richer as the poor suffer more." We are given a backdrop that is complex but sometimes confusing. Given the fact that the GCPD was not held accountable for its destruction of Backport (a predominately Black, poor borough in Gotham City), to suggest that the answer to this problem would include pulling Batman into the loop is foolhardy. Also, Jack reveals that the city has a separate slush fund used to 'reconstruct' neighborhoods – though it is a gateway for gentrification. Bruce funds the police department but is somehow blissfully unaware that real estate agents prey upon the newly revamped areas and make profit, ultimately removing the former inhabitants of their neighborhood.
THE DIFFICULT QUESTIONS
If the cops can not be trusted to hold Batman accountable, then who will? Due to his criminal activity, Jack realizes that he has to do a bit of law breaking himself in order to expose the double standards the GCPD projects. He even goes as far as stepping into Backport, a feat that shows Joker as an 'acceptable' part of the revolution in Gotham. Backport is your typical disenfranchised neighborhood that is mocked by the elite (a real estate agent flippantly refers to it as BLACKport). It is also the neighborhood where Batman leads many of his battles, affecting people who already were pigeonholed into poverty due to their class and race. Jack takes advantage of this fact and goes as far as a photo opportunity with Black children to prove his 'allyship.' He links with community leaders in order to achieve his goal of ridding Gotham of his arch nemesis.
The leader of the "revolution" in Backport is a Black man named Lt. Duke Thomas, an ex-military, ex-cop community leader who succeeded in arranging peace between Backport's street gangs. He left the GCPD when he was thrown out for calling out their misdeeds. Duke is apprehensive when Jack and Harleen appear in Backport in order to make nice. They are accosted by local hooligans and Duke intervenes in order to keep the peace. While Duke's efforts are admirable, when he is asked to join a 'supercop' brigade in order to keep Batman and the city in line, the reader has to ask themselves – is it really about having a seat at the table or justice for those who are abused and used by the system's pawns?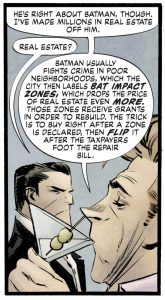 Can white supremacy and blatant disregard for the poor and marginalized be related to mental illness? It's no secret that when white men are held accountable for their misdeeds, they are quickly forgiven by proxy of questions around their mental health. If Batman can not be held accountable – when he is not mentally stable enough to carry out his missions – will he be given the same treatment as those with PTSD or any other type of condition that break the law? Since he is a vigilante, it would appear that he is certainly above the law and with his privileged life as Bruce Wayne, he most certainly would never have to suffer the consequences of his actions. The story is predominately about this.
WHITE KNIGHTS
Jack Napier was an average guy who moved to Gotham from a small, rural town. He attempted to garner celebrity by way of being a comedian but he failed. Since he was a failure he lashed out against a city that didn't owe him a thing. While his failure at being a comedian may have been attributed to his outlandish behavior, his moral compass was Harleen, who suffered the traumas of his ego.
In the end, it is still Harleen who has his back and supports him as if nothing had ever gotten in the way. This is still a dangerous precedent that my beloved Harleen has to deal with, but it is a major portion of their relationship story. Harleen created the pill combination in order to turn Joker back into Jack – the person she always craved to have when she fell in love with him at Arkham. Instead of going to therapy in order to solve his shortcomings, he decided to terrorize an entire city. In contrast with Batman, whose traumatic memory of his parents clearly should have driven him to therapy as well. The two men use Harleen as their own personal psychiatrist, as she literally gives them both life advice about how to co-exist in Gotham. Even though Jack cannot sustain his "normal" self, it's clear that Jack and the Joker are the same person – it's his obsession with Batman and the denial of any reciprocation that drives him.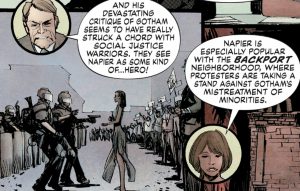 If marginalized people are more susceptible to mental illness and lack of treatment, can it be said that they are not inherently criminal, but have fallen victim to society's inability to provide proper care and support? If every person in Gotham had the means to live comfortably, would they cease to have Jokers, Neo Jokers, Mad Hatters, and the like? Or does Gotham need to have their super police group to keep everyone in check?
There are no definitive answers given by this series. What is known is that if Harleen hadn't developed those pills, Batman and the Joker would not have realized that they are the same side of the same coin. The only difference is that one has the financial privilege to evade society's hammer – while the other is slapped on the wrist from time to time. The same cannot be said for the inhabitants of Backport nor Harleen, who is still bound to the Joker in some crude way or another. The White Knight, intentionally or not, makes the case that, if you are born with the right set of cards – accountability will appear only when and if you can't afford to have it staved away.