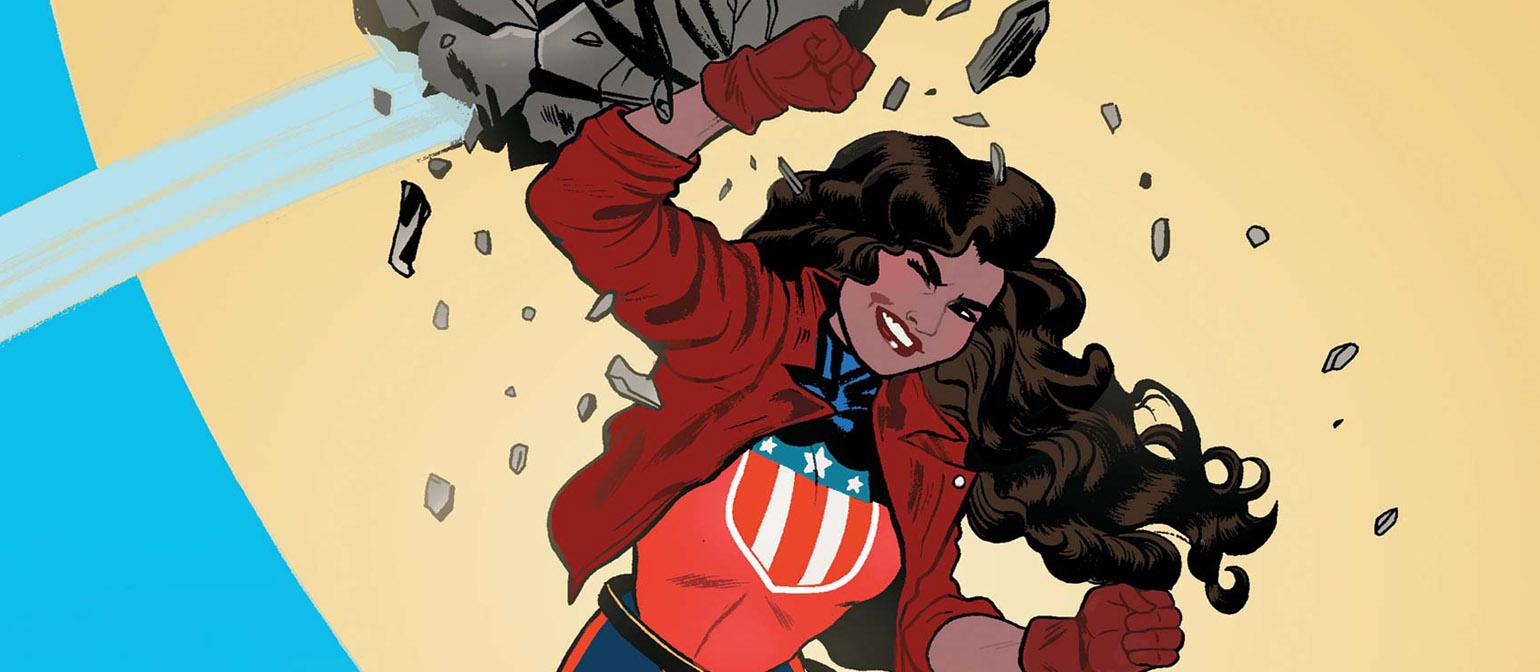 It's always exciting to see Marvel try to embrace new non-legacy characters (yes, there was a Miss America in the 40s, but the two characters have nothing in common outside of the name). It's even more exciting when those characters bring new representation to the Marvel universe, as the House of Ideas is in desperate need of more queer and non-white characters. This all makes America Chavez, Marvel's first LGBTQIA+ Latine character to ever get her own ongoing series, one of the most interesting new characters to have come out (no pun intended) of Marvel Comics in recent years.
From dimension-hopping teen hero to Avenger and Ultimate, Ms. America has quickly become a mainstay in the Marvel universe; soon both on the page and on the big screen, with Xochitl Gomez set to play the character in Doctor Strange in the Multiverse of Madness.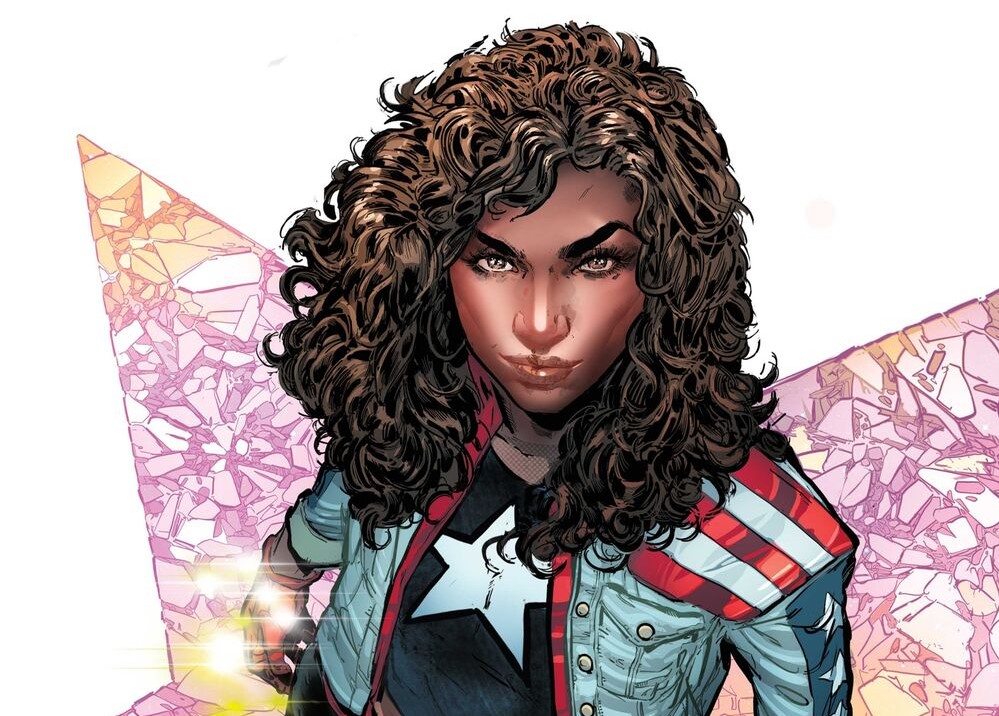 The Star-Spangled Teenager
Collects: Vengeance #1-6
Ms. America was first introduced as a member of the Teen Brigade in 2011 in Joe Casey and Nick Dragotta's Vengeance. She co-leads the Brigade alongside the Ultimate Nullifier, and together, the teenage superhero team fights various Marvel supervillains such as the Young Masters of Evil. America also meets her future fellow Young Avenger Kid Loki for the first time, as the trickster god causes her to have to fight the magician Tiboro in the Sixth Dimension.
Support For Comic Book Herald:
Comic Book Herald is reader-supported. When you buy through links on our site, we may earn a qualifying affiliate commission.
Comic Book Herald's reading orders and guides are also made possible by reader support on Patreon, and generous reader donations.
Any size contribution will help keep CBH alive and full of new comics guides and content. Support CBH on Patreon for exclusive rewards, or Donate here! Thank you for reading!
Young Avengers by Gillen and McKelvie: The Complete Collection
Collects: Young Avengers (2013) #1-15, Marvel NOW! Point One #1
As America Chavez joins the Young Avengers, writer Kieron Gillen creates her backstory of having been raised by her two moms in a dimension called the Utopian Parallel. The Utopian Parallel was created by the Demiurge, aka a future version of Wiccan, whom she joined the team to protect. Her powers allowed the team to travel the multiverse, fighting off Mother's forces across multiple dimensions.
Collects: Siege (2015) v#1-4
For the full event, check out Secret Wars
The Marvel universe is gone, and all that's left is Battleworld. After breaking the law of Doom in A-Force #1, America is sentenced to spend the rest of her life at the Shield, the border protecting Battleworld from its most dangerous domains.
Ultimates by Al Ewing: The Complete Collection
Collects: Ultimates (2015) #1-12, Ultimates 2 (2016) #1-9 and #100, Avengers (2015) #0
In the post-Secret Wars All-New, All-Different Marvel universe, America Chavez becomes a part of the Ultimates, Al Ewing's cosmic team, intended to deal with universal problems such as Galactus. Because of her powers and backstory, America brings to the team experience with alternate realities, and although the youngest member by far, she is an integral part of the Ultimates.
In Ultimates 2 (published during the same time as America's first ongoing series in 2017), America reassembles the team (after it had been disbanded because of the events of Civil War II) to be the heralds of the new and improved Lifebringer Galactus.
America Vol. 1: The Life and Times of America Chavez
Collects: America #1-6
In her first solo ongoing series, America becomes a student at Sotomayor University, an extra-dimensional school, where she studies alongside fellow Young Avenger Prodigy. She also meets her warlock luchador grandma Madrimar, who teaches her more about her family's past in a world called Planeta Fuertona, before they fled to the Utopian Parallel.
America Vol. 2: Fast and Fuertona
Collects: America #7-12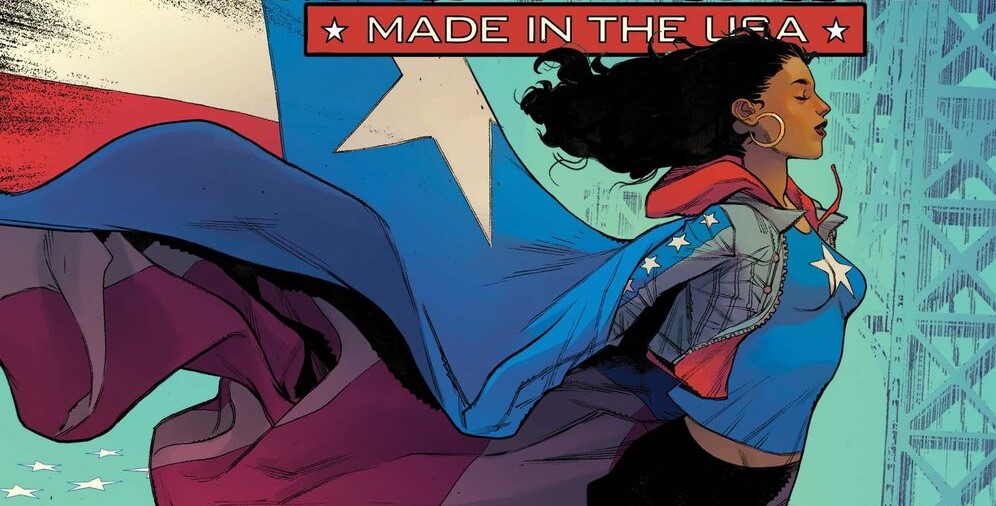 The American Dream
West Coast Avengers Vol. 1: Best Coast
Collects: West Coast Avengers (2018) #1-4, Young Avengers Presents #6, Gwenpool The Unbelievable #1
America Chavez joins the newly formed West Coast Avengers under the leadership of her best friend and fellow Young Avengers alumna Kate Bishop, fighting threats ranging from B.R.O.D.O.K. to the West Coast Masters of Evil.
West Coast Avengers Vol. 2: City of Evils
Collects: West Coast Avengers (2018) #5-10
America and the West Coast Avengers show up again in Superior Spider-Man #7 and #8 to team up with Otto Octavius during the War of the Realms.
Collects: Marvel Rising #0, Marvel Rising: Alpha #1, Marvel Rising: Squirrel Girl/Ms. Marvel #1, Marvel Rising: Ms. Marvel/Squirrel Girl #1, Marvel Rising: Omega #1
Ms. America is part of the Marvel Rising line of comics and animation alongside several other young superheroes, from Squirrel Girl to Ms. Marvel and Inferno.
Marvel Rising: Heroes of the Round Table
Collects: Marvel Rising (2019) #1-5
The young heroes of Marvel Rising return to fight Morgan Le Fay.
America attends the wedding of Wiccan and Hulkling with the rest of the Young Avengers in Empyre: Aftermath Avengers #1, as well as in Empyre #4 and #5.
America Chavez: Made in the USA
Collects: America Chavez: Made in the USA #1-5
In her most recent solo series, it is revealed that America's extradimensional origins were actually fake memories she created to cope with trauma, as her powers actually come from having been experimented on as a child with a genetic disease called Edges Syndrome. By the end of the mini-series, America's powers have been diminished by her disease, and she's trying to find a cure.