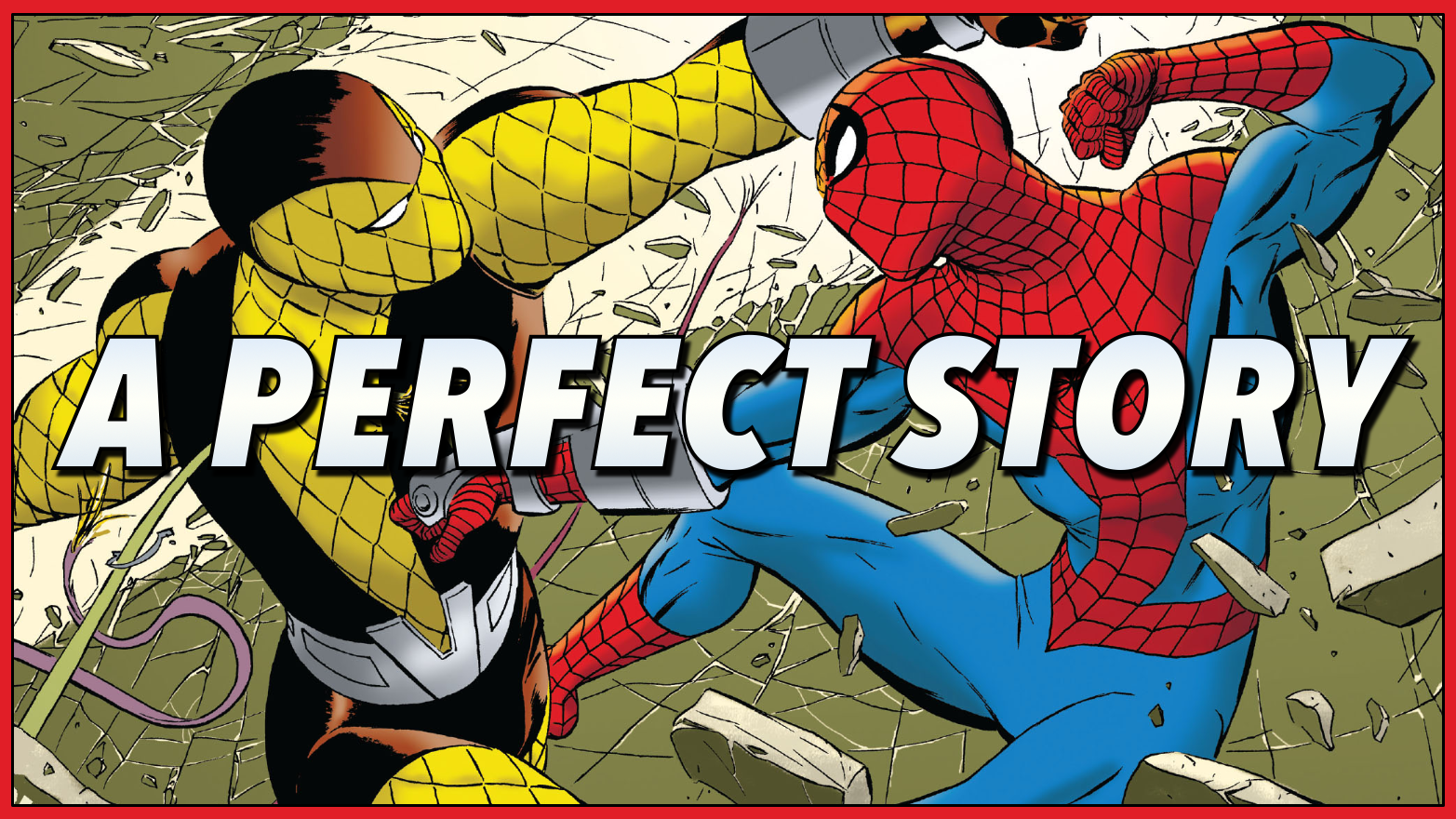 What makes a perfect Spider-Man story?
There are the epic adventures, the character-redefining runs, and the incredible team-ups that have become permanently intertwined with the character. But some of my all-time favorite Spider-Man comics are single issues or two-issue arcs. Of course, there's tons of awesome long Spider-Man runs out there, but these little bite-sized Spidey stories often drill down into what makes the character amazing. No need to get bogged down in lore or larger plot points or mysterious villains peeking from the shadows. Instead, we get Peter Parker, his friends, his enemies, or even just an internal struggle given center stage.
There's classics like "Nothing Can Stop The Juggernaut" by Roger Stern and John Romita Jr. Silly adventures like "When Cometh The Commuter" by Peter David and Bob McLeod. The mental anguish of "No One Dies" by Dan Slott and Marcos Martin. But of all of these, my favorite, and what I think is a truly perfect Spider-Man story, is "Unscheduled Stop."
Published in Amazing Spider-Man issues #578 and #579 in 2009, "Unscheduled Stop" was written by Mark Waid, with pencils and inks by Marcos Martin, colors by Javier Rodriguez, and letters by Joe Caramanga, this two-issue story is tightly, both literally and figuratively, focused on Peter Parker's struggle to save a subway car full of people from an underground collapse – a case of the old Parker Luck taking the worst turns imaginable.
And it's a perfect example of why I love Spider-Man.
Support For Comic Book Herald:
Comic Book Herald is reader-supported. When you buy through links on our site, we may earn a qualifying affiliate commission.
Comic Book Herald's reading orders and guides are also made possible by reader support on Patreon, and generous reader donations.
Any size contribution will help keep CBH alive and full of new comics guides and content. Support CBH on Patreon for exclusive rewards, or Donate here! Thank you for reading!

Whether you're a long-time reader or a fan who's more acquainted with the character from movies and cartoons instead of comics, what makes something like Waid and Martin's story fantastic is how timeless it feels. A perfect story on its own that's just interested in delivering a thrilling ride to readers. Which is ironic given the time in which it was published.
"Unscheduled Stop" comes fairly early within the Brand New Day era of Spider-Man, which ran from Amazing Spider-Man #546 through #647. That's a large span of time that contained a lot of different story arcs, but primarily, it refers to the run of issues that directly followed 'One More Day" in late 2007 through early 2008, an extremely controversial story arc that saw Peter and Mary Jane Parker's marriage wiped out of continuity in a deal with Mephisto, basically Marvel's version of The Devil, to save the life of Aunt May.
Why would Mephisto want to wipe away their marriage? Well, basically, Marvel Editor-in-Chief Joe Quesada had decided that a married Spider-Man was too old to be relatable and they needed to move him back to a younger era to appeal to a broader audience. Having the devil do your dirty work isn't a great way to endear you to readers. You won't find many people who are fans of One More Day and even now, almost 15 years later, Spider-Man fans still want Peter and Mary Jane's marriage reinstated. Will that ever happen? I genuinely have no idea at this point.
For the most part, the early issues in the Brand New Day era worked to define this new status quo and bring in a variety of new supporting characters and villains for a fresh start. And while the major refresh of Spider-Man's world frustrated a lot of contemporary readers, I think Brand New Day is really fun and when looking back on it in the context of the many years of stories that came afterward, it still feels really fresh. A lot of the new villains introduced at the time didn't stick around, but that's the curse of most villains not created by Stan Lee and Steve Ditko. Stories like New Ways to Die, Flashback, 24/7, Power to the People, Rage of the Rhino, Endangered Species, Shed, and The Grim Hunt, are all really strong comics that are often overlooked. Maybe that's because these were all published at a breakneck pace. The Amazing Spider-Man had switched to a weekly publication schedule to establish this new era, depending on a rotating roster of regular writers and artists working together to create tons of new stories in as little times as possible.
Those writers included Dan Slott, Marc Guggenheim, Bob Gale, Zeb Wells, and Mark Waid. It's Waid and regular artistic collaborator Marcos Martin who bring life to "Unscheduled Stop." And what's brilliant about this small scoped but extremely intense story is that it could really take place at any point in Spider-Man's history.
By opening with a broke Spider-Man sitting in the rain eating Chinese food and laughing at a fortune that predicts today will be his lucky day, we already know what the viewpoint of this story will be.
Even from the early days of Stan Lee and Steve Ditko, a cardinal rule was in place for Spider-Man: if Peter Parker truly wanted something, he couldn't get it, at least, not without desperately fighting for it. Money, romance, happiness, peace and quiet – being Spider-Man makes almost all of these impossible.
"He's the one who's most like me – nothing ever turns out 100 percent OK," said Stan Lee. "He's got a lot of problems, and he does things wrong, and I can relate to that."
But not every writer is great at balancing the joy of being a hero with the weight of responsibility. Too much joy and the character lacks purpose, too much weight and he becomes less appealing to readers. Here, Peter is almost begrudgingly accepting of just how impossible his everyday life seems to be.
Out on the town? Torrential downpour. No money for a train ticket? A free one lands in his lap. Missing his ride? An attractive woman lets him on. Back and forth, back and forth, until a sudden blast derails the subway, with Peter barely getting his mask on in time to save his fellow passengers from being crushed to death. But, this being a story about the Parker Luck, things only get worse from there.
What is the Parker Luck? Well, think of it as Murphy's Law, but applied solely to Spider-Man for the sake of dramatic complications. Anything that can go wrong for Peter Parker, will go wrong. Sometimes, that's a villain showing up right when he's supposed to go on a date. At other times, it's much, much worse.
F. Scott Fitzgerald once said, "Show me a hero and I'll write you a tragedy." That's the core of Spider-Man. Will the tragedies that befall Peter Parker be small frustrations or life-ending losses? You never really know when headed into a Spider-Man story, and therein lies the tragedy, drama, and hope of this hero.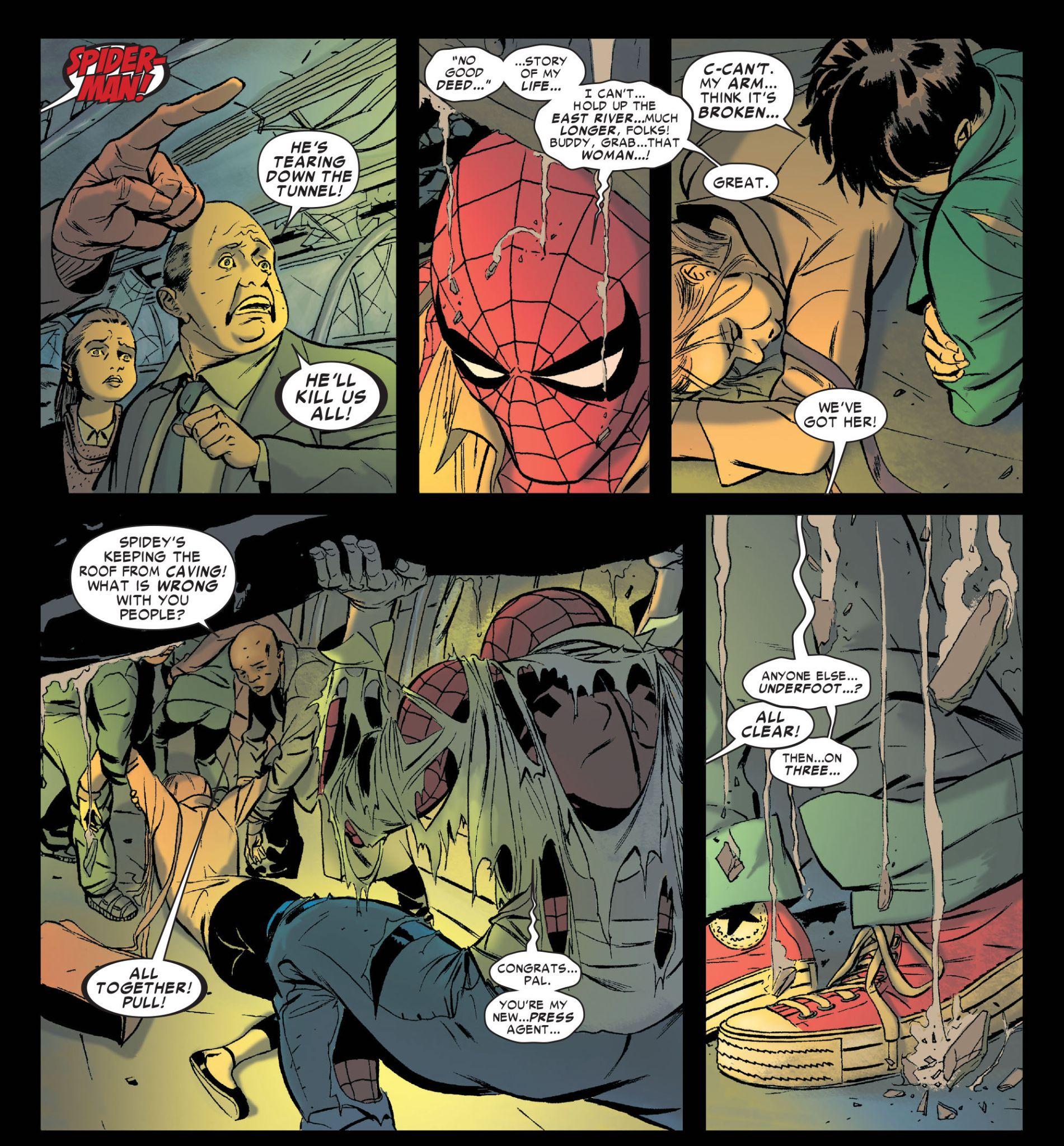 What are the classic elements of a Spider-Man story?
New York City. Innocent people in need. Personal relationships on the line. A villain showing up at just the wrong moment. And a hero who doesn't know how to quit, no matter how bad things get.
As Spider-Man tries to figure out why this all happened, we learn that the subway car involved contained the sequestered jury for a high profile criminal trial and the derailment wasn't an accident, it was an attack by The Shocker.
By the way, I love The Shocker. Good ol' Herman Schultz was never the most intimidating Spider-Man villain, but his iconic look (soiled mattress) and his powers (bad vibrations) are really fun. Here, in an underground enclosed space, he's truly dangerous, and his splash page turn reveal is comic booking at its finest. What Waid is accomplishing here is a perfect escalation of stakes. What started with Peter overjoyed to get a subway ticket becomes increasingly dangerous as the survivors are trapped directly beneath the East River, with the Shocker fight damaging the tunnel even more. Part one establishes the danger and ends with a reveal that opens up the world of Spider-Man's supporting cast.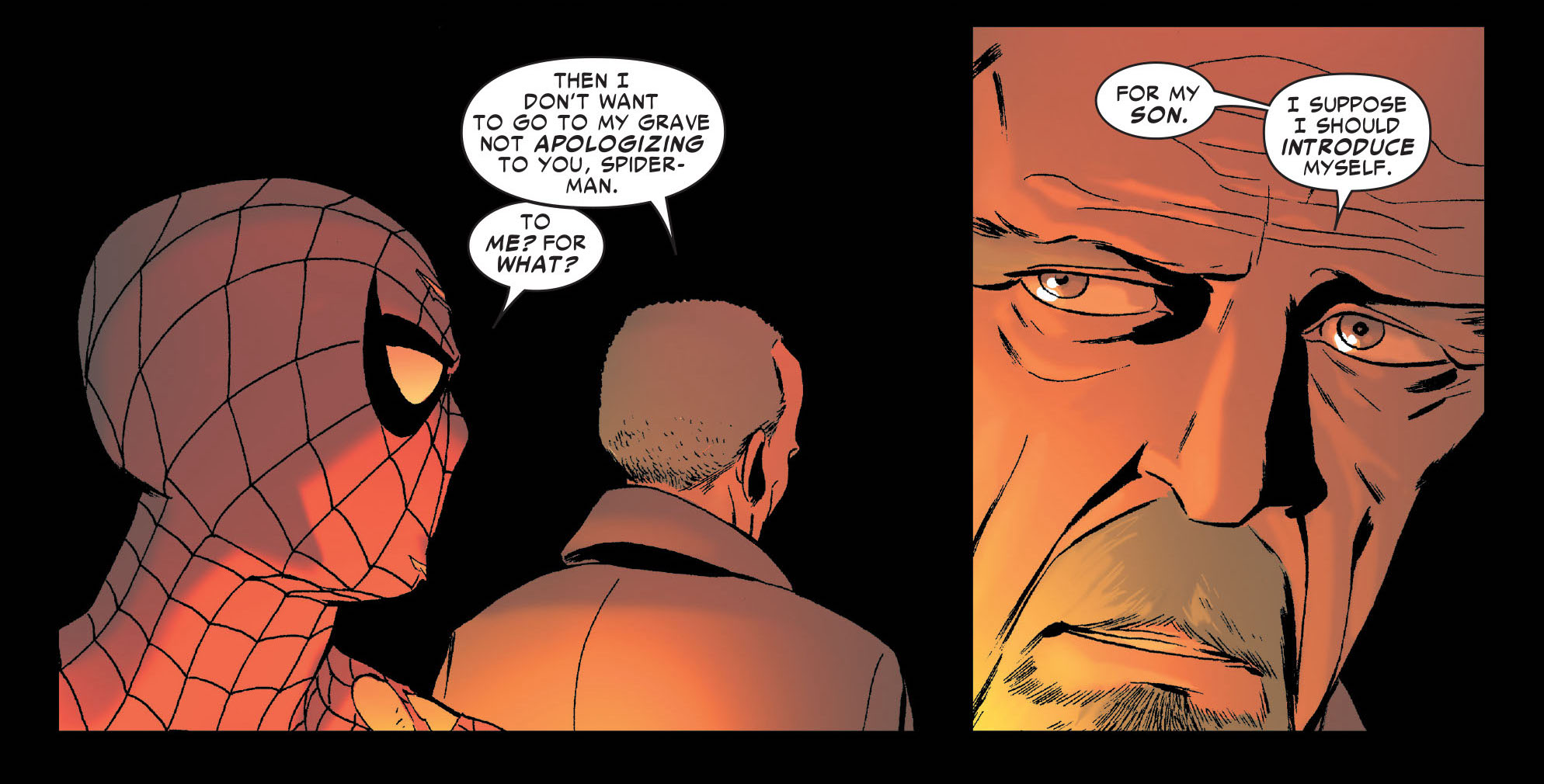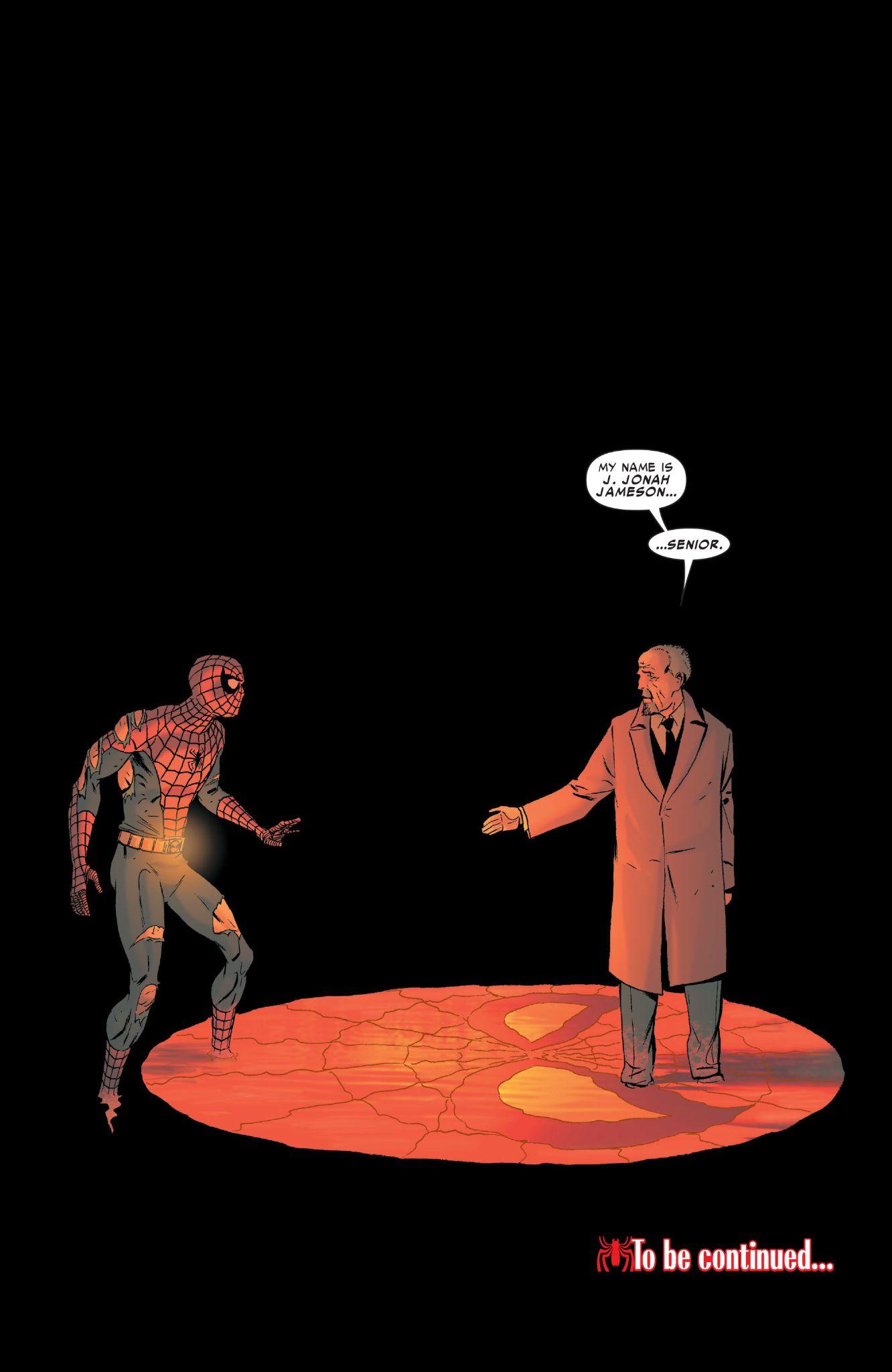 As part of the Spidey Brain Trust at the time, Mark Waid was the writer or at least heavily involved in a large portion of the Brand New Day stories, but cites "Unscheduled Stop" as his favorite work from the era.
"I think my favorite that I got to tell was my very first one: the one that introduced J. Jonah Jameson, Sr. Working with Marcos Martin was a career goal," said Waid. "Value-add: it's my first experience in years and years in creating a character who wasn't immediately erased from continuity the moment my back was turned. Props to Tom Peyer, who was the first to ask me in conversation, "Hey, have we ever met JJJ's dad?""
Of course, a great comic script is nothing without a great artist.
Marcos Martin is easily one of my favorite Spider-Man artists. While he never had an extended run on the title, he was one of the key pencilers on the Brand New Day Era, also drawing other classics like "No One Dies" and "There For You" with Dan Slott over the years.
His figures are often gaunt and sparsely designed, using silhouettes with exaggerated, long faces that are hyper expressive. For a character like Spider-Man, Martin's leaner take echoes Ditko's original version. And much like Ditko and Lee, Waid and Martin know that few Spider-Man opponents are as iconic as something really heavy. Here, the creators put the Webhead up against a physical challenge twice, first holding up the collapsed car, scrunched and smushed under the weight of it all in a corner, (Spider-Man with the ripped shirt and jeans with the Chuck Taylors? Hell of a look) and then lifting up a makeshift elevator filled with passengers. No big deal right? Well, maybe if it weren't for all those giant New York sewer rats.
Here, Martin switches his panel borders from white in exterior scenes to black in every subway sequence post crash, emphasizing the darkness and claustrophobia of the predicament. It's a small touch, but it makes every moment outside of the tunnels feel like a breath of fresh air. And outside, the rainy and dreary New York feels wonderfully depressed. I love the rain, and I'm a sucker for a rainy comic book.
Javier Rodriguez's colors also complement the story wonderfully. Almost everything underground is only lit by the Spider-Signal – you know, that dick light that doesn't really make any sense and isn't necessary but is somehow iconic? The darkness at the edges are pushed back by a faint warmth, pierced only by Shocker's explosive, light blue attacks. Outside, the gray dreariness almost feels welcome compared to the danger we've come to associate with warm colors.
Martin also knows how to establish location really well, showcasing the rising river water and struggle to stay ahead of certain death. Is this the biggest challenge Spider-Man has ever faced? Definitely not. It's probably having a lot of terrible fans. But what makes it thrilling is that you can feel every ounce of effort needed to survive. That's what Spider-Man is all about – pushing, pushing, pushing until you feel like your hero is about to break. And just when all hope seems lost, Peter Parker pushes past his limits and saves the day. Best of all, it's not just Spider-Man who gets to be a hero here. Everybody on the page gets to be inspired like the people reading this.
"I think it's imperative of me to advance that theory that you can win your small victories against the dark," said Waid. And "Unscheduled Stop" is literally a small victory against the dark.
Will Spider-Man save the day? What is it that estranged JJJ Jr and Sr? Will the old Parker Luck ever change? I won't spoil everything that happens here, but if you know Spider-Man, you already know most of the answers.
Of course, great superhero comics aren't about the destination, they're about the journey. That's why we return to them again and again, comforted by the idea that good will inevitably win and assured that someone like Spider-Man will always be there to save the day.
Bad luck, perseverance, comedy, drama, inspiration, and some awesome action. These are the things that keep us coming back to Spider-Man and the reasons why "Unscheduled Stop" is a perfect little Spider-Man story that I will return to again and again for the rest of my life.
https://www.cbr.com/cci-days-end-the-webheads-on-amazing-spider-man/
https://www.marvel.com/articles/comics/stan-lee-on-what-made-spider-man-so-special