Black Panther is without question one of the most compelling heroes in Marvel and Avengers history. From his debut taking on (and defeating!) the entire Fantastic Four on through his modern Kingly battles with the likes of Doctor Doom and Namor, there are a wealth of excellent Black Panther comics to choose from.
As a result, knowing where to start can be a challenge. Black Panther has been in the Marvel Universe for over 50 years! Fortunately, there are a number of clear "chapters" in the life of T'Challa, either divided by defining events or new comic book creators tackling the character. Without further ado, here's the 10 step guide to enjoying Marvel's Black Panther.
Black Panther vs. Fantastic Four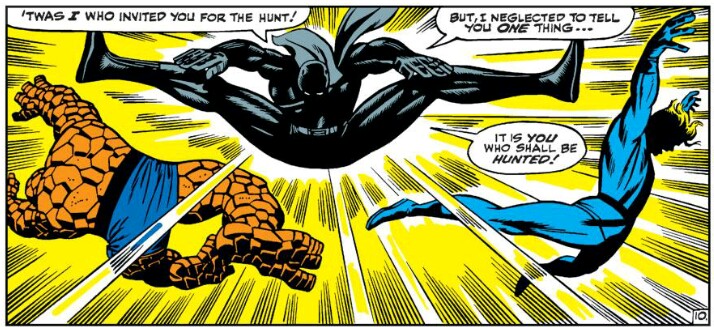 T'Challa, the Black Panther, makes his debut in Fantastic Four. I would encourage any Marvel Comics fan to check out the entire first 100 issues of the Jack Kirby and Stan Lee Fantastic Four, and the debut of the Panther is certainly one of the more special moments.
covers a ton of ground, including the existence and advances of Wakanda as well as T'Challa's origins and ties to Klaw!
Collected:
Support For Comic Book Herald:
Comic Book Herald is reader-supported. When you buy through links on our site, we may earn a qualifying affiliate commission.
Comic Book Herald's reading orders and guides are also made possible by reader support on Patreon, and generous reader donations.
Any size contribution will help keep CBH alive and full of new comics guides and content. Support CBH on Patreon for exclusive rewards, or Donate here! Thank you for reading!
Fantastic Four
 — #52 to #54
Black Panther Joins the Avengers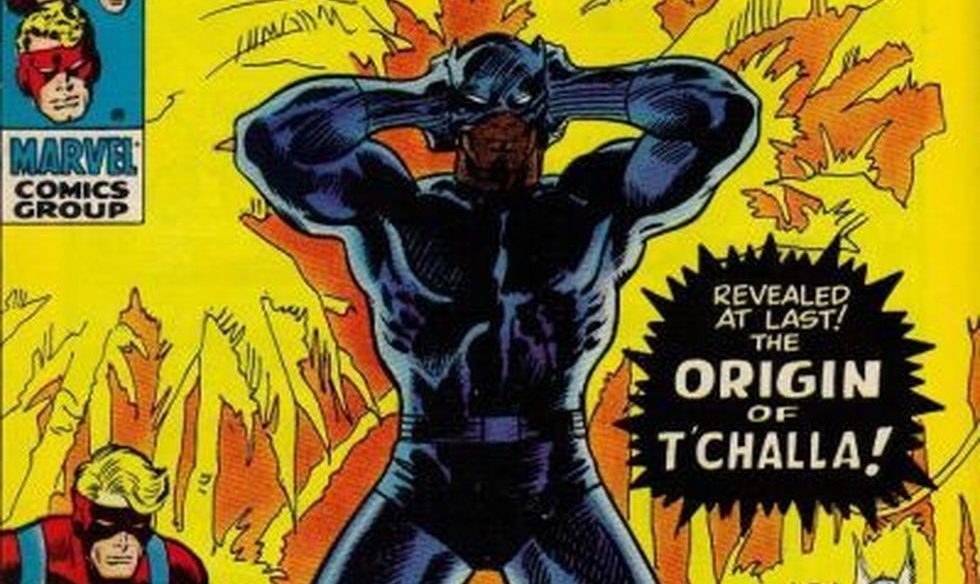 Approximately two years after his debut in Fantastic Four, T'Challa showed up to Avengers Mansion in time to investigate a mysterious disturbance. After befriending Captain America, T'Challa decides to visit the Avengers, but has to navigate the mansion's intruder defenses after the Avengers are rendered incapacitated by a brand new villain.
After a mix-up in which police simply assume the Black Panther is responsible for the attack (uh), T'Challa winds up joining the Avengers, where he would remain a regular for close to forty issues.
Collected:
Avengers #52
Rage of the Panther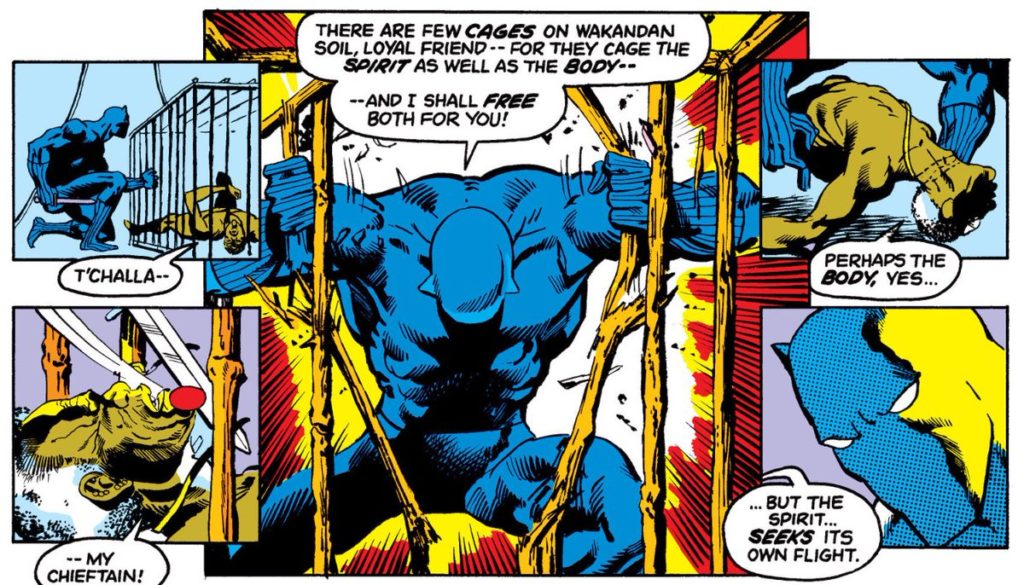 An astonishingly ahead of its time graphic novel, "Panther's Rage" by Don McGregor and Rich Buckler is the earliest and deepest dive into the culture and lifeblood of Wakanda. Buckler's page layouts and designs are more frequently inventive than anything in Marvel's roster at the time.
Still of the era, and may not be the best starting place for new readers familiar with modern comics, but an essential read for any Panther fan.
Collected:
Don McGregor's Black Panther
 1973 – Jungle Action #6 to #24
Jack Kirby's Insanely Weird Black Panther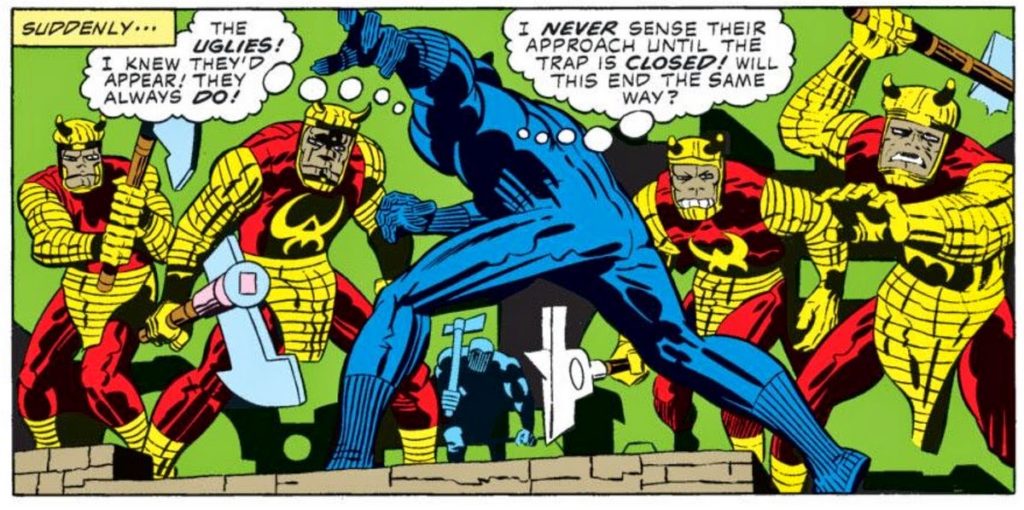 These two things are true: Jack Kirby is the King of comics, and his late 70's solo take on Black Panther is about as imaginative as it is unreadable.
If for no other reason, it's worth checking out Kirby's work to understand what the heck time-travelling frogs have to do with anything.
Collected:
Jack Kirby's Black Panther
 (1977 to 1979) – #1 to #13
Christopher Priest Writes Marvel Knights Black Panther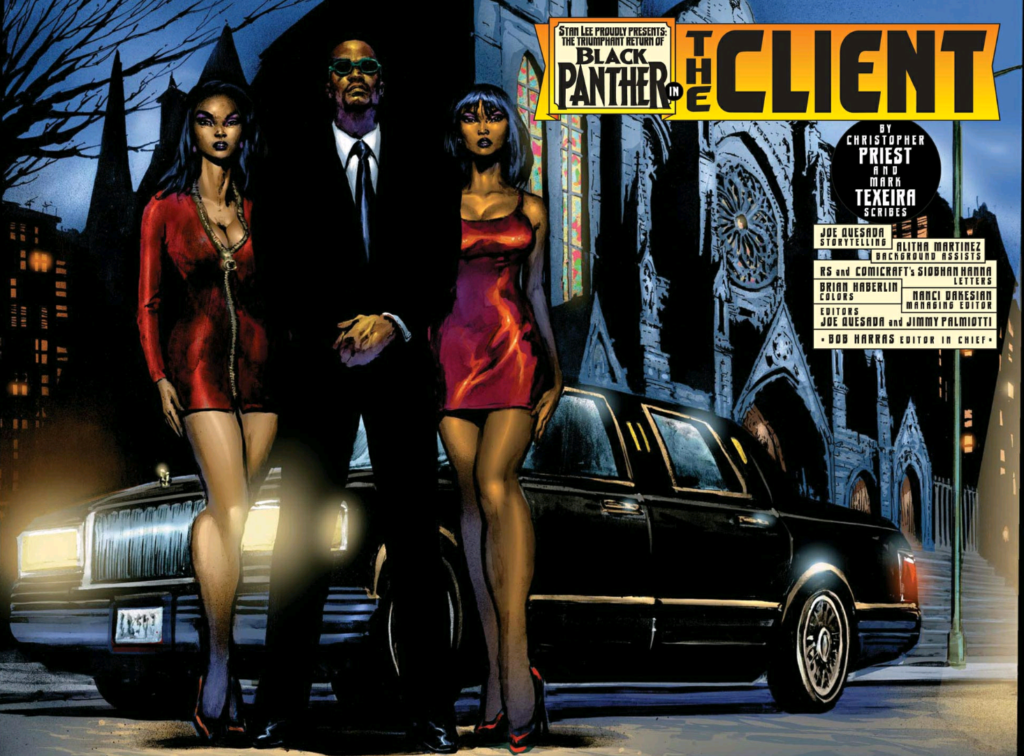 Writer Christopher Priest rightly receives credit now for saving Black Panther, and making him cool again as part of Marvel Knights. From 1998 to 2003 Black Panther became one of Marvel's best comics. These issues are easily the best starting place for modern readers, with characters like Everett Ross, Queen Divine Justice, and the Dora Milaje recurring from here on out.
Collected:
Black Panther by Christopher Priest: The Complete Collection Volume 1
Black Panther by Christopher Priest: The Complete Collection Volume 2
Black Panther by Christopher Priest: The Complete Collection Volume 3
Reginald Hudlin Writes Black Panther From 2005 To Doomwar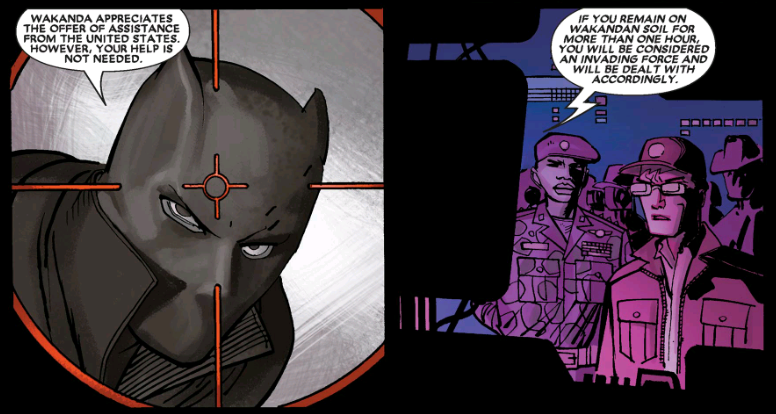 Black Panther was in wildly capable hands throughout the 2000's, with the Priest era followed by a long run by writer Reginald Hudlin. The entire time period is well worth reading with highlights including, T'Challa and Storm of the X-Men getting married, the couple dealing with Marvel's Civil War, Shuri's introduction as Black Panther, and Black Panther and Storm as members of the Fantastic Four.
Collected:
Black Panther by Reginald Hudlin: The Complete Collection Vol. 1
Collects: Black Panther #1 to #7 (issue #7 is a House of M tie-in), X-Men #175, Black Panther #8, X-Men #176, Black Panther #9 to #18
Black Panther by Reginald Hudlin: The Complete Collection Vol. 2
Collects: Black Panther #19 to #34, Black Panther Annual #1
Black Panther by Reginald Hudlin: The Complete Collection Vol. 3
Collects: Black Panther #35 to #41, Black Panther #1 to #6 (the 2009 series relaunch during Dark Reign), Black Panther/Captain America: Flags of Our Father #1 to #4
Doomwar
Secret Invasion Comes For Wakanda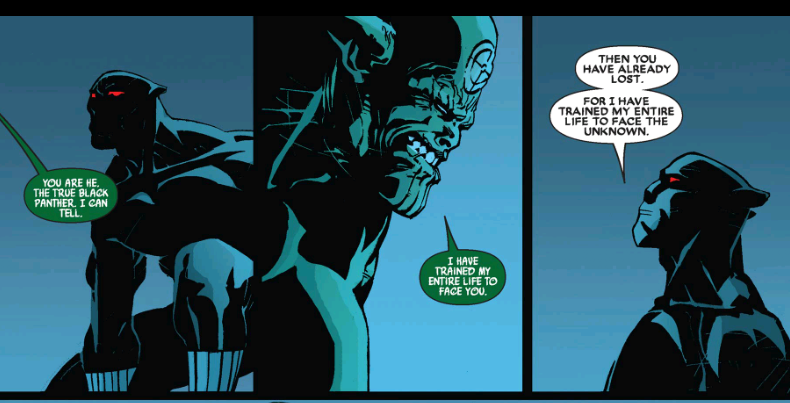 The shortest segment on the list is included for sheer excellence. Following Hudlin's final issue on Black Panther writer Jason Aaron took on the title for three issues crossing over with Marvel's Secret Invasion event. Black Panther is easily one of the best event tie-ins, as T'Challa and Storm deal with a Skrull invasion of Wakanda.
Collected:
Secret Invasion: Black Panther
Black Panther Takes Over For Daredevil
The Mike Liss era of Black Panther is extremely interesting, and overlooked in the grand scheme of Black Panther lore. Following Daredevil's meltdown in Shadowland, and T'Challa's own downturn after Doomwar, the Black Panther takes over as Hell's Kitchen's erstwhile "Man Without Fear."
For my money, the single most compelling aspect of the run is Francesco Francavilla's contributions on covers and art, perfectly suited for the kinetic street-level noir. If Black Panther hunting serial killers and taking on the Kingpin sounds like your cup of tea, then don't skip over Black Panther: The Man Without Fear.
Collected:
Black Panther: The Man Without Fear
 #513 to #523 (2010 to 2012)
Black Panther takes over Daredevil numbering following Shadowland
. Final three issues are Fear Itself tie-ins.
Black Panther: The Most Dangerous Man Alive
 #523.1 to #529
Immediate follow up to Man Without Fear.
Black Panther and the New Avengers: Illuminati
My personal favorite long Marvel Comics of all time finds Black Panther reassembling the Illuminati in an effort to save both Earth and the Multiverse. The events of Jonathan Hickman and Mike Deadato's New Avengers span the Infinity event, "Time Runs Out," and ultimately 2015's Secret Wars. 
Collected:
New Avengers
 (Hickman)
Secret Wars
Ta-Nehisi Coates Writing Black Panther

One of the best and most rewarding ongoing Marvel Comics currently on shelves can be found from author Ta-Nehesi Coates and artists Brian Stelfreeze and Chris Sprouse.
Collected:
Black Panther: A Nation Under Our Feet Book 
Collects: Black Panther 1-4
Ta-Nehisi Coates and Brian Stelfreeze begin their acclaimed run on Black Panther.
Black Panther: A Nation Under Our Feet Book 2
Collects: Black Panther 5-8
Black Panther: A Nation Under Our Feet Book 3
Collects: Black Panther 9-12